Julian Quaye. The artist, the myth, the maverick.
Dreamlike, kitsch, humorous and a little dark. Lowbrow, mixing ironic juxtaposition with a slight hint of steam-punk sensibility, are just a few adjectives to describe Julian Quaye's renowned works.
Words by Dayna Clarke.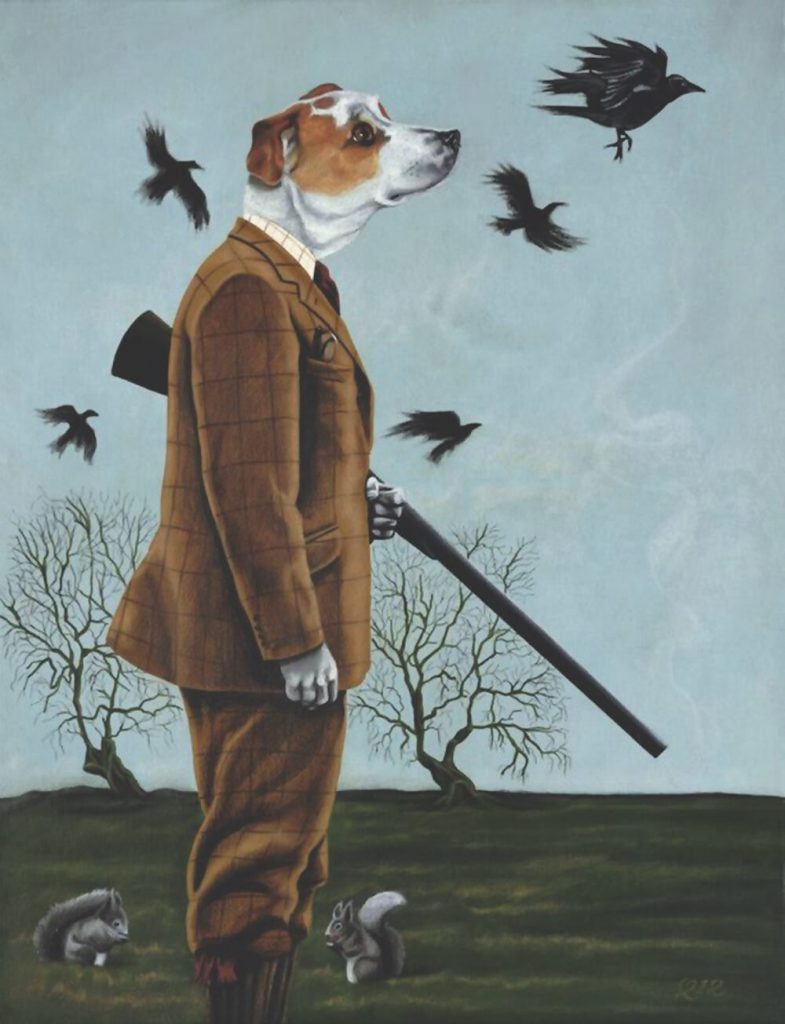 This month we (tried) to enter the exceptionally creative head of the Bristol-based artist to see the world as he sees it. The result? Well, trying to put Julian into one box is seemingly a fruitless endeavour.
When did your artistic journey begin?
My artistic journey began fifty years ago when I was three years of age, watching the moon landings on TV. I was fascinated and started drawing astronauts on every blank surface I could find, which often included the walls of the two-storey flat, which we lived in at the time – Much to my mother's dismay. My bedroom was a small attic room, a bit like an artist garret, which my mother had decorated with pages from The Reader's Digest as she couldn't afford wallpaper. This led to a bustling room visually for an imaginative hyperactive toddler. No 'E' numbers for me back then!
Experientially, I'm mostly self-taught with a little guidance from people I've met along the way.
Can you share your creative process?
It's effectively a hand-painted collage, overlaying images found from newspapers, magazines and flyers. Once I find something that works, I'll start to alter the proportions, making the shoulders and hands bigger if need be and adding additional elements. Occasionally I'll pose for the body if I can't find the pose I'm looking for. Once I'm happy with the final rough drawing, I'll transfer it to the canvas. I work in a variety of mediums, including acrylic, pastels, Posca pens, coloured pencils and inks, anything which will adhere to the surface and can be applied with a brush or a finger. It's a culmination of a lot of happy accidents; I'm always learning. All finished off with a coat of lacquer and varnish.
What keeps driving you forward in your artistic journey?
The voices of the anthropomorphic characters in my head. It's a crowded place. They tend to have the voices of famous people, at the moment I've got a cowboy cat. He's a big battle-scarred, one-eyed ginger tom by the name of 'Catterwaulin' Jones with the voice of Sean Bean. Like Sean, in most of his movies, he dies in my narrative, gunned down by a rival gang member in a field of catnip.
What's your biggest inspiration?
The world I'm creating with all these characters has a hint of Beatrix Potter's whimsy, Kenneth Graham's Wind in the Willows anarchy with James Ellroy's cynicism and bile; a dash of Dashiell Hammett and a sprinkling of Jules Verne and HG Wells. The artist wise, the comic book illuminates like Berni Wrightson, Barry Smith, Mike Kaluta and Jack Davis – they are followed by Rene Magritte, Edward Hopper and Arthur Rackham. I'm also a great fan of Travis Louie.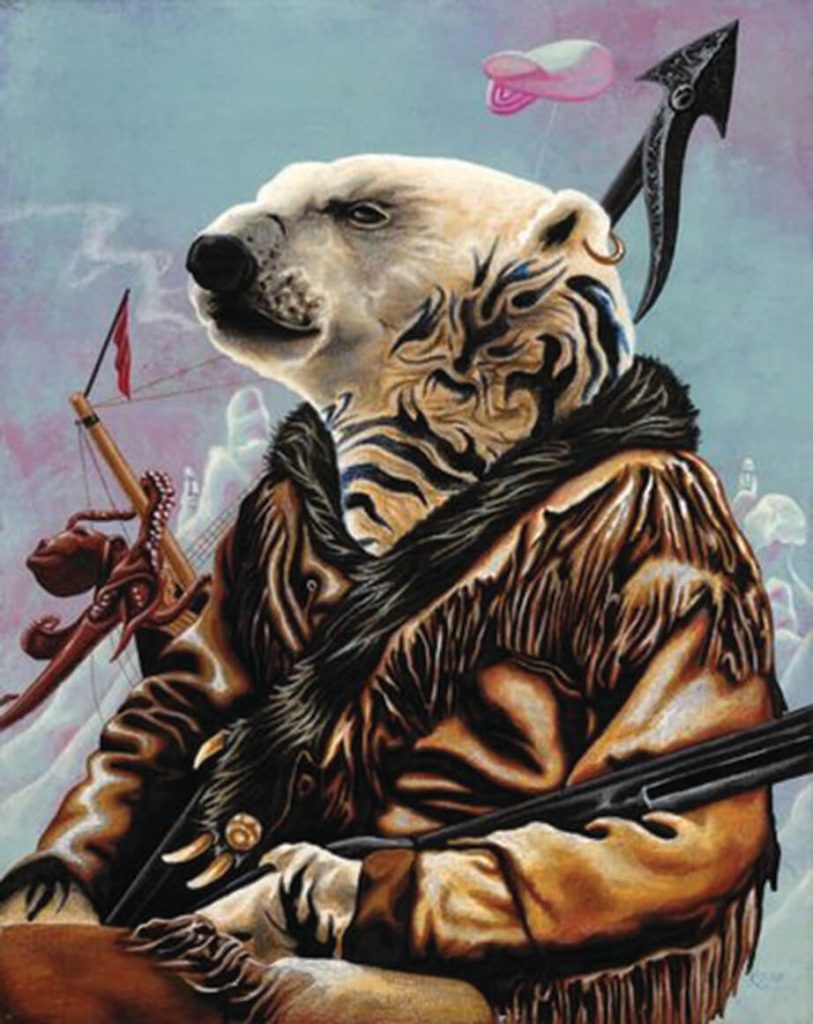 Do you have a favourite piece? Is it hard to part with your work?
My favourite piece so far is my new rendition of 'Mr Snuggles is Straight Out of Cullompton II'. In the beginning, I was reticent about letting pieces go. But now, once they have been professionally photographed, I'm quite happy for them to make their way into the world. An artist has got to eat!
What has been your proudest career highlight to date?
My good friend Gilli Kane collecting my works and inane ramblings and printing them in a hardback book is still quite a thrill. Oh, and being in an urban art group auction in Mayfair, London alongside the likes of Banksy and Damian Hirst after exhibition for the first time.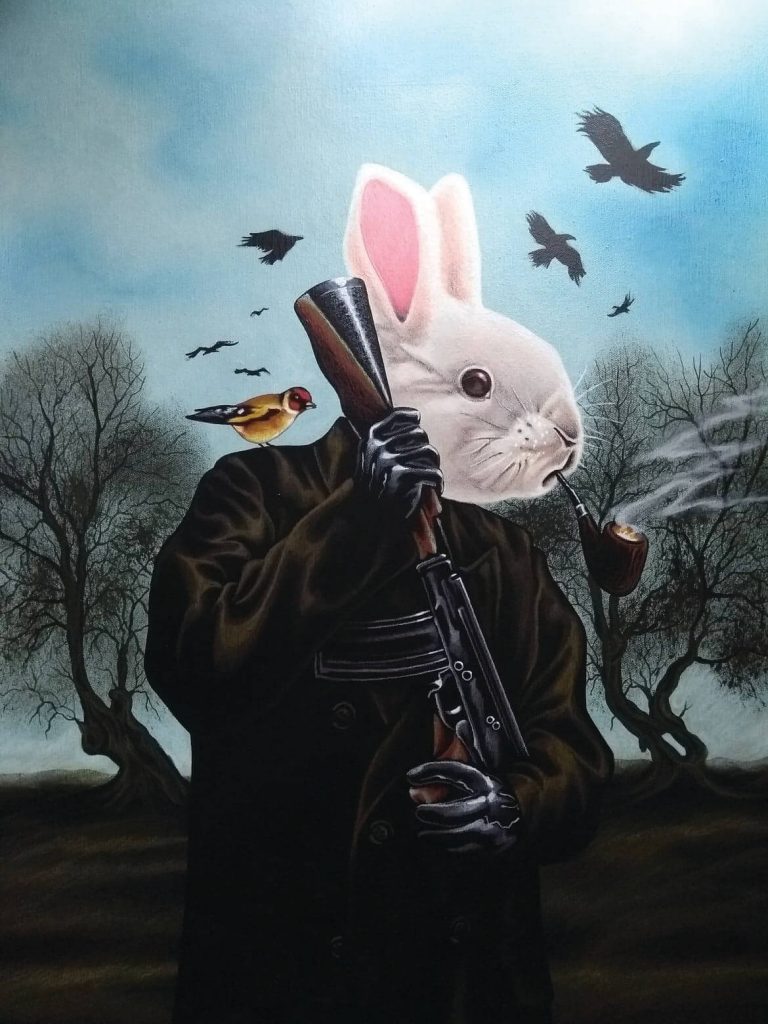 What do you love most about your profession?
The fact that people enjoy my work and want it on their walls. Whether it's having in their toilet or living room, everyone's a winner.
What does 2020 have in store for Julian Quaye?
I'm currently developing new characters, painting and elaborating on the back-story with maps. From two sibling fiendish criminal felines by the name of Rom and Rem Krei and their adoptive wolf mother, Violet. A marine biologist otter called Jaque Coaster. A gourmand hippo food critic and many more. Next, I'd like to work with a writer to take this project, which I've been working on since 2011 further. Ultimately, I'd love to see my craters on the big screen in a magic lantern theatre.
Julian Quaye has a solo exhibition running in Bocabar Finzels Reach in his hometown of Bristol from Saturday 23rd November to 4th January 2020. The exhibition can be seen online at https://www.the-kane.gallery/ and for more information about Julian visit http://www.julianquaye.co.uk