Forgotten treasures
Craftswoman and natural psychic Sam Minkovski on her world of jewellery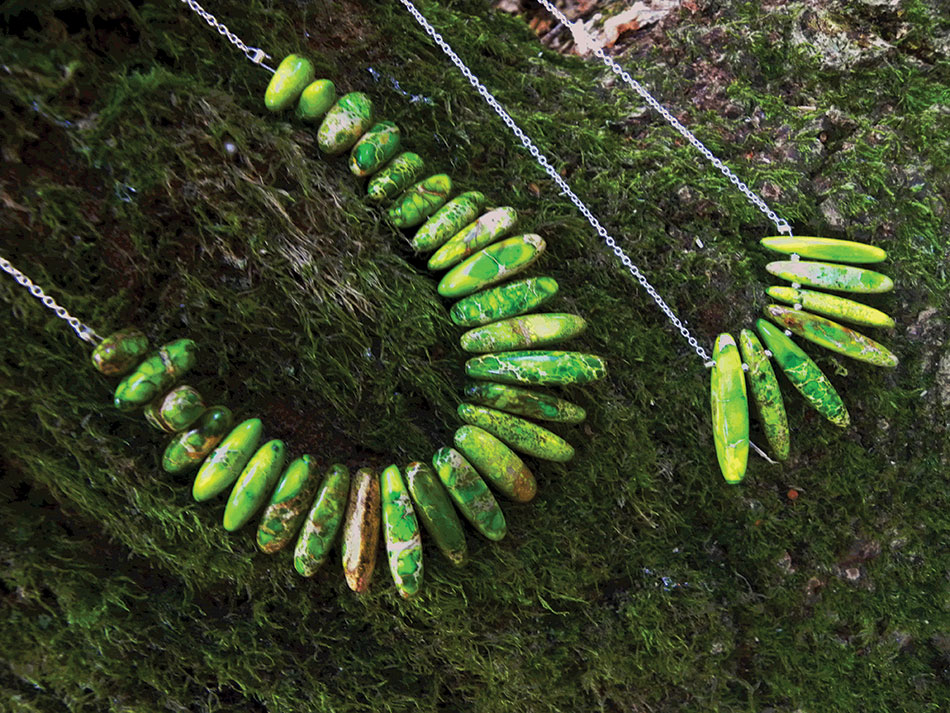 She talks to VAMP about collecting symbolic crystals and charms to create jewellery that is truly in touch with her spiritual side.
Sam Minkovski was living in India, working in an orphanage when she fell ill. The sickness caused her to immediately return to the UK, where she spent months recovering. Once she regained her strength, her eyes opened.
'When I got better, I just felt like I wanted to embrace life. I had visited Malta several times. I felt a strong urge to return here and I followed that.'
Four years later, Sam is living in Gzira with her husband Darko and their new-born child. She gained employment with a prominent bank in Malta, working in a corporate marketing role post when she began making jewellery in her free time.
'I have always loved jewellery. When I started creating my own designs it was just a hobby – in fact, I used to call it my "Zen hobby". Then, I began to exhibit at local artisan markets. People's response was so rewarding to me. It gave me confidence to discover that people connected to the concept of the brand as a whole. It was at this time that I met the love of my life, Darko. He was the one who really encouraged me to follow my heart. Eventually, I plucked up enough courage to leave the bank and turn the hobby into a business. It was extremely hard to let go of a job that gave me financial security, but I followed my heart and my passion. I don't regret it now.'
Life is full of surprises – some good, some bad, but we must understand the lessons from each one in order to continue constructively on our pathway'.
Sam was a talented child, winning the National Arkwright Scholarship for Design at the age of 15 from her school in Hertfordshire. Since then, design has become her life. She later received an Honours Degree in Design Management, which encompasses all types of design, but also management skills.
'Design is where my heart beats calmly. I find such peace in it.' The name of the company, BoboStar, derives from Sam's nickname as a child – Bobo. The tagline – "Rediscovering Forgotten Treasure" – comes from the notion that choosing a crystal that is not only an aesthetic connection, but also a deeper one; a rediscovery of the earth's crystals and how they affect humans. Sam creates personalised jewellery for the individual. As a natural psychic she has the ability to feel a person's fragility in specific areas, and provide a stone that will make up for that deficiency.
'I believe that you don't choose the crystal, but rather it chooses you. The same crystal stone can look so different, but I have found that people tend to be drawn to the same crystal stone without even realising it. They remind people to have confidence where they lack it.'
The initial inspiration of 'rediscovering things' came during a university project, which required the students to choose an object and then to write about how they initially felt about it. They then researched the object historically and finally wrote about how their perceptions and appreciation of the object had changed.
Sam chose a plain bowl that had been given to her parents, which was displayed in a showcase in their house. After more research, Sam discovered that the bowl had been salvaged from a 1752 shipwreck, which was carrying Chinese goods bound for the Netherlands. 'It completely changed my perception of the bowl. The whole exercise awakened my view to how I value items in general. 'Life is full of surprises – some good, some bad, but we must understand the lessons from each one in order to continue constructively on our pathway'.
Creatively handmade, designed to be symbolic and nurturing to the individual, each charm or crystal stone has a hidden meaning that only the individual needs to understand. The BoboStar collection includes a large selection of different crystals stones, including balancing Agates, protective Titaniums, love-filled Rose Quartz and the crystal stone of wisdom and truth – Lapis Lazuli. These are just a selection of the creations available in the trove offered by BoboStar.