In pursuit of the retail connection
Why brands across the world are moving into spaces defined by history and architectural beauty.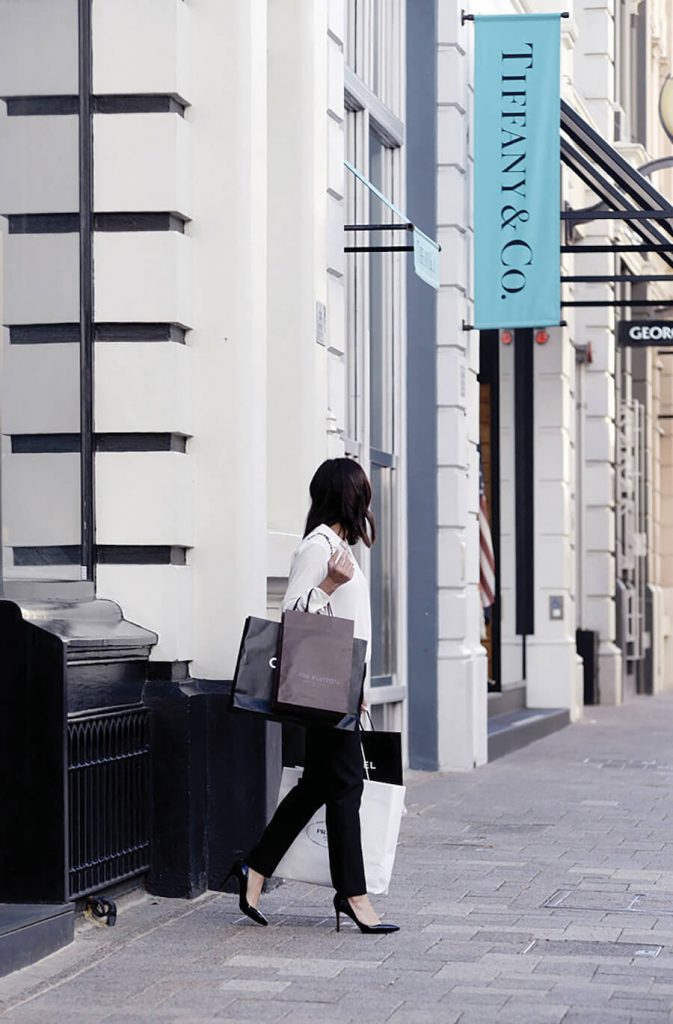 With online retail dominating shopping trends globally, it may come as a surprise to discover that on the day Galeries Lafayette's newest concept store was unveiled in Paris earlier this year, an excited queue of shoppers began forming along Champs-Élysées from the early hours of the morning, waiting for its steel black doors to open.
Why would anyone stand hours in the brisk Parisian spring air, waiting to step into a shop, when they could as easily step into Galeries Lafayette's online store without leaving home? Quite simply because now more than ever, shoppers are seeking connection. Connection to an offline retail journey that will bring them closer to unique, personalized experiences impossible to recreate online.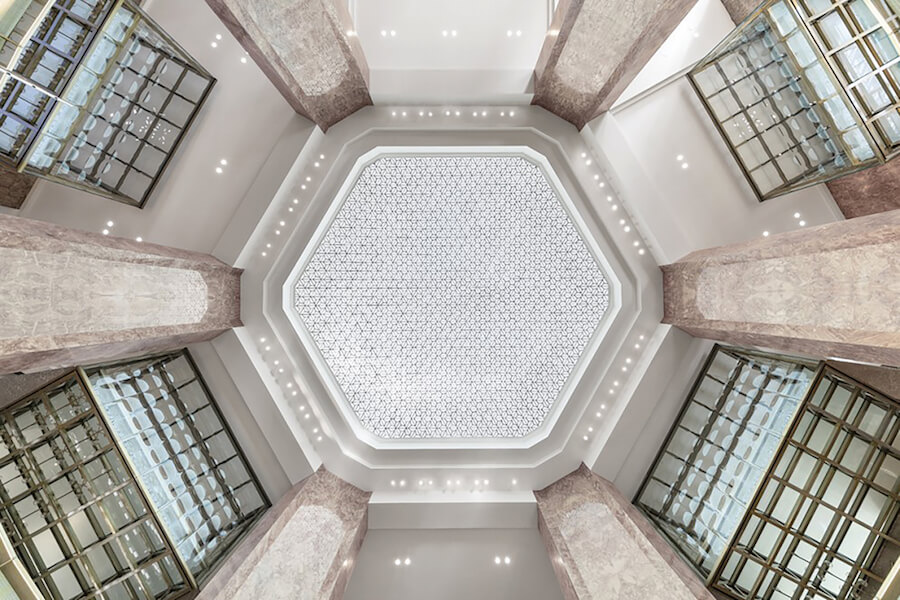 As much as innovative technology continues to drive retail expansion, brands both big and small are acutely aware that such tactile, visual and immersive experiences fuel our imagination and our relationship with their products and services. Across the globe, this has translated into a shift away from the cookie-cutter mall and what Danish architect Bjarke Ingels describes as 'boring white boxes'. Instead, predictable commercial outlets are being shunned in favour of retail corners, buildings and squares that exude heritage, warmth and architectural beauty.
From Perth to New York via Paris, we spotlight three unique quarters that are championing this innovative vision, which places storied spaces and good design at its core – all whilst breaking down the boundaries of impersonal, commercial boxes and reminding us of the beauty of that which is intimately connected to its context.
Hermès Meatpacking, New York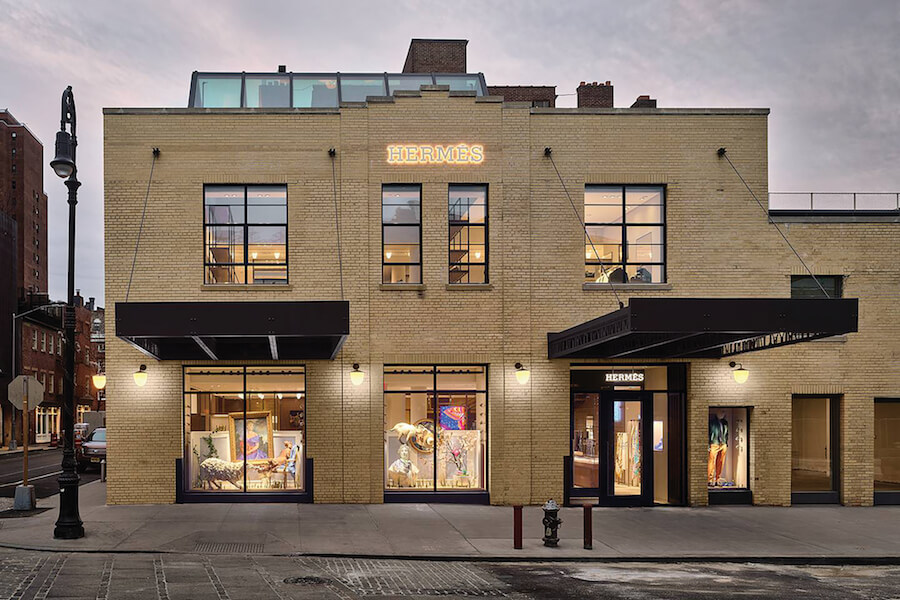 46 Gansevoort Street, New York NY 10014.
French maison Hermès is synonymous with tradition, impeccable craftsmanship and humanist values. Founded in 1837, the family-run house pursues a freedom of creative expression that is grounded in the values of high quality and the aesthetic of functionality lead by its equestrian heritage.
For its latest store in New York – one of the 310 boutiques that grace 49 countries across the world – Hermès purposefully chose to defy tradition and opened its doors in the city's cobblestoned-lined Meatpacking district.
An area that brims with history that can be traced back to the early 1800s, people originally moved here to escape the epidemics in what was then the main part of New York. Over the years, the neighbourhood evolved into a market, and by the 1900s, 250 slaughterhouses and packing plants filled the district.
Today, the quarter is home to trendy hotels, contemporary galleries and diverse concept stores. Hermès' Meatpacking boutique is its first outside the traditional enclave on Madison Avenue, and aims to cater to the next generation of clients that seek to connect with luxury brands in a casual, personal manner.
"It's a big departure for us," said Bob Chavez, president and CEO of Hermès USA, in a recent interview. "Part of it is to relate to the whole concept of the store, which is much more comfortable, much warmer, much more casual and very welcoming in this neighborhood."
With its sneaker-clad employees and communal sitting area with bar stools where you can hang out and order free coffee, sparkling water or wine while charging your phone, this latest boutique marks a distinct shift in the brand's retail approach that places a greater importance on context and connection.
The King Street Precinct, Perth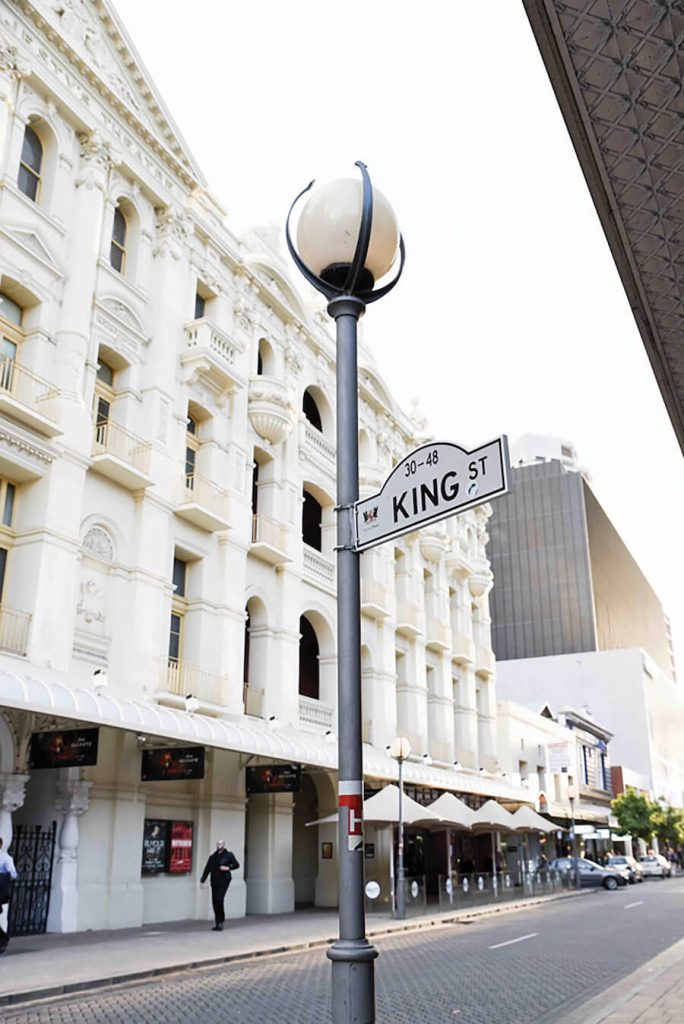 In the heart of Western Australia's capital city of Perth, nestled within its Central Business District, the King Street Precinct is a rare architectural quarter that exudes 19th century charm mixed with the breezy elegance of European pedestrianized lanes.
Built during the city's gold rush era of the 1890s and named after King William IV, what once was a quiet cluster of cottages and small shops transformed into a hub of commerce and trade. In 1904, His Majesty's Theatre was built within the quarter (the largest theatre in Australia at the time) and since then, little of the streetscape – which became a protected heritage area in the early 1980s – has changed.
The history and distinct architectural landscape of the Precinct – a rarity within an increasingly anonymous city skyline – has attracted recognised lifestyle and luxury brands, including Chanel, Gucci, the Intercontinental Hotel, and Prada. Smaller emerging brands and diverse hospitality and furniture boutiques dedicated to offering the refined and versatile have also found their niche within the Precinct, defining a distinct retail experience that is at once eclectic and curated.
King Street, 6000 Perth, Western Australia. www.kingstreetperth.com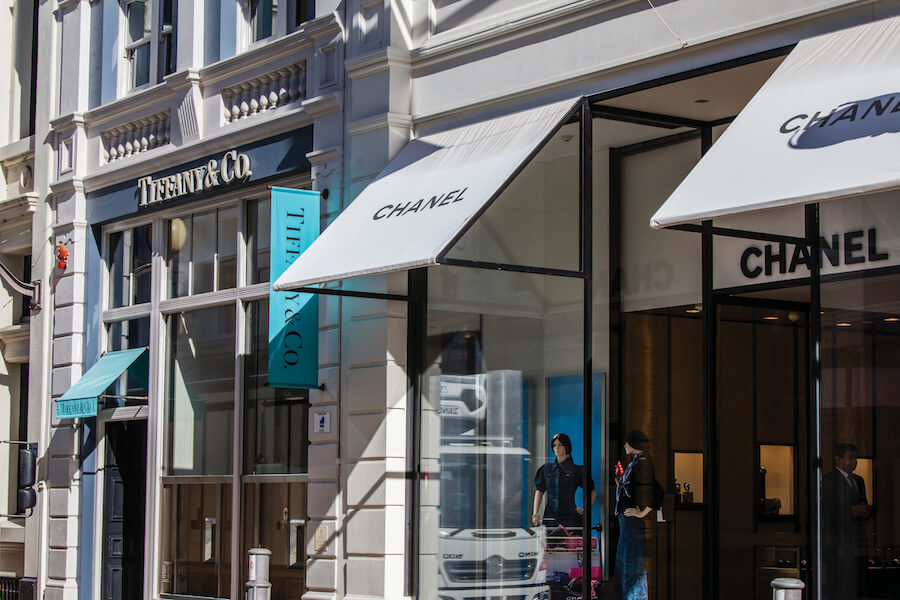 Galeries Lafayette Champs-Élysées, Paris
An institution of the Parisian retail scene, the Galeries Lafayette flagship Haussmann store is today the second most visited monument in the city after the Eiffel Tour. A story that began in 1893 with the opening of a small novelty shop measuring just 70 m2 by cousins Théophile Bader and Alphonse Kahn, its latest store opening along the capital's Champs-Élysées is steeped in family history.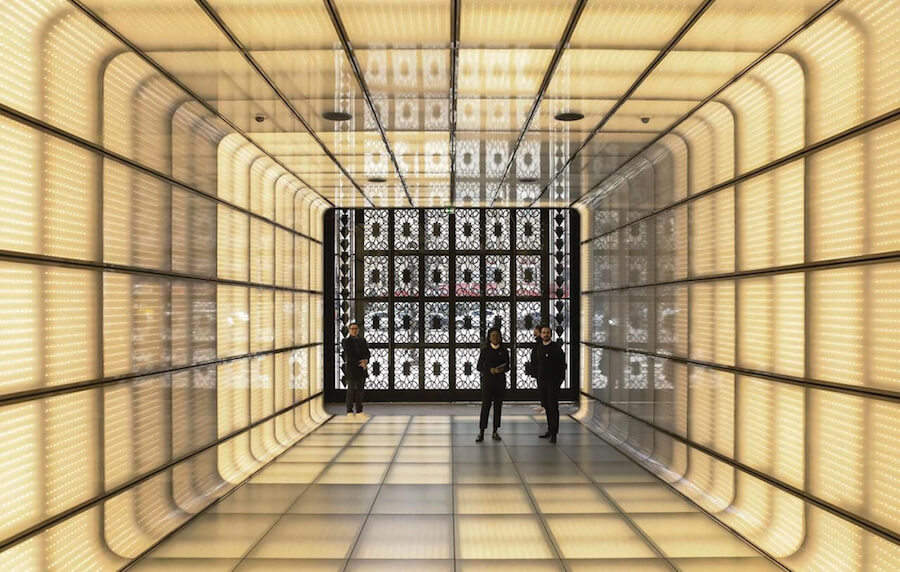 Housed in a stately Art Deco building, it had originally been bought almost a hundred years ago by Bader to house what he envisioned would be a hybrid space that would combine retail, services and entertainment all under one roof. However, the financial crisis of the 1930s thwarted his plans, and Bader was forced to sell the land to the National City Bank of New York shortly afterwards.
When the building recently came back onto the market, the Galeries Lafayette Group snapped up the space in its bid to fulfil the founder's original dream and also to spearhead an innovative retail and experiential model. A team of 300 personal stylists have been trained at a "retail academy" to better serve and understand the consumer choices of its shoppers, while regular social events such as book signings, master classes, keynotes and concerts aim to transform this historical building into a cultural landmark and meeting point open to all.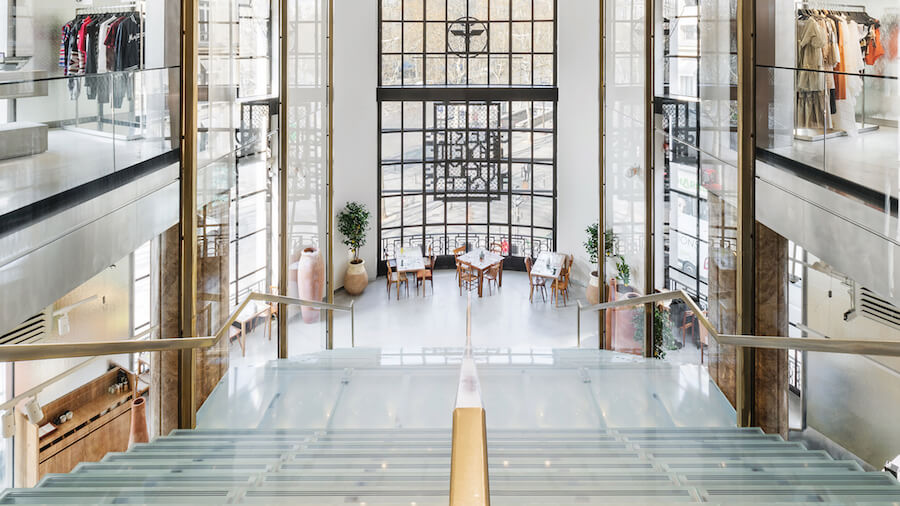 The heritage structure has been transformed by Danish architect Bjarke Ingels and his firm, BIG – Bjarke Ingels Group, who sought to translate the space into a 'pragmatic utopia' that fuses opera-style balconies with six suspended glass boxes that will change every three weeks and house pop-up installations.
As noted by Nicolas Houzè, the CEO of Galeries Lafayette, "This new store concept will be a "retail laboratory" and transform our brand's relationship with its customers, partners and employees. In this respect, it is a response to emerging new consumer and collaboration practices. It is open to all the ideas that are transforming the world."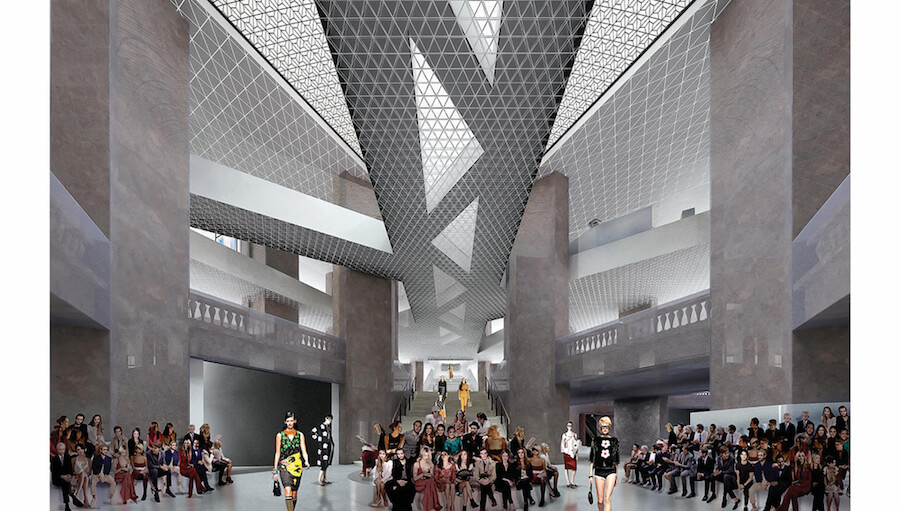 60 Av. des Champs-Élysées, 75008 Paris. www.galerieslafayettechampselysees.com