London Fashion Week 2019
VAMP got access to London Fashion Week for a peak into Spring/Summer 2020. Here's what our team picked up from a week of glitz and glam.
RUNWAY COMMENTARY | LONDON FASHION WEEK 2019 FOR S/S 2020
Photography by Mark Soler.
Words by Caroline Abela.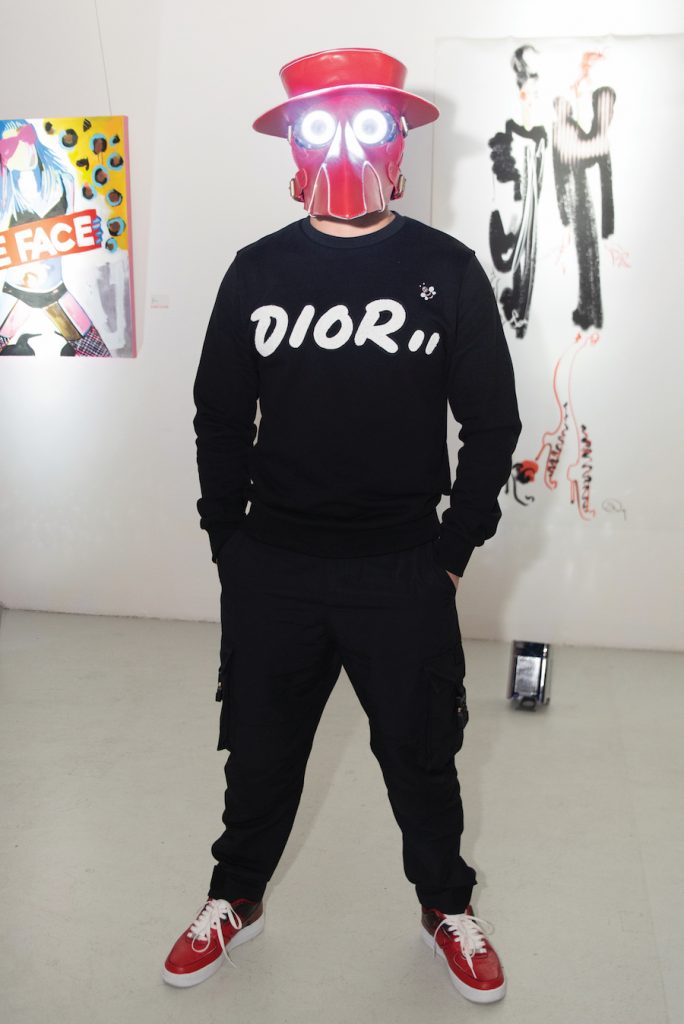 London Fashion Week SS 2020 opened its doors on 12th September that ran for a week; an immersive fashion innovation experience which included Designer Catwalks, installations, experiential spaces and a #PositiveFashion Designer Exhibition, where the creative work of progressive designers explore the most compelling stories around sustainability and ethics.
The shows on the first two days were organised by Fashion Scout – the international showcase platform for fashion pioneers, one of the UK's largest independent showcase for emerging and established design talent during London Fashion Week. Fashion Scout is renowned for championing, nurturing and showcasing creative design talent from around the globe.
Day 3: Malan Breton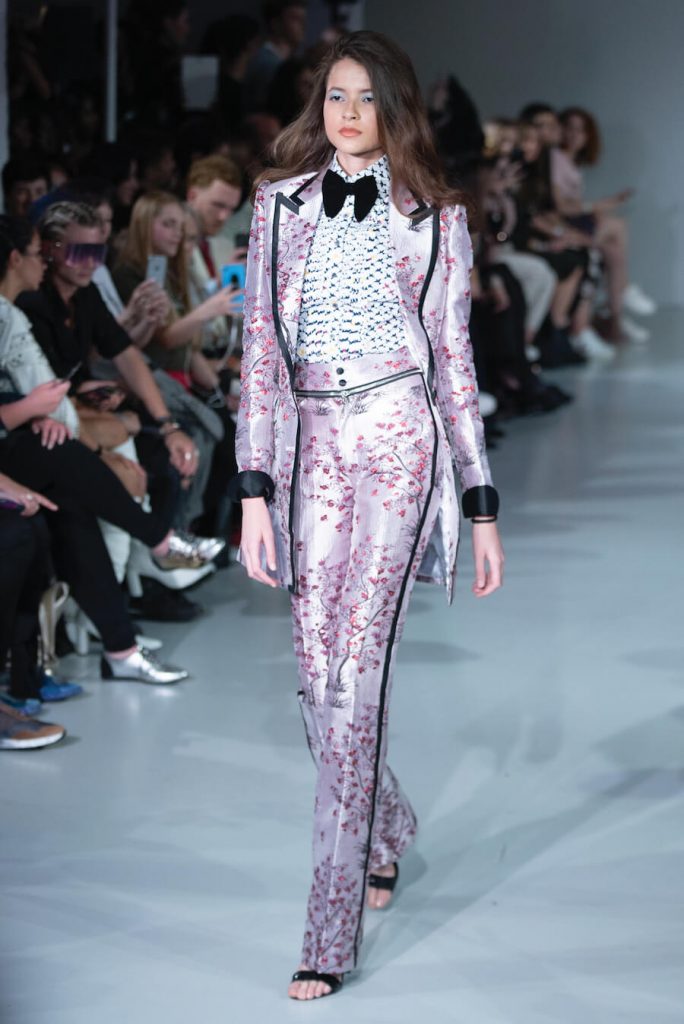 Malan Breton® is originally from Taipei, Taiwan (Republic of China) and is known as the master of the women made-to-measure suit, having apprenticed under the Royal Warrant with a steadfast global following of businessmen, career women, celebrities, politicians and Royals.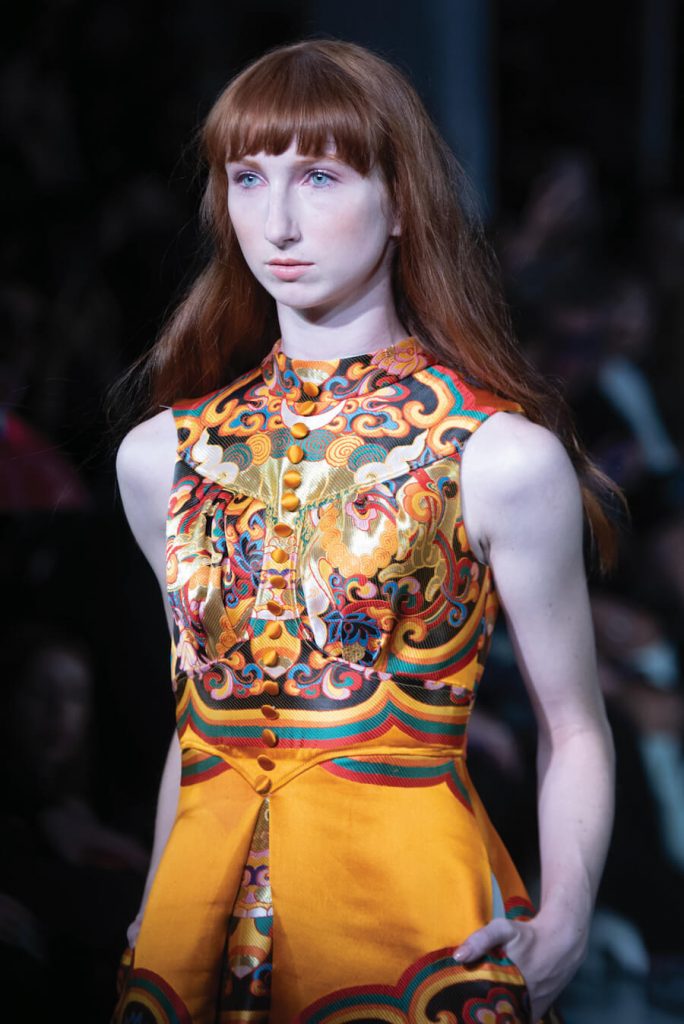 For his S/S 2020 he showed us a men and women collection starting off with some stylish leather pieces including a beautifully made corset dress, followed by his famously known perfectly tailored suits. The collection included flowy dreamy dresses, red carpet styled ruffled dresses with bold prints and stunning sequin maxi. Breton collection makes sure that his women are seen and shown in all her beauty. However, his power suits are still the sharpest, classical and most glamorous pieces!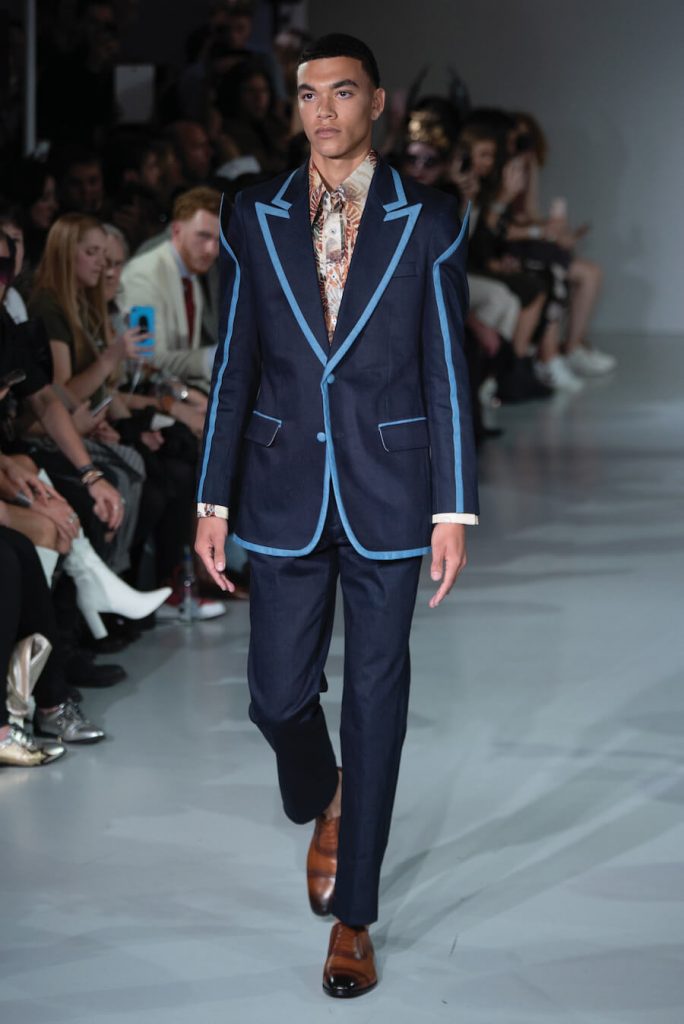 Breton's charming prints in beautiful pastel colours gave me a bit of a '90's revival. I personally loved the fresh take to tailored fashion. Great first show, with Breton's intertwining personal history to sharp lines and tailored designs.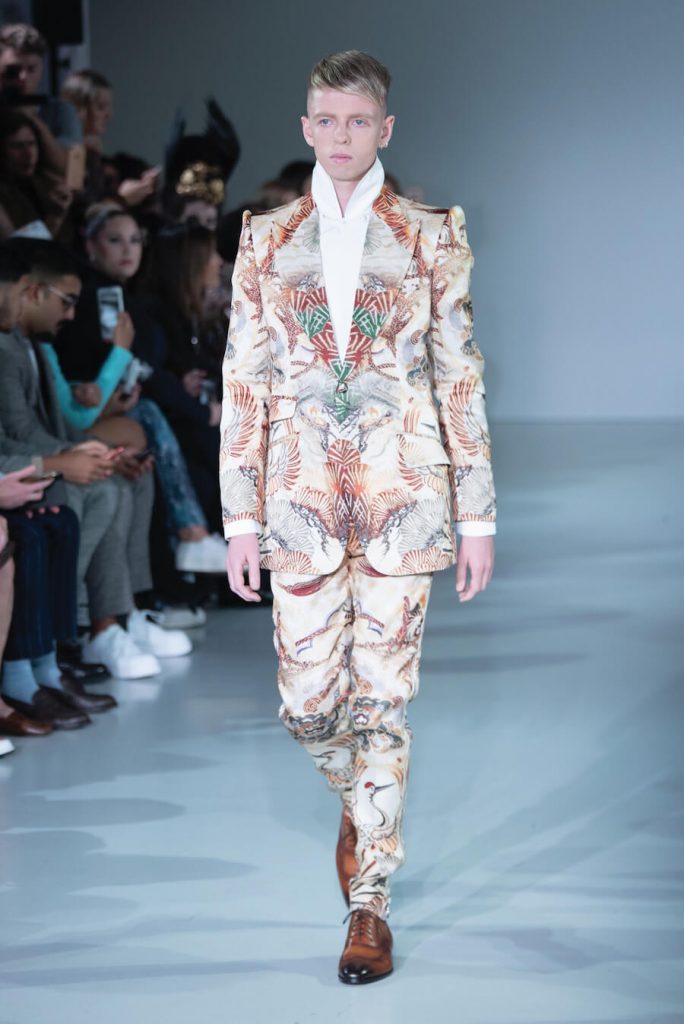 Day 4: Futurolgy MCA
Today's runway shows were brought by MCA (Milan Creatives Design Academy) with the collaborative show entitled Futurology MCA x Longwen Li x Malopink x Joliydor.
Li Longwen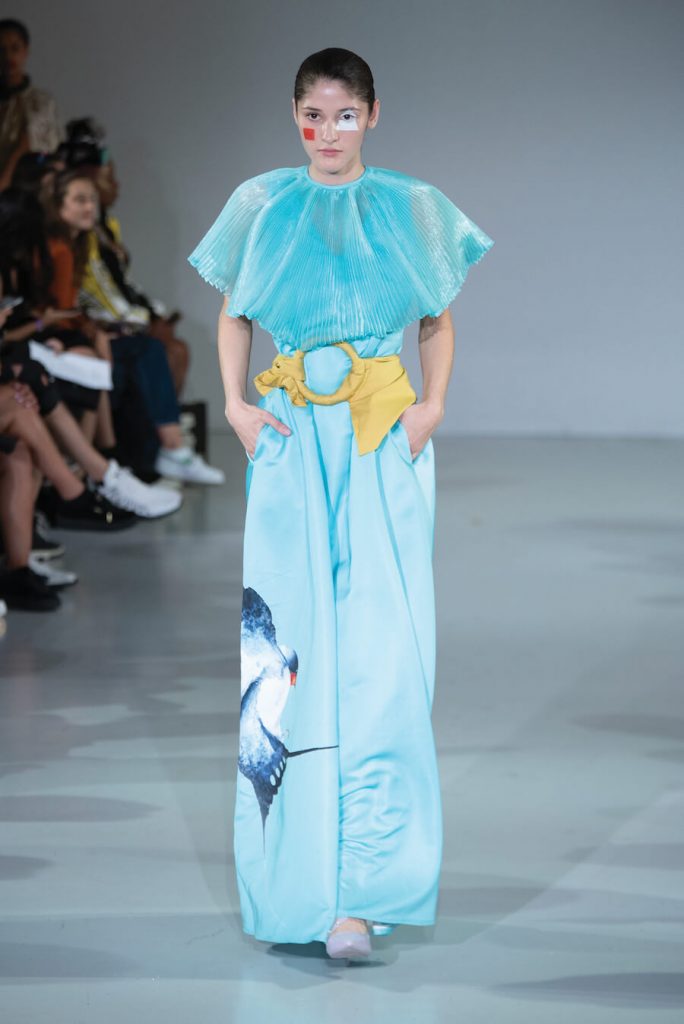 After his Menswear collection during NYFW Li Longwen showcased his women's wear collection titled "Mothers Child" inspired by old photographs of him and his mother. It was immediately noticeable that Li Longwen has an exquisite mastery of draping – bringing to life a perfect synergy with his precise tailoring skills. Clear and evident his masculine edge up to the softness of the draped detailing. The collection has an obscure twist and his dominant folds create an imbalance to compliment a rather otherwise symmetrical silhouette, which is just so fresh and modern.
Loved the holographic PU over a square mesh and paper light sheer organza, which creates an illusion of a floating bubble. The result of this confident capsule collection had much for one to choose from multi fabricated dresses under funnel necked, sleeves coats and the in off-key jumbo detailed cropped jackets worn over a supersized shirt dress! Beautiful collection perfectly harmonised palette of dusky tones, metallics and occasional blasts of bright bold colours.

Second show – Joliydor
Chinese designer Christine Wang left China for France where she was trained by Parisian designers and graduated from the prestigious ESMOD with a major in Haute Couture. Her first collection is dedicated to her second home France. The collection was inspired by the unique elements of traditional regional Chinese cultural dresses along with the principal aesthetics that scream delicate femininity and power of the discerning Parisian woman in the late 80's!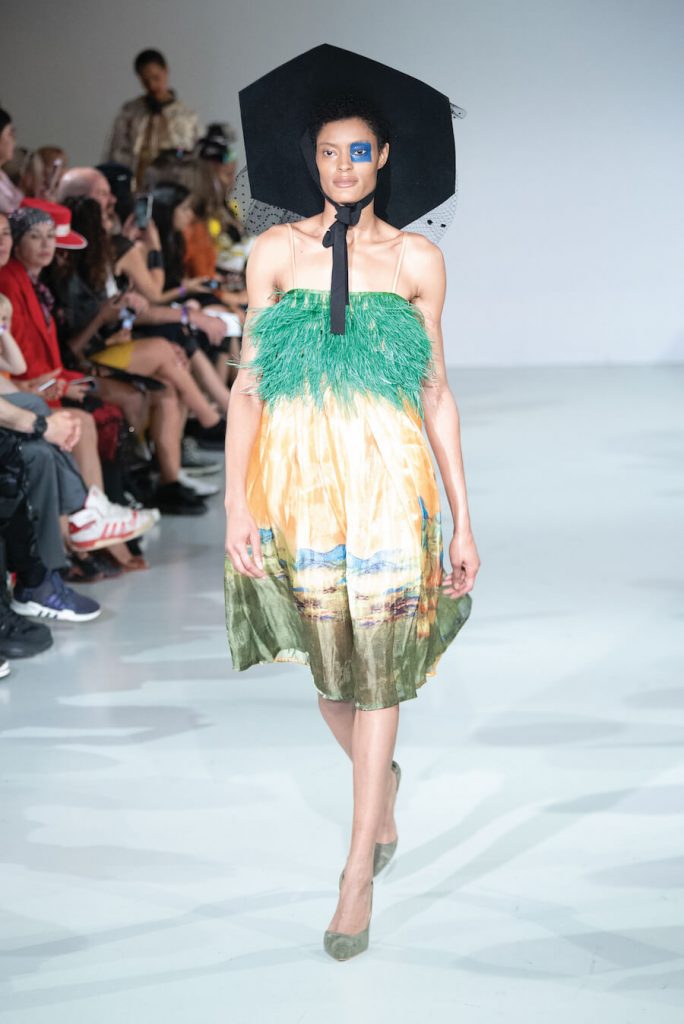 The take on the evening and cocktail pieces was exquisite with bilateral cultural influence mixed with the retro design elements. Fabric pleating techniques, over layered and manipulated pieces were in sync with specific garment design to create a visual masterpiece. A cohesive collection with a diverse range of simple silhouette pieces made from luxurious fabrics, showcasing silk cut floor sweeping gowns, tiered mix feathered maxis and pleated mini dresses. The utilisation of varied pastel hues and prints created a delicacy that is reminiscent of classic timeless pieces.
Third show – Makopink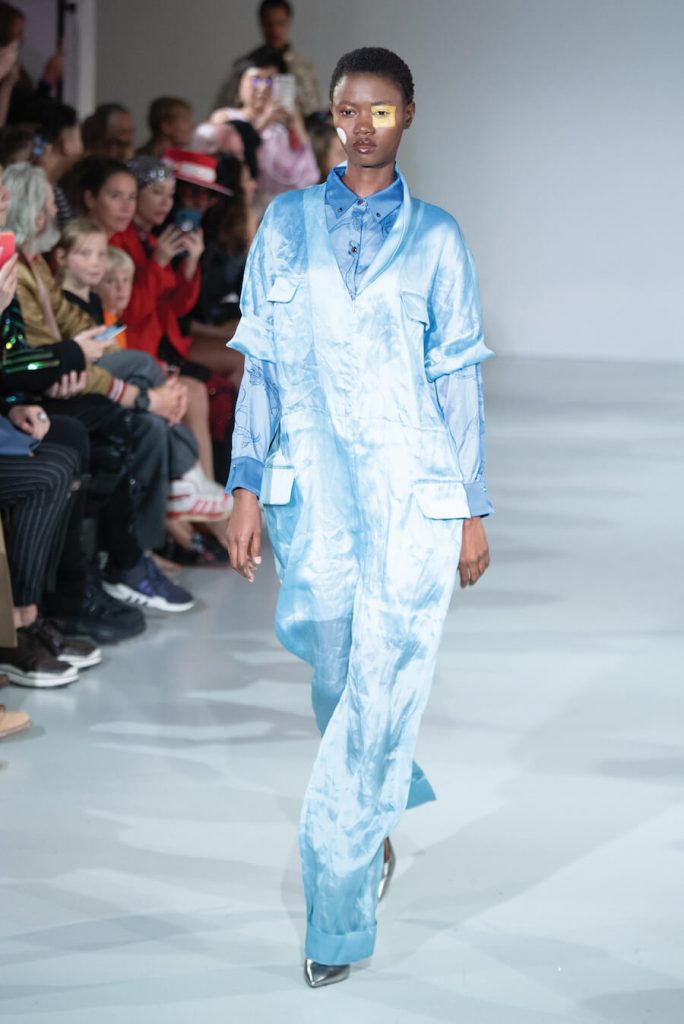 Designer Phyliss Wen and her brand MAKOPINK S/S 2020 collection talks about Fun – Fun in concept, fun in design and fun in delivery. After debuting her collection at Shenzen Fashion Week, this time in London she showcased a collection that firmly keeps her brand ethos in play but with mature twist.
"Points of Soul" reflects the free soul approach to the design element with most of the collection being a non-size defined collection hence giving each garment an individual characteristic of different ways to wear her pieces. Shapes can be loose and free or restrictive and contoured depending on the wearer. The designer reinvented the traditional cropped and caped and evolved it to futuristic time for a fresh global audience.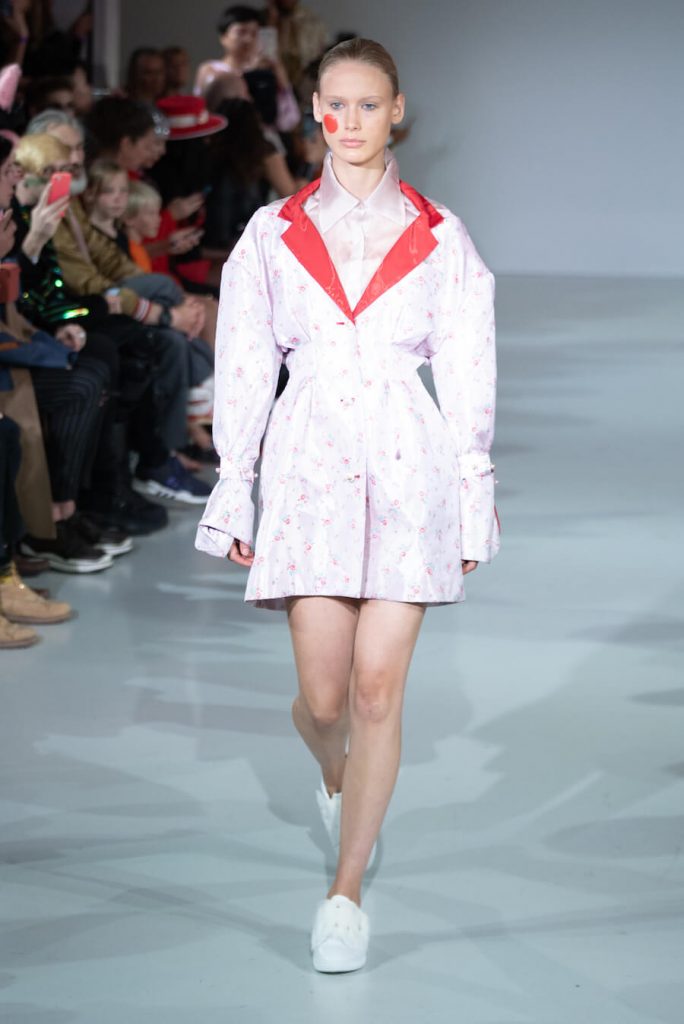 The collection gives a very creative western vibes with prints developed to convey aspects of a modern and young generation that included specially created fabrics using unique experimental techniques of bonding and layering manipulation. Tailoring plays a significant part in the deconstructed and raw form; asymmetric multi fabricated shirt and layered jackets over lovely prairie inspired skirt trousers. The colour palette transcends anything I have seen so far with colours varying from red representing success, yellow for power, green for wealth and blue for positivity, black for heaven and gold for nobility.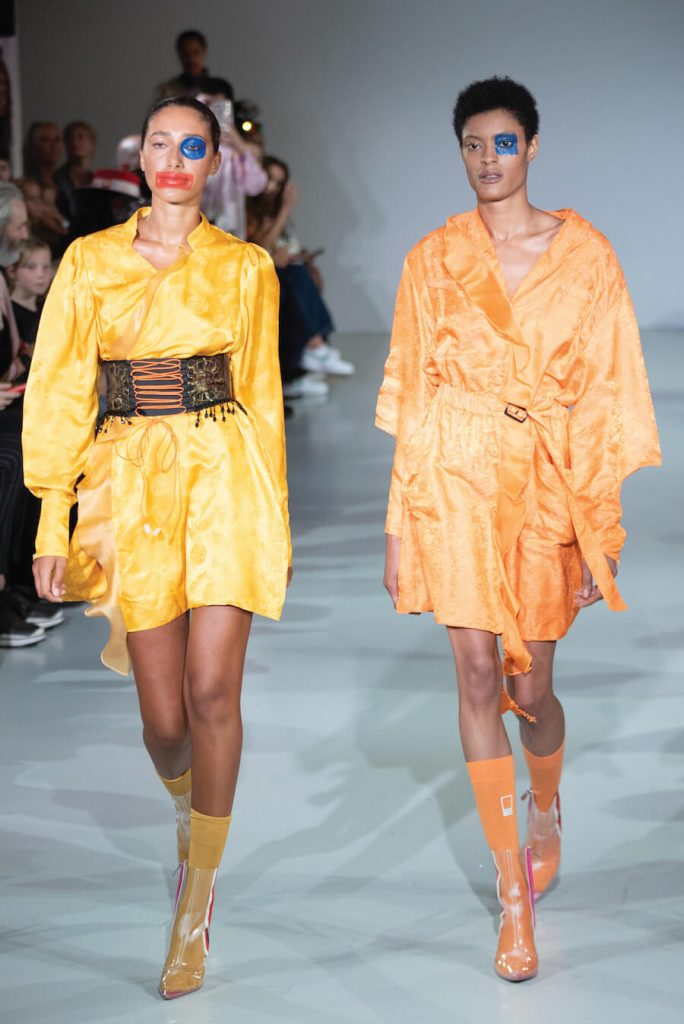 Day 5: Various Designers
First show – Rohmir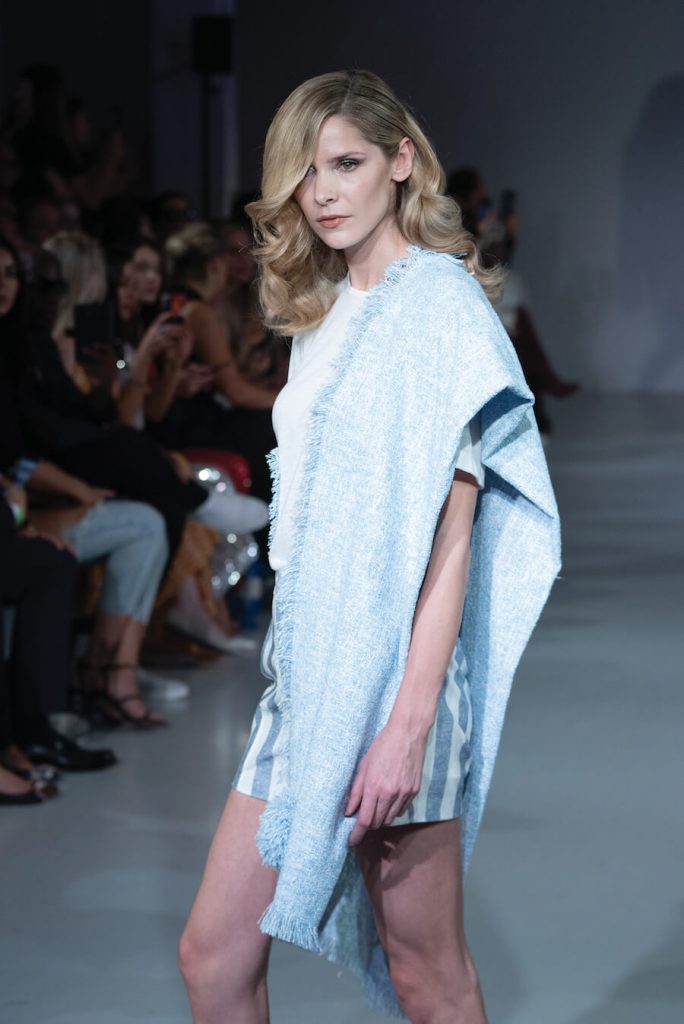 For the S/S 20 Collection Rohmir was inspired by the golden 20's women but adding a touch of modernism for the 2020 women who are full of joy, fun and dreams – the women that love their travels.
I really resounded to Rohmir's vision; a vision of a woman whose way of living is all about fashion but she is also modern and leads an active life. She is a travelling businesswoman with her flamboyant way to change from desk to table, with all facets of her lifestyle and travels.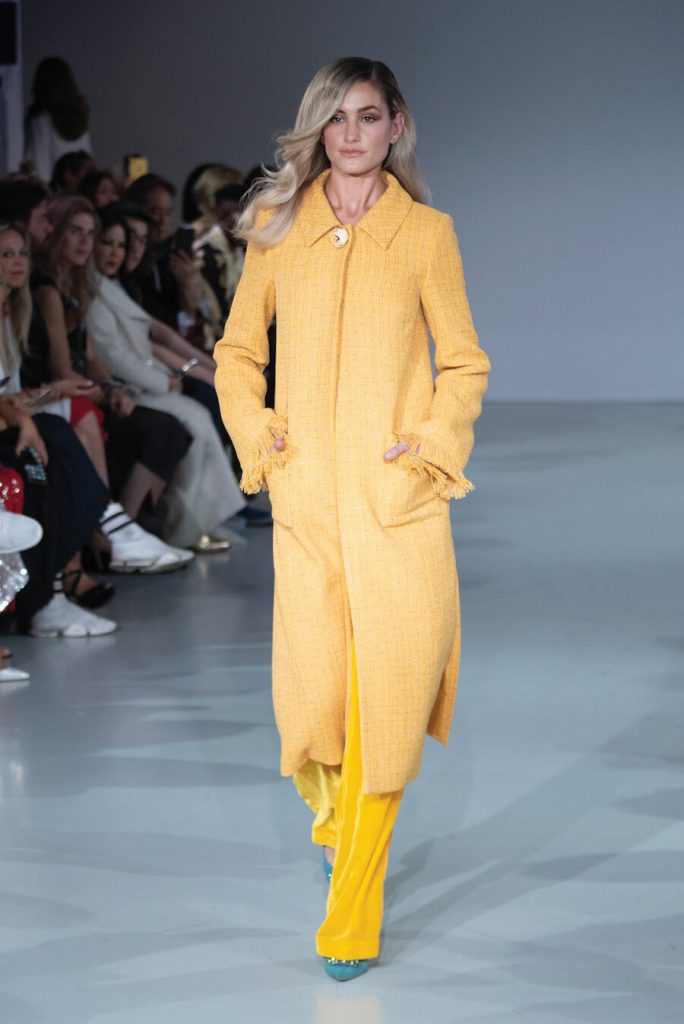 This collection had pretty satin pieces, beautifully structured tweed and power suits where the highest tones of his collection that narrates a very powerful and inspiring story. All pieces are well made and executed beautifully.
Second show – Seven Continents
A 4-in-1 show brought together by Jera Creative Agency and Fabusse for "Seven Continents". Seven Continents of Fashion was launched in Cannes 2018 to showcase an eclectic mix of celebrated influential designers, film enthusiast and artists, representing seven continents.

In Couture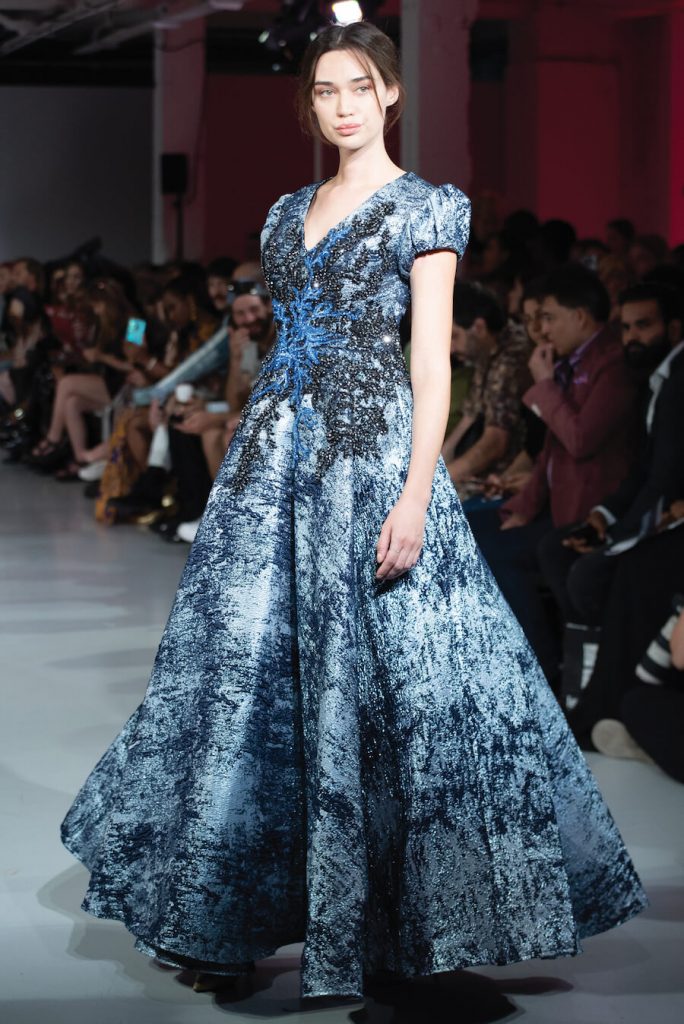 With an indisputable flair for fashion, Ayman Alhamwi and Mohmmed Alselka and their team of international designers, established this iconic haute couture company in 2013. The extensive experience in the fashion field and Alselka's own touch in haute couture has created a distinctive imprint in the fashion world of evening dresses; stunning pieces made with exquisite craftsmanship.
By Thaher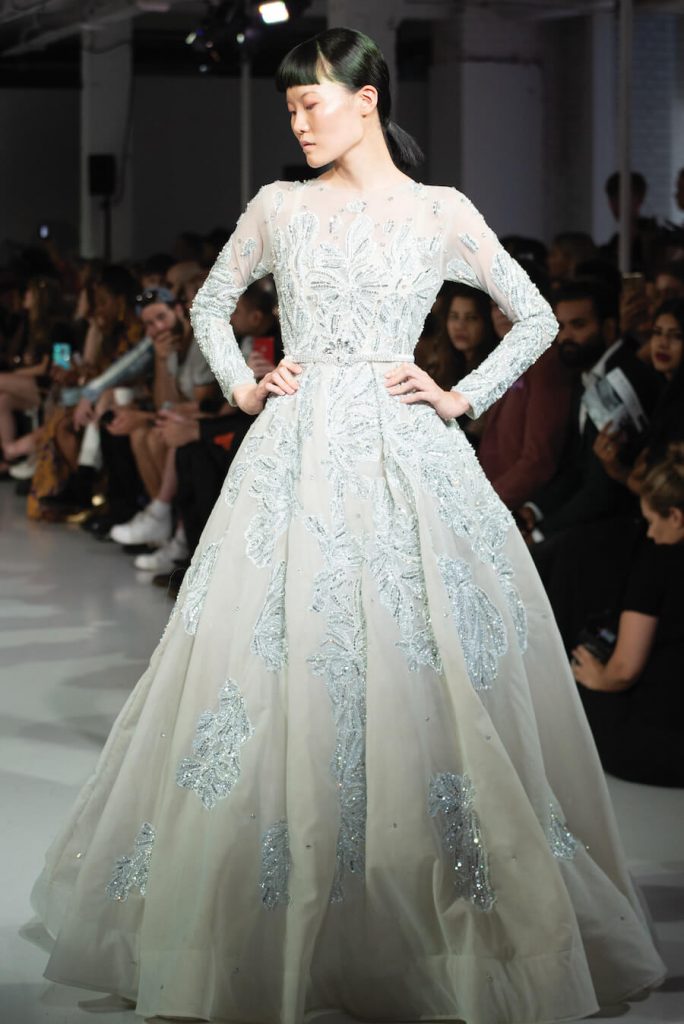 By Thaher is a brand from Kuwait, very well known amongst the Royals in the Middle East. By Thaher's "Private Collection" for S/S 2019, was one of his most talked about collections to date! Also known as Mr. Swarovski, his collection is inspired from the world of crystal and the 20's vibe where once one could easily make a real show of luxurious and fabulous nights. Thaher has participated in many fashion shows such as Mercedes Benz fashion week Doha and Kuwait.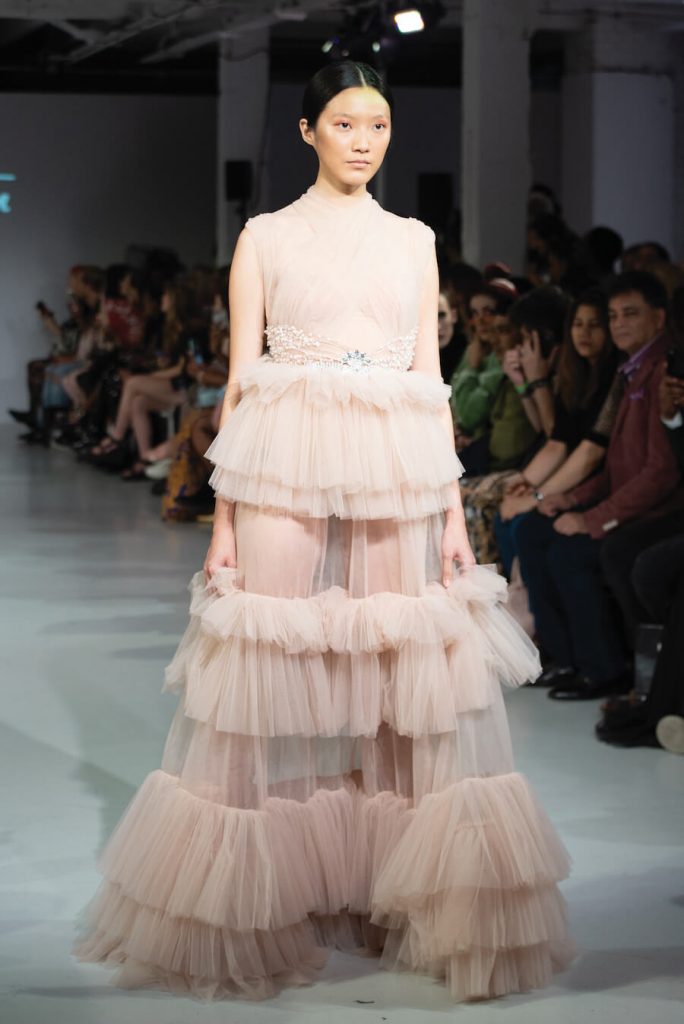 It is no wonder he is known as Mr. Swarovski; his pieces were all about crystal and femininity, each piece reflecting a woman's body and her personality – the ultimate true definition of Thaher Baqer Couture!

Nila Baharuddin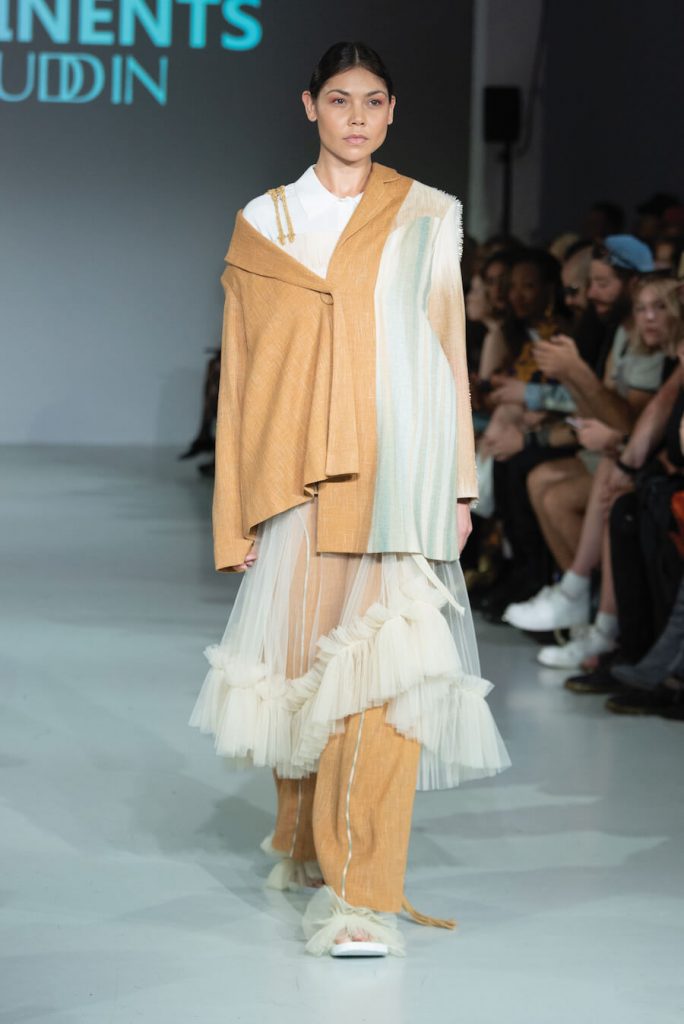 Nila Baharuddin is an international Fashion and Interior Designer and a Visual Merchandiser whose designs are worn by fashion icons and celebrities around the globe. With an MA Art Degree from the Sugino Dressmaking College in Tokyo, Japan, Nila travelled to Washington, USA to study at The Art Institute of Seattle. Her S/S 2020 collection is evidence of her interior design knowledge; a true celebration of structure and fashion coming together with some very original and cool pieces.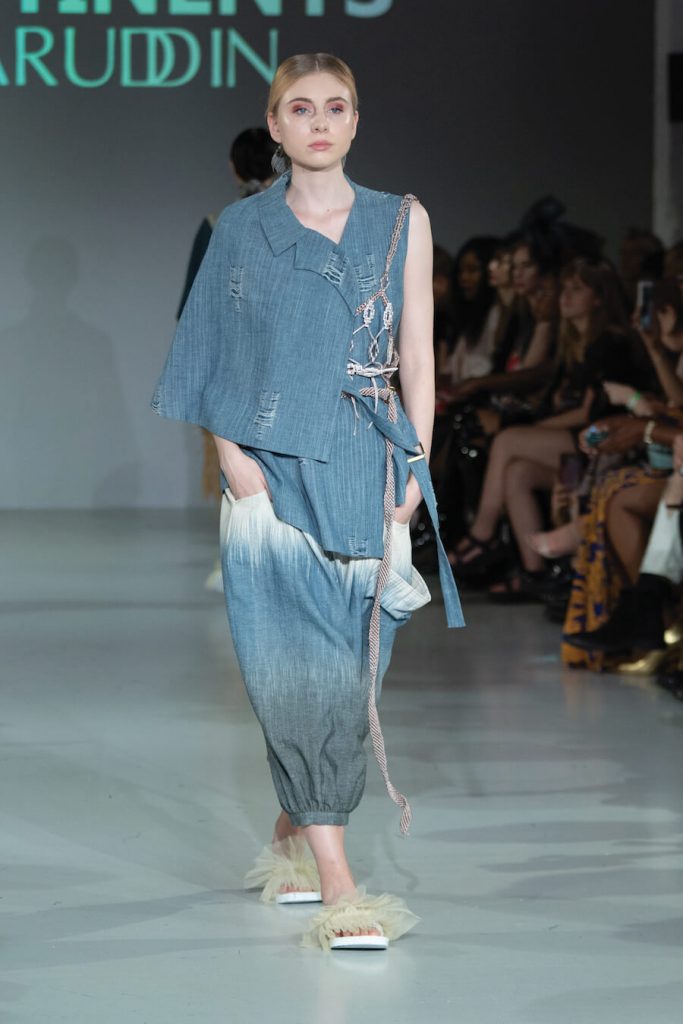 Karitekeya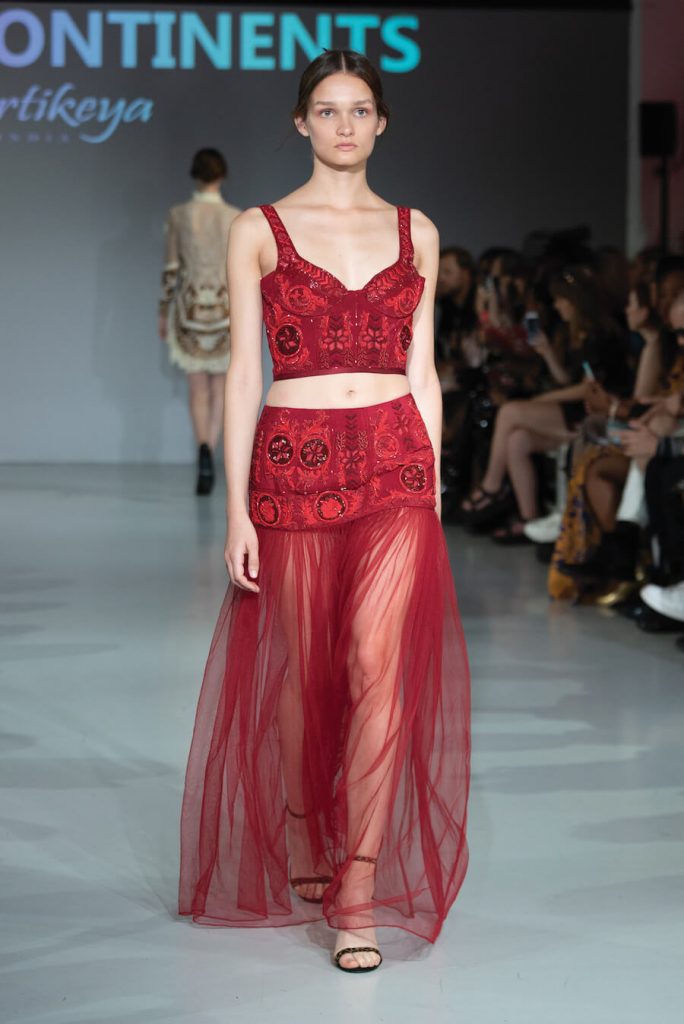 'Kartikeya' is the solo debut of Nitin Kartikeya. Launched in 2013, the label strives to breathe a fresh new life into old world lore. Kartikeya's garments are best described as a fleeting play on past eras, heavily inspired by theatre and film. His muse is a delicate concoction of old-world heritage and romance for the arts bringing forward a sense of avante garde and surrealism to each piece.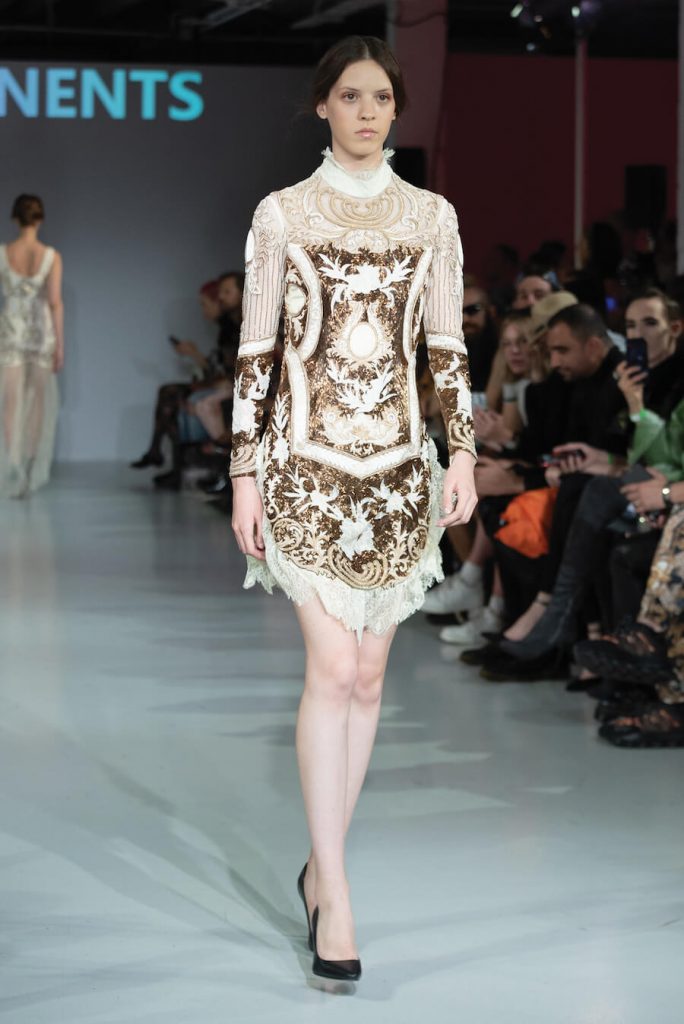 The label is nourished by its roots in the faded opulence and magnificence of the Baroque era that inspires legacy, culture and mythical nature of the old world. Each garment is exclusively crafted by skilled artisans and infused with a sense of raw energy, appealing to the sartorial sensibilities of a global client.
Day 6: Richard Malone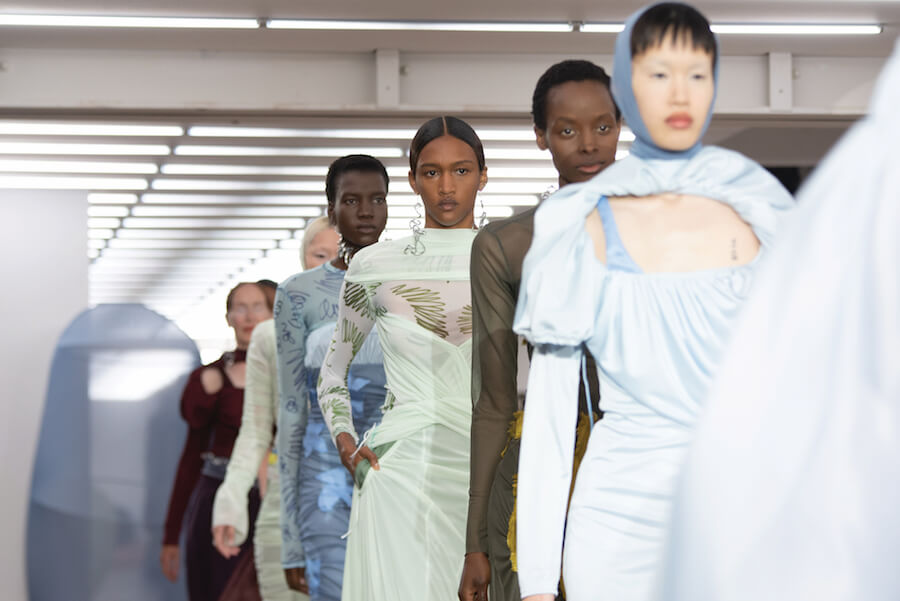 Today's show is brought by the British Fashion Council and is none other than Richard Malone. Malone is a 20 something old designer and hails from Wexford, a small town in the south west of Ireland. Malone's unique style is inspired from sculpture. Most of his research is conducted primarily by getting in touch with his surroundings, taking all the inspiration from Ireland's rebellious working class teens. His ability to translate inspiration found in his hometown of Wexford, Ireland translates into elegantly constructed garments that are simultaneously sculptural and easy to wear.
As an advocate for sustainable fashion, he sources yarns for his collections from the Himalayas; he works with a community of female artisans in Tamil Nadu, Southern India, to hand-weave fabrics and dye them naturally. Malone is strongly against the mass production involved in the fashion industry.
His RTW S/S 2020 collection, was inspired by his grandmother, Nellie Malone who passed away a few months ago. A regular on Malone's front row, Nellie was among a circle of strong women who have influenced Malone's designs. The designer described the creative process as a means of exploring and overcoming his grief. The doodles and handwritten notes printed on long-sleeved mesh tees were a reminder of his relationship with his grandmother.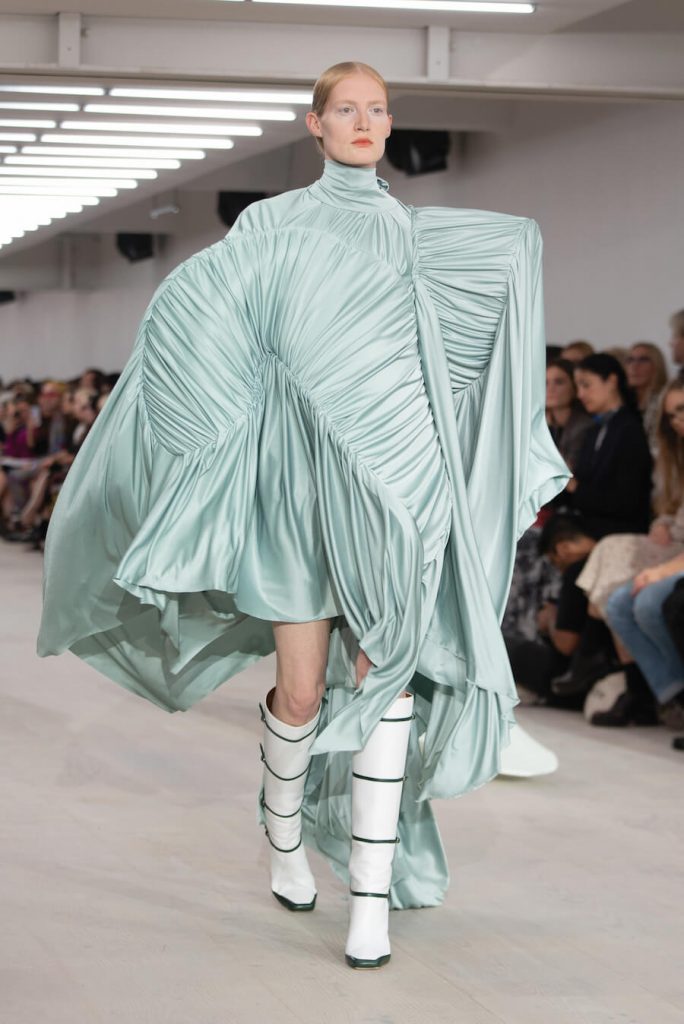 His affinity with geometry was evident in the silver earrings and the military green touch implies a hardness that on the other hand was soon softened by the girlish knee-high socks and plaited hair. The strange positioning of his cut-outs is unique with some on shoulders, others on chests. Ruched mesh prevailed on the textural front, hinting to corsetry that was his grandmothers favourite. His collection had cues from the 1990s, with sky blues, mint greens and a vivid scarlet dominating the palette.
Day 7: Bobby Abley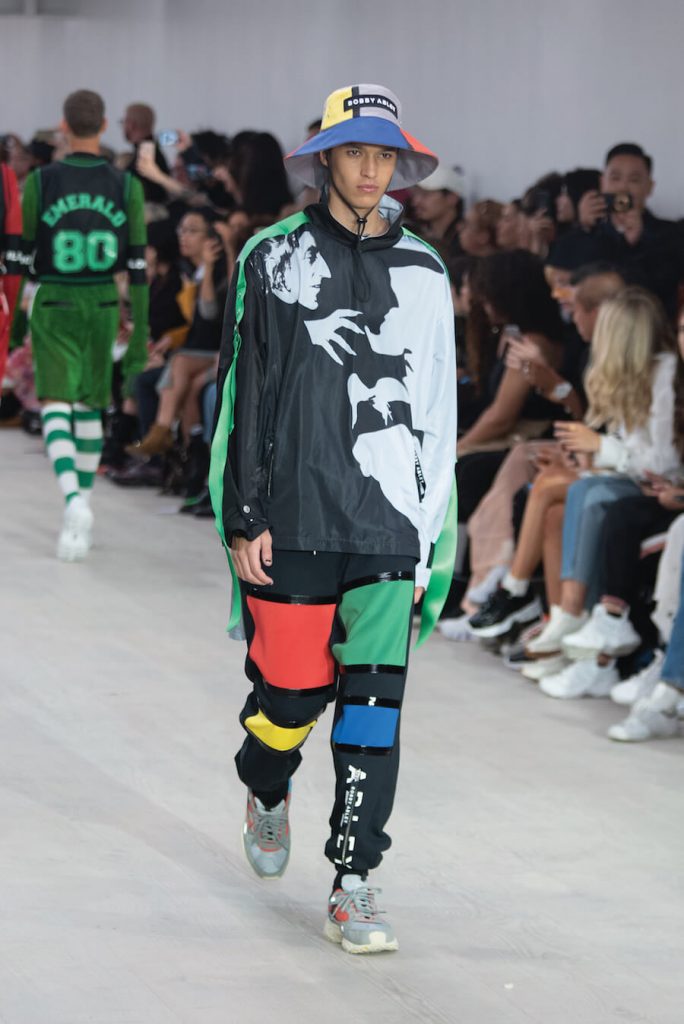 The London-based designer studied at Ravensbourne College before moving to LA for a year. In L.A. Abley worked with well-known designer Jeremy Scott until he moved to London to work in the design team at Alexander McQueen.
Abley's fascination with cartoons has seen him collaborate with some of the most iconic characters from his childhood and beyond, having created collections based on The Little Mermaid, Star Wars, Spongebob Squarepants, Aladdin, Jungle Book, Teletubbies, Power Rangers, Looney Tunes, Mickey Mouse and lately even Pokemon!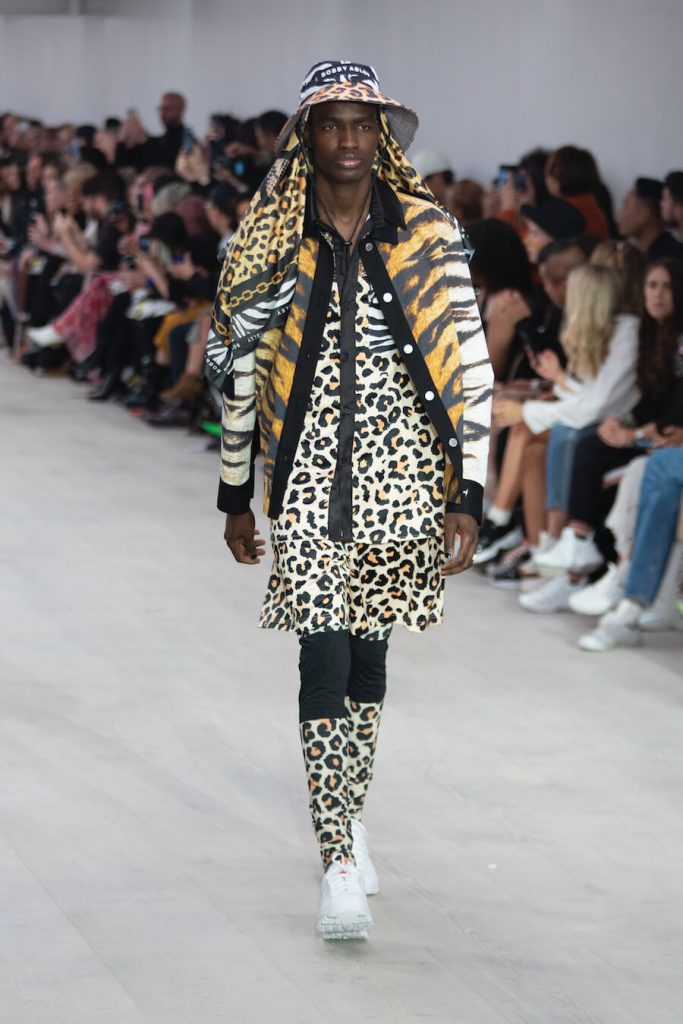 Abley played with his take on "The Wizard of Oz"! Motifs of Dorothy Gale, Cowardly Lion, Scarecrow, the Tin Man, winged monkeys, Glinda the Good Witch and the Wicked Witch of the West were everywhere and my inner child was screaming!
Models got the pointy green nails of the Wicked Witch, while there was a pink basketball top with Glinda's name on it, a floor-length jacket with brown faux fur, a silver leather biker jacket with matching cowboy chaps and a wooden red heart necklace. Not a colour palette you would appreciate together, however the colours red and green represent the iconic Dorothy's Ruby slippers and the Emerald City.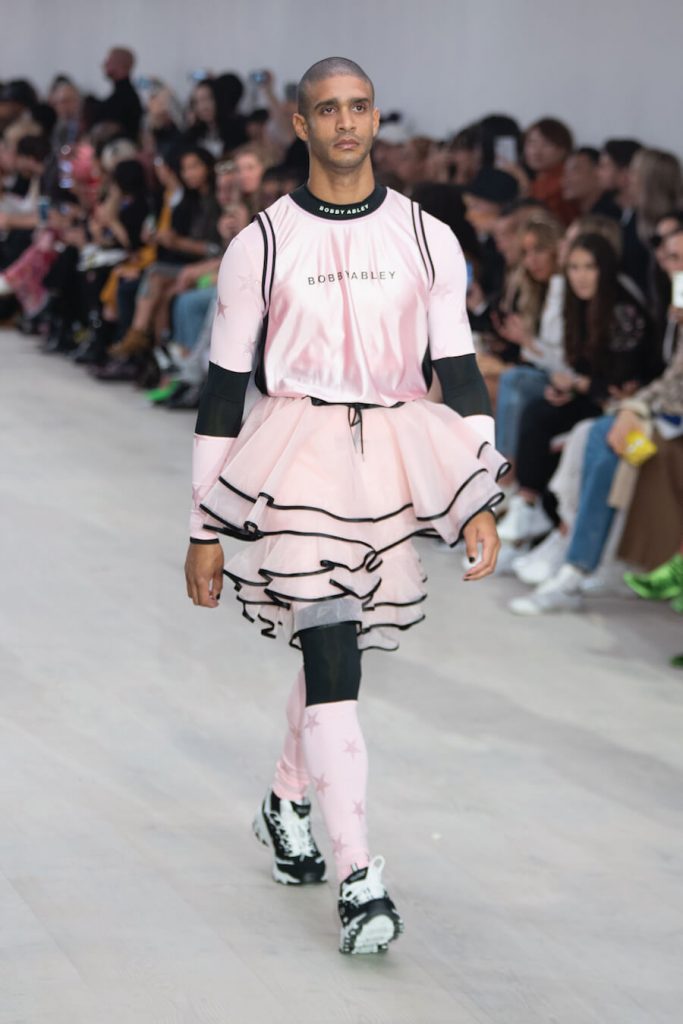 Abley's interpretation of the Hollywood classic was literal and fun. Hats off for staying true to his inclusive attitude whilst paying tribute to the best-known song from the movie "Somewhere Over the Rainbow" with the rainbow ostrich feather mini dress. An amazing collection that's well done and I truly look forward to more from the talented young designer.