Mediterranean Jewels
The story of Verdura's Maltese cross cuffs, the ultimate piece of wearable art, emblematic for both the House of Chanel and the Company of Verdura.
Words: Alina Anisimova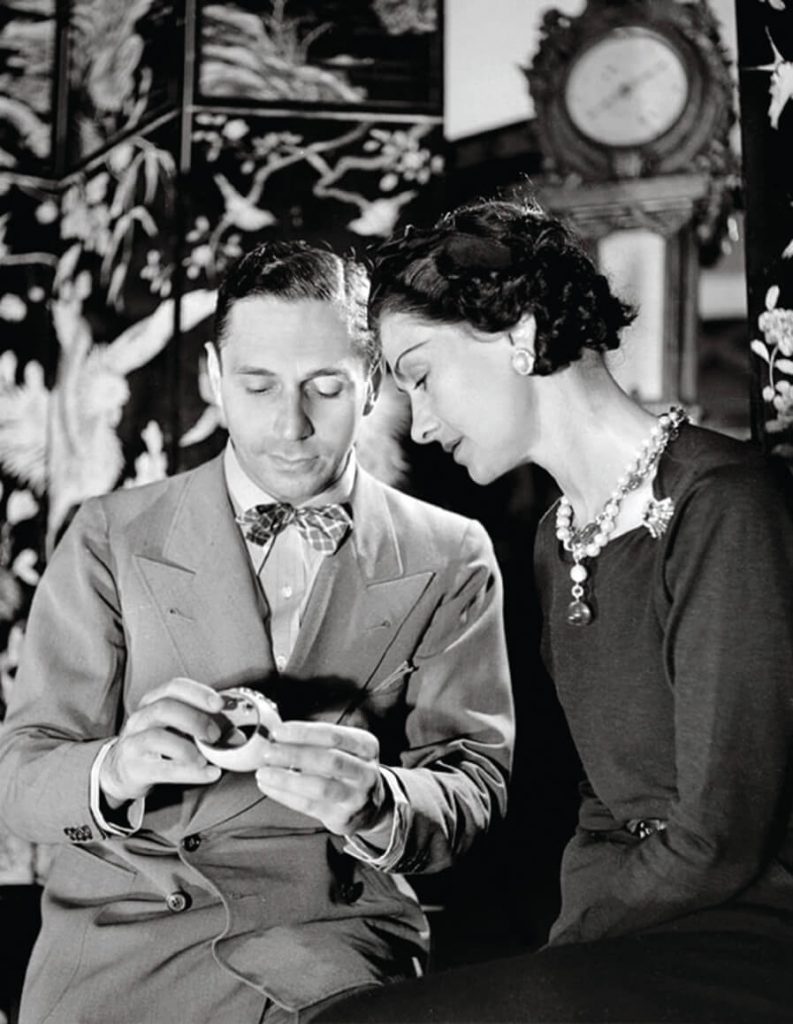 Fulco di Verdura was a titled Sicilian aristocrat whose full name amounts to Fulco Santostefano della Cerda, the Duke of Verdura. Naturally social and vivacious, this blue-blooded playboy grew up amongst the glamour of European society. Verdura was widely known for his lavish lifestyle and his party attitude, which was showcased at grand costume balls at the elegant Palazzo Verdura in Palermo.
It was this very hunger for luxury and pleasure that burned through what was left of the Duke's inheritance – he spent most of it on an infamous '1799' themed costume party. But it was during this lavish affair when Chanel and Verdura found each other, which later helped him to launch his career as a jewellery designer.
Mademoiselle fell in love with his charm and artistry, his unquenchable lust for life that was destructive but also exciting to behold. He looked elegant and sounded worldly and intelligent in either Italian or French. Recognizing his wit and sense of style, Chanel asked him to join her in Paris, designing textiles for her fashion house.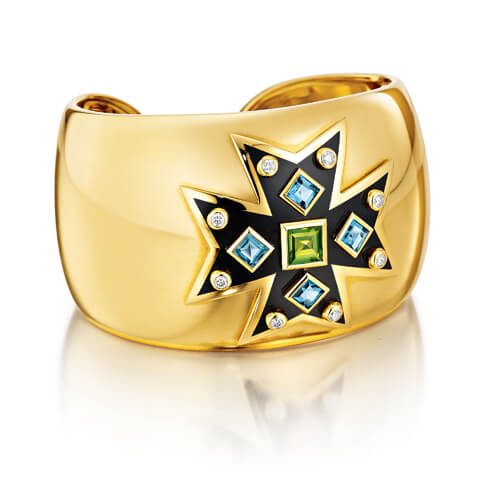 Along the way, the young Duke became her friend and social escort of choice, taking Chanel on trips to Italy and showing her the marvels of remarkable Byzantine heritage. And that is part of why the relationship worked so well: it was so mutually beneficial not just as a friendship – their minds complemented each other, and it was only a matter of time before this duo produced one of the 20th century's most iconic jewellery pieces.
Soon after the inspiration trip around Mediterranean Europe, Coco Chanel entrusted Fulco de Verdura with the task to help redesign her personal collection of obsolete, to her mind, jewellery she had been given by her many lovers, including Duke of Westminster and Russian Grand Duke Dimitri. Taken up the challenge, Verdura incorporated his rich visual heritage to create objects of splendor, prompting him to turn from a self-taught designer to a world-renowned jeweller.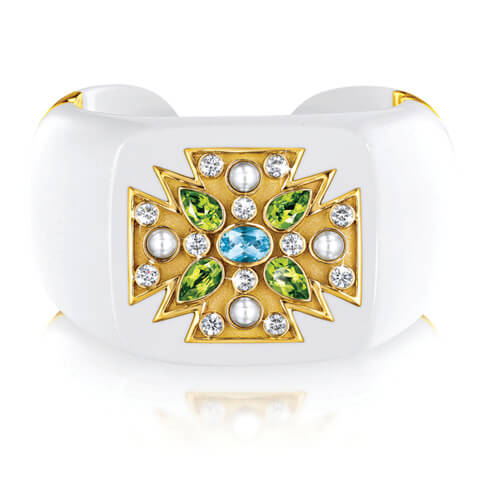 With its unconventional combinations of materials, colourful precious stones mixed with semiprecious, even shells and sea glass, Verdura's designs were often centred upon motifs drawn from his childhood in Sicily, as well Byzantine and Italian Renaissance art. But of the countless items of jewels that Fulco de Verdura is remembered for, few lodge in the memory quite like the bold, Byzantine-style bangles in enamel and precious stones with Maltese crosses.
Coco Chanel was quoted as saying of Verdura: "The time has come when princes and counts started to work for me… Italian duke Fulco di Verdura had the luxurious ancestry and excellent taste that helped him to create amazing jewellery. The Maltese cross cuffs with diamonds were his idea, over which time has no power." Chanel made Fulco di Verdura her in house jeweller and he, in turn, helped shape the jewellery of the house of Chanel. Four years later, the young Duke emigrated to the US, launched his jewellery label and opened a brand new flagship store on Fifth Avenue in New York.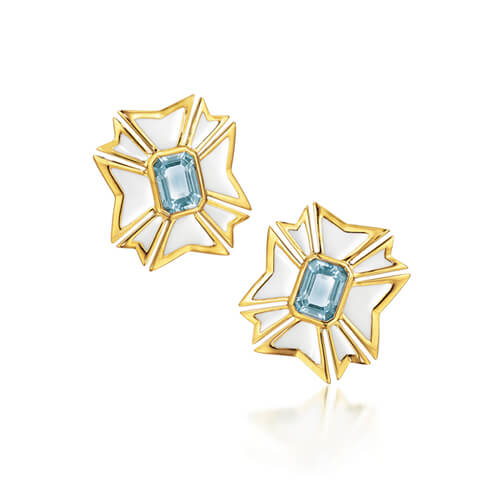 When women bought Verdura, they were also buying into a belief in long-term investment in elegance. The blue-blooded designer was a real artist who rejected mass-production and commercialism, creating personal pieces that graced the neck, hands and chest of celebrities and Hollywood stars of the era, including Marlene Dietrich, Greta Garbo, Katherine Hepburn, Paulette Godard, Joan Crawford and Joan Fontaine. His designs were favourites of many socialites and aristocrats, such as Diana, the Princess of Wales; the Duchess of Marlborough; Princess Grace of Monaco; Diana Vreeland; Jackie Kennedy; and the Duchess of Windsor, of whom the photographer, Horst, said that, "Verdura alone knew how to make her a Duchess."
Few designs maintain their style and beauty for decades, but it seems safe to say that Verdura is truly timeless. Over the past eight decades, his designs have been synonymous with the ultimate status symbol and a certain kind of aristocratic elegance, admired to this day by high society and style-makers worldwide.