Wearable Tech with Amy Karle
The boundary-pushing artist gives insights on her inspiration, vision and ability to thoughtfully play with science, technology and fashion.
Words by Alina Anisimova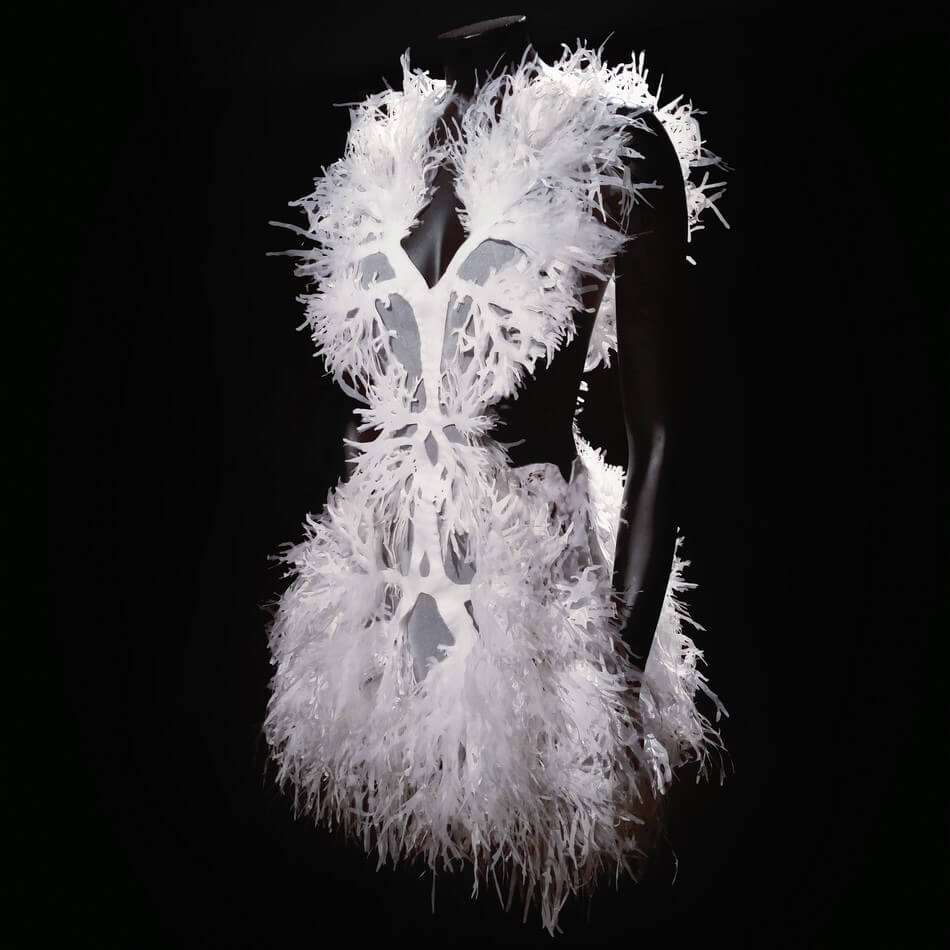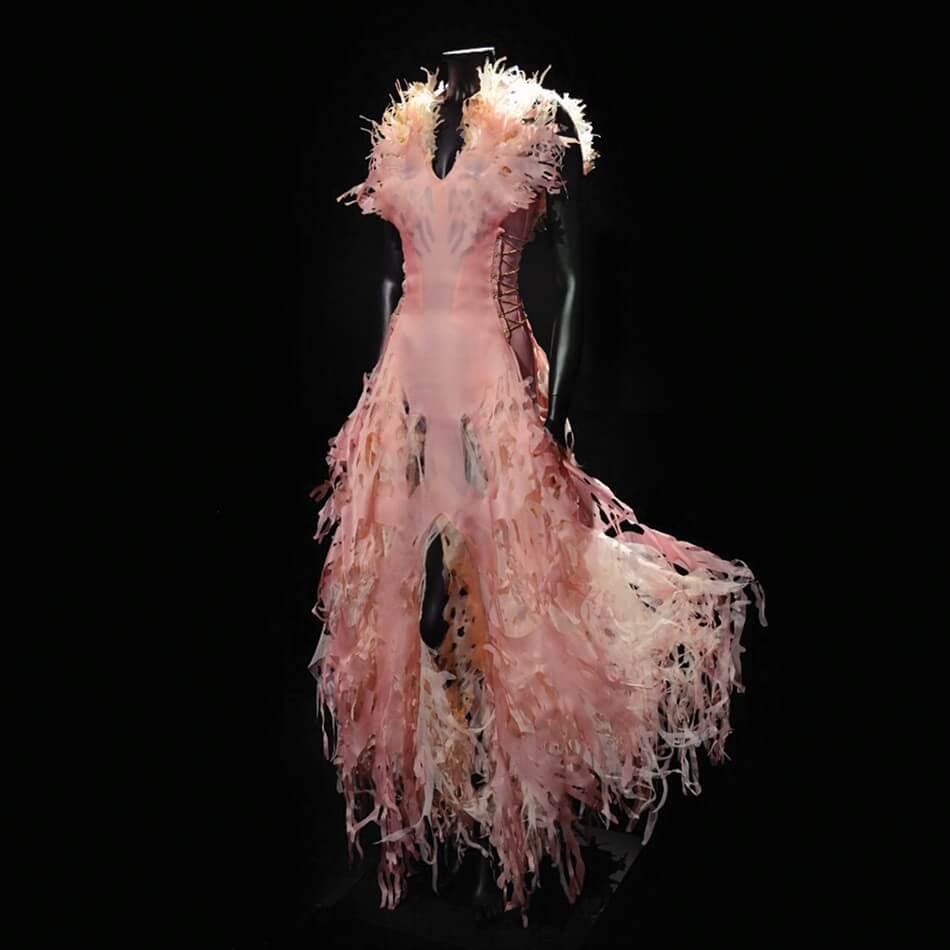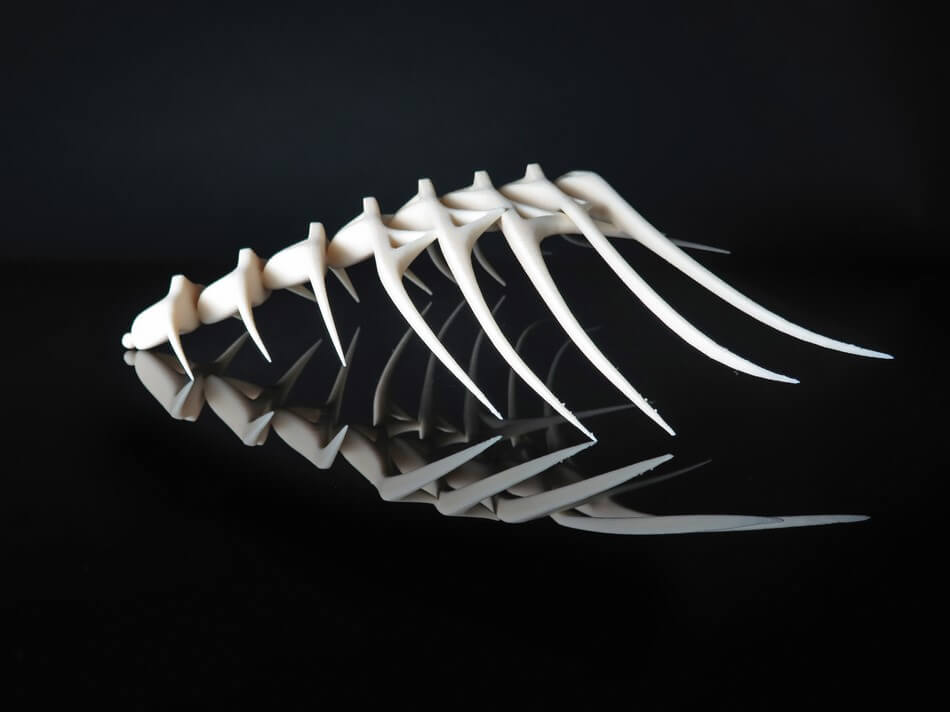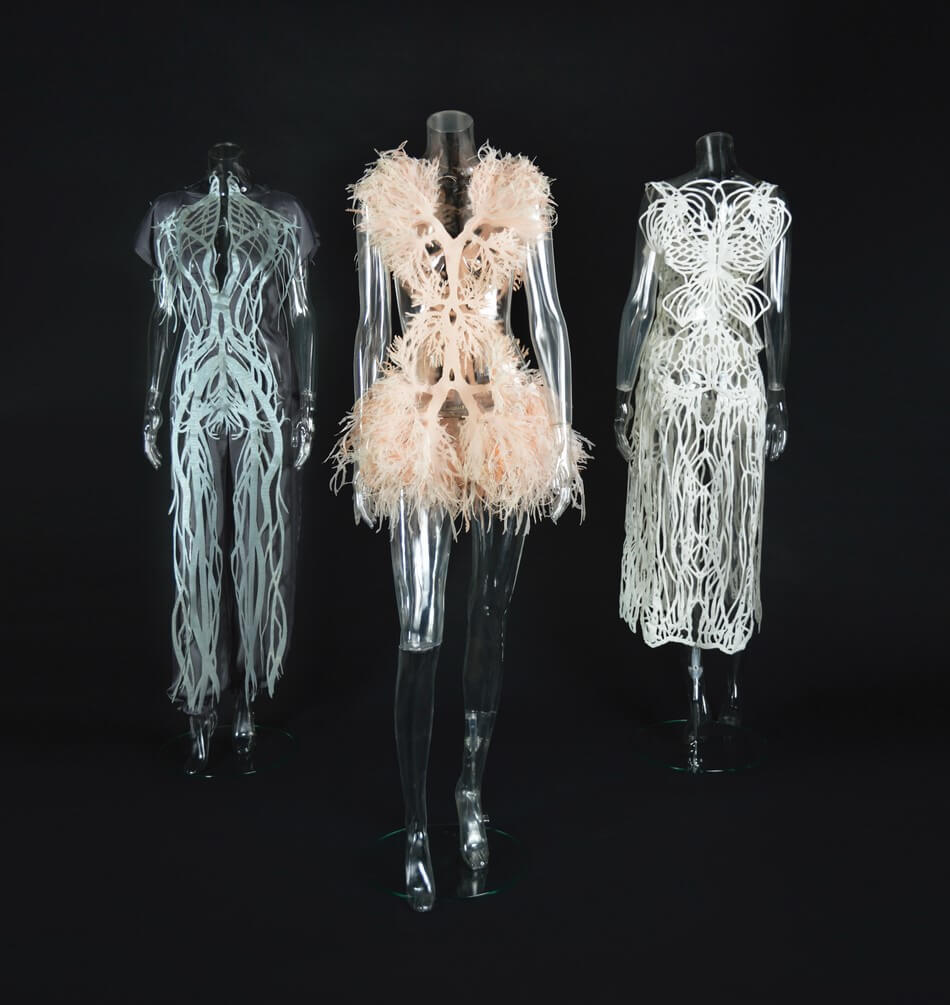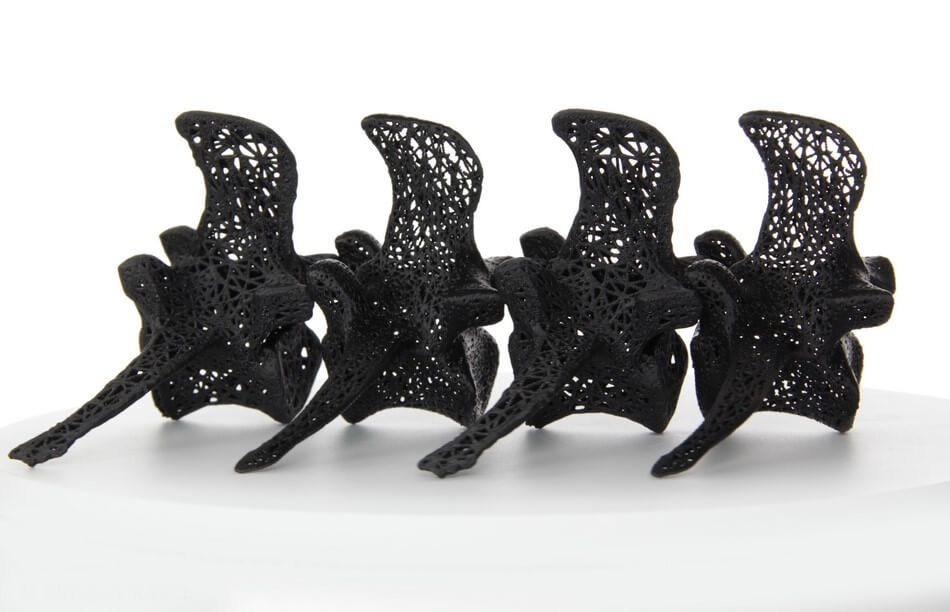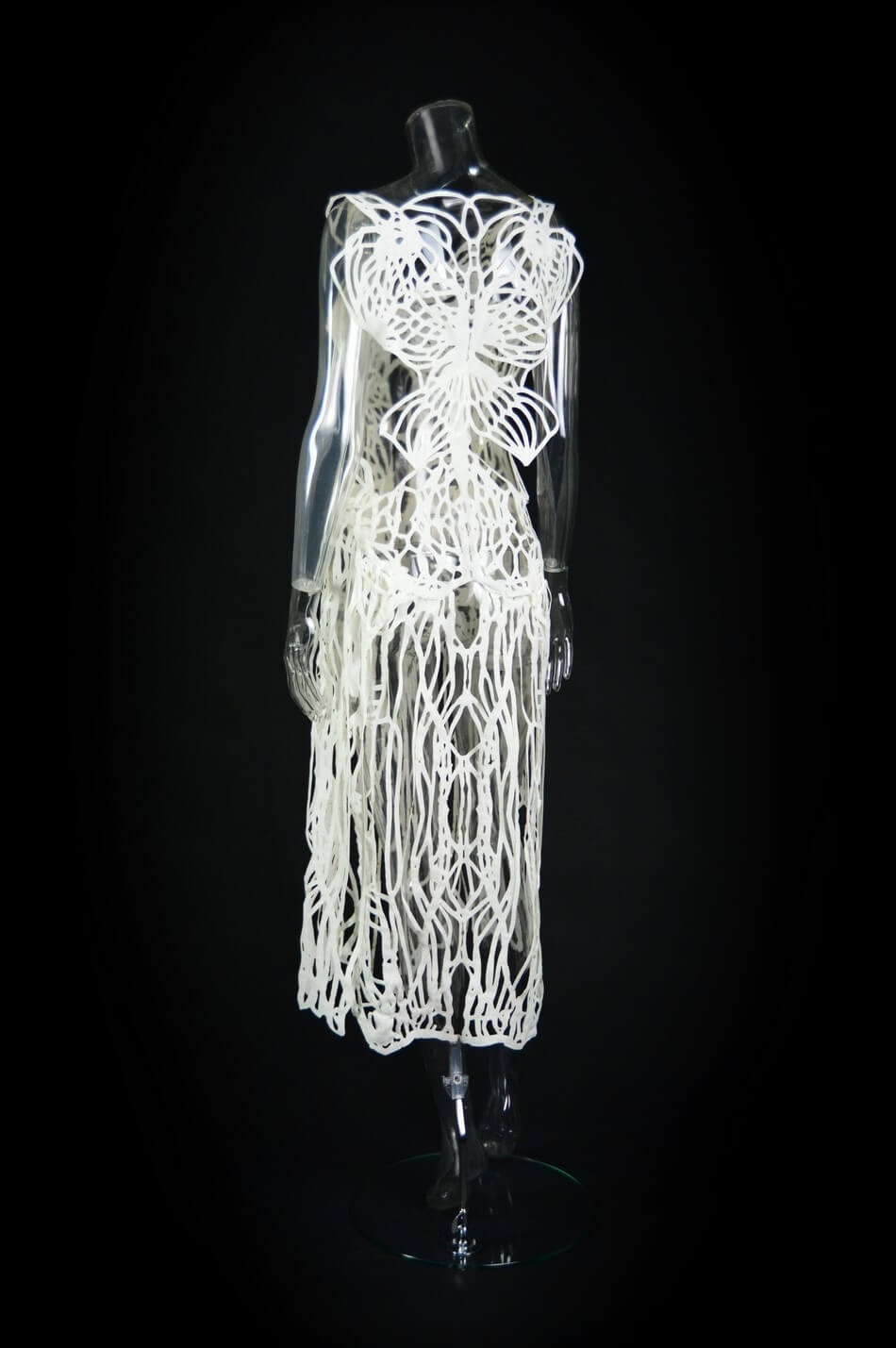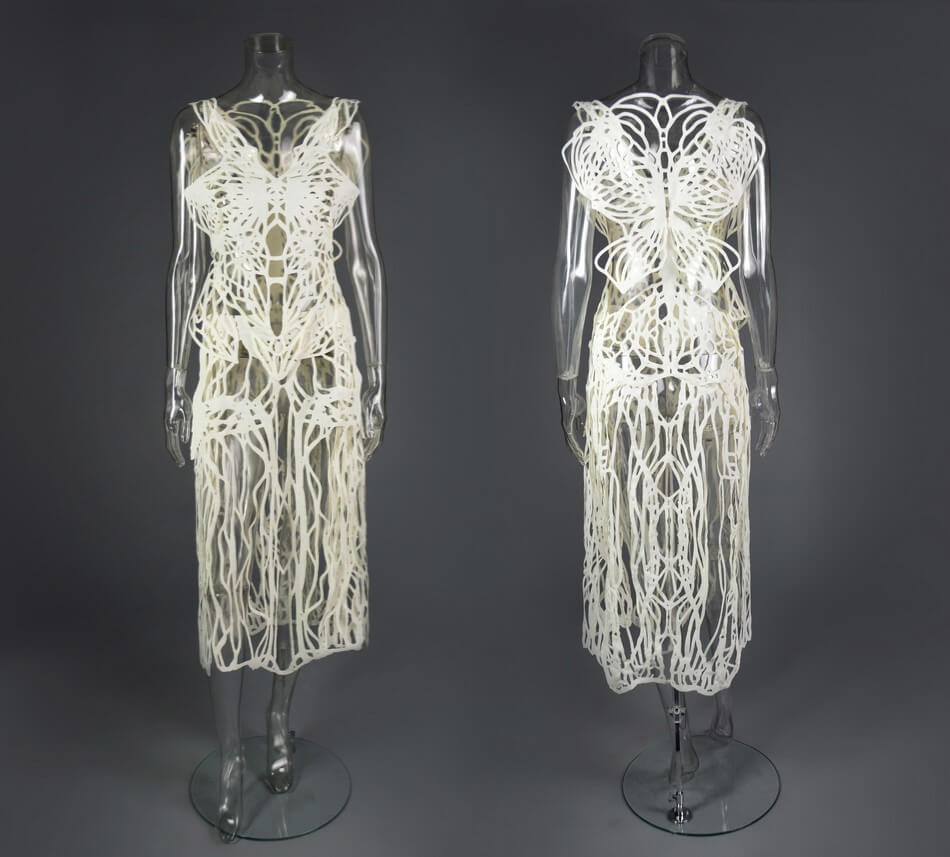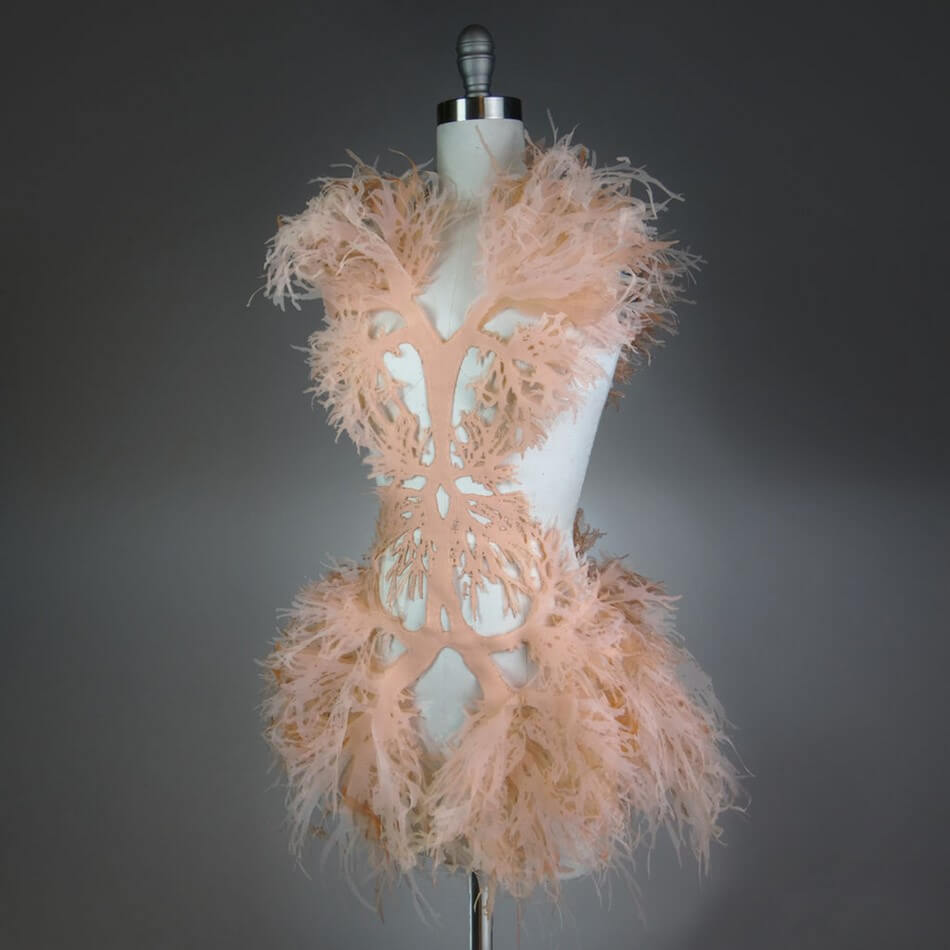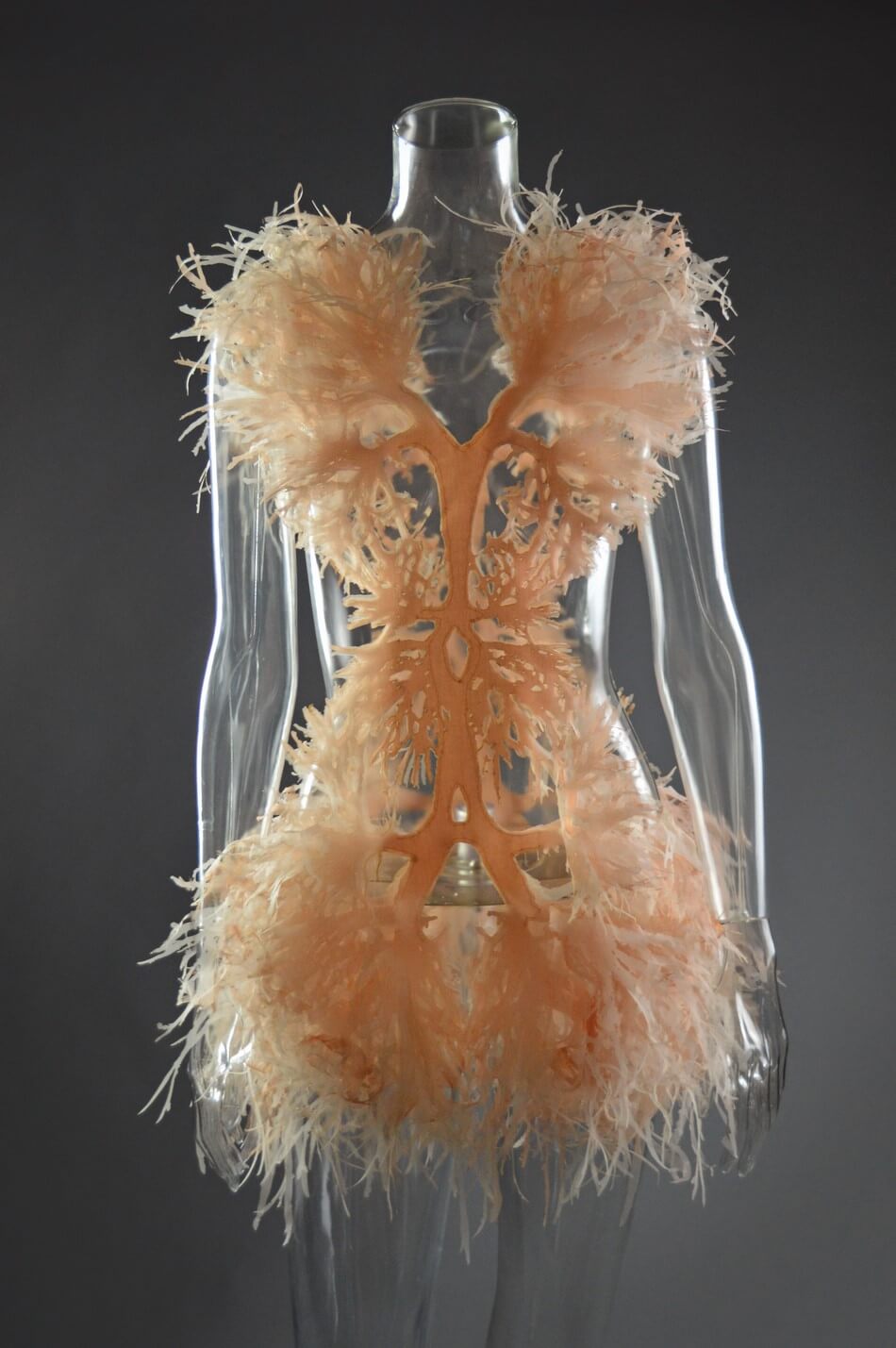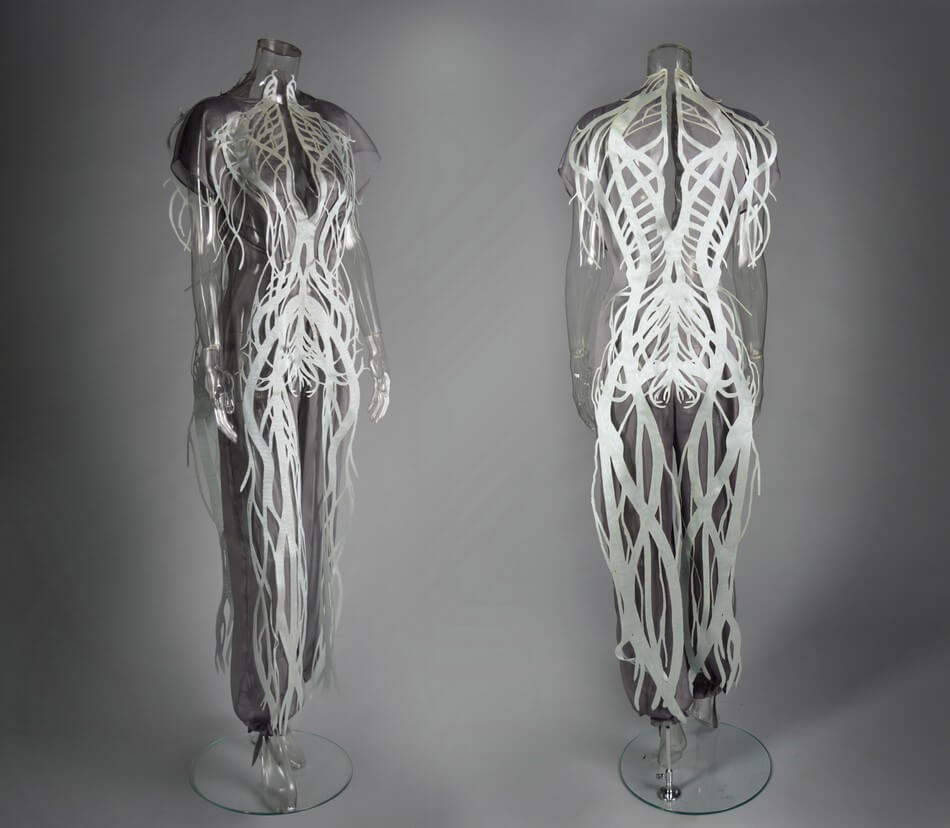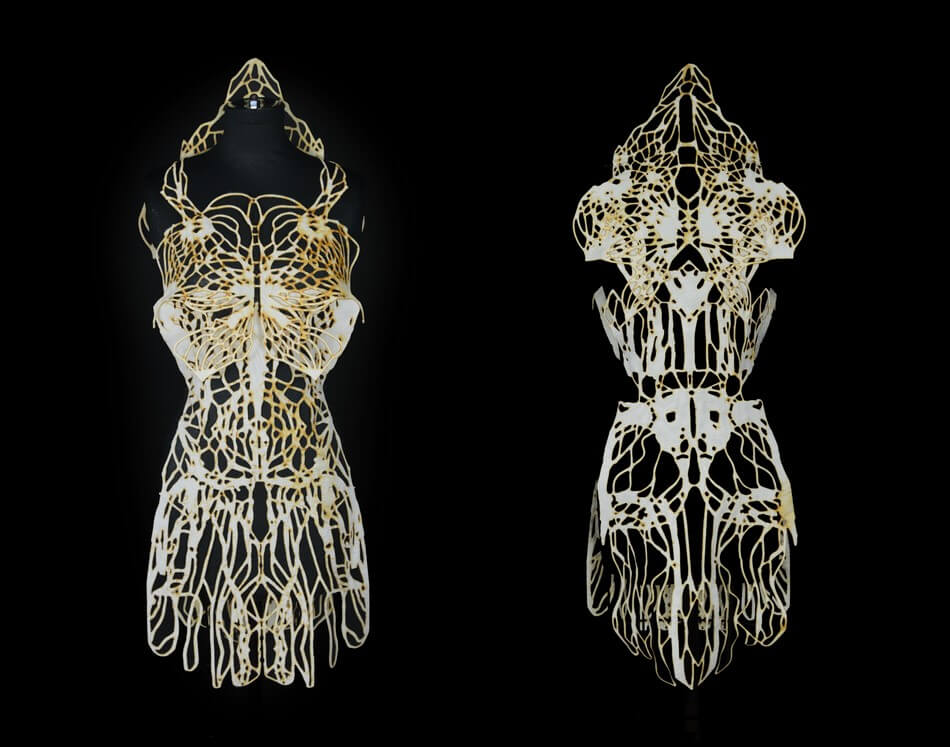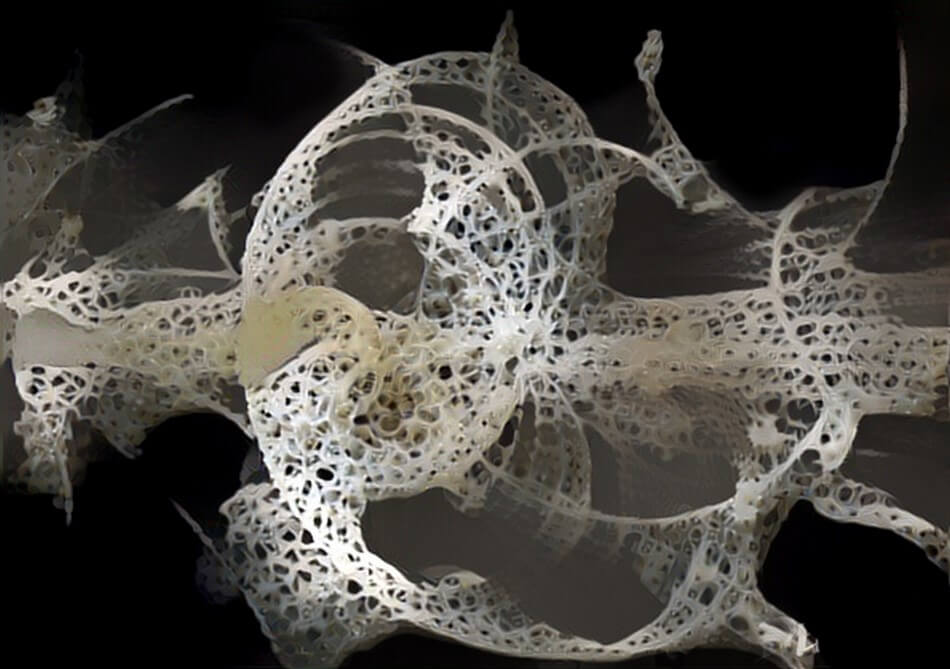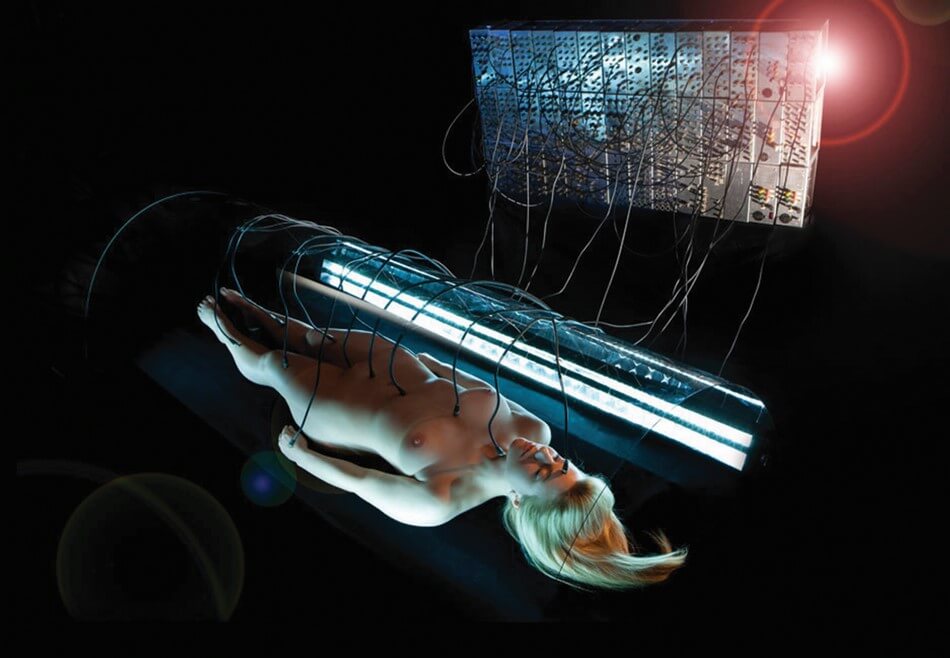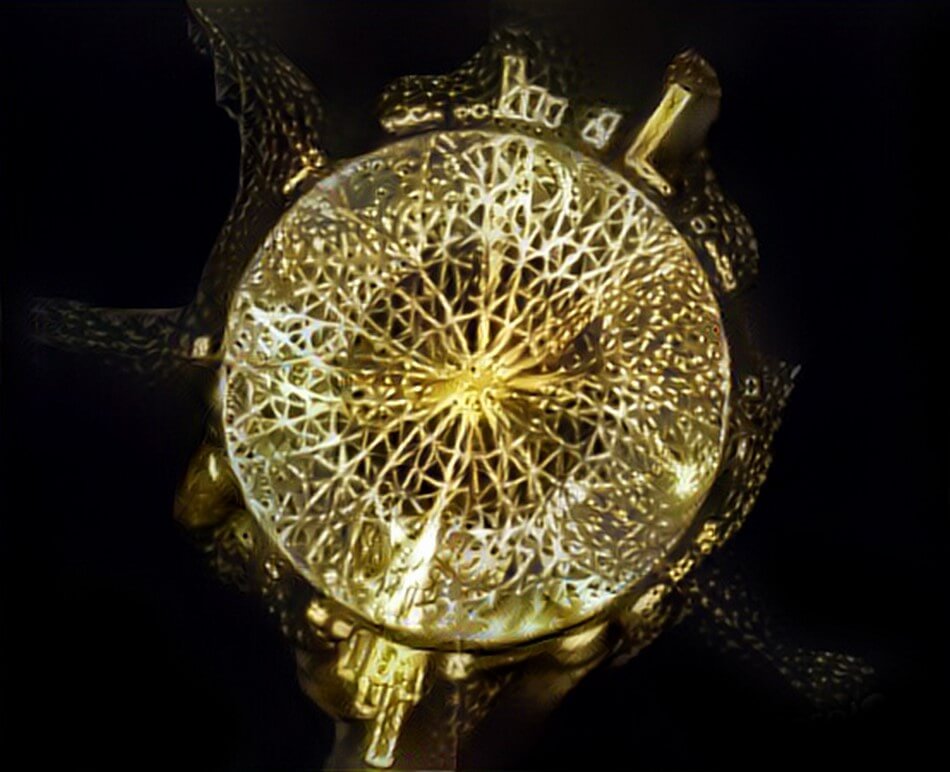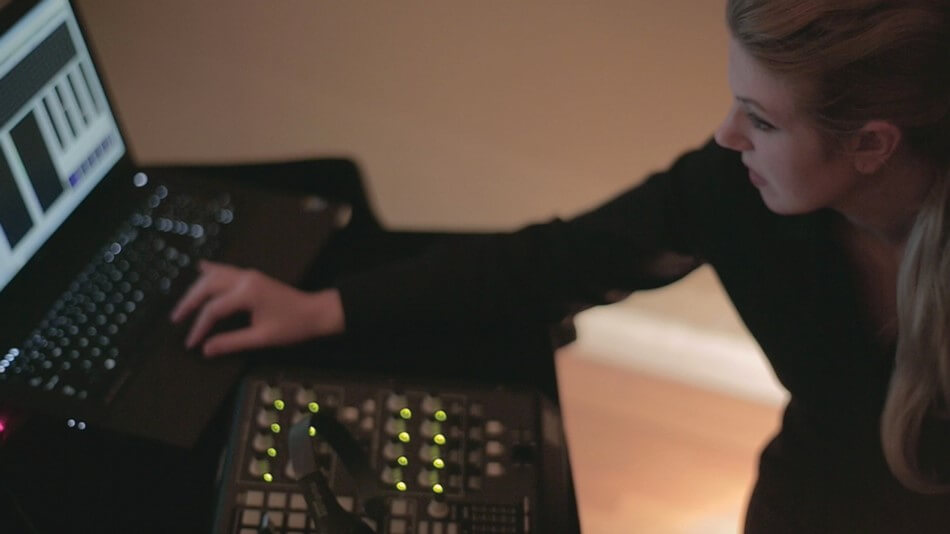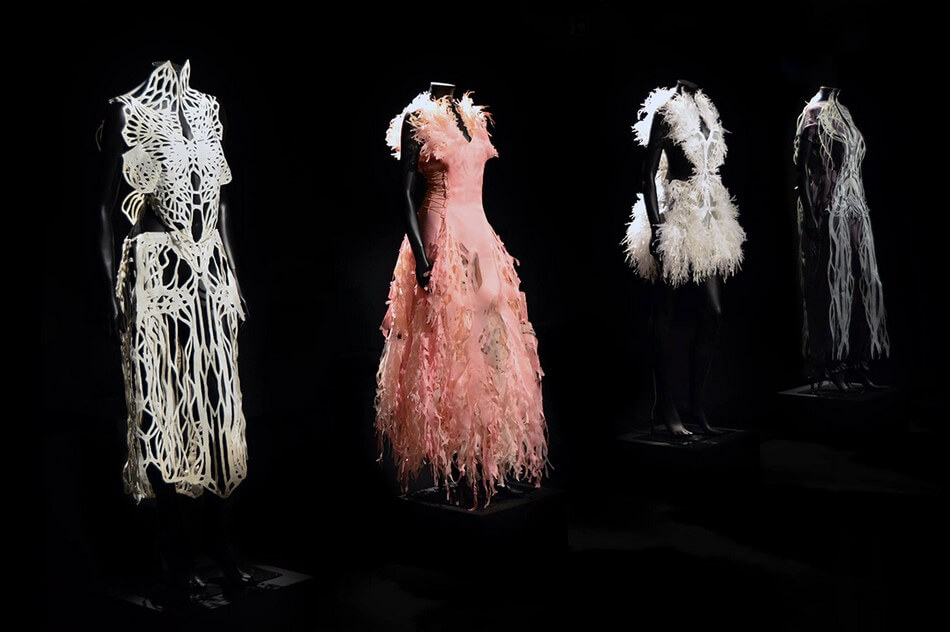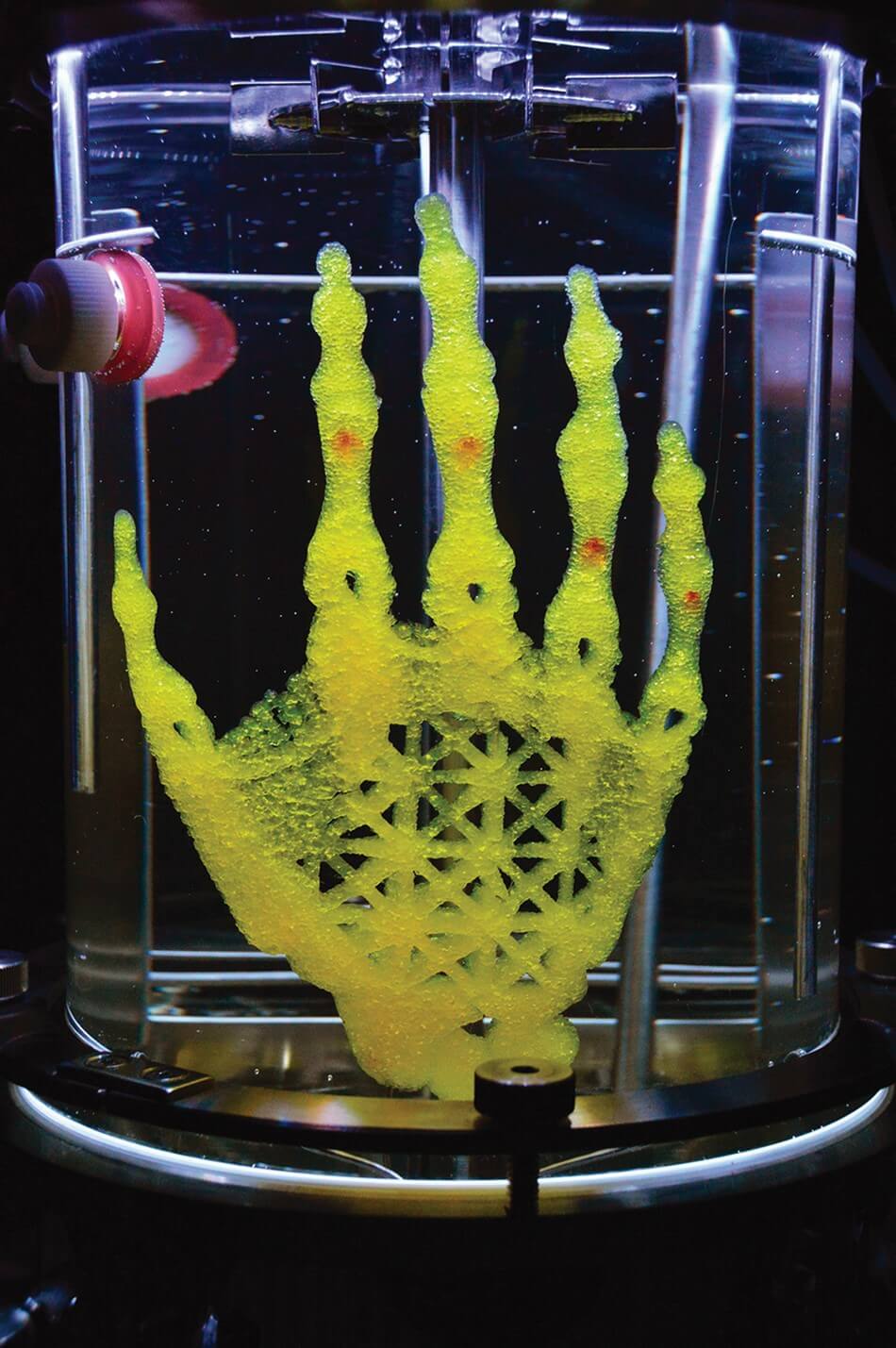 "I love that science tells us stories about who we are in times of humanity," says Amy Karle. The American artist and designer employs technologies, like 3D scans of the body and digital manufacturing processes that can be used in healthcare, in intricately constructed garments.
The daughter of a pharmacist and a scientist grew up with a threatening birth defect, which made her especially sensitive to the constraints and the capacities of the human body. "For a period of time, the doctors kind of thought that I would have to live in a bubble away from any threat of infection, so growing up I was really interested in how I could heal this so I could be like other children," Karle says.
Perhaps this is one of the main reasons why her artwork bridges the gap between the lab and the fashion studio. "I thought about being a scientist and I always had a big flirtation with science. My mum always thought I should be a medical illustrator—and in some ways I think I have grown up to be that," she says.
So why did she pursue art and fashion over science? "I was always interested in the body as a great piece of artwork, I wanted to study it from a design context more than science," she explains. "It's a way to transform our identity, something that we wear can bring about a change in how we feel about ourselves."
Since graduating from Alfred University and Cornell University, where she received degrees in Art and Design and Philosophy, she has steadily carved out a unique niche for herself. Named one of the "Most Influential Women in 3D Printing", Amy Karle is one part artist, one part scientist. Since 1998 she has been uniting the hand and the machine, the latest technology and age-old craftsmanship.
So what about the clothes? Her garments honour the body in unusual, yet exciting ways. Futuristic designs are often created using revolutionary laser-cutting and 3D-printing techniques while shapes are calculated by computers.
Amy Karles' latest collection showcases her fascination with a human body. Called Internal Collection, it is based on anatomy and – according to the description – "each garment is inspired by a different system of the human body: lungs, ligaments, and nervous system".
The collection is designed from the inside out. The anatomy-inspired pieces are fragile and the most forward-looking technology is fused with couture sewing techniques. "I was trying to show our internal selves on the outside, but I was also trying to present and show it in a way that it can be really beautiful and empowering when we show it on the outside," she explains.
While the collection is very precise, created through a combination of intensive research and experimentation, the human touch is apparent in those fantastically bizarre and futuristic garments. Amy Karle focused on what unites us, showing our internal organs in an external wearable form. "As humans we all have these internal systems; we all have blood, bones, organs, but a lot of times we see our external differences," she observes. "Just think about men and women, we are 90% alike, but it's so often focused on that 10% difference."
Of course, it's a laboriously slow process, and it takes skilled, delicate craftsmanship to create a collection like this. "The first piece was very challenging to make, I worked through this process of 3D scanning the body and then bringing that data to the computer and digitally draping it around the body—and that piece took me about three months, just to figure out how to get this piece out of the computer and into the real world," Karle says.
For Karle, technology is not an inspiration, it's another tool to create her artistic pieces of great beauty. "I'm interested in the new technologies and using them in the processes in terms of what can we now make that wasn't possible to make before," she says.
Amy Karle is looking forward to the future and her curiosity seems limitless. "I'm thinking about medical futuring, what passions will arise and what our opportunities will be… and the dangers of merging the body and technology. I'm working through these technologies, and the artwork or designs that come in the process is what I see as an artefact of this speculative future."
One might think the machine is the destroyer of art, but Amy Karle proves otherwise.