FASHION REVOLUTION
Over the past five years, the fashion industry has begun to witness a true shift, through an annual campaign that uniquely brings together a wide range of industry players from all around the world.
Words by Tammy Fenech
Over the past five years, the fashion industry has begun to witness a true shift, through an annual campaign that uniquely brings together a wide range of industry players from all around the world. Be it farmers or designers, makers or wearers, the campaign has enabled an outstanding mobilisation of the fashion industry – the first of its kind – through the power of social media and connectedness.

"We are people from all around the world who make the fashion industry work. We are the people who wear clothes. And we are the people who make them. And we believe in a fashion industry that values people, the environment, creativity and profit in equal measure. We want to see fashion become a force for good." Fashion Revolution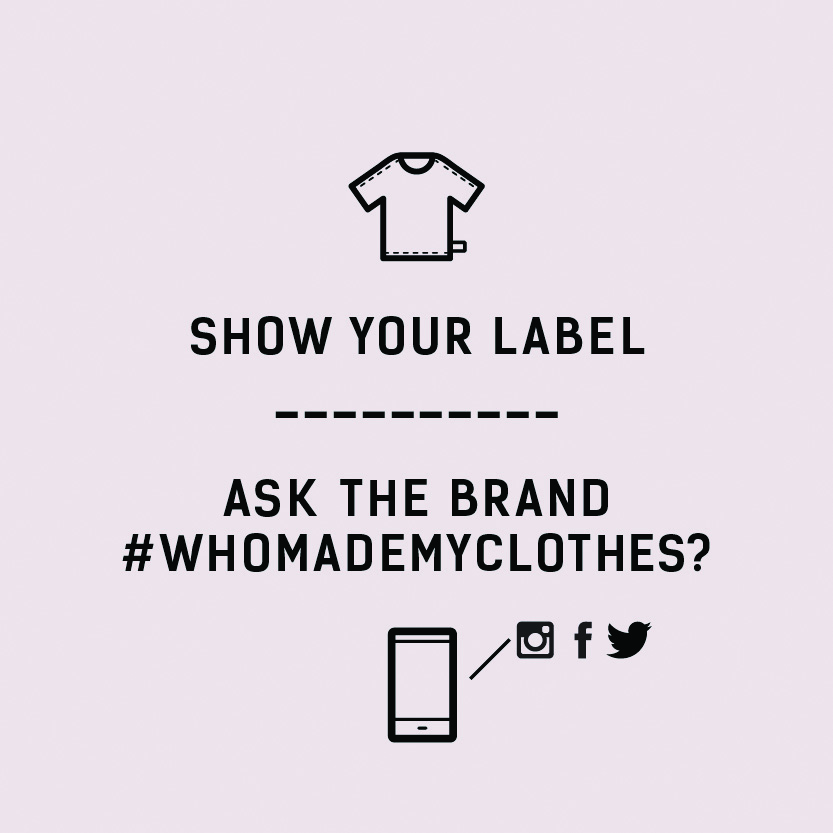 In 2013, the fashion world saw the launch of a powerful movement, Fashion Revolution, which has so far truly championed in uniting the industry to work together towards delivering a change-making, positive and effective message that strives for a more transparent and fair fashion industry.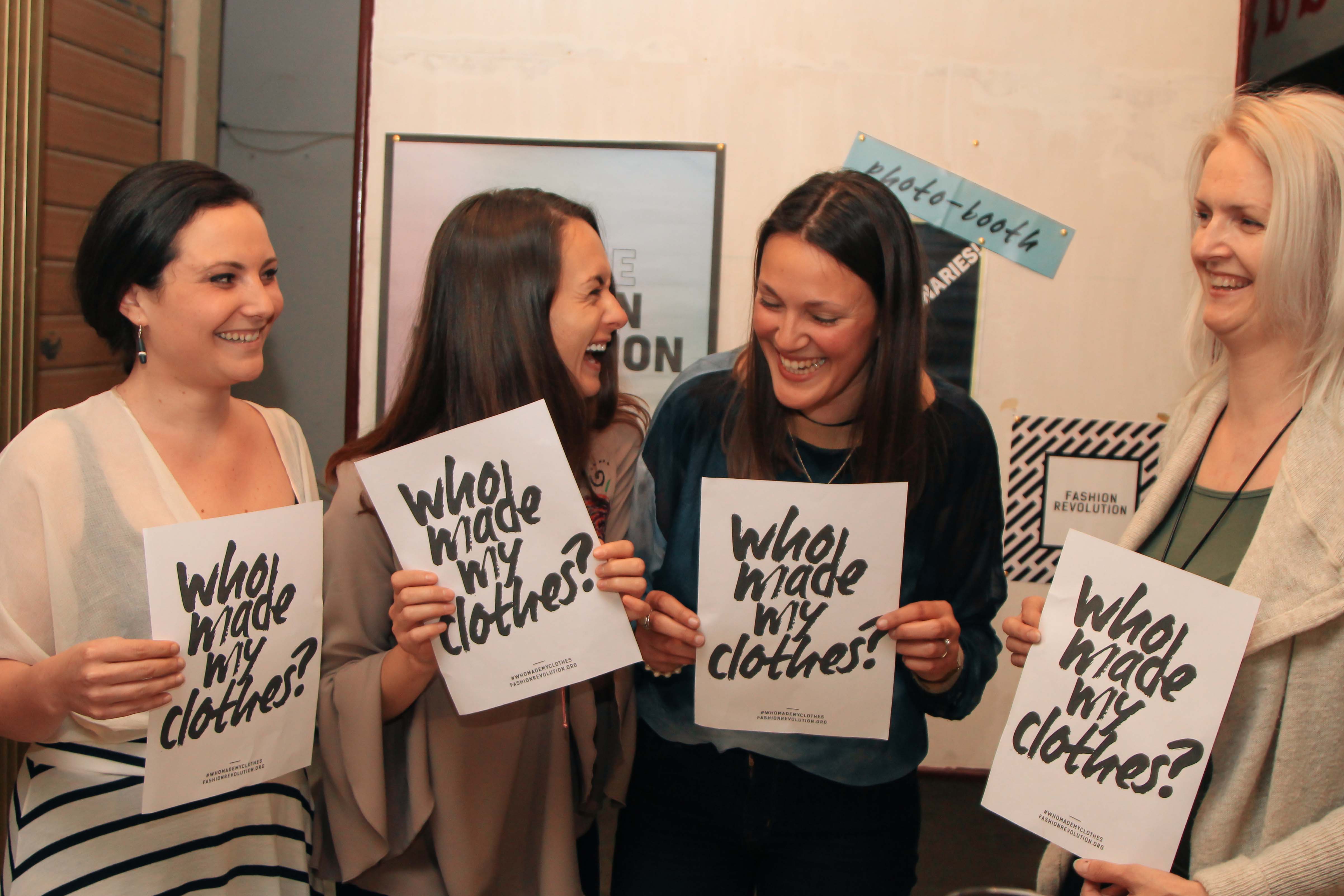 The movement was catalysed by the colossal shake up that the global fashion world faced on the 24th April 2013. Founded by two major players within the industry, Carry Somers and Orsola de Castro, Fashion Revolution was born in stark reaction to the most fatal incident that the fashion industry has seen to date – the Rana Plaza garment factory collapse in Bangladesh. It was a complete tragedy that sadly took the lives of over 1000 garment workers and left some 2,500 injured, due to a lack of regulations, neglect and non-compliance.
In collaborating across the whole value chain of fashion – from farmers to factory workers, brands to buyers, consumers to campaigners – the Fashion Revolution movement highlights the fact that each player has a powerful voice which plays an equal role in advocating for transparency throughout the entire industry and its supply chain. The movement aims to ignite a radical change the way our clothes are sourced, produced and purchased, through means of open and collaborative communication.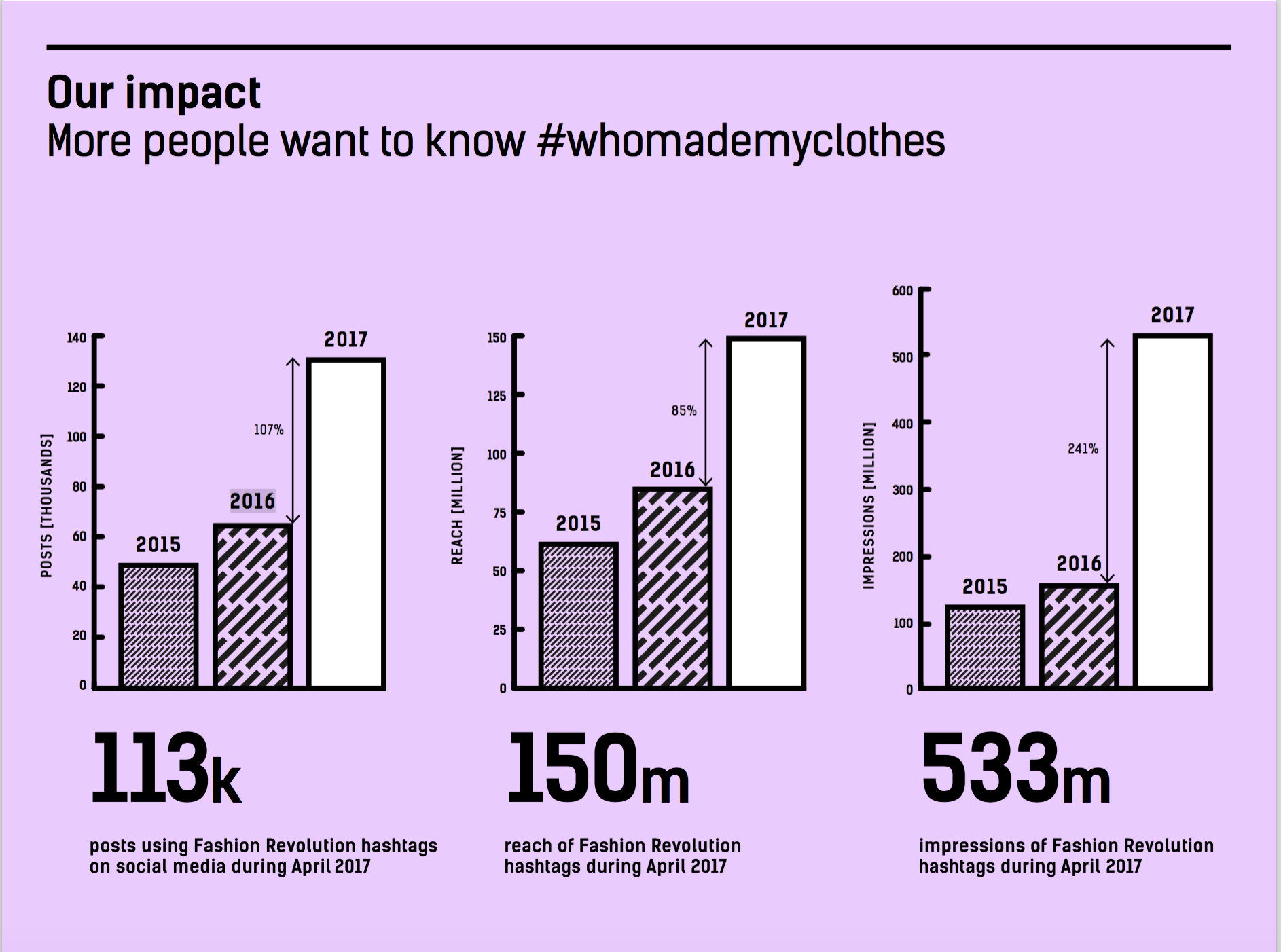 Working hard throughout the whole year, Fashion Revolution makes its global connection on an annual basis, through a weeklong social media campaign that always takes place during the week of the 24th April. With its main motto "Be Curious. Find Out. Do Something," Fashion Revolution has been extremely successful in aligning all those involved with their message solely through social media and online engagement. During Fashion Revolution Week, the movement calls for everyone who wishes to be involved in the campaign to ask the simple question: Who made my clothes?
By posing this basic and straightforward question, curiosity is sparked off, there's a need to find answers, and then an urge to do something about it. Due to the nature and complexities within the global fashion industry and the massive web of supply chains it involves, the answers to this question may not be straightforward. Despite this, Fashion Revolution has activated the willingness for all players to, firstly, begin to understand their role, and most of all, it has aided each one to truly know how best to play it – making each and everyone involved accountable for the part that they play. Since the launch of Fashion Revolution consumers have been empowered, through the direct contact of social media, to ask this simple question, resulting in the demand for answers in return.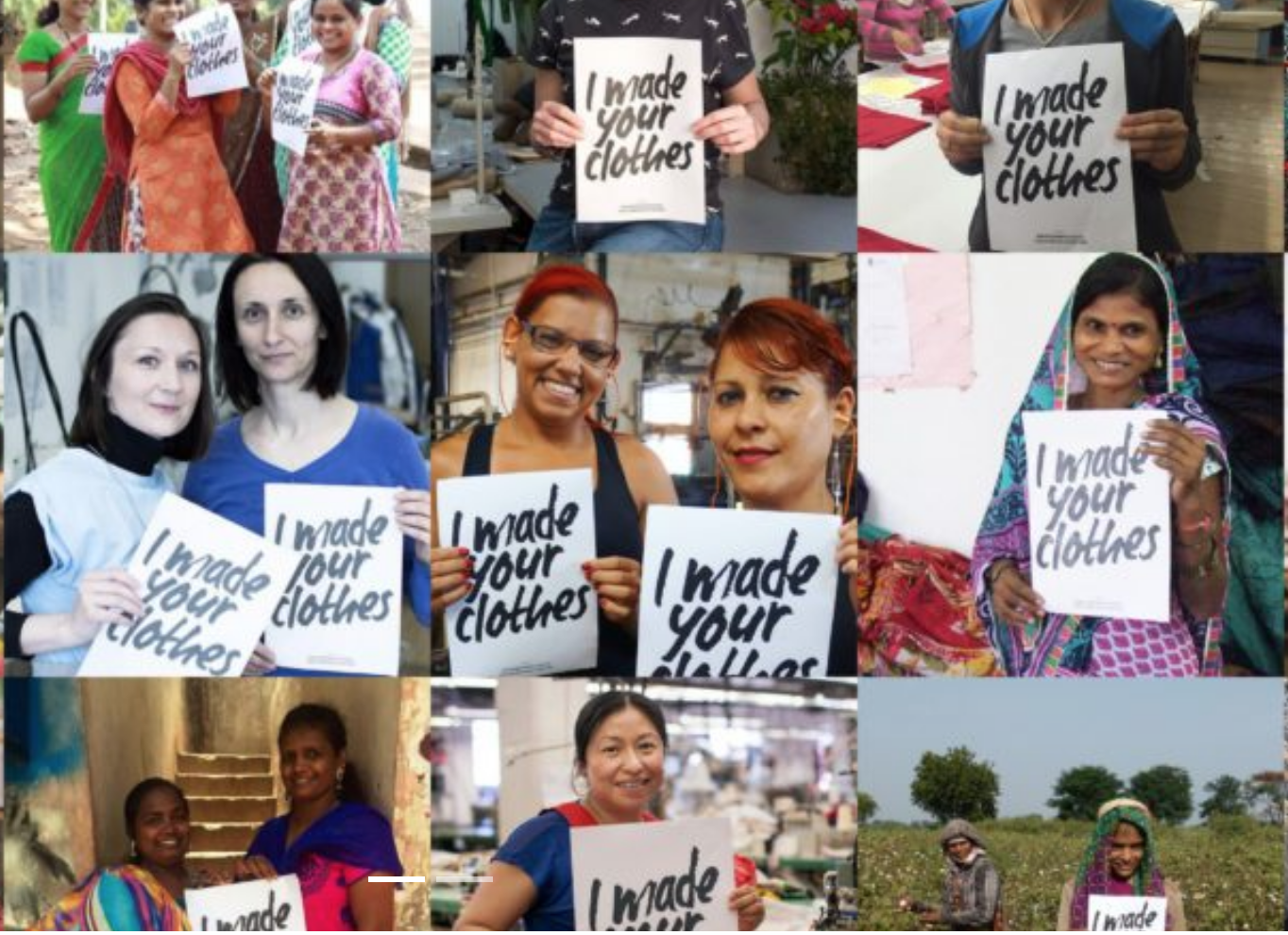 During the annual Fashion Revolution Week, the main campaign engages with consumers by urging them to turn their tops inside out, clearly showing the brand's label, and to then snap a selfie (with the visible label) and simply post it on their social media channels, tagging the brand and confronting them with the question #whomademyclothes – using this specific hashtag within their post. The creative and well-branded campaign has enabled a profound shift between brands and consumers, where it has instilled a new sense of power in the latter.
Through direct social media connectivity and the pressures created by consumers, brands have consequently felt more of a duty to reply to these demands. The campaign has triggered them to take into account their newly highlighted responsibilities as representatives of their brand's identity, allowing them to comply, answering #imadeyourclothes to the #whomademyclothes question that has been posed to them.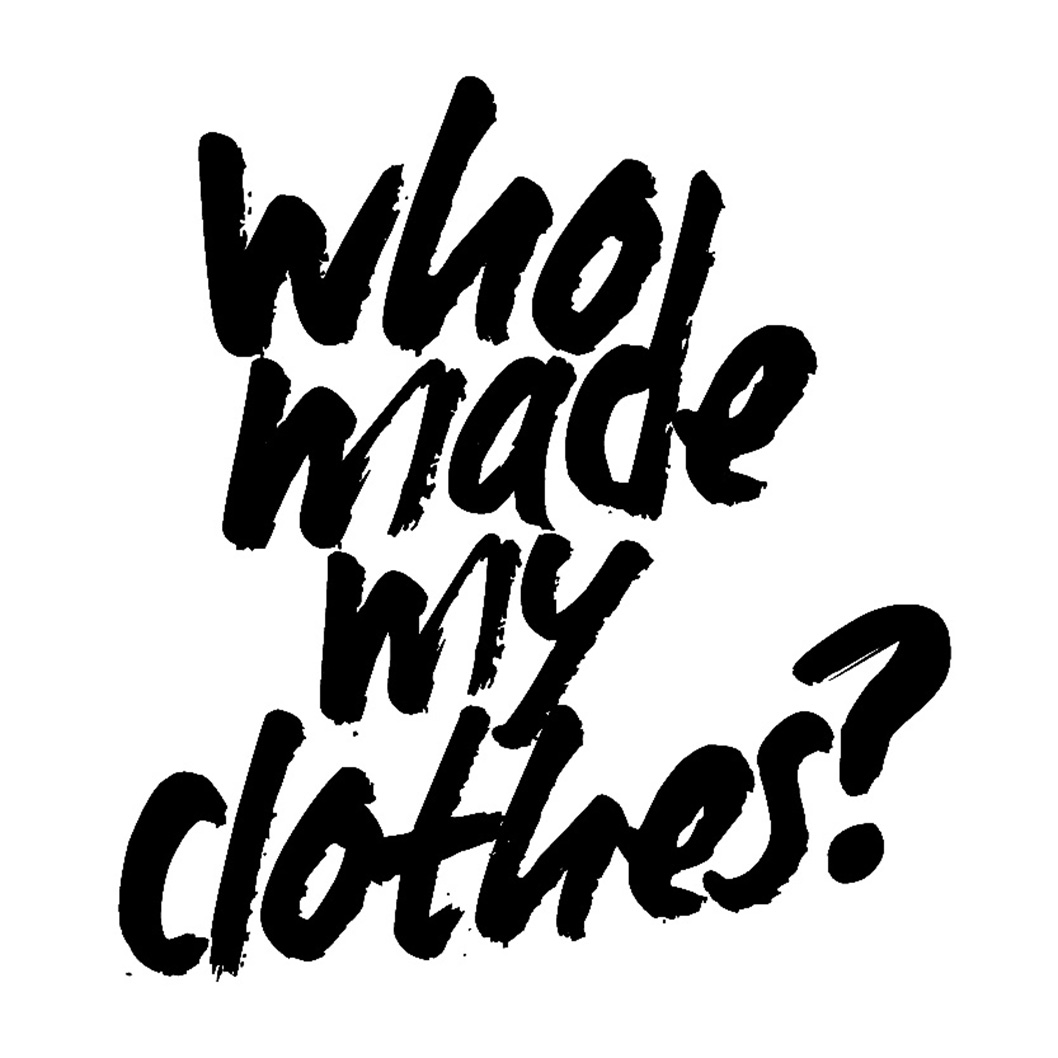 Thankfully, over the past five years of this relentless campaign, we have seen a tremendous increase in brands striving to making their supply chains more transparent. When we say "making their supply chains more transparent", what this means is that fashion brands are becoming accountable, understanding where they supply their clothes from – starting from the yarn, to weavers, to dyers and manufacturers – and in the end making the information available for the public to see. This might sound obvious and uncomplicated, however when considering the model on which the majority of our fashion brands built themselves,, mapping out their supply chains is far from easy. The standard fashion supply chain webs out to an overwhelming amount of constituents that are mostly subcontracted by the originally chosen factories, and therefore there is a lot that is not easily known by the brands themselves.
Thanks to the Fashion Revolution approach, engaging and connecting with all players that make up the industry, we are beginning to reap the benefits of the movement's impact. The fashion industry's outdated model has been rightly challenged and, in turn, has started to see some exciting changes. In 2017, the movement recorded 113,000 social media posts using the Fashion Revolution hashtags, which is a staggering 107% increase from 2016. This immense power and pressure resulted in 2416 brands (a great 36% increase from 2016) responding to the #whomademyclothes hashtag, 1018 of which were mainstream brands, such as Zara and ASOS. In bridging this gap of responsibility, fashion brands have begun to take more serious action when working towards tracing their supply chains, so much so that it is now amazingly possible to find a list of ASOS' in-house brand manufacturing suppliers while browsing on the back end of their website, for example.
Through the Fashion Revolution hashtags of 2017, they also measured that a total 5.2 thousand producer voices had been heard. Through their social media strategy, over the last five years they have been able to spread their movement to 93 countries, ranging from Guatemala right down to South Africa and all the way up to Germany. Their clever organisational structure has allowed individuals to take the campaign to their own countries, acting as the 'country coordinator' of that specific country. Each country coordinator is then responsible for spreading the message on a local basis, by engaging others to organise and participate in different events, like movie screenings, workshops, open studios, flash mobs and much more. And this year, we saw Fashion Revolution make its debut in Malta, where the team hosted a screening of the film The True Cost (which can be found on Netflix), together with an engaging panel discussion that involved three different outlooks within the sustainable fashion industry: Carla Grima, Steven Diacono and Michela Fenech.
What is so remarkable about Fashion Revolution and their campaigns is that, from the dire and horrific story of the Rana Plaza collapse, there blossomed a long-awaited holistic paradigm shift within the vast fashion industry. Brands like ASOS and Zara have since begun to go even further in their transparency, instilling long-term commitments to a more sustainable way of doing business, even with regards to environmentally friendly processes of their garment manufacturing.
It is safe to say that the fashion industry has woken up from the hellish nightmare that was manifested in 2013, and accountability and transparency are now key for survival in future scenarios of business. In considering the fact that sustainable business is still growing, we are definitely seeing fashion brands on their way towards or already active within their sustainable process. Having said that, consumers must also be accountable, and play an active role in encouraging brands to keep moving towards or further embedding themselves within their sustainable process plan. It is also up to us to dig deeper behind our fashion brands in order to truly understand their identity and where they place themselves on the Fashion Revolution-metre. You would be surprised as to what you could actually find out, and how many brands are already changing their ways.
Remember, you have the power.
Follow Fashion Revolution Malta if you would like to be up-to-date on local activities. You can follow them on Facebook (FashionRevolutionMalta) and Instagram (fashrev_mlt).