Creative Crisis Response: MaltaTogether.com
MaltaTogether.com launched: A one-stop website for services and initiatives during the lockdown, such as deliveries, helplines, online education and much more.
MaltaTogether.com is a brand new portal that lists a variety of services and initiatives that will help people cope with the disruption during the coronavirus outbreak in Malta. We spoke to Vanessa Azzopardi, Editor of MaltaTogether to give us the lo-down on this new platform.
The services listed on Maltatogether.com provide support for people staying indoors, as well as creative ways to make the most of their time at home.
"Comments and reactions have so far been very positive. The website viewing is already around 1,000 views per day despite being launched just seven days ago (on the 26th March)," Vanessa proudly states.
"We also launched our very own competition series a couple of days ago, starting with a short story competition and an art competition, and we have already received several submissions for each."
From deliveries of groceries, readymade meals or goods to your doorstep, to online consultations, workshops and classes for both adults and children, as well as helplines offering psychological support; over 200 services are currently being offered – either against payment or entirely free of charge – by various individuals, organisations or companies around the Maltese islands.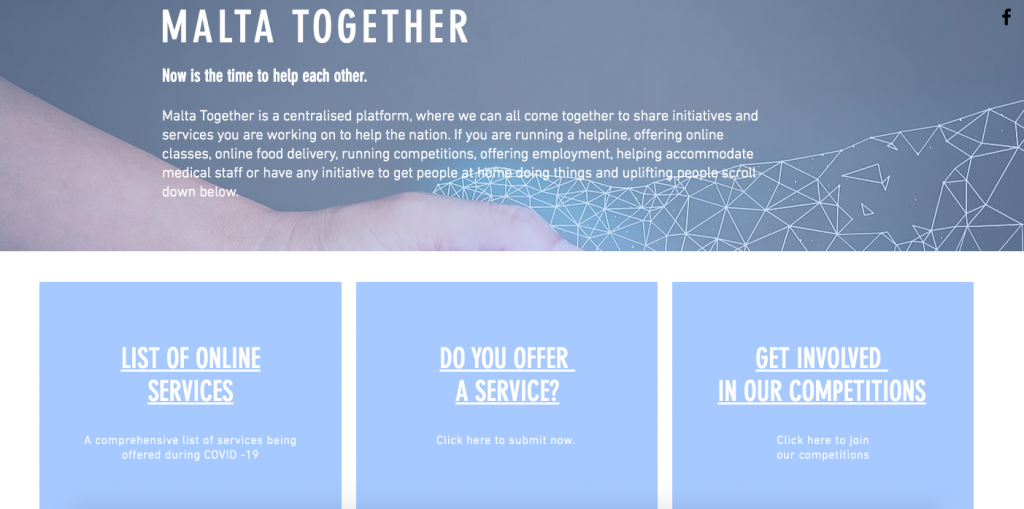 Based on current viewings, the most popular category is Helplines. "Many people might not know who to turn to for assistance with issues they are experiencing due to the COVID-19 crisis. This is why we have brought together all the helplines that are currently available in Malta – from employment-related issues to psychological support; help for the elderly in quarantine, to education-related advice; the list goes on and on."
Other popular categories on Maltatogether.com include Language Lessons as well as Music, Arts and Crafts Classes. "People are looking for interesting ways to maximise their time indoors by learning something new or practising a hobby." To accompany this thirst to learn something new and keep active during the lockdown, the site has also launched its own initiatives such as competitions and sharing uplifting user-generated content.
As VAMP works with various freelancers in the creative field we are particularly interested in knowing how this benefits them. "This portal provides a space where a variety of different services are being offered (either against a fee, or at a discounted rate, or entirely free of charge) – therefore, it is the go-to website for everyone's needs and entertainment during these challenging times."
This means that new services that have never been offered before, or services that perhaps do not fit in on any other existing portals, now have a place to be listed and the opportunity to gain exposure and reach people. Service providers are able to view all other similar services being offered to be inspired and adapt their services as might be necessary, or even perhaps collaborate with one another. Creatives – have a look in the Arts Section and this is your time to get creative on adapting your skills and expertise to a new offering.
Malta Together aims to continue expanding by adding more services and initiatives every day. Submissions of services or initiatives can be made free of charge through the website www.maltatogether.com. If you have an idea on a service you can offer – simply submit here. The team will contact you for clarifications and in case the submission that doesn't quite fit the portal they will discuss how you could adapt your service or initiative to make it suitable for the platform.
The question is will this fantastic initiative continue when the market 'normalises?' "Malta Together was launched to help people cope with the change in lifestyle and any issues which have arisen due to the outbreak of COVID-19 in Malta. As the situation continues to change, Malta Together will continue to adapt and mould according to what is needed by society at that point in time."
Malta Together is a non-profit initiative brought to you by 'The Academy of Givers', an association created to unite and inspire social giving among the business community of Malta. Although Malta Together is currently managed by the Iniala Group in Malta, we aim to expand the initiative and eventually operate independently. If you would like to volunteer to help in any way, please contact us at staff@maltatogether.com.