Festival of Lights
This enchanting Himalayan destination is on the bucket list of many. VAMP dives into a realm of captivating cultural activities celebrated during The Festival of Lights in Nepal.   
Words: Hannah Cremona  
Photography: Niranjan Shrestha/Hannah Cremona 
 If you thought that Malta has a fair share of festivals and holidays, think again. Nepal has over 50 festivals in a year; mostly celebrated nationwide, which means more public holidays than you can even begin to imagine. Additionally, some of these festivals run on for days on end, with numerous religious rituals, offerings, and gatherings. 
At this time of the year, Nepal is blessed with crisp blue skies and from Kathmandu valley one can see the magnificent Himalayan mountain peaks that peep behind the surrounding hills. The vibrant and much awaited festival month begins.   
The most celebrated festival by all Hindus in Nepal is Dashain; a 15-day festival during the month of Kartik (around October – November) according to the Nepalese calendar. It's a time where all locals gather in their paternal homes for puja – an act of worship including offerings and prayers to Gods – and multiple social gatherings where a variety of traditional food is served and family members gamble against each other over card games.  
 Just two weeks later begins the second largest festival for Nepalese Hindus: Tihar. The 5-day festival is a time of offering and worshiping, each day a different God, animal or being. Part of the Tihar festival is the better-known Diwali festival or the Festival of Lights.  
The already chaotic and busy markets become even livelier during this time. Merchants decorate their shops and set up stalls selling traditional foods and sweets, a rainbow of varieties of vermillion powders, an array of lights, gadgets and decorations that will decorate each and every household.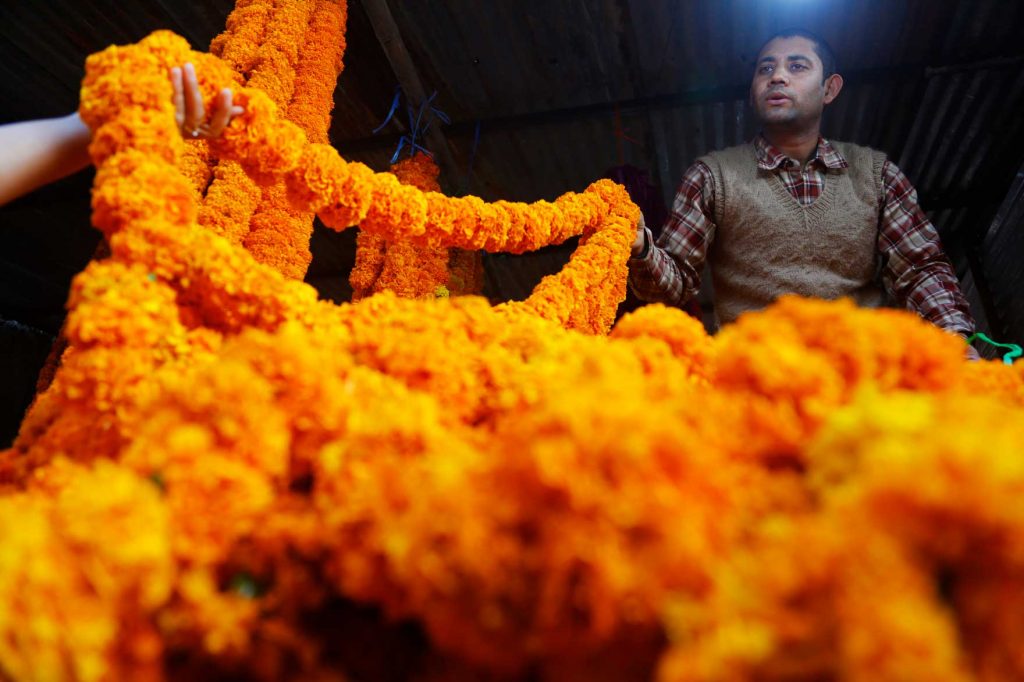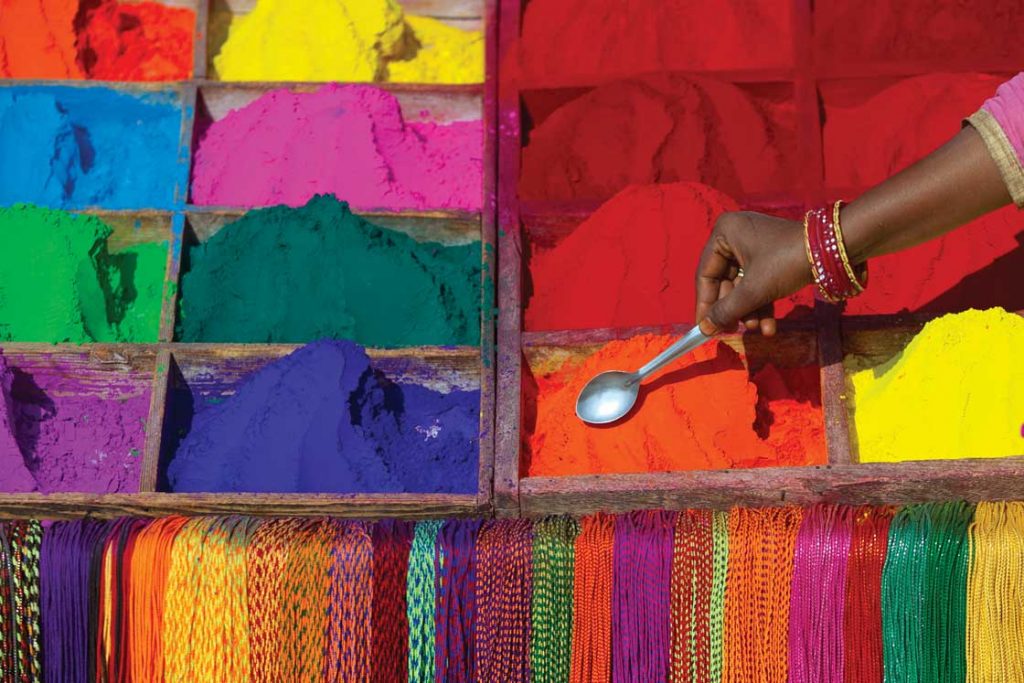 Tihar is synonymous with over-done lights and decorations, boisterous groups singing and dancing from house to house – sometimes carrying a large speaker set at deafening volumes – and firecrackers, (supposedly made illegal) that pop and crack with no warning, triggering neighbourhood dogs to add to the clamour with their barks. Apart from the racket, here's how Tihar is celebrated.  
Day one: Kaag Tihar, is the day of the crows. It's observed by offering food and sweets to the crows on the rooftops. The crow is regarded as the messenger of the God of Death and it is worshipped to avert grief and death and bring good luck into the household. You can see locals performing their offering in the early morning as part of their daily morning prayers and rituals.  
Day two: Khukur Tihar, is the day of the dogs. Devotees put garlands, tika (a mark made on the forehead with vermilion, as an act of worship and blessing) and offer food to their dogs to acknowledge the relationship between dogs and humans. In this photo our 14-year-old dog is receiving a shower of blessings with flower petals. On this day, stray dogs also receive blessings from locals and passer-bys.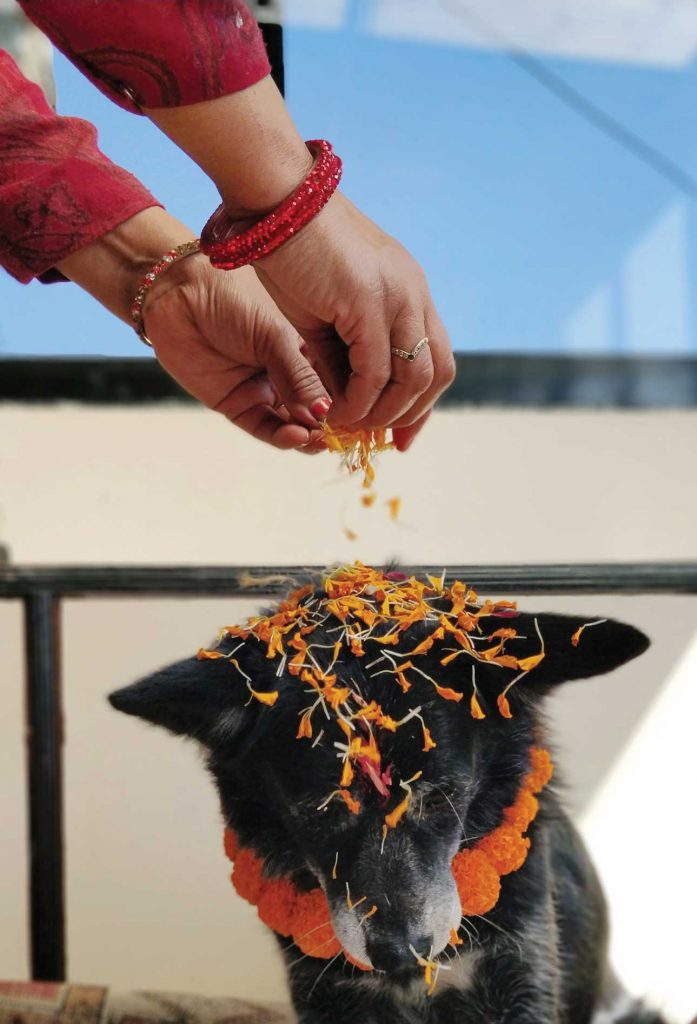 Day three: Gai Tihar, is the day to worship cows and the Goddess of Wealth, Laxmi. It is also known as Diwali. The cow represents prosperity and wealth and is fed the best grass on this day! At the same time, locals spend their days tirelessly cleaning their homes in preparation for Laxmi puja (religious ritual to offer prayer and blessing to Goddess Laxmi), which is performed in the evening. One can see all windows and doorways decorated with fresh marigold garlands and clay pot oil candles to welcome Goddess Laxmi.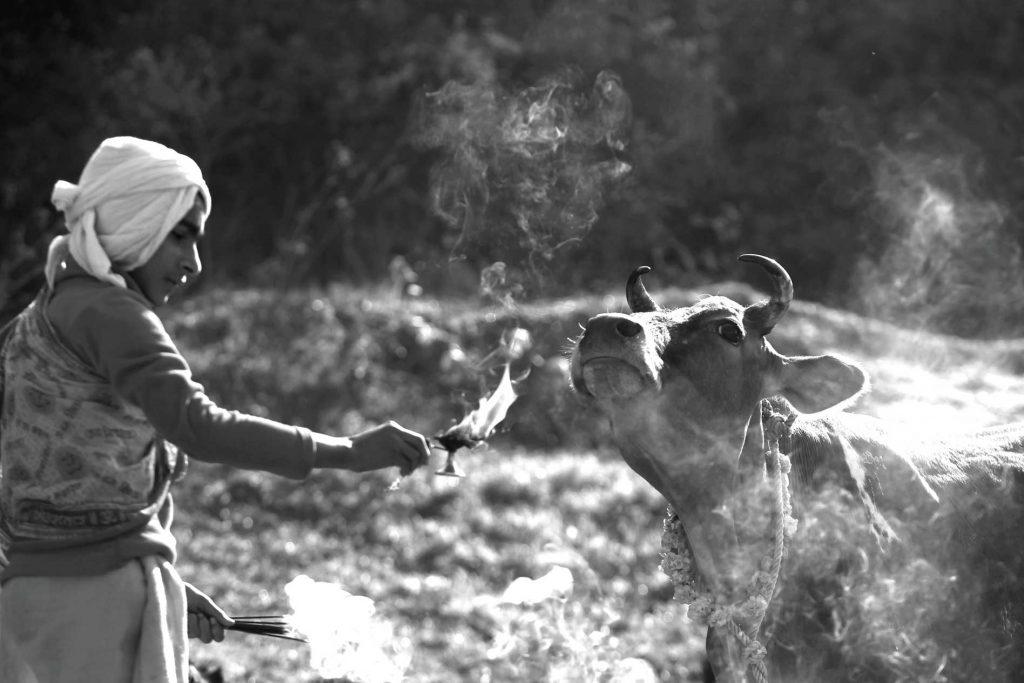 At sunset, a member from each household designs rangoli, a colourful pattern using vermillion powders, rice and flower petals. From this vibrant design, some households paint small feet all the way through the house until the place of worship, where rituals (or puja) are performed, symbolising the feet of Goddess Laxmi entering and blessing the house. The religious holiday is a symbolic celebration of good over evil and the lifting of spiritual darkness.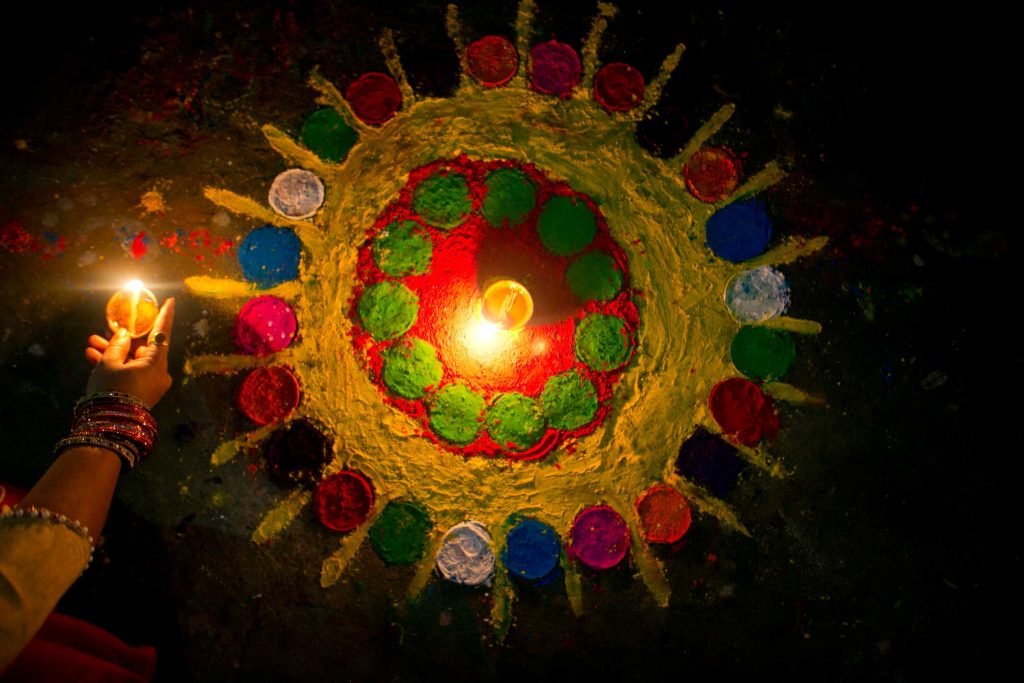 On this day in particular, the streets in all cities and villages across Nepal are buzzing with loud music from groups moving from house to house singing and dancing until the early hours in the morning. Their audiences offer the performers some money, presented in a decorated plate with tika (rice mixed with vermillion powder) and rice. Electric, multi-coloured lighting and loud speakers contrast against the traditional handmade clay pot candles and classical musicians wandering the streets.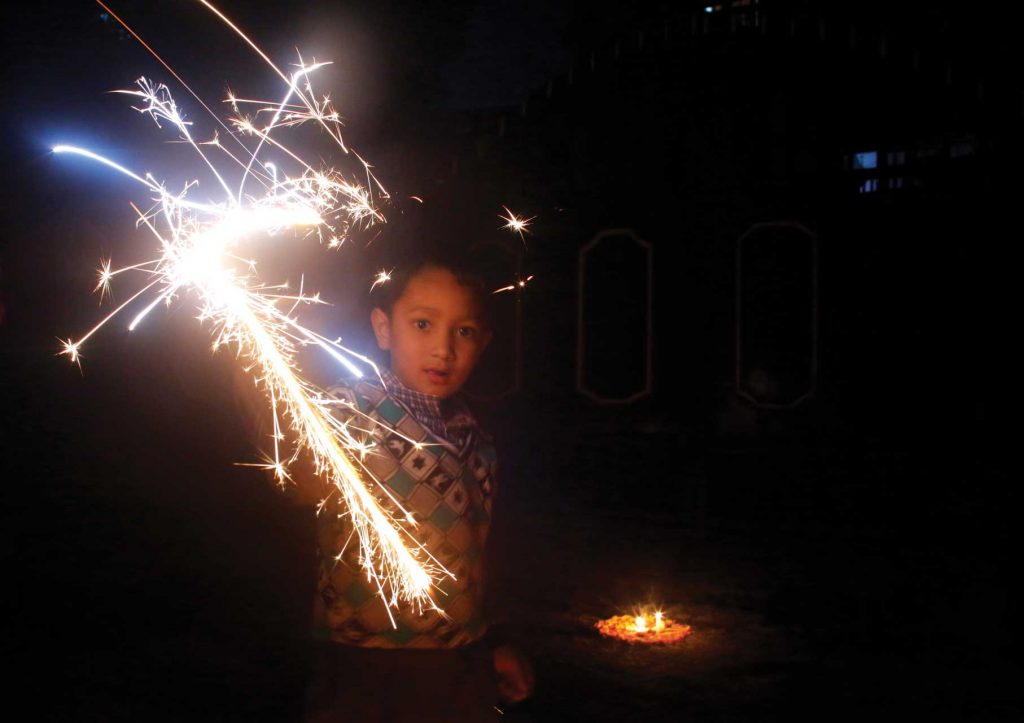 Day four: Goru Puja, the day of the oxen, is celebrated differently according to region and culture. Most often the Ox is celebrated. Some others worship their vehicles or other possessions or (even themselves as per Newari culture!) The Newari ethnic groups celebrate the Newari Calendar New Year's Day (this year being 1139!) Cultural processions and other celebrations are organized to mark the occasion.  
 In the evening, Newars perform Mha puja, the worship of one's own divine self for good fortune throughout the coming year. It is celebrated with a ritual whereby a pattern is first designed with yellow powder on the ground, after being wiped with a mixture of mud and cow dung (cow dung features on many occasions and rituals in Nepali culture for its purity, I still have trouble grasping this!). The pattern is decorated with a variety of nuts, fruits and grains, and garlands. One family member pedantically performs the rituals where you receive a shower of flower petals and nuts (I had a couple of walnuts fall onto my head!) and finally you are offered the typical Newari offering – boiled egg, dried fish and a piece of meat, together with a shot of local aila (local rice wine) or whiskey in more modern homes.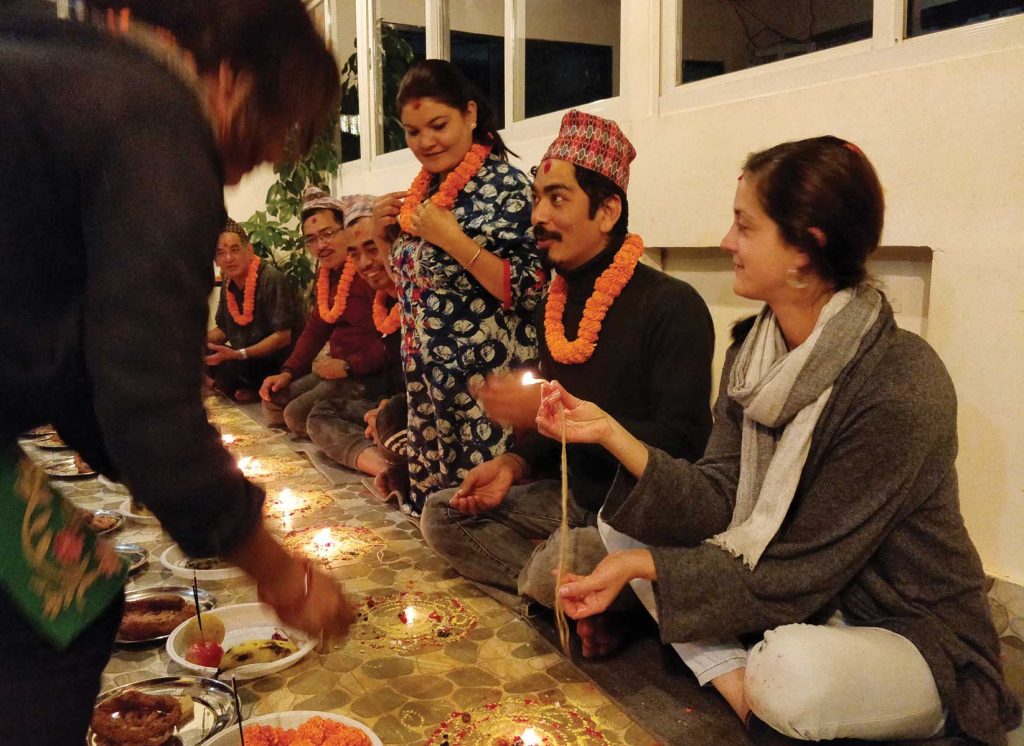 Day five: Bhai Tika is the day sisters bless their brothers, my favourite day of the festival. Sisters perform a puja and apply a 7-coloured tika on their brothers' forehead to wish them a long life and thank them for the protection that they provide. They are given floral garlands, and are fed special food and sweets, exchange gifts, and enjoy the day together. It's a symbol to strengthen relationships between siblings.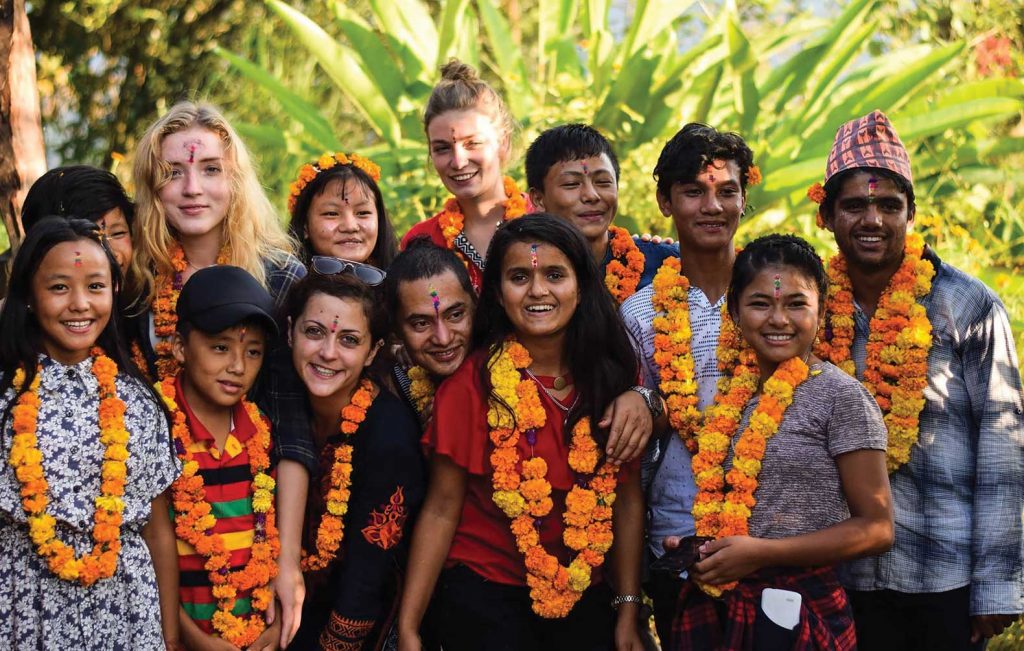 Nepal is nothing short of multi-ethnic diversity and rich culture, traditions and festivals that arouse every sensory function. A trip to Nepal should definitely include a lot of local activity outside of the mainstream trekking and tours that your agent will suggest. Plan a visit around festivals happening at the time of your visit and arrange means to participate.  
Remember to always respect cultures and traditions. Some festivals are not for the faint hearted especially where animal sacrifices are involved; luckily, these are also becoming less and few.