Illustrate
Artist Joseph Bugeja completed a five-year Fine Arts course at the Malta School of Arts...
Interview: Nicole Cushchieri WITH: JOSEPH BUGEJA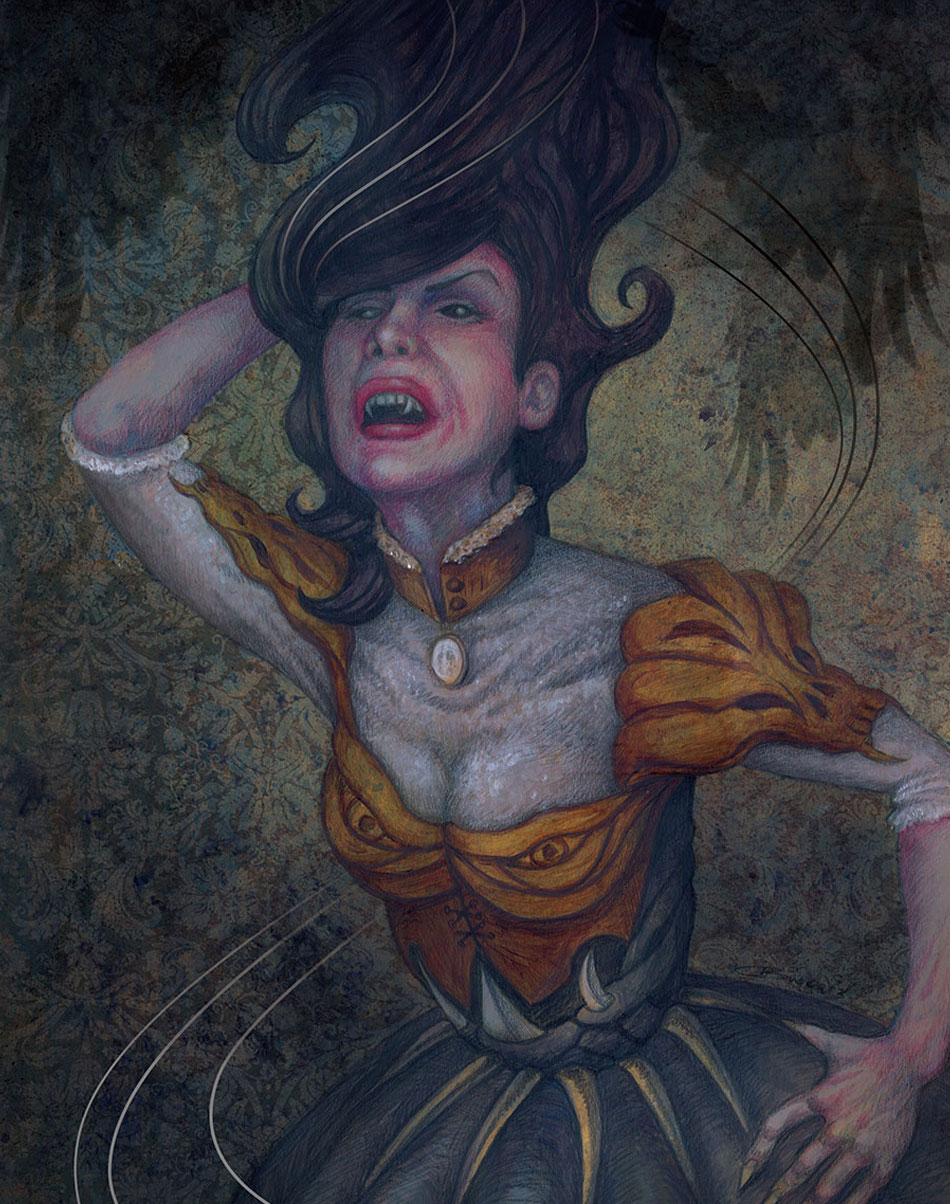 with his thesis on Fantasy Art resulting in him being awarded a Diploma with Distinction. His fondest childhood memories are of drawing cartoons and fantasy creatures on the walls of his family home. He has also self-produced and published three comic books: The Tsar Issue 1, a futuristic story written by Joseph P. Farrugia; and Hal Mudlam Issues 1 and 2, written and illustrated by Joseph Bugeja himself, in the horror genre series.
How did you first get into illustrating?
I was raised in an artistic environment and started drawing from a very young age. At home, my father, who is also an artist, had books on Boris Vallejo, Chris Achilleos, Jim Burns and other famous fantasy artists, so my interest in fantasy art started there. After attending art classes as a child, I obtained a Diploma in Fine Arts with Distinction at the Malta School of Arts.
How would you best describe your style of illustrating?
I consider myself to be a "fantasy artist". When you work in this genre, there is much more to learn, because not only do you need to study all the academic rules but you also have to go beyond them. You need to draw things which aren't in front of you – that's the challenging part – and, unfortunately, many art schools don't give enough importance to creating images from your imagination. They teach you how to draw still life or how to produce a lovely landscape, but they don't push inspiring artists to use their creativity and imagination. My father helped me to develop my drawing skills and observe things around me with an artistic eye from when I was just a child, and then I was lucky at art school when my tutor sensed my passion for the subject and encouraged me to produce my thesis on the style I most love to draw.
Can you take us through your design process, and from where do you start?
When I am planning a painting the most important thing is to find an interesting composition – and then I plan the colour scheme. You need to carry out research on what you are drawing as well. For example, if you are drawing fabric, you need to study how that particular cloth creases because different fabrics crease differently: drawing linen is different from drawing silk. And when I am drawing a monster, I need to understand its original habitat. You can't draw a desert creature with marine tentacles, for example. Even though you are drawing fantasy, you still need to stick to the basic rules of nature.
What tools and techniques do you use to create your art?
My most important tool is definitely my pencil. With it, I begin by making a sketch, and then I decide whether to continue working traditionally or digitally. I actually prefer working traditionally, if I have the time. If the deadline is too short, then I have to work digitally. I prefer working traditionally for a number of reasons, but mainly because you can achieve brush-strokes and paint effects that up to now no computer programme can achieve – nothing compares to holding an "original" artwork.
…"My Studio used to resemble a scene from a horror movie"…
Do you use social media to help promote your artwork?
Facebook is a great tool for promoting an artist's work and make contact with other artists and learn from them. Every day I see so much great artworks that inspire me.
Have you ever considered tattoo art?
I have bought the guns and ink and was very interested in continuing my studies in tattooing. I used to get pig skins to practice on – believe me, my studio used to resemble a scene from a horror movie – and then I arrived at the point where I needed a professional tattoo artist to teach me the right techniques. There aren't any schools for tattooing, so the only answer is to learn from a pro. I used to research different kinds of inks, the depth of the needles needed, etc., and I would really like to share some advice here. In Malta these last few years, tattoo art has really became the "cool" thing, but it really is important that, before you have a tattoo, you check that the tattooist is a professional who uses only EU-approved inks and not cheap inks that can contain dangerous chemicals!
What inspires you?
My inspiration can come from anywhere really, but my main source has to be our country's rich history. This tiny island has seen some great moments in its time and with some more imagination from inside my head, I can produce some seriously interesting fantasy artworks.
As an artist, do you manage to maintain a steady income?
Unfortunately this is still my part time job although I would really love to be able to make it my full-time means of earning a living. I sell original artworks and have prints that can be seen either on Facebook or my website josepbugejart.com
What do you feel is the most important lesson you've learned as an illustrator?
Never give up, listen to anyone's opinion and criticism but, in the end, do what you think is best for you and your art.
Can you tell us about a moment in your career that you remember with pride?
In 2006 I held a solo exhibition at St James Cavalier in Valletta entitled 'Immagina', the subject of which was the history and myths of Malta, with a bit of fantasy injected into the 36 artworks that were displayed. This was the first ever fantasy art-related exhibition held, and it was in such an important place.
Are you working on any interesting projects at the moment that you would like to share with our readers?
I am presently working on a solo exhibition and taking part in various collectives. I will be organising some more workshops with professional foreign fantasy artists and have some other plans for the near future which for now are still in the early stages.
Is there anything else that you would like to say to those reading this?
Yes, I would like to thank Vamp for giving me the opportunity to promote my art and for helping the local art scene to flourish.