In person [A]
My first meeting with Ritty Tacsum, I remember scanning through her Facebook images and lingering, perhaps a little too long...
RITTY TACSUM WORDS: JEFF HOLMES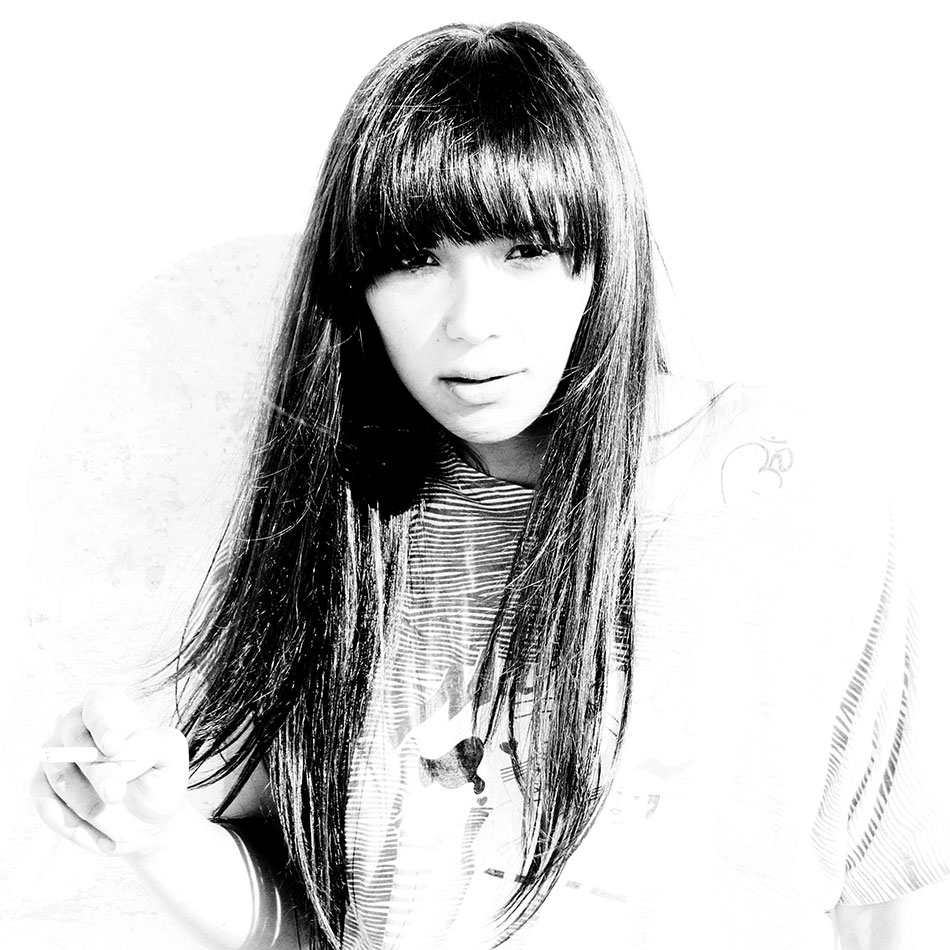 My first meeting with Ritty Tacsum, I remember scanning through her Facebook images and lingering, perhaps a little too long on the one that is captioned thus: Max shoots women. Ritty shoots men. Together we shoot inanimate objects…
n this self-portrait, the subject dons a (digitally imposed) handlebar moustache with chin puff, not unlike Marcel Duchamp's readymade, titled L.H.O.O.Q. – her femininity, or rather, her sexuality, nevertheless untarnished by the digital add-ons.
It is more than apparent that Ritty has a double personality of sorts: she balances her feminine and masculine counterparts and at the same time also manages to strike a balance between her individual and artistic personalities. Ritty Tacsum is the persona; Ritianne Muscat is the person. Ritty is a self-assured young woman: signature cigarette in hand, she is deceptively calm and confident, with a cool demeanour and inexplicable amounts of charm. Ritianne, on the other hand, is shy, avoiding all eye contact, soft-spoken and vulnerable…
Two distinct halves making a whole, each intrinsically dependent on the other. It is, however, fascinating to watch as she turns one on and switches the other off with the same ease with which she takes photographs.
This duality or dualism has informed Ritty's work from the outset: she has inadvertantly (or maybe purposely) projected this tension onto and into her photographs. This 'tension' could begin to explain – or resolve – the inherent appeal, the desire to scrutinise her work, irrespective of subject matter or personal tastes.
Fresh from her second solo show – Four Rooms – Ritty is showing six new works at the Museum of Contemporary Art in Taipei. Collectively entitled Shell, this previously undisplayed work draws inspiration from her early years and further reveals and confirms her fascination with androgyny as well as an incessant preoccupation with gender and sexuality.
The group show in which Ritty is participating, together with some 25 international artists, has the theme: Post-Humanist Desire: Sexuality and Digitality in Contemporary Art. Curated by Dr Ming Turner, the works on show have been divided into three categories: the post-human clone, post-human sexuality and the post-human body.
Ritty's work unequivocally sits within the second theme. Yet it would be erroneous to assume that her work deals solely with sexuality. Her work is tactile; it's both playful and provocative in that it challenges viewers' preconceived notions of identity and conventionality. Often Ritty does this by merely flipping an image on its side or by completely inverting it, thereby adding a heightened sense of ambiguity – an essential characteristic when selecting her sitters.
Her work is also highly personal and, to a certain extent, autobiographical. Shell is a figurative series in which Ritty references (perhaps inadvertently) a couple of works created for the Humanoids series (2011) – here I specifically refer to the work entitled I Was Alone, Falling Free and the triptych entitled Protect Me From What I Want. There is the same feel, the same mood and she also uses some of the same 'props'. Yet the approach is altogether more mature: there is less of an attempt to provoke and more effort to challenge.
A common idiosyncrasy in her work is the use of the 'mask' – not necessarily in the traditional sense. Her work can hardly be considered abstract; more often than not it is raw, crude, overtly figurative. She requires the human element to bring her visions to life; to set her tableaux. Yet her insistence at masking the identities of her sitters is a distinct projection of the self, rather than an incessant desire to capture the life of another.
Ritty's key piece in the Shell series is a hybrid of limbs and body parts – an image in which genders and sexualities blur and overlap. The image is intricately layered: body upon juxtaposed body form a cling-filmed, silhouetted mass of skin and matter – perfectly weightless, yet nonetheless grounded.
Post-Humanist Desire was launched on 23 November and closes on 12 January. Ritty Tacsum's participation was made possible through the support of the Malta Arts Fund
www.mocataipei.org.tw
www.rittytacsum.com