Functional Art
Through the exploration of iconic and functional art in Germany and Switzerland, the marvellous architecture, and buildings with exciting stories, of the VitraHaus.
"The enemy of art is the absence of limitations." – Orson Welles.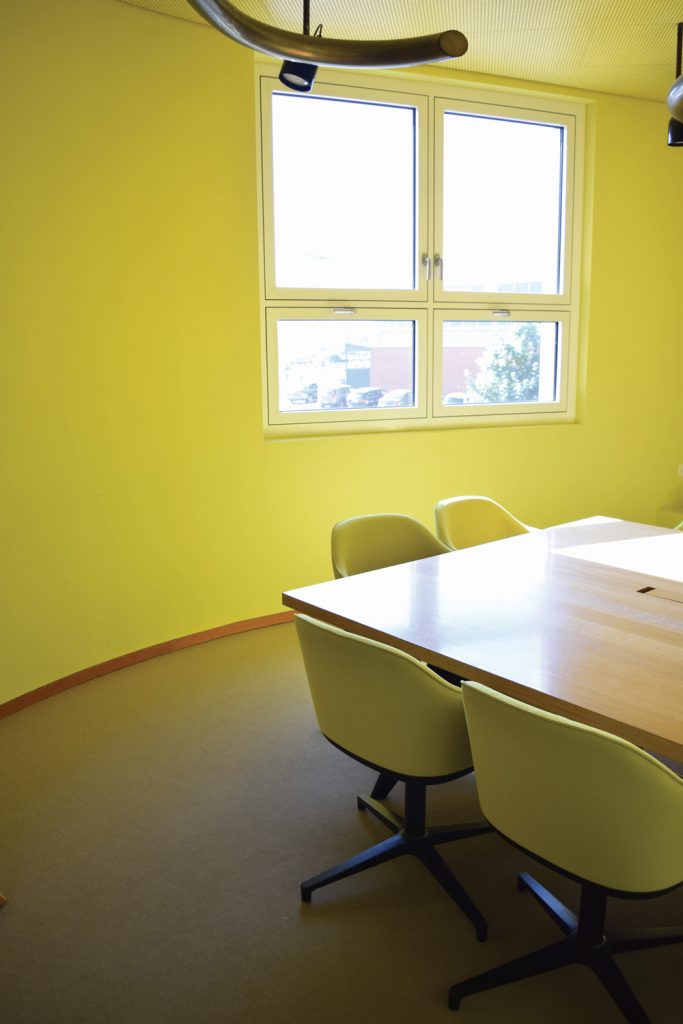 Art is a global language, yet it is so incredibly personal. But what about art that serves a purpose and function? On my latest wandering trip to Switzerland & Germany, I set out to explore iconic art, which is also functional. I decided to start my journey in Weil am Rhein, Germany, visiting a private chair collection which has just recently opened its doors to the public.
Mr Fehlbaum's chair collection, Germany.
Ranked among the most important holdings of furniture design in the world, the Vitra Schaudepot exhibits over 400 key pieces dating back from 1800 to the present. The permanent exhibition includes iconic pieces from Ray & Charles Eames, Alexander Girard, Pierre Paulin amongst many more. From elegant seating to over-the-top quirkiness, each piece tells a different story of its time.
Having an ever-growing personal interest in peculiar chairs, I noticed some pieces, which were familiar too. Like the Carlton partition (1981) by Ettore Sattsass, and First chair (1982) by Michele de Lucchi; coincidently both owned by the late David Bowie.
This was a great place to start my search for inspiration and I did not need to travel too far for my next; Architecture. The Vitra Schaudepot itself, designed by architects Herzog & de Meuron is a simplistic marvel and is situated smack-bang in the middle of an architectural wonderland; the Vitra Campus.
The Vitra Campus, Germany.
Previously used as a cherry farm, Willi and Erika Fehlbaum, owners of Swiss furniture brand Vitra, transformed this land in a remarkable ensemble of contemporary architecture over the decades. Each building on the campus is an attention hog. You cannot help but stare in astonishment at the incredible time & craftsmanship that went into these buildings, including the Factory Building, designed by SANAA.
Solid sheets of plexiglass, each ten meters high, placed alongside each other with perfect precision not only gives this building a unique look, but serves other functions too. The direct sunlight is reflected off the building, and the non-erosive material stays sparkly clean indefinitely. The Factory building is one of the most energy-efficient factories around, with natural cooling and ventilation, bringing together the commercial and cultural aspects.
The VitraHaus, which displays the latest furniture collection, is a building like no other. Stacks of container-like blocks, which look as though they were randomly placed on top of each other with the internal spaces all interconnecting. Inside the building is a labyrinth with quirky art waiting around every corner. On the higher floor of the building the view is breath taking, and you can literally see three different countries; Germany, Switzerland & France.
At every turn on the campus, there's an exciting building with an even better story. Fire Station, Zaha Hadid's first ever commissioned building. Conference Pavillion, by self-taught Japanese architect Tadao Ando is my favourite. The building transports you into a calmer state, lowering your heart rate gradually. On the campus I also came across a bizarre building that is impossible to ignore. Designed by the eccentric Frank Gehry, the building's curves and shapes all intertwine with your eyes travelling back and forth endlessly.
Limitations shape art. Constraints are an important part of everyday life. Tadao Ando's great respect for nature inspired him to design a building, which unearthed the least amount of cherry trees from the land as possible. The building is mostly underground too as he did not want the building to be higher than the trees. Limitations, whether voluntary or forced, have inspired artists to dig deeper and challenge the obvious, creating useful iconic art along the way.