Kawakawa House Piha
Located on a steep mountain slope close by to a volcanic sand surf beach on the west coast of Aukland, the Kawakawa House in Piha presents itself as a modernistic cabin-like abode that blends in its natural surroundings.
PHOTOS BY PATRICK REYNOLDS
HERBST Architects were presented with a brief that called for a beach house, which takes advantage of the spectacular natural environment surrounding the site and is able to be used year round.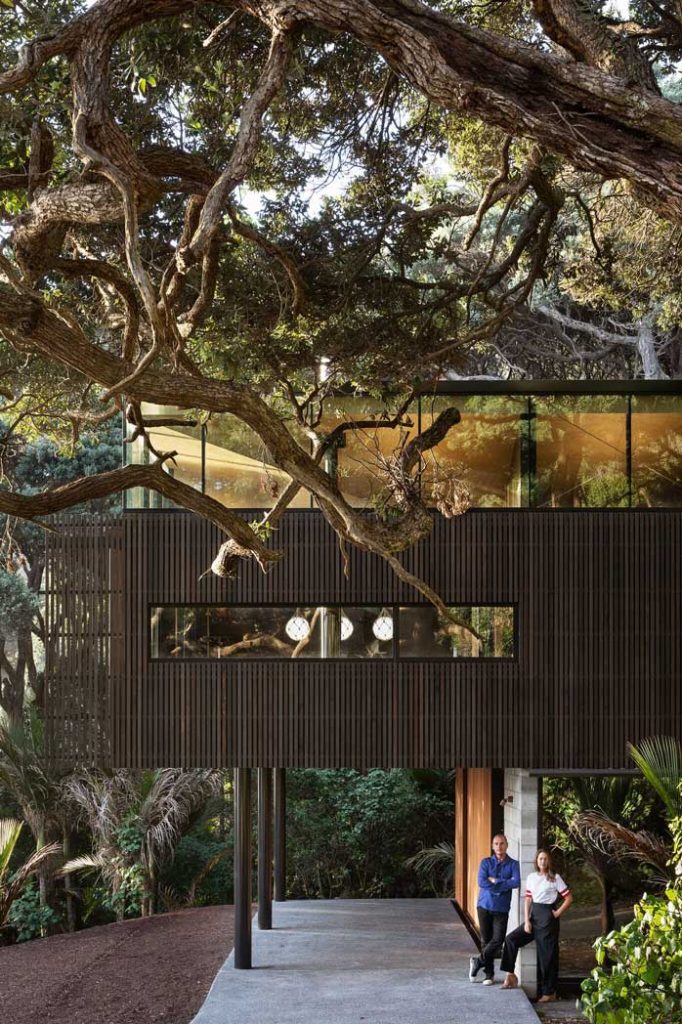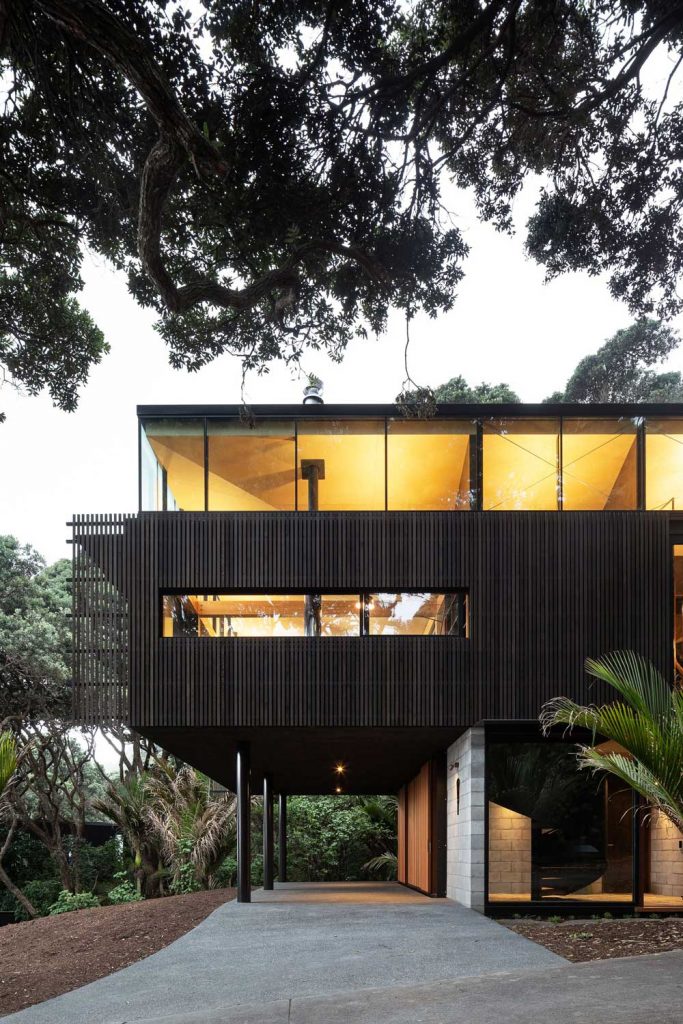 The site, which sits at the base of a steep mountain slope behind the beach and is completely covered in tall mature Pohutukawa trees, presented some challenges.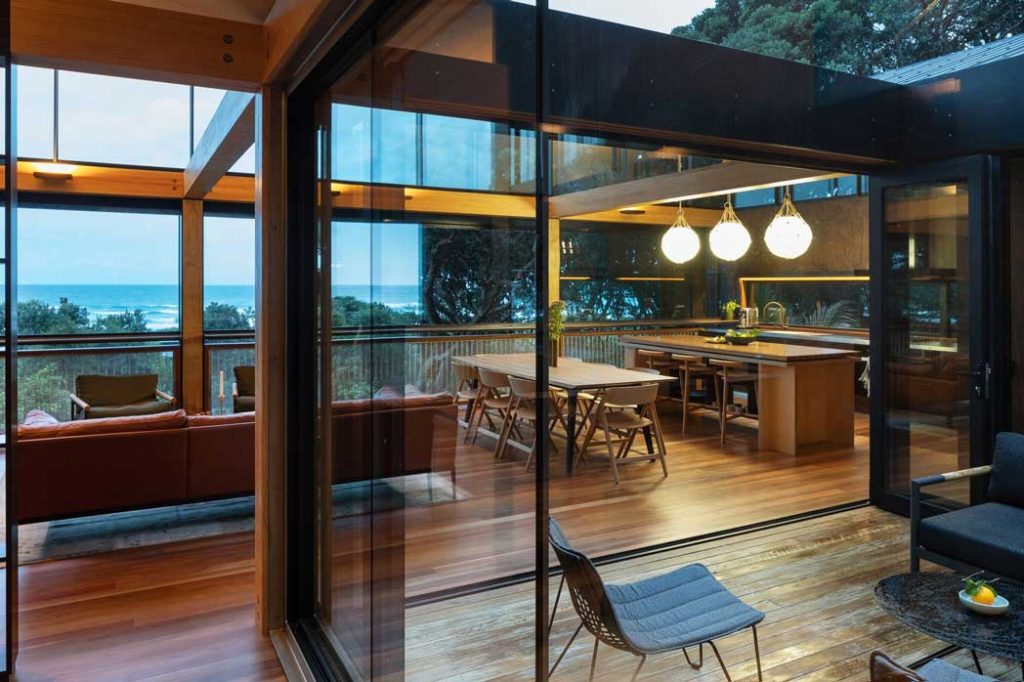 An existing two-storey house obscures views to the ocean from the lower level. The site, being overhung by trees and under mountain peaks to the east, which curve around to the North, is extremely sun challenged and subject to regular onshore winds in the summer months.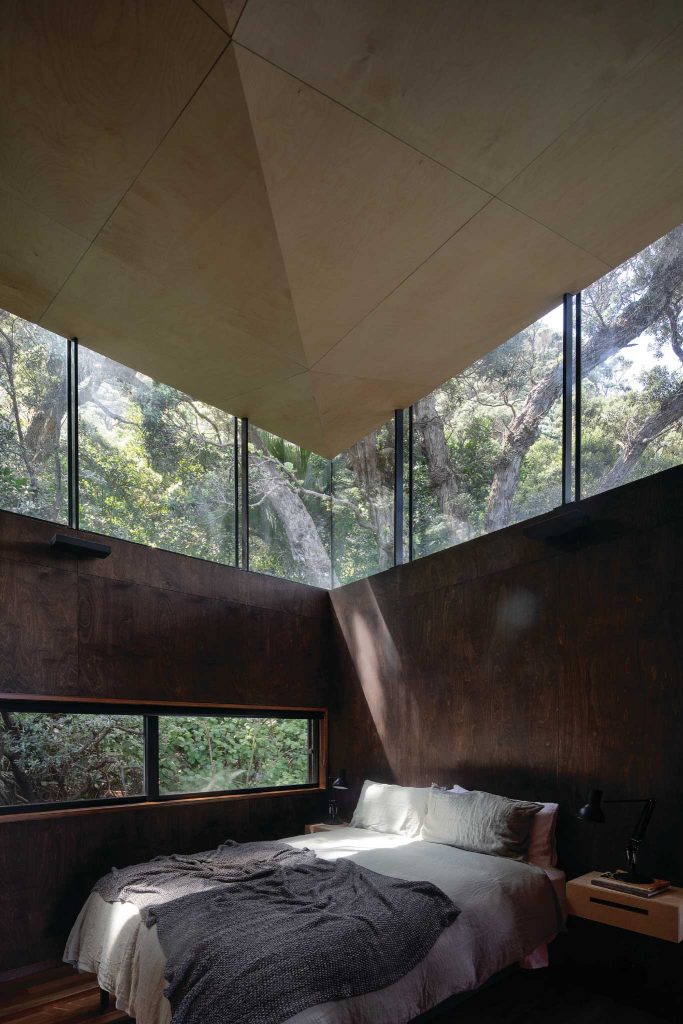 The architects' response was to lift all of the living functions of the house onto an upper level to give views of the ocean from the living room and to lift the bedrooms up and closer to the light and the canopy of the trees.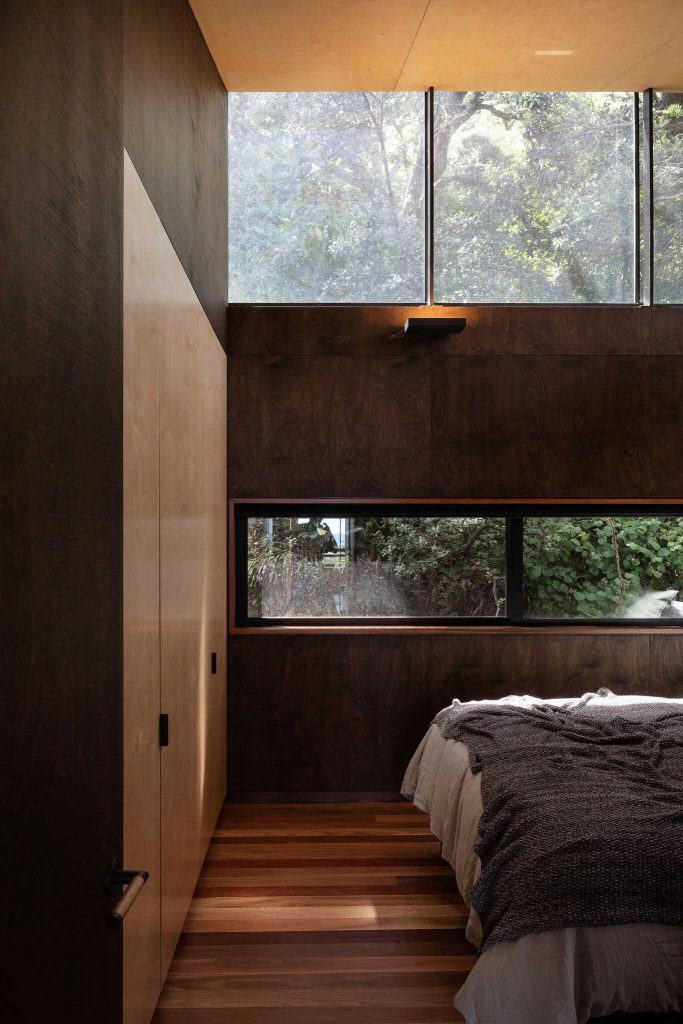 Large, clear apertures allow an abundance of light to enter the spacious open-plan area and create a sense of vastness with the stunning view. In order to take advantage of the spectacular view of the Pohutukawa trees and mountain surrounding the house as well as to let light in from above, a continuous clerestory window was set up to the perimeter of the upper volume.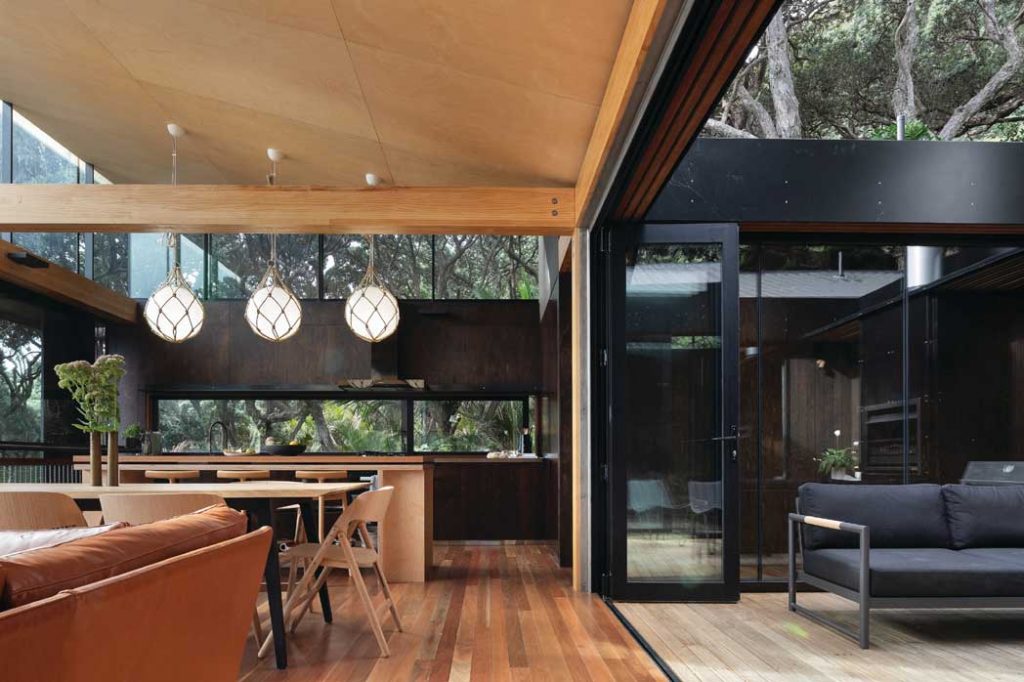 The interior walls are decked with Birch ply-wood from Plytech. They are smoothly finished black with Osmo 'Polyx' creating natural tones and patterns that resemble nature's earthy palette and patterns; particularly noted in the cosy bedrooms. Space was cleverly utilised for an additional sleeping area for guests with a section of cosy bunk beds, maintaining the earthy-palette.
Elements of turquoise-green appear sporadically interrupting the monotony in the brown tones whilst adding vibrancy and harmonization with the natural surrounding of lush trees and the ocean. The plan on the upper level is a simple rectangle with an open central courtyard bringing light into the heart of the upper level and around which the functions of the house circulate.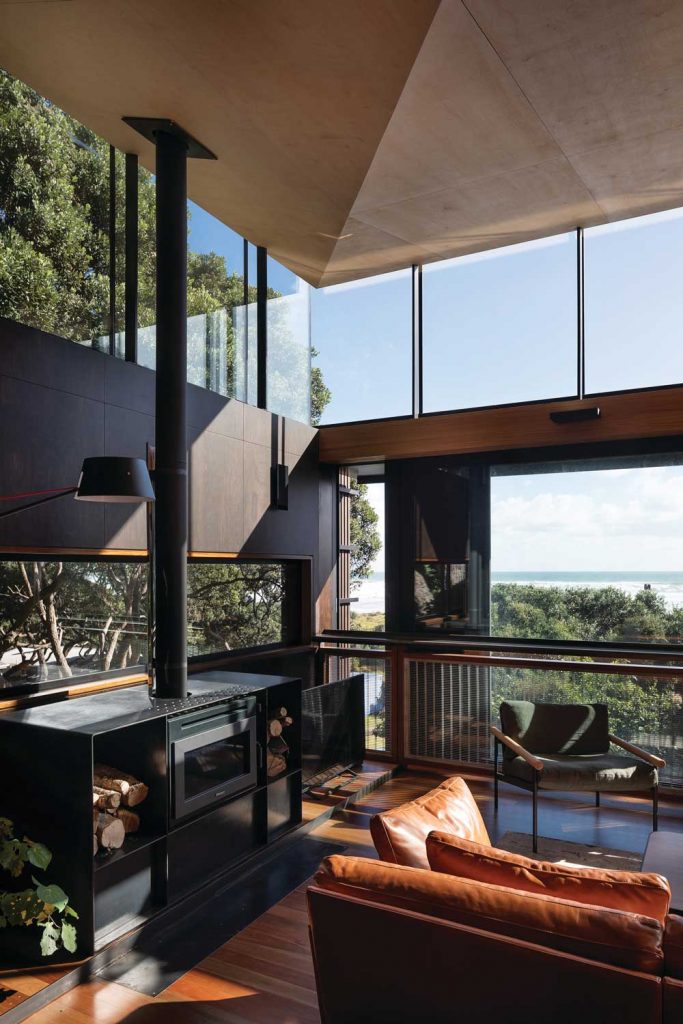 The main living space is construed as a covered deck with a balustraded open mouth to the view, whilst the central courtyard provides a protected outdoor living area when the wind is blowing from the west. Piha is a popular destination for Aucklanders.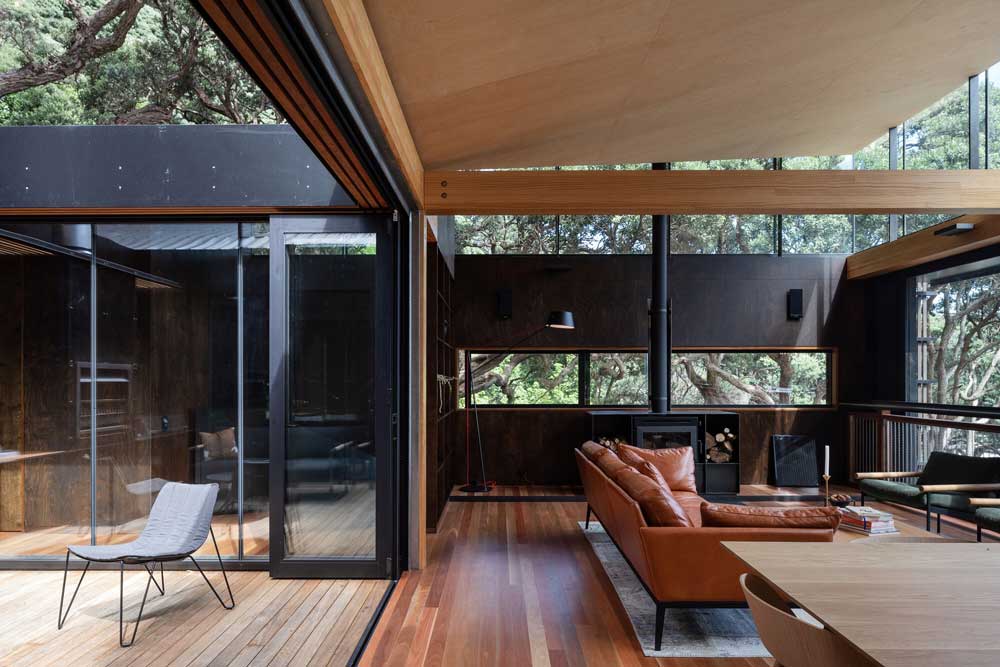 It is a 50-minute drive through the Waitakere Ranges Regional Park to get there, and the black sand surf beach has a dramatic backdrop of native forest and rugged coastline.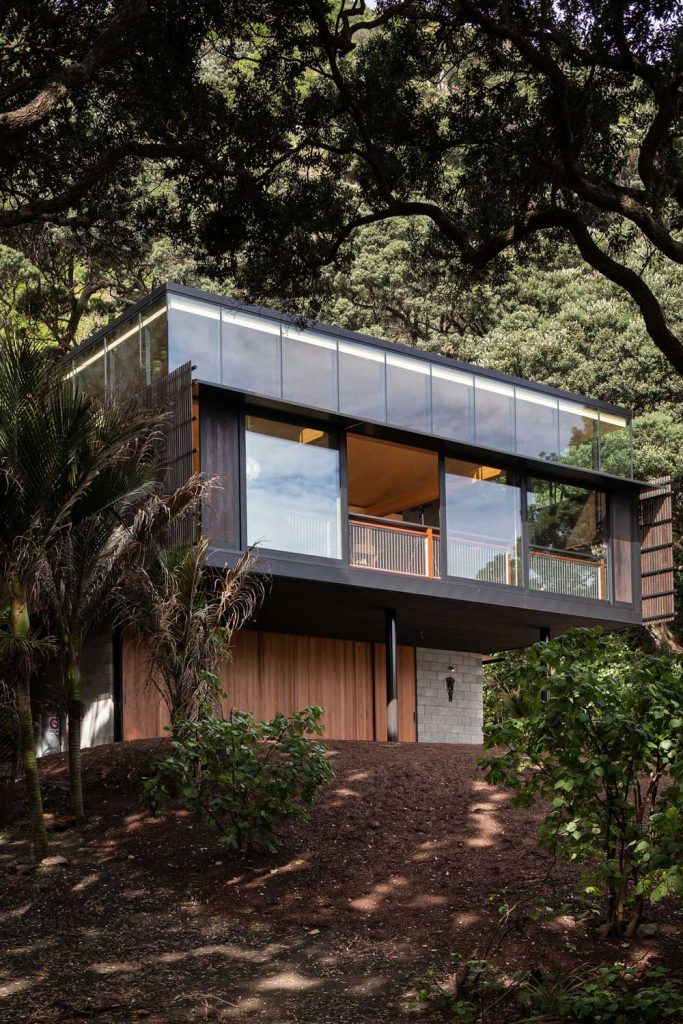 Apart from surfing, there are also many hiking tracks and waterfalls to visit in the Waitakere Ranges, so it is a great spot to visit for the weekend and entertain guests.