The Bipolar Home
Designers at Egue y Seta in Spain describe themselves as "A team with a sharp eye and big ears!" eager to create spaces for the clients' most intimate needs. This 100-year-old apartment in Barcelona is a beautiful example of their ethos.
Designed by Egue y Seta www.egueyseta.com
With direct involvement of: Daniel Pérez, Felipe Araujo, Szymon Keller, Covadonga Díaz, Gaia Trotta, Álvaro Sánchez and Sarah Salas.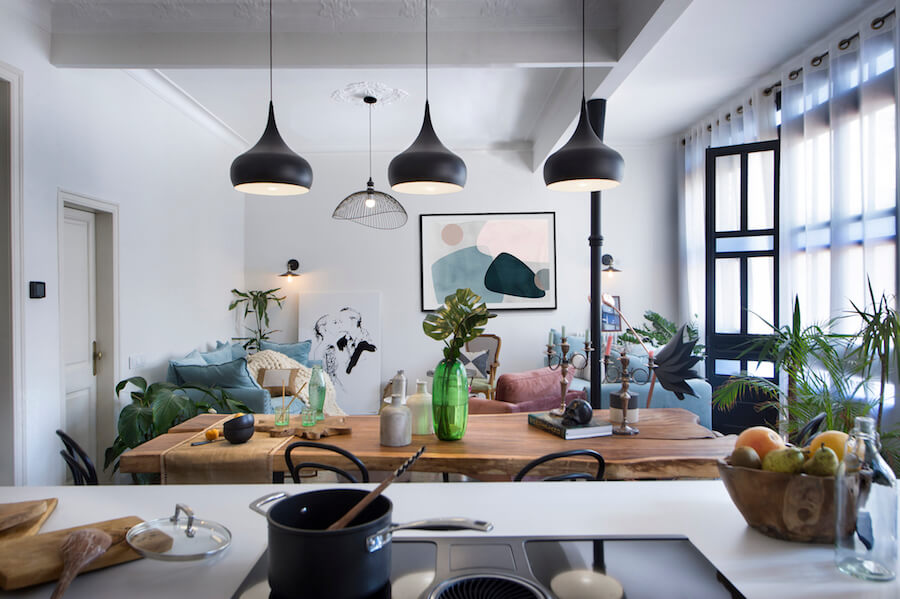 If we were to believe that homes "have character", this one would be bi-polar or have some sort of multiple personality disorder. Let´s leave the owners off the hook for we can assure this Dutch young couple is perfectly sane. Though not on their birth certificate, the couple are true millennia's at hear and this explains why they had such little trouble giving the designers creative freedom to re-mix and combine the most contradictory of styles, where the original architecture and the final purpose of each room allowed for such creativity.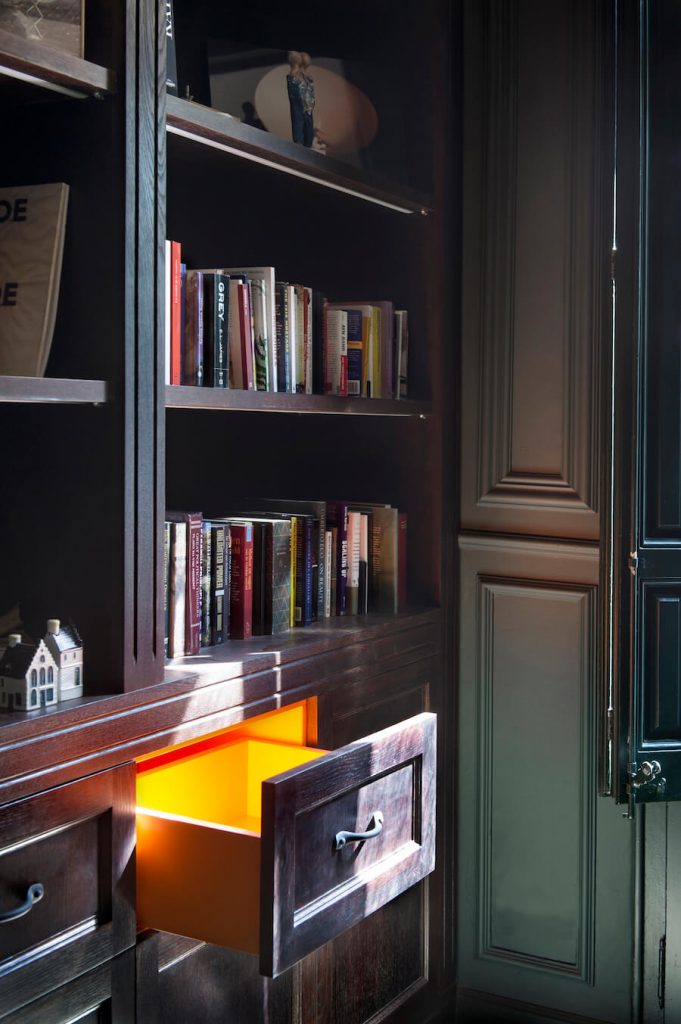 The Bi-Polar Home is a decidedly contemporary style that sits on its original recovered hydraulic mosaic tiles. It's a home created beneath its traditional Catalan vaulted ceilings, and trendy pieces of modernity; a flat that challenges the typical Eixample´s (a district in Barcelona) home lay out in order to include rooms and devoted areas that have a lot more to do with current habits and lifestyles.
Overlooking the pedestrian street of Compte Borrell are two lovely balconies ceded over to privileged spots in the home; a symmetric double space devoted to work and reading that took the shape of a black and white halved classic style library.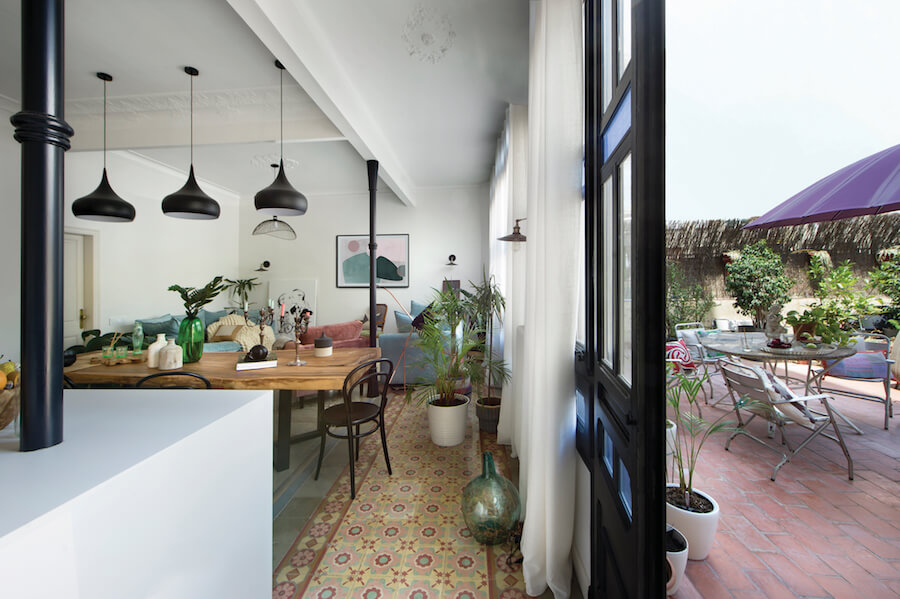 At the very centre of the housing unit, one can find the master´s suite. A stunning bedroom flanked by two generous interior light patios you can access through side crystal doors you can open just as you get out of bed. The bed shamelessly looks over the entrance hall through an indoor greenhouse. A scenographic bedroom leads onto a double walk-in closet and a double bathroom that combines all-white tiling with dark grouting and black joinery along with the reflection of great crystal and mirror panes for a spacious high contrast effect.
Contrary to what would have been customary, on the opposite end of the house, is an outgoing kitchen, fully integrated with an open plan living-dining room that looks over a superb terrace through gorgeous modernist stained-glass windows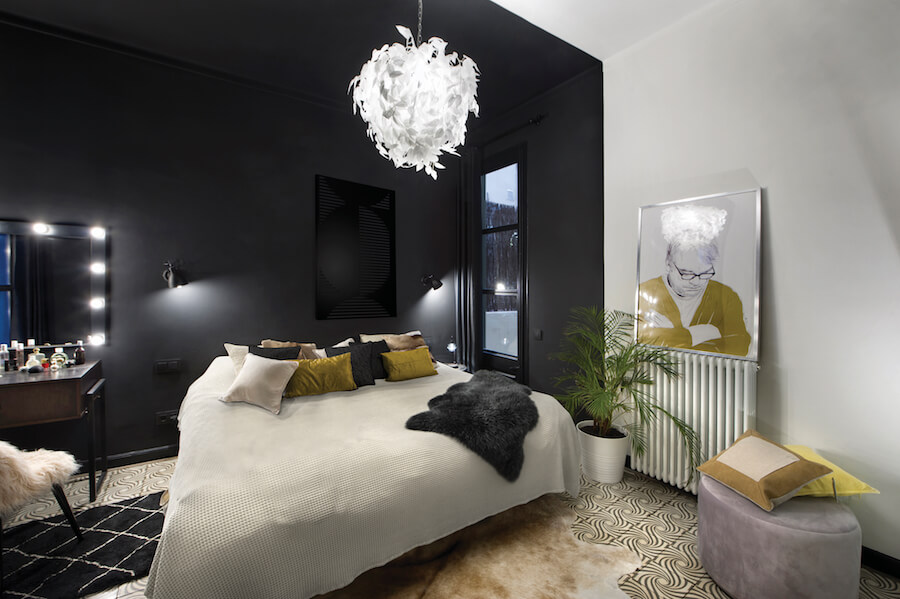 Trends and styles overlap themselves with the same ease; preconceived privacy notions related to exteriority or closeness to access has been challenged all throughout the house. Velvets and leathers seem to contribute to a sophisticated, though improbable harmony achieved in conjunction with the ethnic patterns on the hand-woven rugs and the recovered hydraulic tiles. Finishes and the material quality of all furniture pieces reconcile opposites with similar boldness, managing to amalgamate in an ensemble of surprising balance; natural varnished wood grains with golden glares, white lacquered surfaces, wrought iron, and the inevitable evergreen leitmotiv that pint-points and splashes over, here and there.
Guest´s and courtesy toilets, besides their sanitary function, stand out more for their evident entertainment calling. A guest´s bathroom hides a semi-circular bathtub behind a palm hedgerow and a sensuous venetian blind that allows for natural light and silhouette guessing from the exterior. On the other end, a Rock n´Roll courtesy toilet shamelessly winks an eye to kitsch aesthetics, daring to overlap bevelled black tiles over tropical green palm patterned wallpaper. The retro-design toilet also includes a Rolling Stone logo inspired urinal and a dressing-room style mirror!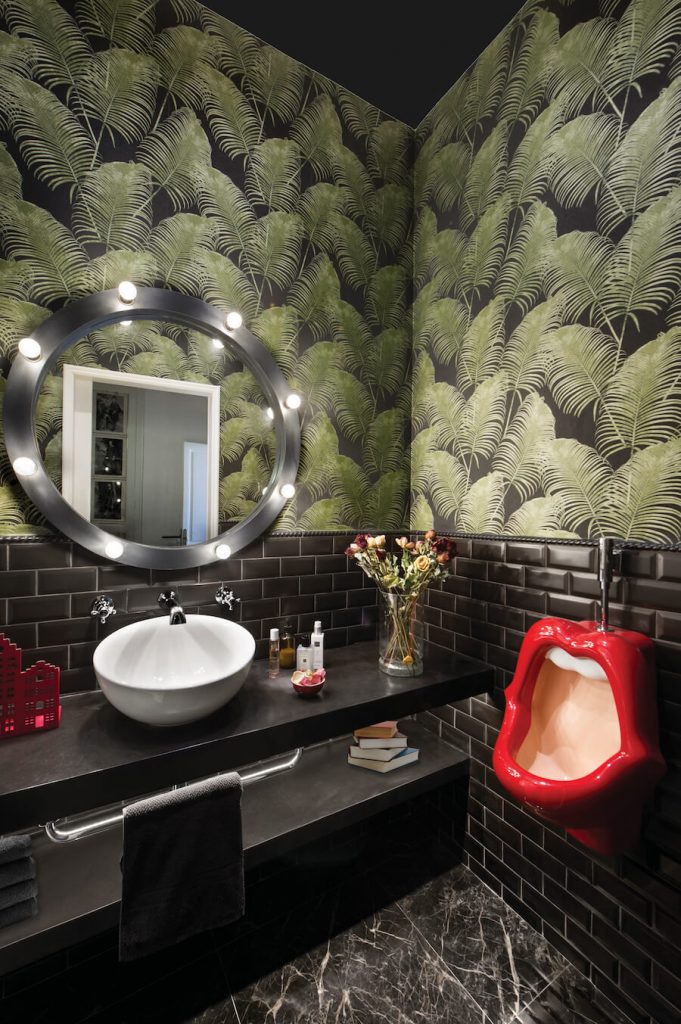 Soon after moving in their new house, the owners were blessed with the arrival of a new little tenant. For her, they had prepared a gorgeous baby bedroom that regardless the irrefutable youth of its occupant was to include the pieces of furniture of the most antique inspiration. For this bedroom vintage wardrobes and chests of drawers were renovated and then paired up with a wonderful oval Scandinavian style baby crib and a bamboo armchair. All these sit under the fresh shade of lush Kentia and over the eternal nobility of mosaic tiles that have witnessed the bringing up of so many generations. All of it comes together with the use of expansive but warm off-white tones and light woods, hinted by the ethnic colour of fabrics, cushions and rugs.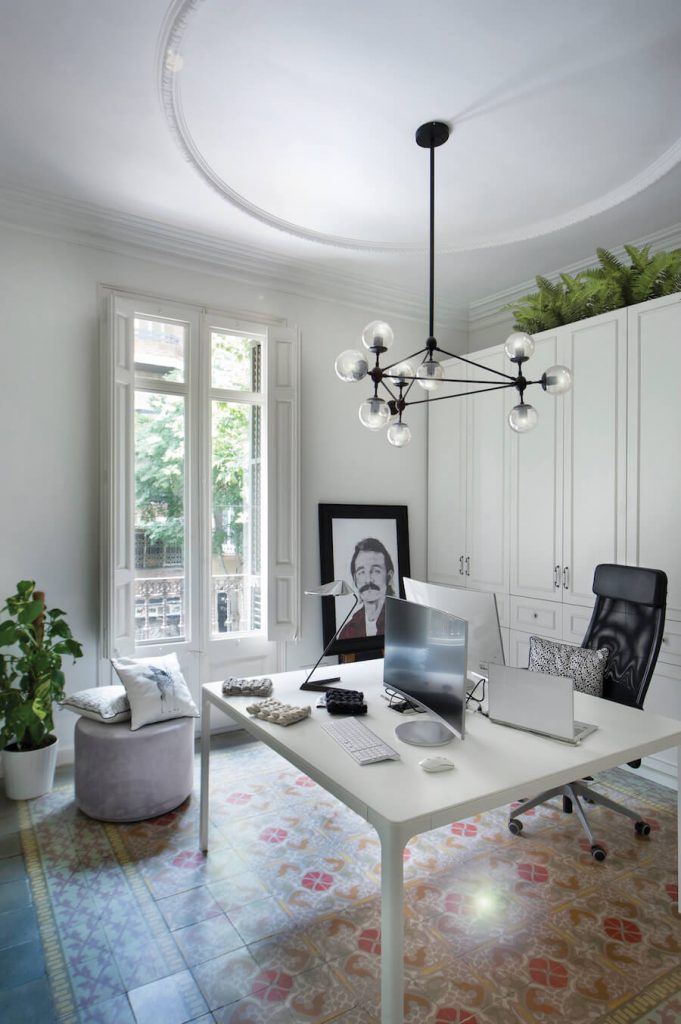 "We´re thrilled to have helped her parents in the task of creating a home that will hopefully foster and inspire all of her future dreams."

Sukhi Founder