Undefined space
It's like capturing the dynamism of life in a single room. If you looked at the plan of this Melbourne apartment...
DESIGN: ADRIAN AMORE, AA ARCHITECTS WORDS: KEITH DIPLOCK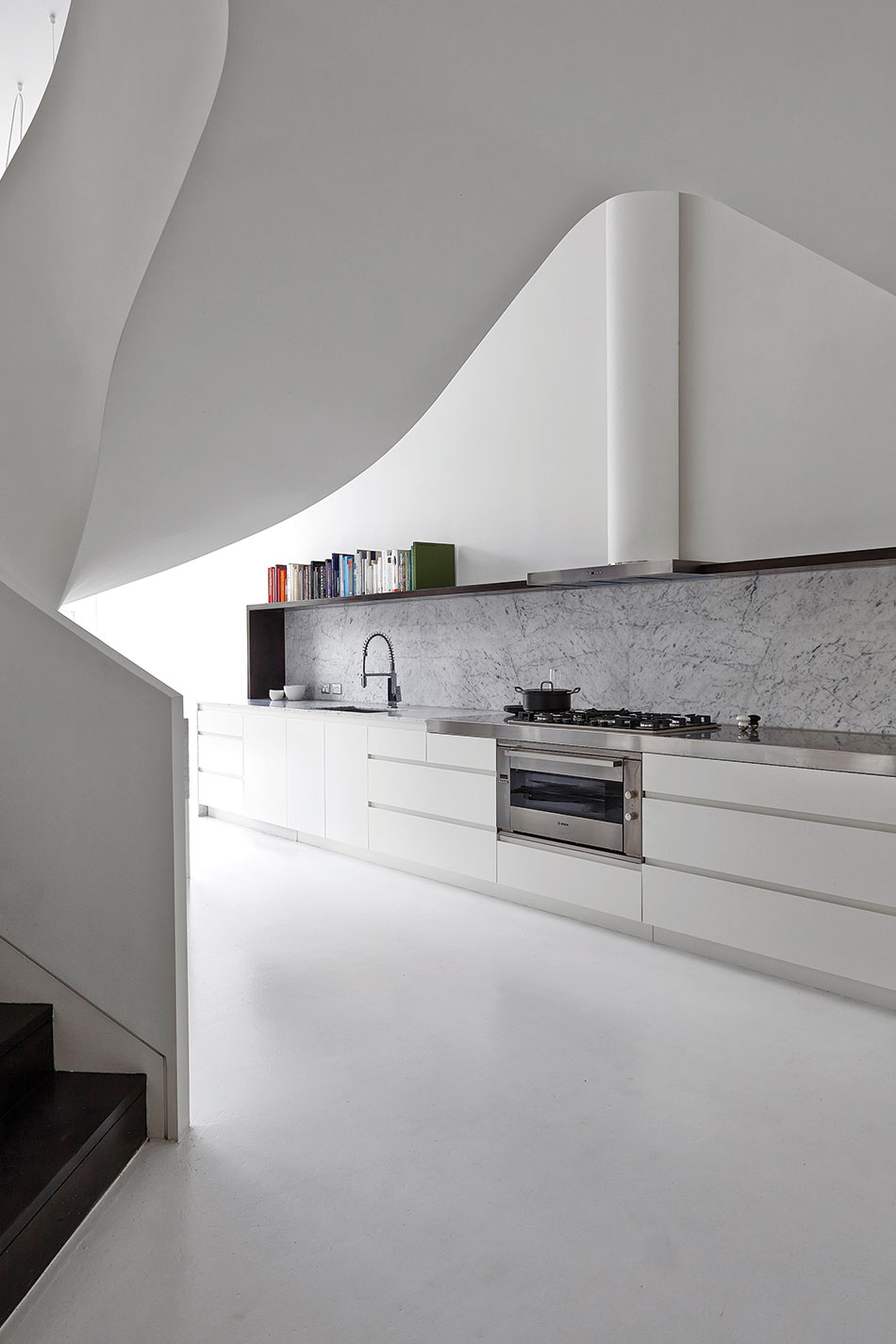 you'd see little more than a simple rectangle. But plans can be deceptive: the reality is something else.
The moment you enter the flat, you find yourself in a world of gleaming, cascading white surfaces that spiral like ribbons above your head. It's exhilarating: the twisting balustrades of the stairs and gallery that soar up to the roof terrace above you seem to capture everything about the three-dimensional dynamism of city living.
The young architect of this remarkable home is Adrian Amore, who founded his practice, AA Architects, eight years after graduating in 2000. His inspiration is the wise advice of the Victorian sage John Ruskin: that architecture should be a sculpture you can live in. Like Ruskin, Adrian loves the way the rich form of a building seems to change around you as you walk about in it. This one "reveals itself over time," he told me. "The more time you spend in the space, the more you discover different angles, and viewpoints, which can sometimes stop you in your tracks. These unplanned experiences make it an interesting space to be in."
Sometimes there's only a fine line that separates reality from perception. This loft apartment in west melbourne is all about That – play between almost psychedelic Design and real living.
The apartment was designed for a friend and, although it's something you'd never guess from its natural flowing lines, it was carved out of what were once the men's urinals in a former butter factory in West Melbourne, just outside Melbourne's Central Business District. To achieve this required some hefty engineering work: Adrian explains that a large and intrusive steel truss had to be removed from the old structure of the building before the new interior could be installed. He created a single open living space on the north-lit ground floor, divided only by the small curved enclosures of the shower-room and pantry. Upstairs, there are two large bedrooms, a bathroom and a spacious study that overlooks the kitchen area below. Sunlight pours in from above, creating bands of varied shadows across multiple slick white surfaces.
The dull coarseness of the old industrial space has completely disappeared and in its place is an interior of exquisite finesse, a wonderful combination of Adrian's own aesthetic sense and the sheer discipline of master craftsmanship. He devised the form of the spiral staircase on site together with his steel fabricator, using mock-ups to get it exactly right. Once the frame had been erected, it was lined with plywood and eventually plastered by the most skilled plasterers that could be found. According to the architect, the finished installation looks as if it has been pulled or stretched at its midpoint – something of a technical tour de force but also a dramatisation of the simple, everyday act of going upstairs.
…"Adrian has something else in common with ruskin: his greatest source of inspiration is nature"…
The swirling forms of these balustrades are what immediately strike the eye, but in fact every detail has been planned with the same care to create an astonishingly coherent interior.
The highly polished, sparkling white concrete floor has a luxurious effect that you would never associate with an industrial material, and provides a stunning setting for Adrian's palette of materials: the crisp steel, marble and chrome of the kitchen, for example.
It is obvious when reviewing a portfolio of Adrian's favourite projects that he has a great love for perfect proportions, beautiful and precise details, and elegant combinations of colour and texture. Here, the section of the wall that faces the sitting area is painted black, as is the single slender column that supports the upper floor; and the stairs, and the upper storey have rich, dark-stained timber floors.
…" It's important to remain open-minded, To ignore current fads (although not To dismiss new ideas simply because They're fashionable)"…
he furniture has evidently been selected to match, and carefully placed for maximum impact: I'm reminded of that old story about Frank Lloyd Wright, who'd descend to the living rooms of houses he'd designed when his clients were asleep in order to rearrange it the way he thought it ought to be. It's an exercise in control, certainly, but also an exploration of the potential for sensuality in a limited space: Adrian's brief was to create "a beautiful space for living". There's further luxury in a rooftop terrace with a fabulous view over the city of Melbourne, big enough to dine on and reached by a further stair that rises from the bedroom floor.
…"It is obvious when reviewing a portfolio of adrian,s favourite projects that he has a great love for perfect proportions, beautiful and precise details, and elegant combinations of colour and texture"…
This is an interior that is very much a 21st-century affair, and yet Adrian has something else in common with Ruskin: his greatest source of inspiration is nature. "Incredible. Mysterious. Elegant." is how he defined it to me, an apt description for the inhabitable sculpture he has created here. And yet he insists that his architecture is about practicalities, and first of all he works out how to solve the design problem that his clients put in front of him. He explains that this is a principle, and not a matter of scale. For him, the process is the same "whether it is a chair or architecture". That's because it's important to remain open minded, to ignore current fads (although not to dismiss new ideas simply because they're fashionable) and to refine a design as things take shape on site. A project like this required a special type of client, too, and Adrian has spoken of how much he has valued experiencing his friend's trust in allowing him to create such an unusual work.But it's clearly a trust that has paid off: in May this year the apartment beat 400 competitors to win three prizes at the Australian Interior Design Awards, including the Premier Award itself, with judges praising the interior as "invigorating, sumptuous and liveable" (another critic has described it as "curvalicious", which perhaps makes the point better). It is clear that the jury were excited by the project, but also recognised that this is very much a space for living in – for the truth is that, above all else, this apartment is a celebration of daily life, turning the simplest of domestic activities into a special event of almost balletic poise.