five favs in copenhagen
Coffee shops have long been staples in every cosmopolitan city and copenhagen is no exception...
by Sacha Staples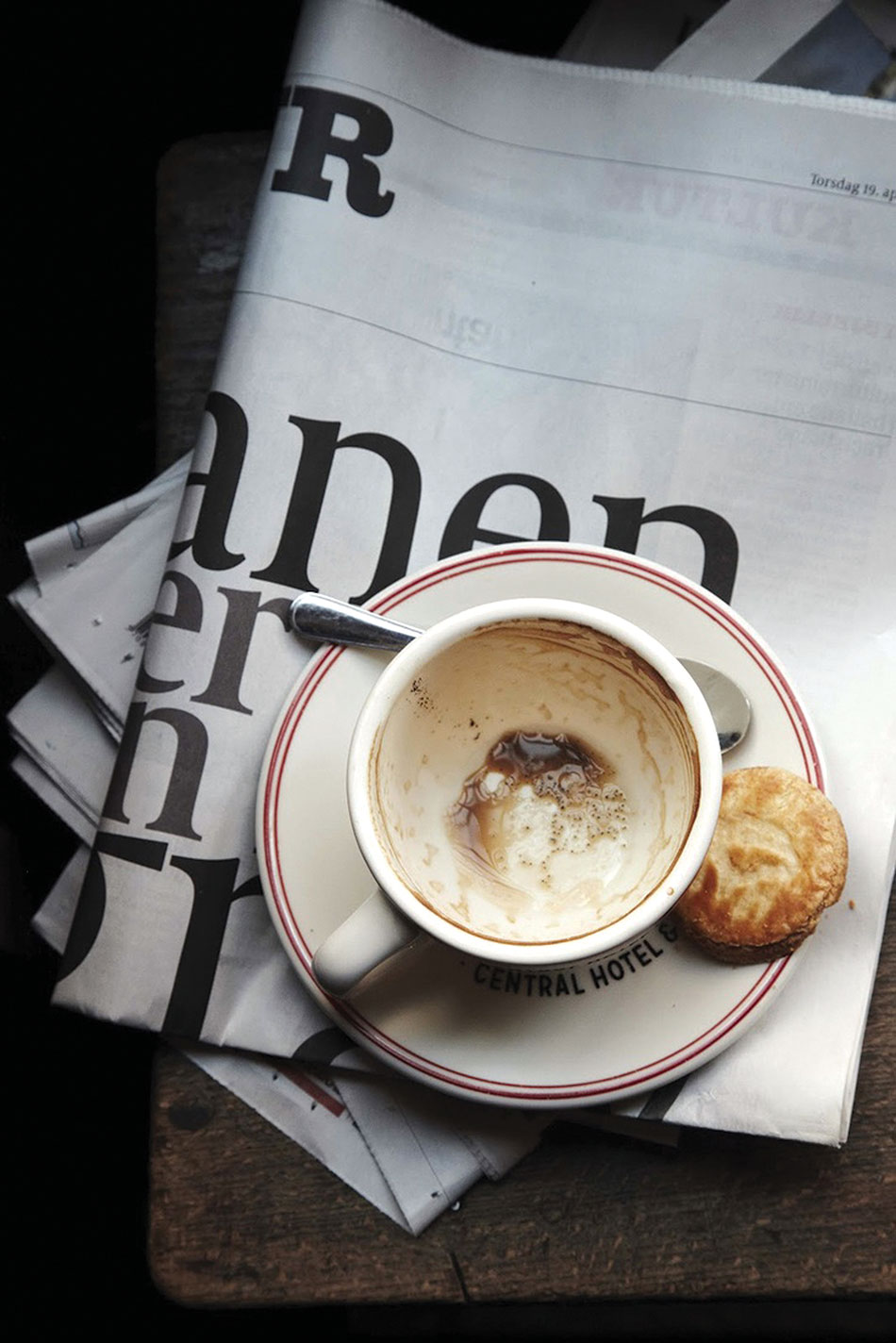 Such places are not just for coffee anymore, however, and the danish capital is home to a growing community of speciality and boutique cafés that are sure to please every appetite. With gorgeous interiors, state-of-the-art brewing equipment, delectable confections (from homemade croissants, cheesecakes, smørrebrød, and even banana splits) each of these five cafés offer a unique and pleasant experience. Make sure that your next trip to copenhagen includes a visit to one (or all!) Of these charming locations.
Royal Café
Amagertorv 6, 1160 Copenhagen
Stepping into Royal Café is like stepping into Alice's Wonderland — the decor is whimsical and playful. The ceilings are wallpapered, there are beautiful herringbone tiles on the floor, and there are bright pops of colour throughout (like the cerulean blue spindle table legs). Twinkling chandeliers hang dramatically overhead and an eclectic mix of paintings and sculpture occupy every inch of free space. The environment is divided between eating and shopping; visitors can purchase products from Danish brands such as Holmegaard, Bang & Olufsen, and Fritz Hansen to name a few, while sampling some of the country's famous snacks and treats. Along with the typical café offerings of tea, coffee, croissants, and cakes, Royal offers smørrebrød, a famous national meal similar to an open-faced sandwich.
Democratic Coffee
Krystalgade 15, 1172 København
Located in a 100-year-old national public library building (or "Københavns Hovedbibliotek"), Democratic fuses the archetypal café pastime of reading while drinking coffee. You will often find the proprietor, Oliver, at the counter whipping up cappuccinos or serving fresh baked cookies and croissant's (made on site). Besides the homemade confections, the café also serves paninis with freshly baked bread, cookies, rolls, waffles and cakes (orange, poppyseed, cheesecake, carrot, zucchini, to name a few). The floor-to-ceiling windows fill the space with natural light and the bar seating allows for ample people watching. If you happen to arrive and find all of the seat's are taken, you are welcome to take your cup "to go" and sit in the library lounge, which offers magazines and WiFi.
Café Bertel
Falkoner Allé 54, 2000 Frederiksberg
Known for the best cheesecake in the city, Café Bertel is a must see for any aficionado or skeptic — if you are not a cheesecake fan when you arrive, the staff at Café Bertel are certain that you will be one when you leave. With over 100 different cheesecake recipes on the roster, including the standard berry, Oreo, caramel, lemon meringue, and even liquorice, you will not want for choice. If you would like to sample something else, there is a wide range of other delights to nibble, such as homemade brownies and croissants. Washed down with good coffee and tea, Café Bertel is worth a visit to be sure. The space is small but very comfortable (think: Scandinavian minimalism) and a favourite meeting place for the students of a nearby university, so best to avoid the morning and midday rush.
Central Hotel & Café
Tullinsgade 1, 1618 København V
If you appreciate the quaint and the miniature in life, then a visit to Copenhagen's smallest hotel and coffee shop will suit your fancy. Dwarfed by the surrounding buildings, this small two-story hotel and café is cosy and incredibly charming. The hotel consists of one room for a maximum of two guests and the café has a mere five seats. The neighbourhood is decidedly hip and the place is frequented by locals, but is quickly gaining exposure as the most "boutique" café in the city. Central Café serves coffee beans from Risteriet, a top Danish micro-roastery and alonside the excellent coffee, favourites on the menu are fresh pressed juices, sandwiches, croissants, pastries, organic ice cream, old-fashioned milkshakes, and even banana splits.
Granola Café
Vaernedamsvej 5, Frederiksberg 2000
What better place to start your morning than at a café named after the much-loved breakfast treat. Granola Café fuses traditional American and Danish dishes with 1930s French interior design. Much of the design details are reclaimed, up-cycled, and antique pieces, including stained glass shelving, one hundred year old wallpaper found in a French antique shop, industrial lighting, teak tables, a hand tiled terrazzo floor, and even an old fashioned cash register. The menu is positively mouth-watering and, according to locals, Granola offers some of the best café fare in the city. If you are in the mood for a standard breakfast plate of superior taste and quality, try the soft-boiled eggs and toast, pancakes, yogurt with jam, or a classic croissant, complemented by a freshly squeezed juice. For those with an especially sweet tooth, the homemade ice cream is not to be missed, served in a traditional diner sundae dish, we recommend the salted caramel or the chocolate chip.