Lost Men | Robert Fry | Exhibition, London
Robert Fry returns to share his current exhibition Lost Men, a fantastical, haunting and poetic series, running until 12th October at the famous Beers London Gallery. 
Fry is not new to this renowned London gallery. He previously showed with Beers London various times in small and large groups since its inception in 2012. Robert Fry's first solo entitled Lost Men invites us to let our thoughts wander through like a sea of emotion, color, and poetry. The artist calls us as viewers, to look both closely and abstractly, and see what sort of revelations we may make about the works, about himself, and most importantly, about ourselves.
In a recent interview with Robert Fry for VAMP, the artist describes his work as "the crisis of male identity, from an autobiographical and social perspective. I have chosen painting as a medium to engage with this complex subject." An undeniable level of psychological charge is stored in his work; hints of mystery, complexity and obsession come through, enticing the viewer to come in but with caution.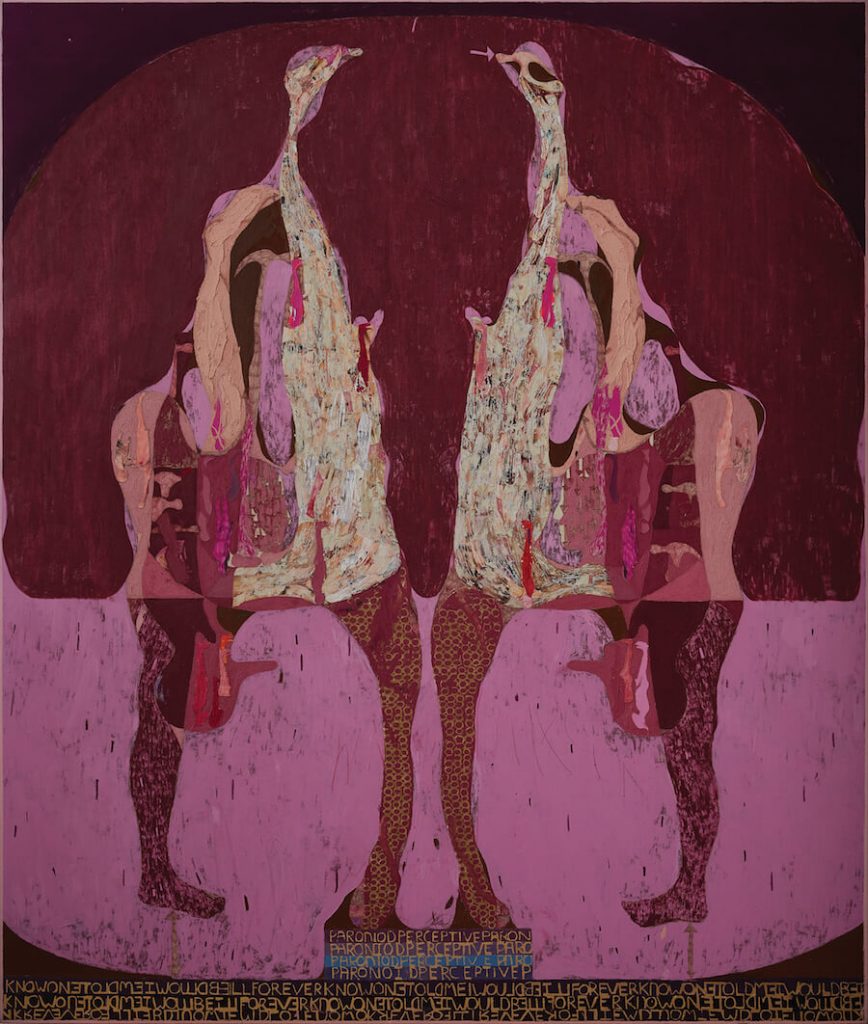 Silhouetted figures, applied surfaces, repetitive words and an obsessively abstracted attention to detail maintain an element of autobiography that is evident to any viewer. As though viewing through a fogged mirror or in between in the lines of a complex poem, these are paintings about psychological states: a moving and powerful portrait of 'Man' – and likely the artist himself.
His paintings often depict two, or more, figures that present clashing, conflicting personalities, two states of mind or being – two representatives of the same individual. The life-size figures facilitate the viewer in challenging their preconceived image of the male form and identity. He presents his figures nude, permitting to explore the human condition in the most accessible manner, free of preconceptions and judgment that would otherwise arise through their facial features, clothing or background.
Fry creates flattened forms and silhouettes which, when coupled with his trademark dark and brooding colour palette of purple, magenta, maroon, and oxblood, results in figures that ebb and flow from their surroundings.
Fantastical, haunting, and poetic, Fry's work is quite unlike any other contemporary working painter.
In the UK alone, it is estimated that 1 in every 8 men struggles with mental illness. A portion of this show's proceeds will go a mental health charity of the artists choosing.
In Malta, in 2016, over 26% of hospital beds were occupied by psychiatric cases with a higher rate of male patients.