Living in the woods
An entirely different travel experience: The Treehotel in Sweden.
Architecture: Tham & Videgård, Inredningsgruppen Bertil Harström, and SandellSandberg Photography: Treehotel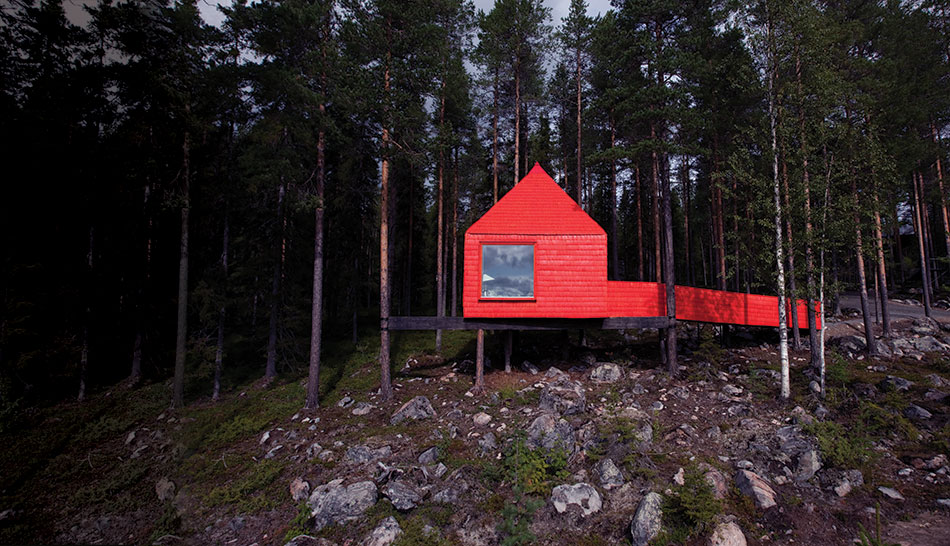 Here, contemporary designed treerooms in the middle of unspoiled nature allow visitors to forget about the time constraints of everyday life, enjoy the serenity, and rejuvenate in a sophisticated yet familiar environment.
The village of Harads has a population of about 600 and features a restaurant, shop and guest house. When visitors arrive at Treehotel, they check in at Britta's Pensionat, and then it's just a short stroll through the beautiful nature to one of the treerooms.
The striking surroundings of Harads offers rooms with a fantastic view of the Lule River valley, miles of forest and the powerful river.
The UFO
While working on the Bird's Nest, which is largely in harmony with its surroundings, Architects Tham & Videgård curated the idea of creating an entirely different environment.
The room is cast in durable composite material – all to create the lightest, yet strongest and most sustainable design possible. The UFO is built for five people; two adults in a double bed and three children, with separate beds, a bathroom and a living area. 30m² is all vistors need for a comfortable escape to childhood dreams.
www.treehotel.se/ufo
Miles of forest, a powerful river, and the lule river valley… treehotel offers the ultimate hotel experience: contemporary design in the middle of unspoiled nature. Experience the earth first-hand with these incredible treerooms.
The Mirrorcube
Designed five years ago by Architects Tham & Videgård, the Mirrorcube is a hide-out among the trees, camouflaged by mirrored walls that reflect their surroundings. With dimensions of 4x4x4 metres, the base consists of an aluminium frame around the tree trunk and the walls are covered with reflective glass.
The interior is made from plywood with a birch surface. The six windows provide a stunning panoramic view and offers accommodation for two people with a double bed, bathroom, lounge, and rooftop terrace. A 12-metre-long bridge leads up to the treeroom.
www.treehotel.se/mirrorcube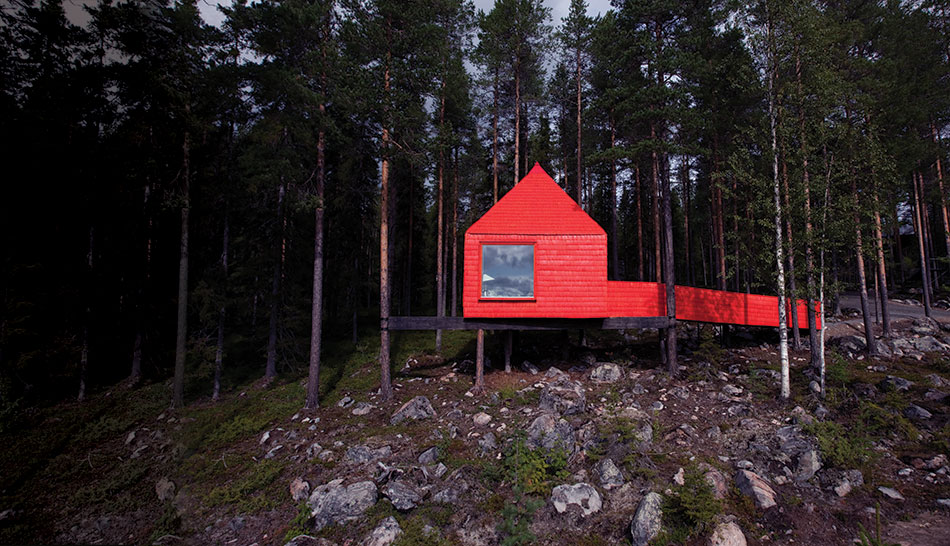 The Blue Cone
Designed by Architects SandellSandberg in 2010, the Blue Cone is based on simplicity and accessibility, both in terms of material and design. The room is a traditional wooden structure with three foundations in the ground to give a sense of height and lightness, but also stability.
The room is accessed via a bridge from the nearby mountain. The exterior consists of laminated birch wood, while the interior is made of timber. The treeroom is 22m² and has four beds, separate sleeping loft, bathroom and living room.
www.treehotel.se/bluecone