Stud Farm
Inspired by classic architecture, this stud farm offers a unique mix of heritage and contemporary design. The architecture of India is rooted in its culture, history and religion, and our client wanted these elements highlighted in the stud farm design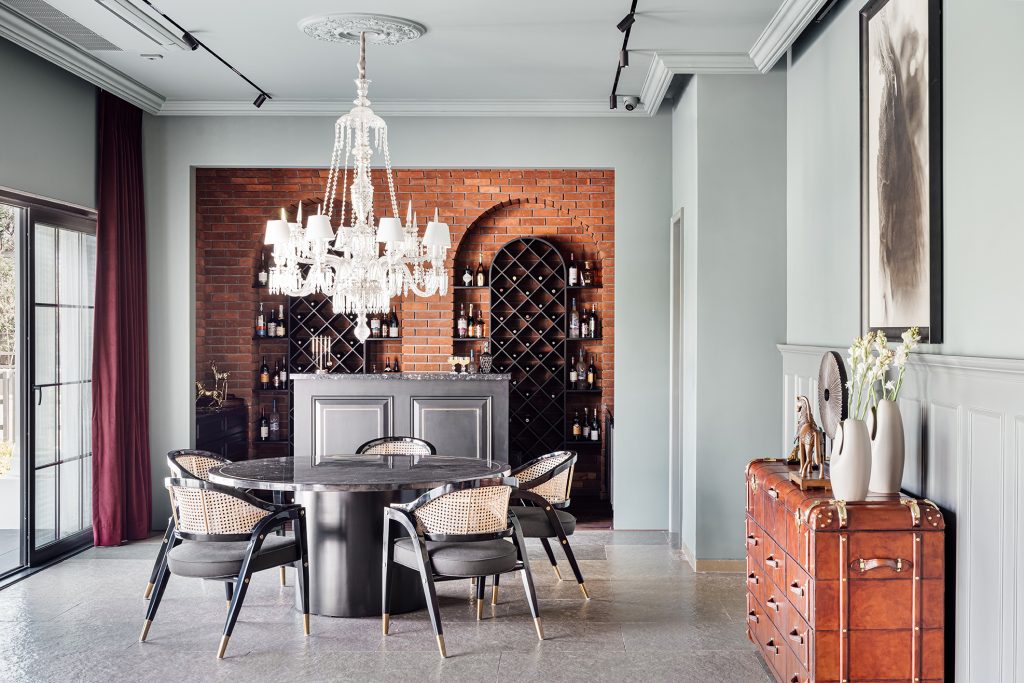 For the interiors, we've added large mirrors and chandeliers crafted by Indian artisans, used Shahabad flooring in leather finish, incorporated a classic Indian handwoven rug and beautiful crimson red curtains that were sourced locally.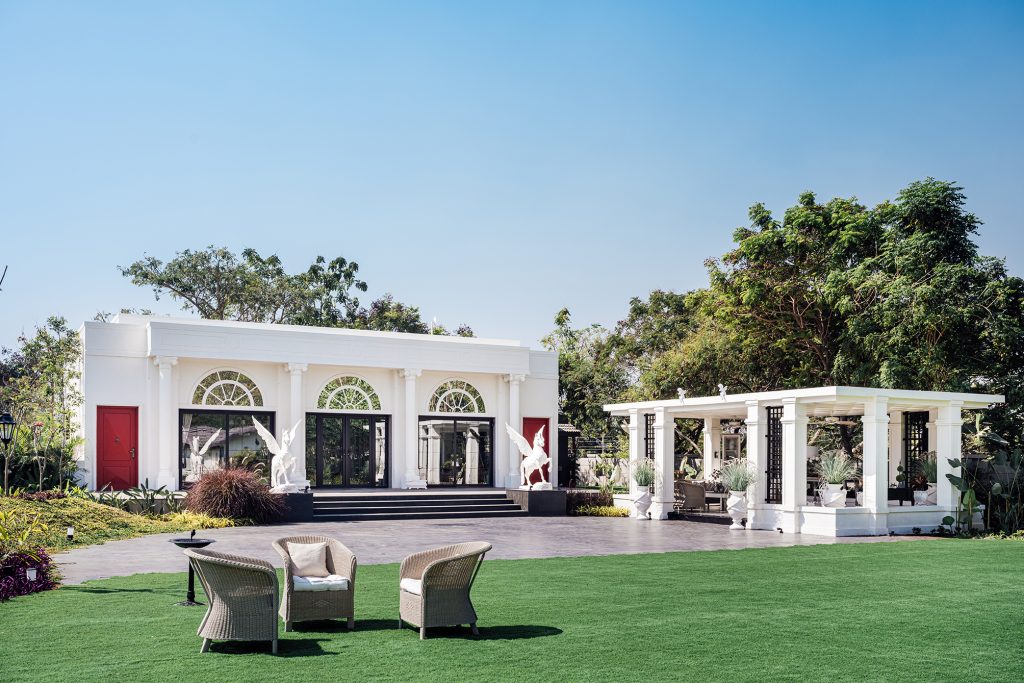 We've also designed the wine cellar in a tra- ditional method using fire cut bricks carved in arches—no better way to display the rich heritage of India.
The use of refreshing colours like olive green, powder blue & nudes really brightens up the space. This compact 1500 sq ft home consists of a living, two bedrooms, kitchen with a bar area boasting of a classic black bar counter with brass inlay and a beautiful patio. For the master bedroom, we chose to go all blue.
We've used handmade teal blue tiles with wooden finishing and incorporated gold fau- cets & fluted glass partitions that adds just the right amount of drama to the space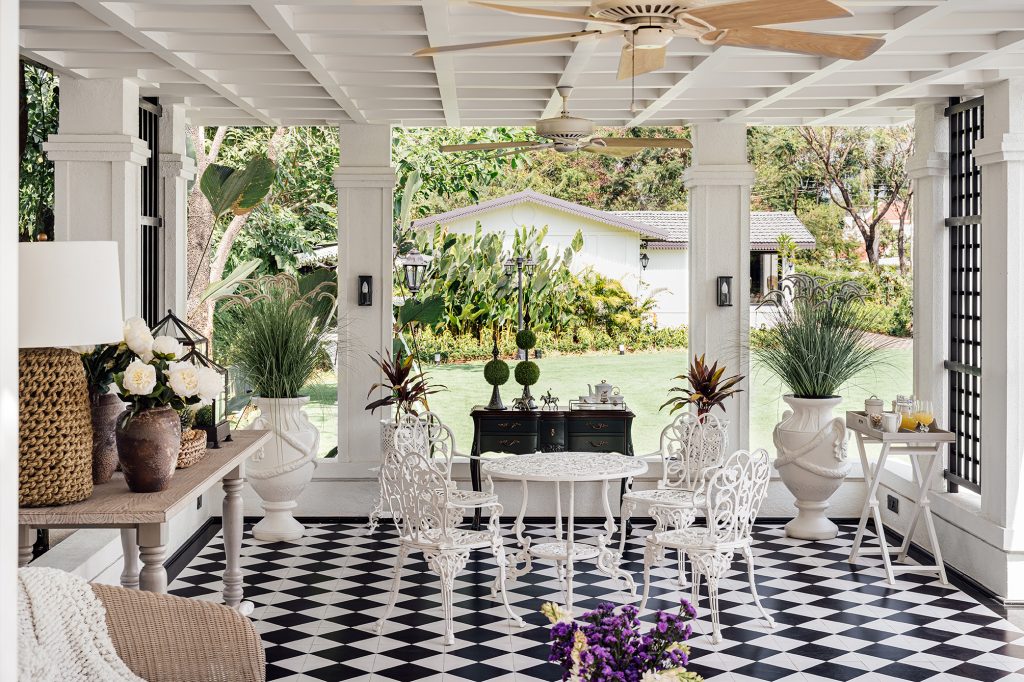 The patio is undoubtedly the most loved
area of this stud farm. Here, we've used patterned black & white flooring, white walls and the pergolas above creates the perfect atmosphere for one to sit and admire the beautiful landscape ahead.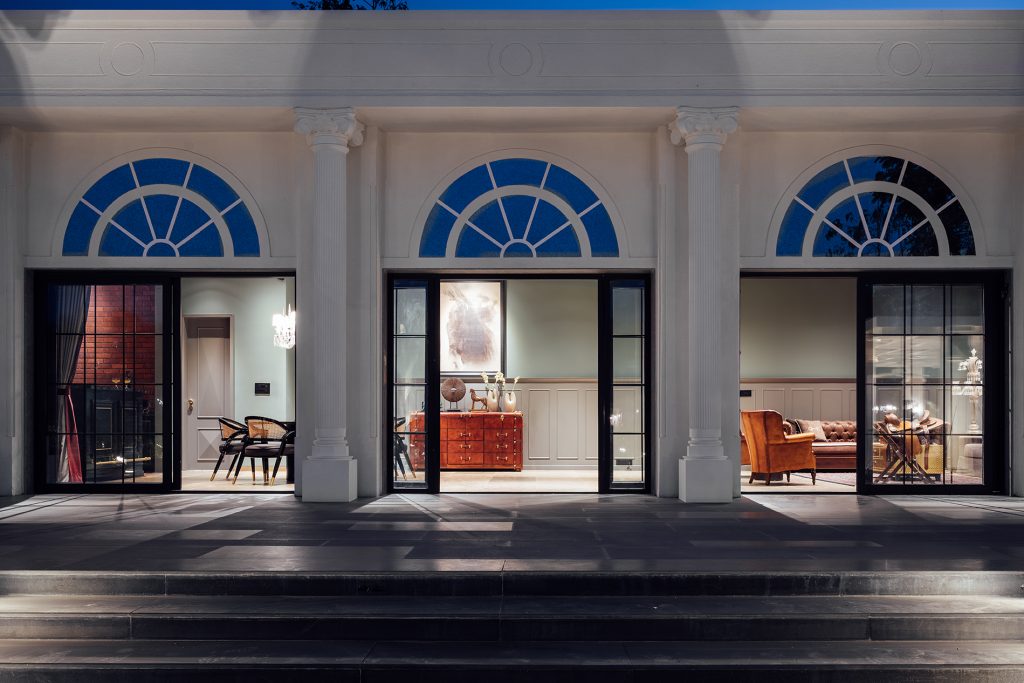 We believe lighting is more critical than furniture or fabrics to perfect a space. The deck has a unique illumination that looks like a sky full of stars.
The use of cane sofas, hand-painted pots with bougainvillaea, scented candles and all the greens surrounding this space makes it a perfect outdoor relaxation station.
The client had requested for a low maintenance kitchen, so we've used Terrazzo tiles for the kitchen and added fluted & wooden shutters with a combination of patterned glazed pastel green tiles.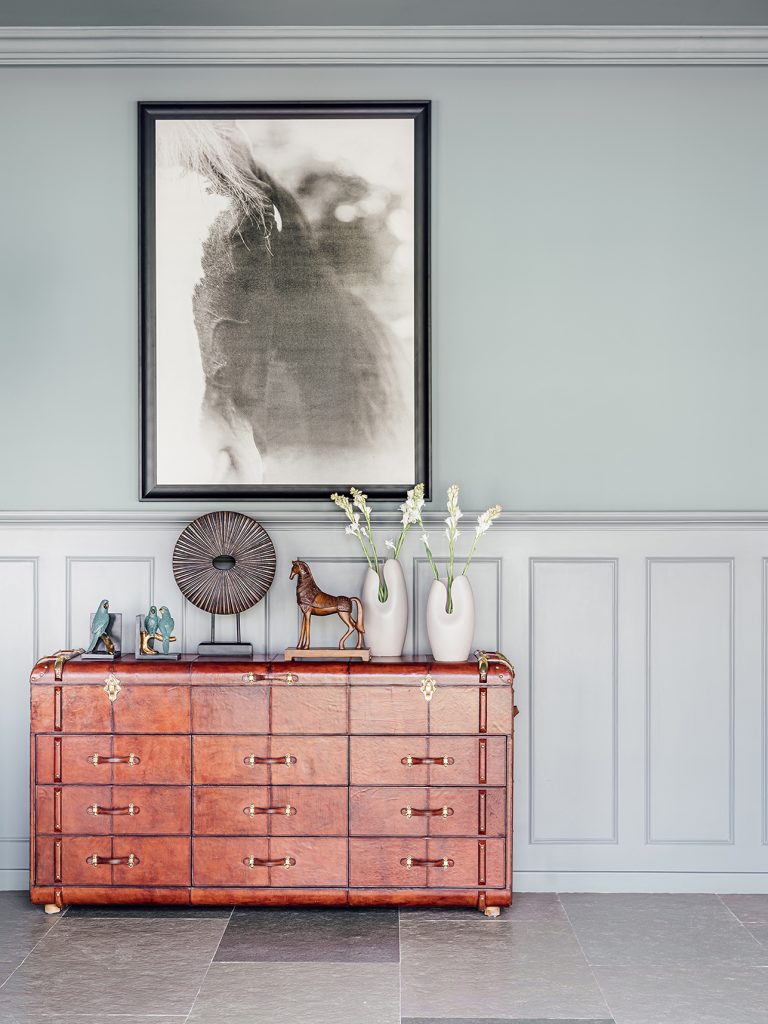 For the daughter's room, we've added a custom-made bed embroidered with colourful floral thread work bedding and added some lace curtains to give the space a dainty touch.
The dresser and the coat stand were sourced from Jaipur. The dollhouse adds just the required charm to this nude bedroom.
It was such a wonderful experience designing this space.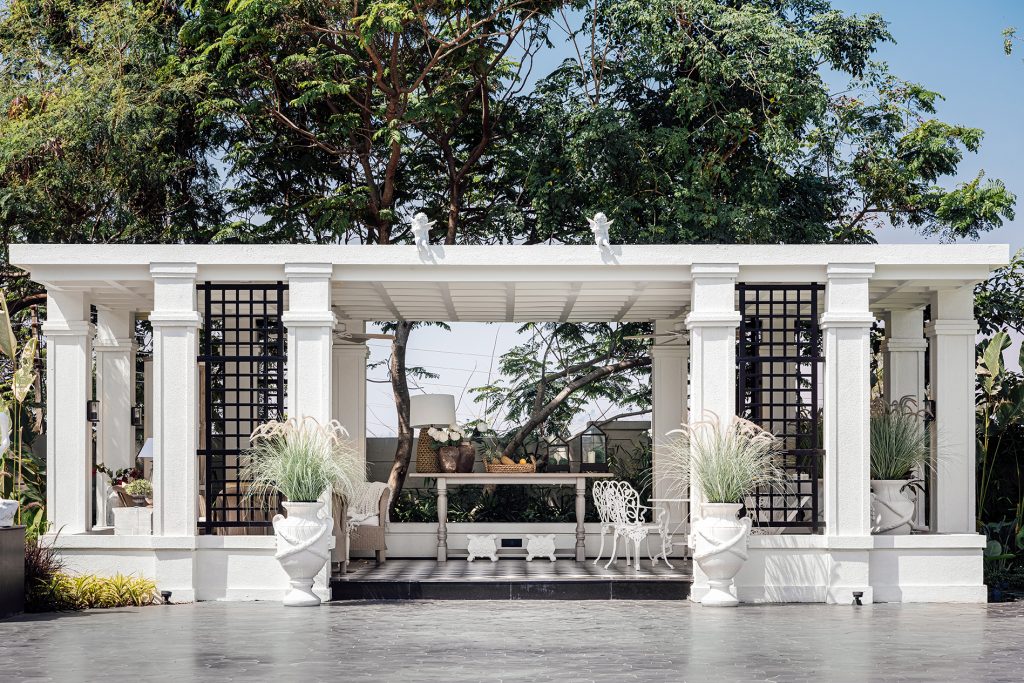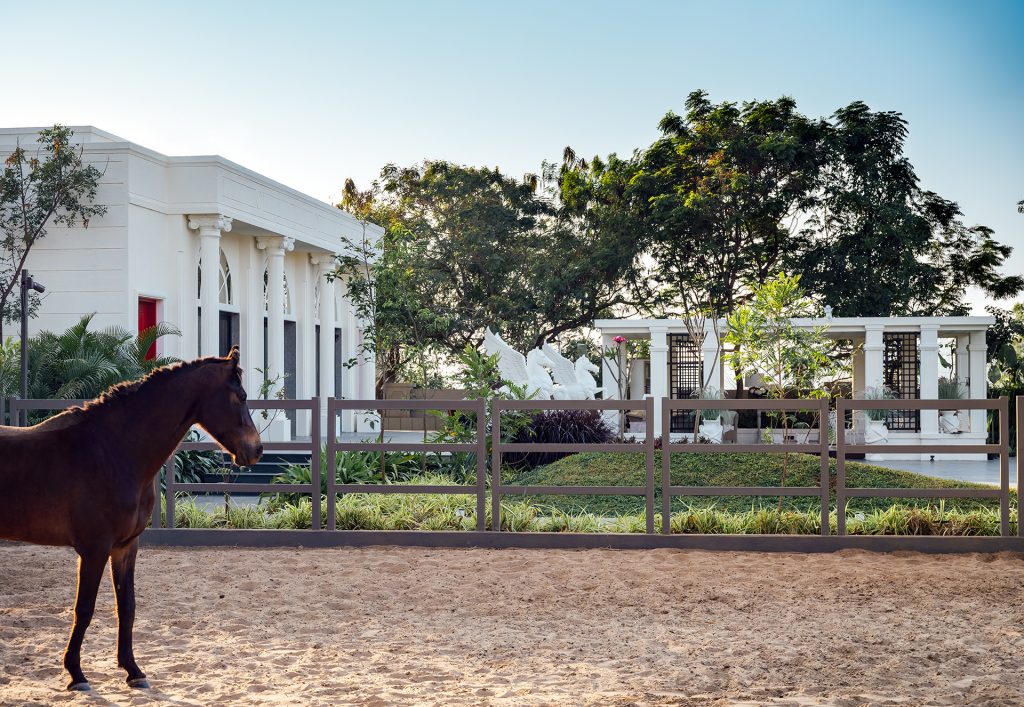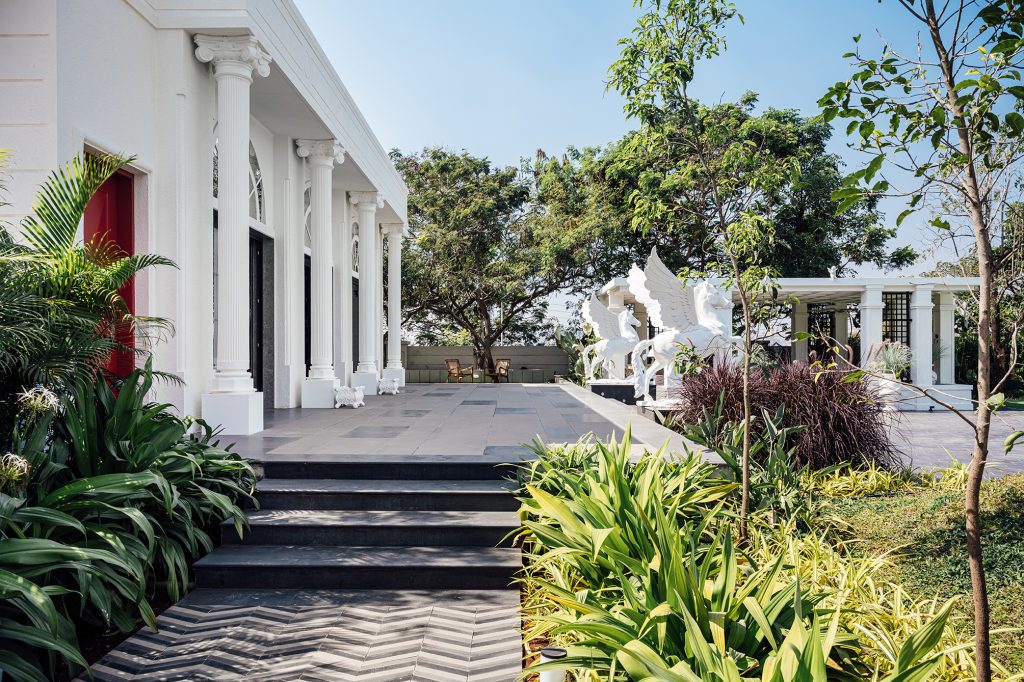 STUD Farm by Akash Mehta & Poonam Mehta
Principal Designers, AMPM Designs
Photographer: Ishita Sitwala
Location: Bhugaon, Pune
Month and year of completion: Dec 2020
Square footage: 3000 sqft carpet on One acre land
Architecture: Siddharth & Ritu Khinvasara
Landscape Architect: Architect Vikas Bhosekar