Sand Dunes and Jungle Views
If you have ever dreamed of the perfect luxurious beach pad, look no further at the multi-award-winning Bautista House designed by renowned architects PRODUCTORA. Quintana Roo, México
Dayna Camilleri Clarke speaks to the world-renowned architects PRODUCTORA.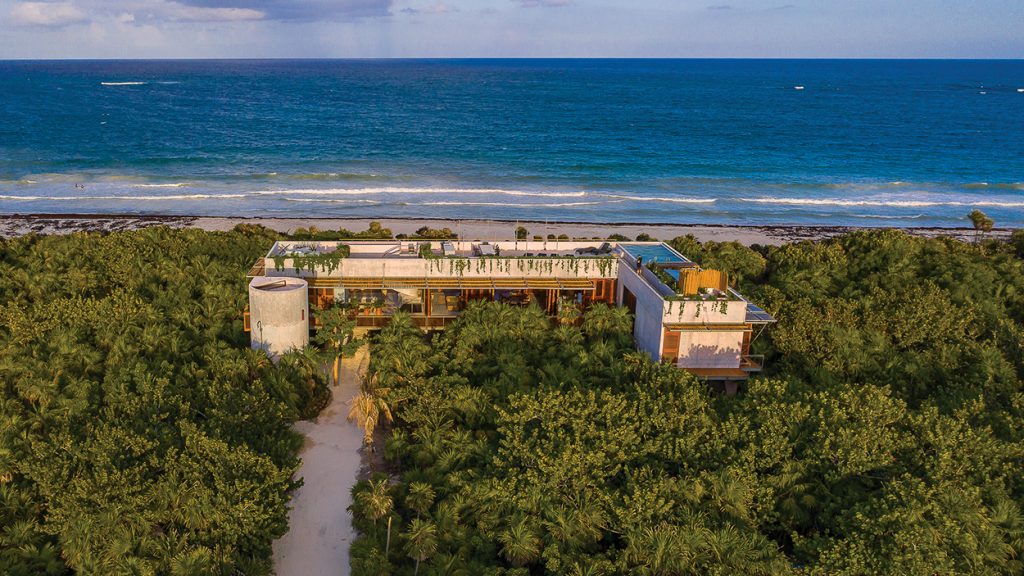 This sensational open-air retreat sits nestled between the sea and jungle, invites you to embrace the heavenly climate of Mexico. The jungle hideaway is located just a stone's throw away from trendy Tulum, Mexico, and is surrounded by dense tropical vegetation in natural privacy. Bonus, you can even rent it out for the perfect vacay on Air BnB!
Although everywhere you look is undoubtedly jaw-dropping, the best views, though, can be had from the rooftop level. There's a large terrace with a concrete pool and an outdoor dining room. From this vantage point, one gets a 360º view of the Caribbean Sea, the dunes, the jungle and the lagoon while lounging, we jealously imagine, in full summer attire, cocktails in hand. Heaven on earth does exist…
This spectacular project was developed on a narrow beachfront lot on the Riviera Maya, in Quintana Roo and is fully powered by solar and wind energy. The entire building was cast in an organic blue colour concrete, which reacts over time according to its exposure to the sun and its position in the house, creating tones that range from ocean blue to sunset pink.
By raising the house on cross-shaped columns, the impact on the environment is reduced, and views are generated over the dune that separates the home from the sea.
The project is set across three levels that are connected by a large spiral staircase: the auxiliary ground floor below the house, the intermediate level containing all interior spaces, and a large roof terrace with a pool and an outdoor dining room presenting views of the Caribbean Sea, the jungle and the lagoon. The airy, spacious atmosphere results from wooden floor-to-ceiling doors that completely opens up the living room to join the large terraces.
Close to the master bedroom, a distinct turret is situated: it works as a formal element that anchors the ensemble into place and doubles as a flexible space for work or meditation.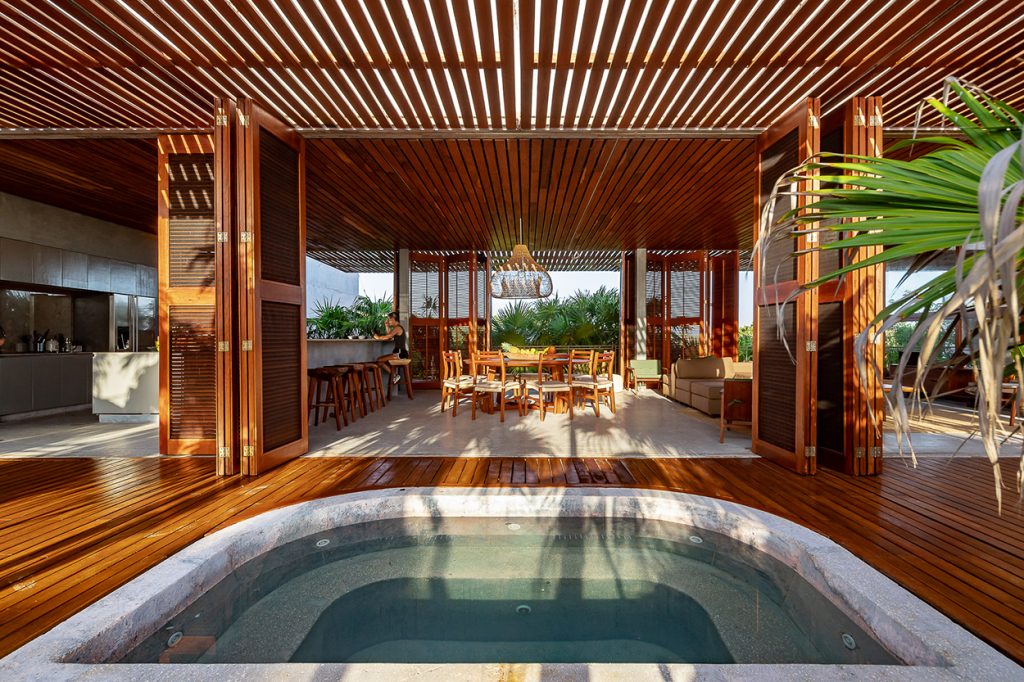 The intermediate L-shaped floor plan extends beyond the ground floor through large terraces and pergolas made with local wood. In this way, the interior spaces are enlarged and protected from the sun; and good cross ventilation is achieved (only the bedrooms have an air conditioning system). These terraces have a folding mechanism that protects the house in the event of hurricanes: by raising and lowering these heavy elements against the facade, the open and transparent residence is transformed into a robust closed box.
Architecture: PRODUCTORA (Carlos Bedoya, Victor Jaime, Wonne Ickx, Abel Perles) | Collaborators: Alejandro Ordoñez, Josue Palma, Daniela Dusa, Antonio Espinoza, Gerardo Aguilar | Structural engineering: Kaltia | Mechnical engineering and sustainability: EOS | Landscape: Planta | Type: Residential | Location: Quintana Roo, Mexico | Surface: 300 m2 | Client: Ezequiel Ayarza (www.casabautistatulum.com) | Date: 2019 | Photography: Onnis Luque
Winner of Wallpaper Award 2020: Best Retreat
Peninsula III Award (2020): Residential Architecture Category – First Prize