Expansive
Artist and award-winning fashion photographer Ron Kedmi brings VAMP his expansive, open-plan property that blends industrial details with warm wood accents in Jaffa, South Tel-Aviv
Architectural Design: Ron Kedmi Photography: Itay Sikolski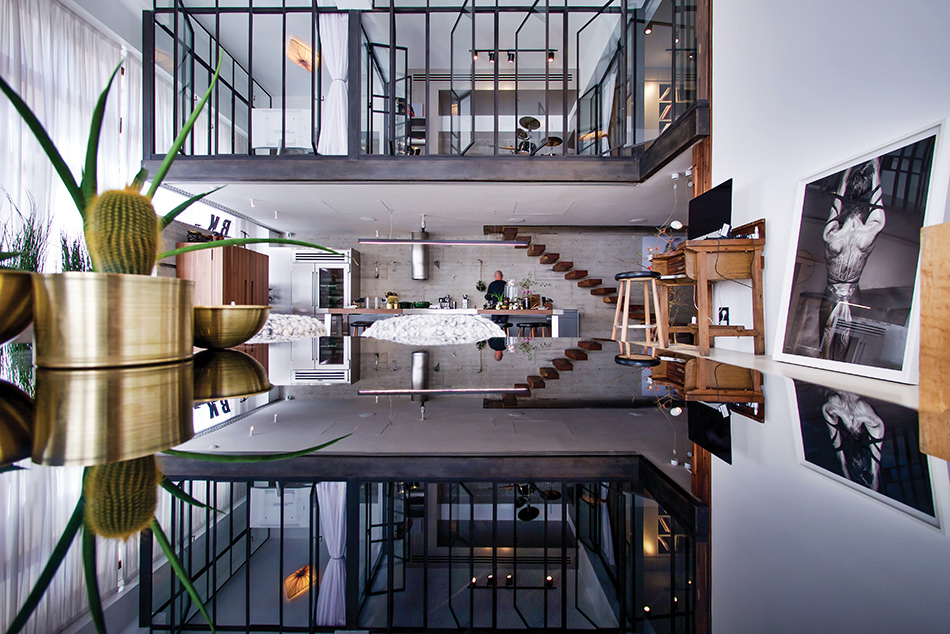 In a former steam-engine factory, artist and fashion photographer Ron Kedmi crafted his light-filled kingdom, integrating his life's passions within a luxuriously spacious dwelling machine. It was a departure from his home over the last 14 years in the artist village of Ein Hod and a relocation to the midst of a dense urban context.
Here, in the historical Biblical port city of Jaffa, Kedmi points his gaze and attention inwards, leaving the exterior world outside. The architectural planning and interior design of the space was completed by Kedmi himself. "It's part of an introspective process I am going through," he says, as this design stands in striking contrast to his previous home in the village, where nature penetrated every inch of the space and inside-outside boundaries were blurred.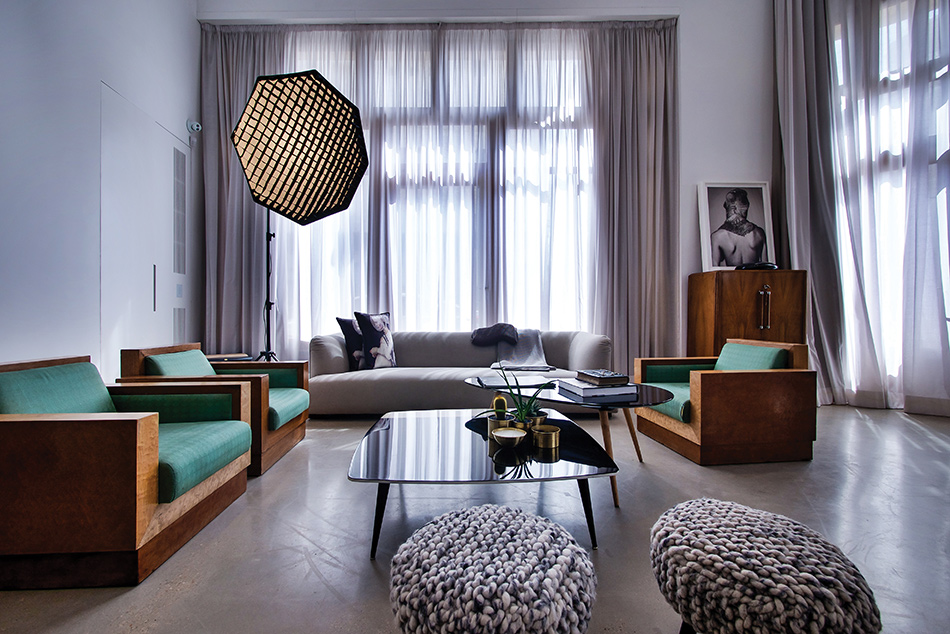 Located in a Mandate-era factory, the rectangular open space was the perfect solution for Kedmi's multiple interests, varying from photography to culinary and music. Accessed via two steps below street level, the ground floor extends to 60 square metres, containing his professional photography studio, which is regularly hidden among other tools within a double wardrobe inside the wall, containing all the necessary equipment that he can fully deploy in minutes. The studio extends to the vast kitchen, equipped with professional tools and a table for large dinner parties, clients and various guests.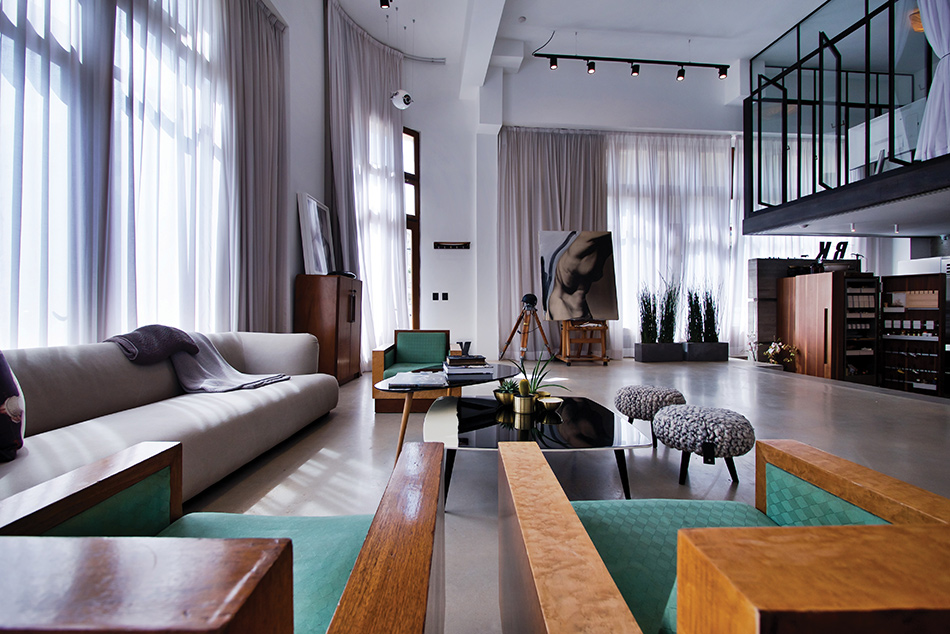 Above, a gallery floor is suspended on the factory's original concrete beams and completed with clear pine flooring painted with seven layers of black lacquer. Cantilevered stairs lead to this floating floor, which contains Kedmi's private bedroom, living room and bath, as well as the unique drumming studio, which overlooks the double-height and glass-encased living room below.
As for the design details, Kedmi opted – much like his professional photography work – for the timeless classics: Clean and orthogonal lines are constructed with raw materials such as unfinished wood, iron and glass. The bath, for example, is structured from waterproof wood, and the giant five-by-six-metre hazelnut-wood wall extending from the ground floor to the gallery serves as the bed's backboard.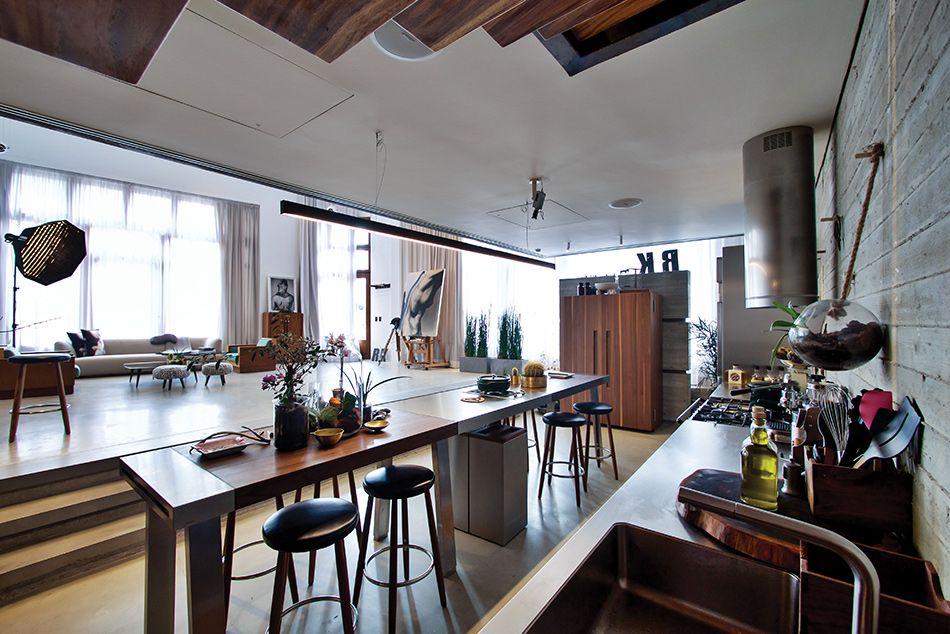 Though these materials are essentially industrial, Kedmi's choices, compositions and unique connections are able to discard their inherent alienation from the home, and instead allude to warmth and domesticity.
Light matters: both natural – penetrating through 4.5m floor-to-ceiling glass windows, and the artificial – created with the lighting specialist Noam Garfinkel. In order to accentuate the materials chosen by Kedmi, Garfinkel selected specially imported bodies of lights in order to complete and compliment each of the spaces in the loft, all while maintaining a minimalistic approach by using invisible elements. The kitchen, for example, is equipped with functional and bright white lights, while the private areas are enlarged by warm elements.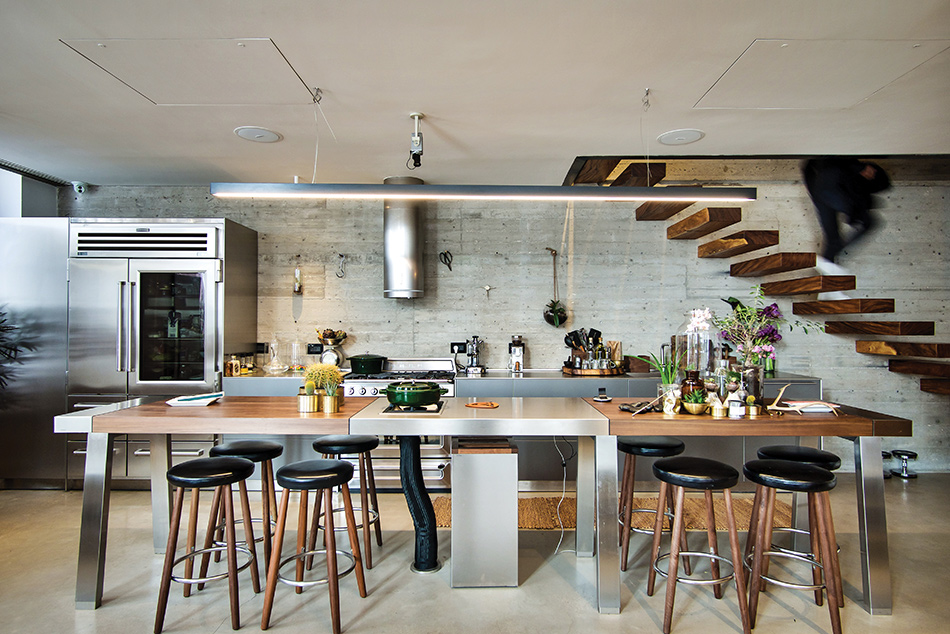 Home styling was also crafted by Kedmi and consists of collected artefacts such as air-plants float in glass drops, succulents in bronze vases and orchids in bell-bowls. The kitchen presents industrial-chic, while the spacious living room is dominated by a couch and a coffee table by Baxter for THE BOX, balanced with original Art-Deco armchairs lined in elegant green covers; a brave juxtaposition of traditional and contemporary.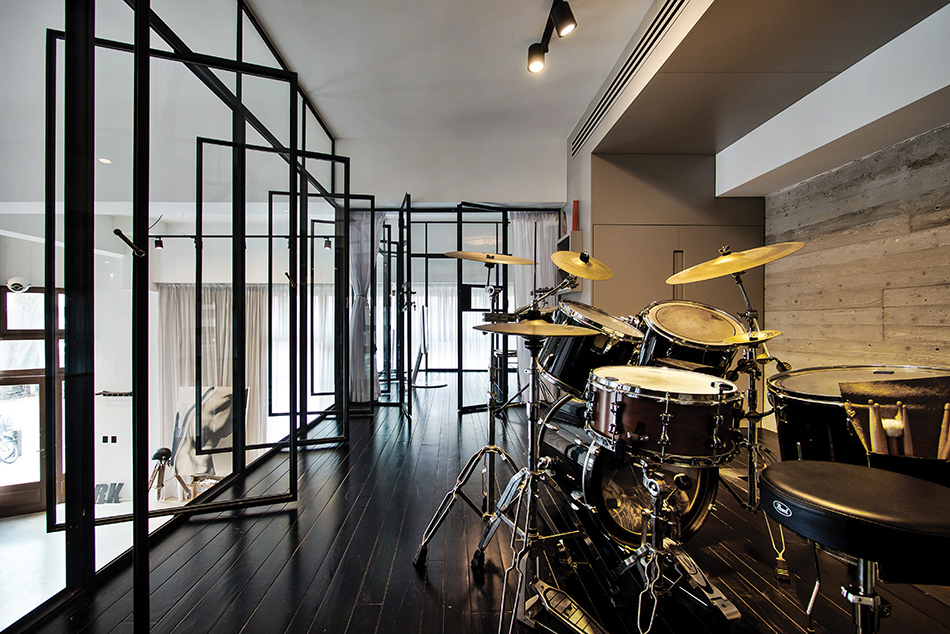 Kedmi concludes, "Crafting this house was a reverse action for me." He says, "On a daily basis I transform a three-dimensional world into two-dimensional photographs; in the case of the house, I turned my 2D sketches and drawings into a three-dimensional real-life living space."