The rainbow house
The rainbow house is a magical oasis on a busy road filled with people and noise
Architecture: DA.Studio Furniture: Van Rooij & Griffiths Landscape: Sue Amos Flooring Artwork: Richard Woods Fibreglass Manufacturer: Logical Movement of Furniture: Asmech Photography: John Short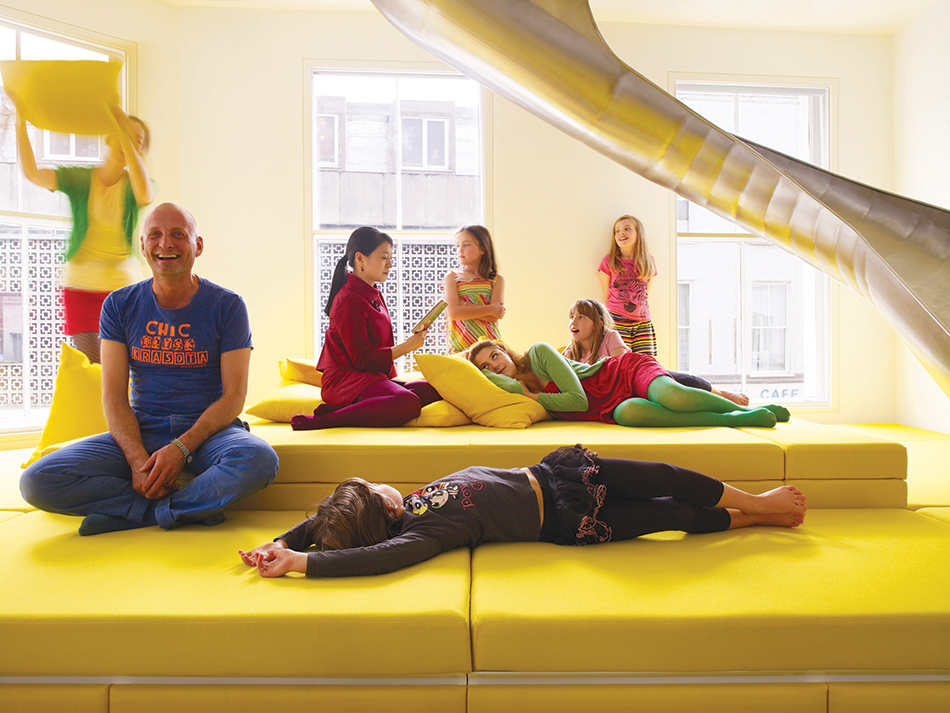 The concept for the Rainbow House was to create a living artwork in which every corner offers a unique and magical discovery, and all the surprising and disparate elements are united into a singular composition by a central spiral staircase. Visitors encounter the staircase as soon as they enter the double-height lobby from the street outside. A bespoke fibreglass and steel fabrication, this spinal column passes through the full spectrum of colour as it rises through the house.
At each level, its colour emanates out, influencing those of that floor and creating a visual rhythm on a vertical axis. Sun pours down through skylights at the very top of the house, drenching the staircase in light. To maximise light, we removed every unnecessary wall, liberated windows and punched through skylight after skylight. Light and energy bounce off luminous walls covered with super white polished plaster.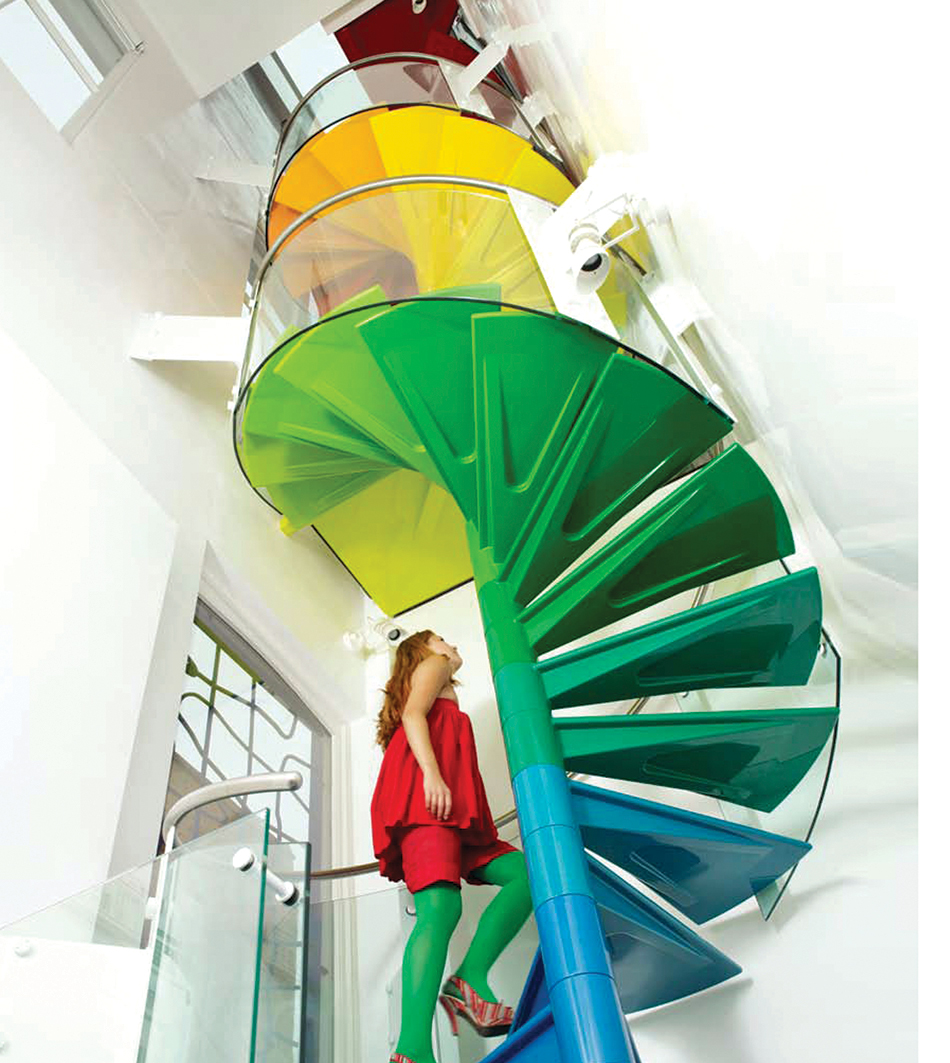 In the master bedroom, a circular bed rotates at the touch of a button to give a choice of views. You can look out across the bridge, or into West London; you can gaze at Trellick Towers or the cosy fireplace.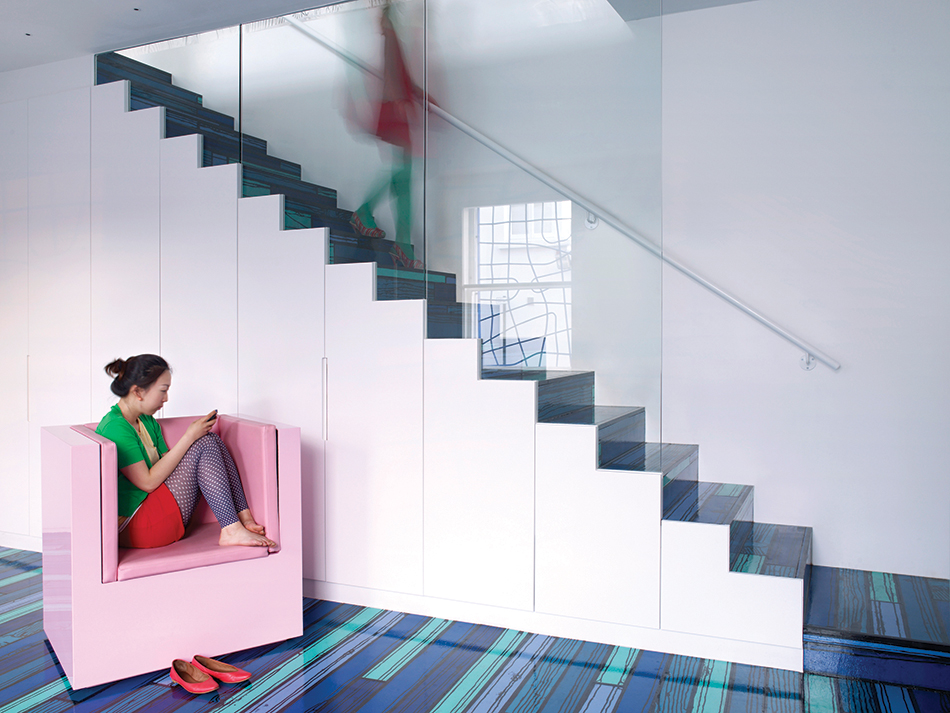 A trapdoor pops open to reveal a stainless steel slide that zips you down to the living room below, creating a kinetic link between the private domain of the bedroom to the more public world of the living room.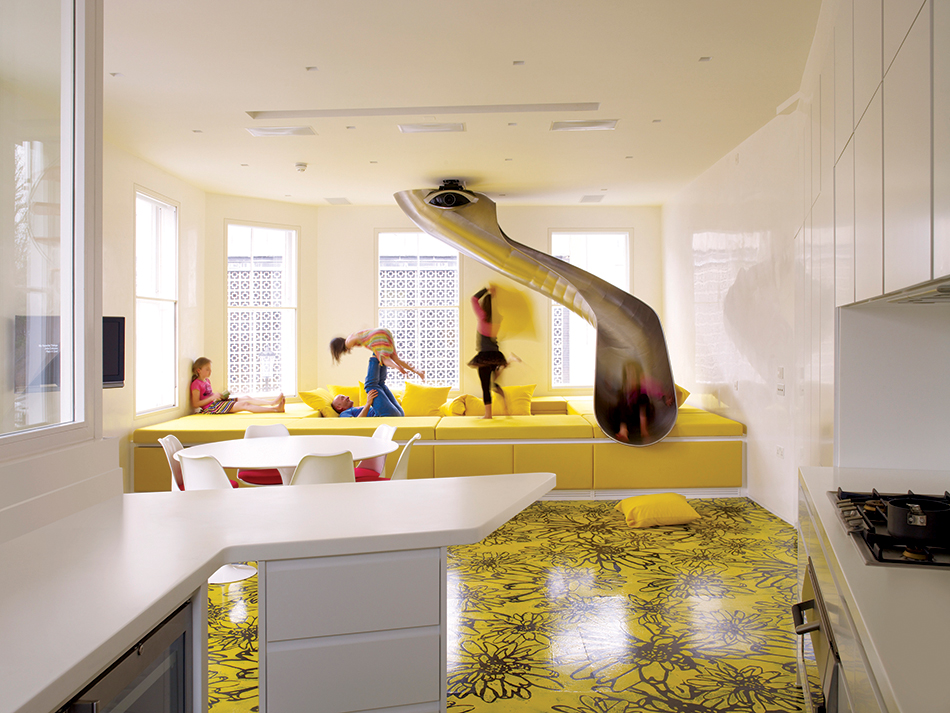 "A JOURNEY OF DISCOVERY IN A MAGICAL LAND SLIDING ON THE MOST COLOURFUL RAINBOW. EACH FLOOR HAS ITS OWN STORY EACH ROOM ITS OWN SURPRISE ONE MIGHT DISAPPEAR IN A HOLE TO REAPPEAR IN A SUNNY LAND A PLACE TO HIDE AND SEEK A HOUSE TO PLAY." – David Tanguy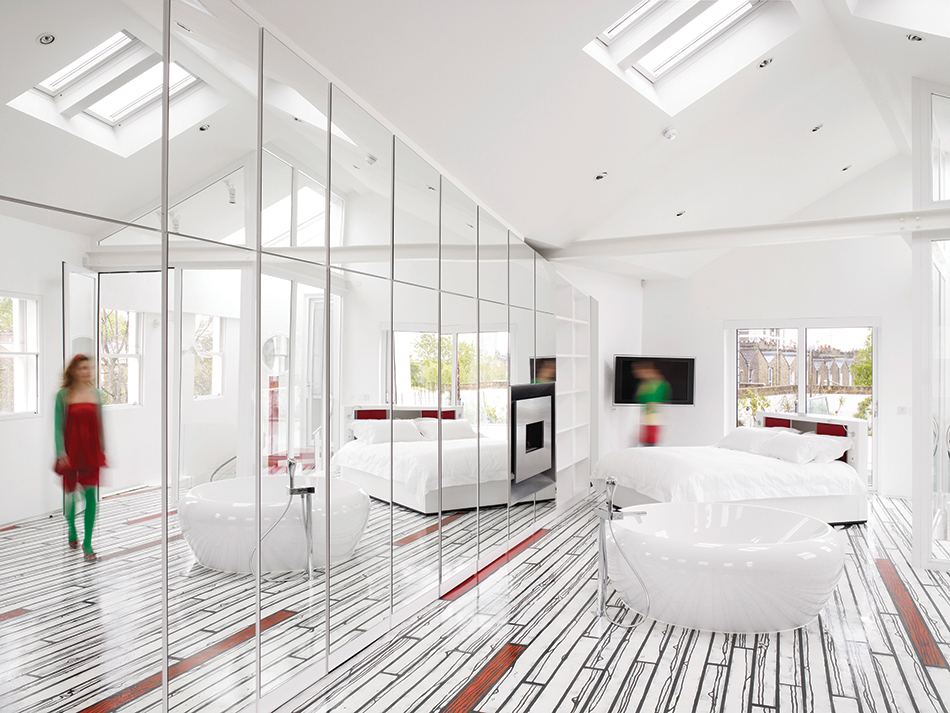 The ground floor music room leads you to the English room, where a thick purple carpet covers the floor in front of a vibrant Rousseau-style mural. A Juliet balcony opens onto the rainbow staircase. In the basement we created a self-contained apartment. Inspired by architect Sir John Soane's genius with light and mirrors, we harnessed every available ray of natural light, bouncing it into the space through a collection of mirrors and reflective surfaces.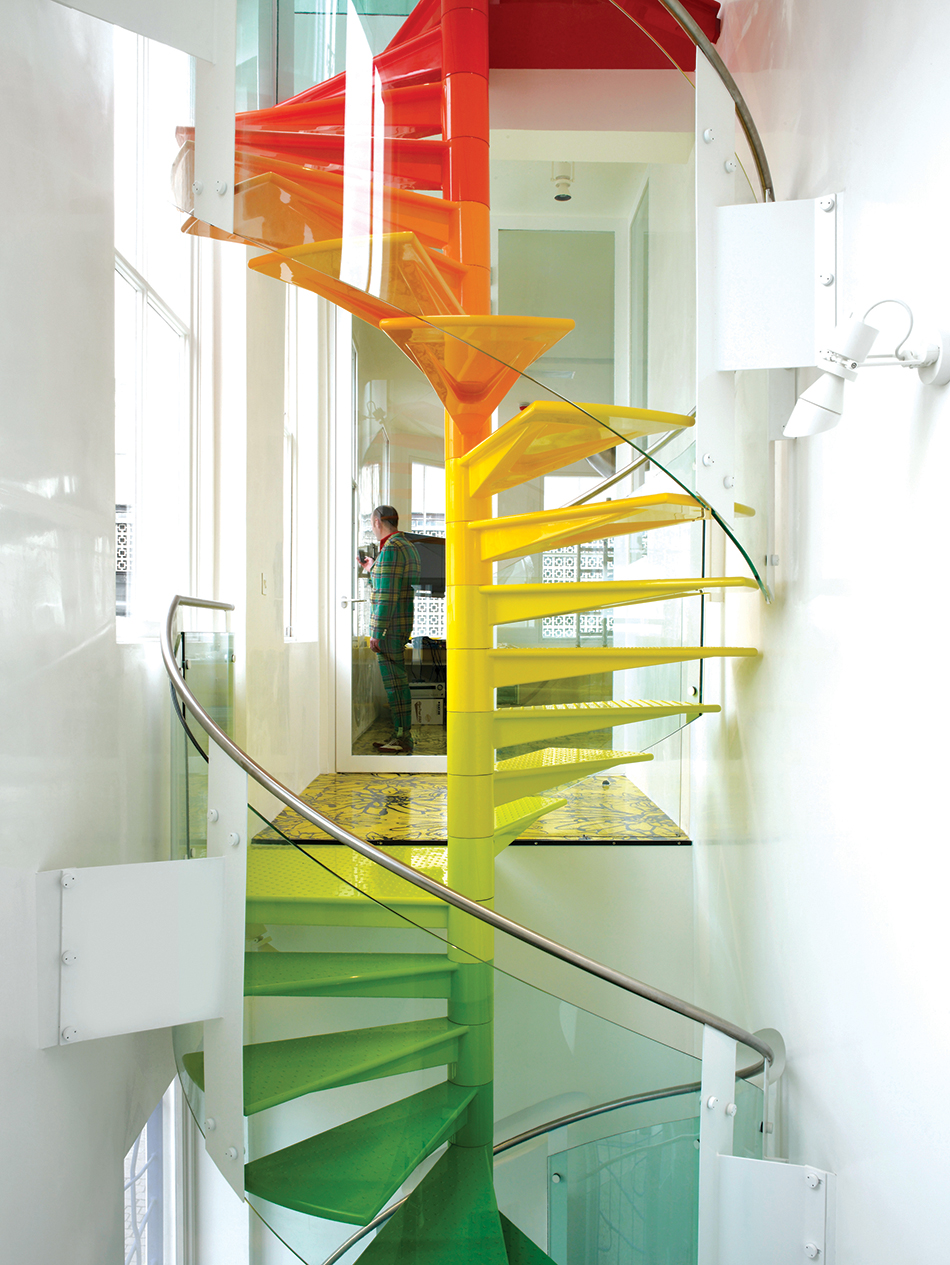 The pavement lights and arches hidden beneath the busy road were invited into the living space. We left the outside nearly untouched, heightening the division between the noisy and hectic world outside and the magical world within. The one exception was the security grills, which can be seen through the windows from inside the house. They are knitted steel bars in ultramarine, creating a warm and happy security that hints at the personality of the house without allowing you inside.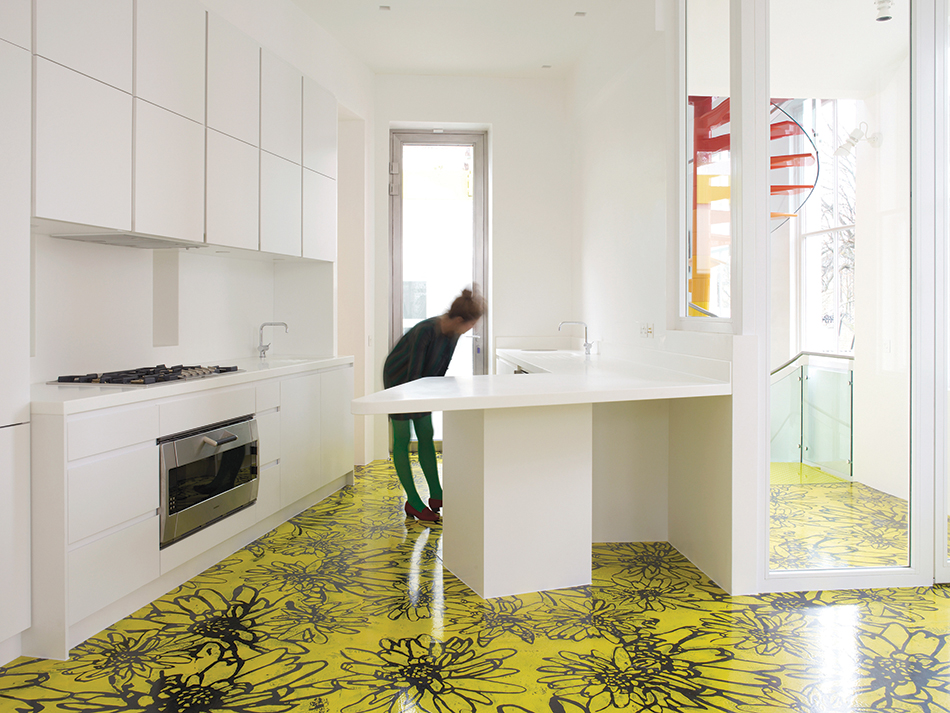 "FOR ME, THIS IS AS MUCH A SUNSHINE HOUSE, AS THE RAINBOW HOUSE. IT'S AN EXHILARATING BURST OF ENERGY ON A TOUGH STREET, IN A TOUGH PART OF TOWN, AT A TOUGH TIME. IT SHOWS THAT MAGIC IS STILL POSSIBLE IN DESIGN. IT'S IMPOSSIBLE NOT TO STEP INSIDE THIS PLAYFUL WORLD WITHOUT LOSING YOUR PRECONCEPTIONS AND YOU CAN'T LEAVE IT WITHOUT A SMILE." – Deyan Sudjic >h2>