The white house
The light well on the first floor has a bedroom, bathroom and living room off it with an open plan kitchen at the other end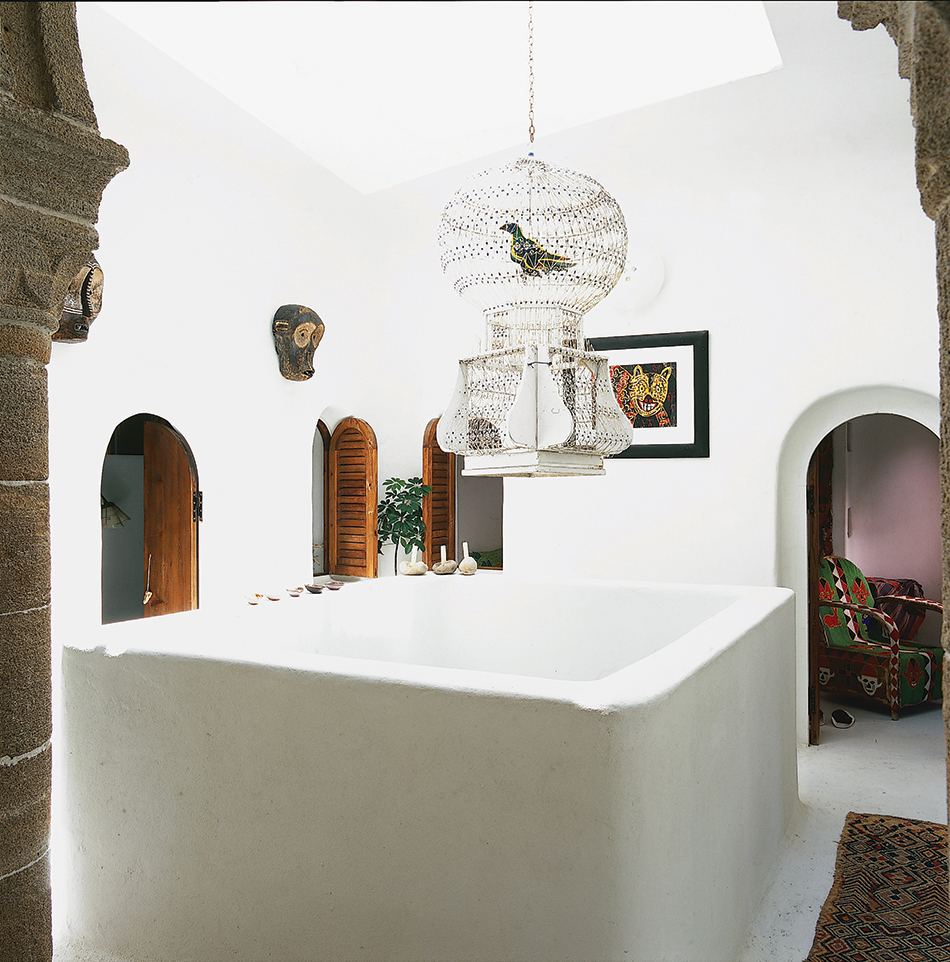 Dar Beida (The White House) is situated at the back of Essaouira's fortified medina, with the food markets pretty much on the doorstep and a walk of approximately 10 minutes to Essaouira's long, sandy beach. It was lovingly restored 10 years ago by two London designers, and offers a top-end tranquil and cool escape from the outside world.
From the outside, Dar Beida blends well with its white-washed 15th-century port-side neighbours. It is when you step inside that you find yourself immersed in a beaming haven of retro meets ethnic design, highlighted by the backdrop of an all-white organic space, flowing from one room to the next.
The southern fishing village of essaouira, just two hours from marrakech, has been a secret bohemian hangout since the 1950s. This is where orson welles based his othello, and jimi hendrix found his inspiration for castles made of sand. Today, it is where many expats call home, and creative minds meet to become inspired.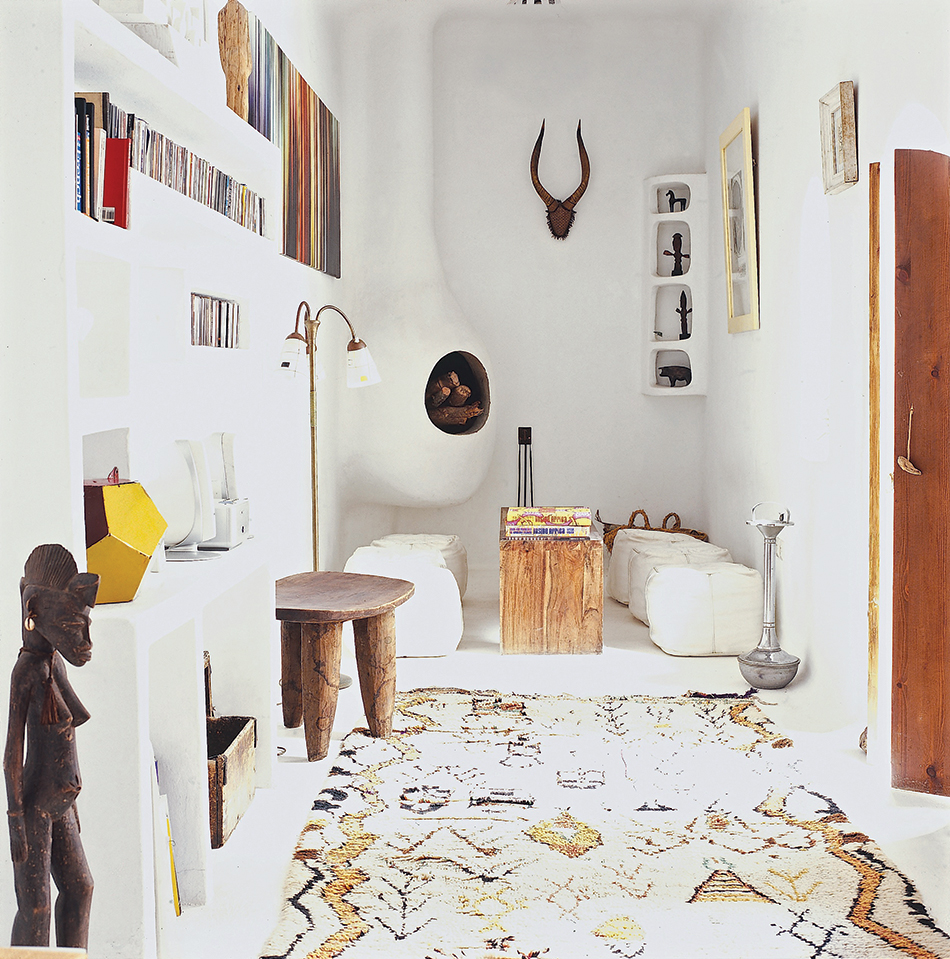 British design partners Emma Wilson and Graham Carter started to create this organic modern living space in 2002. It took them about a year-and-a-half to rebuild the 3,200sq.ft house, commuting back and forth from London to oversee the local builders knocking down and stripping walls and bringing it back to its full glory.
They surfaced the kitchen counter in tadelakt – a lime plaster often used in riads in Morocco – and eventually added the finishing touches of colourful lighting and furnishings, mainly from the 1960's era. Furnishing the house took many years of scouring markets, salvaging old pieces and bringing them back to life, and also importing furniture from their "quirky" furniture shop in London, which they closed in 2005. They also wanted everything "a little bit wonky" and that's what they got: a funky yet serene flow of a home.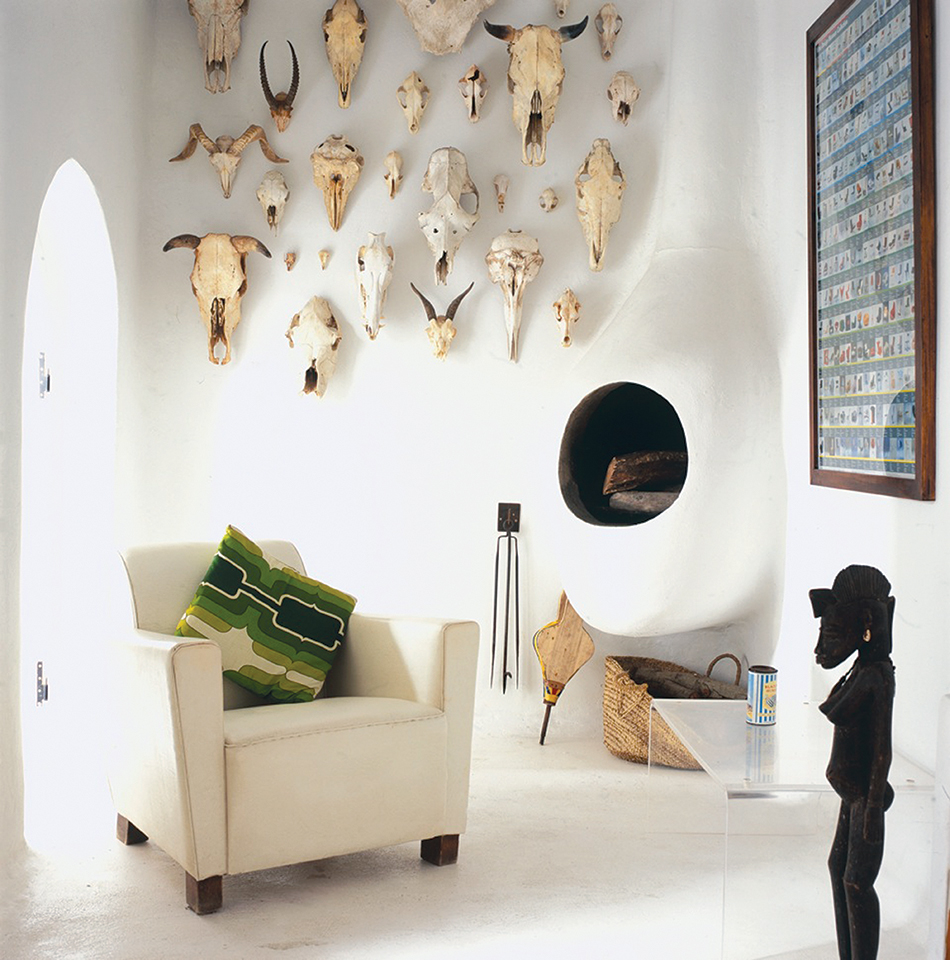 Dar Beida is built around a central courtyard and is set over four storeys. At ground level is a library connecting to a chill-out room with a fireplace, and the courtyard has a fountain and rest area with a blissfully relaxing hanging chair. On the first floor there is an open-plan, fully equipped kitchen/diner at one end, a living space with stereo in the middle and two fireplaces, and a bedroom and shower room towards the back.
The 2nd floor has two double bedrooms with pod fireplaces in each, and in-between the bedrooms is a curved bathroom with a skylight. Walking straight out, a large terrace is found with a rustic sunny/shady area with seating, sun-beds and a hammock. On the top floor is a double bedroom with glass-fronted doors opening out onto a private terrace and a further seating area.
Dar Beida sleeps eight and is available for hire. Each guest is made to feel at home by being given a pair of babbouche (Moroccan slippers) to wear in the house and then take home with them, and local Argan soap, towels and bathrobes, and guests are also taken on a guided tour of the medina by the English owners, who will point out the good restaurants and activities, including a cookery school, hammam, horse riding, kite surfing, trips to secluded beaches, swimming pools and souks.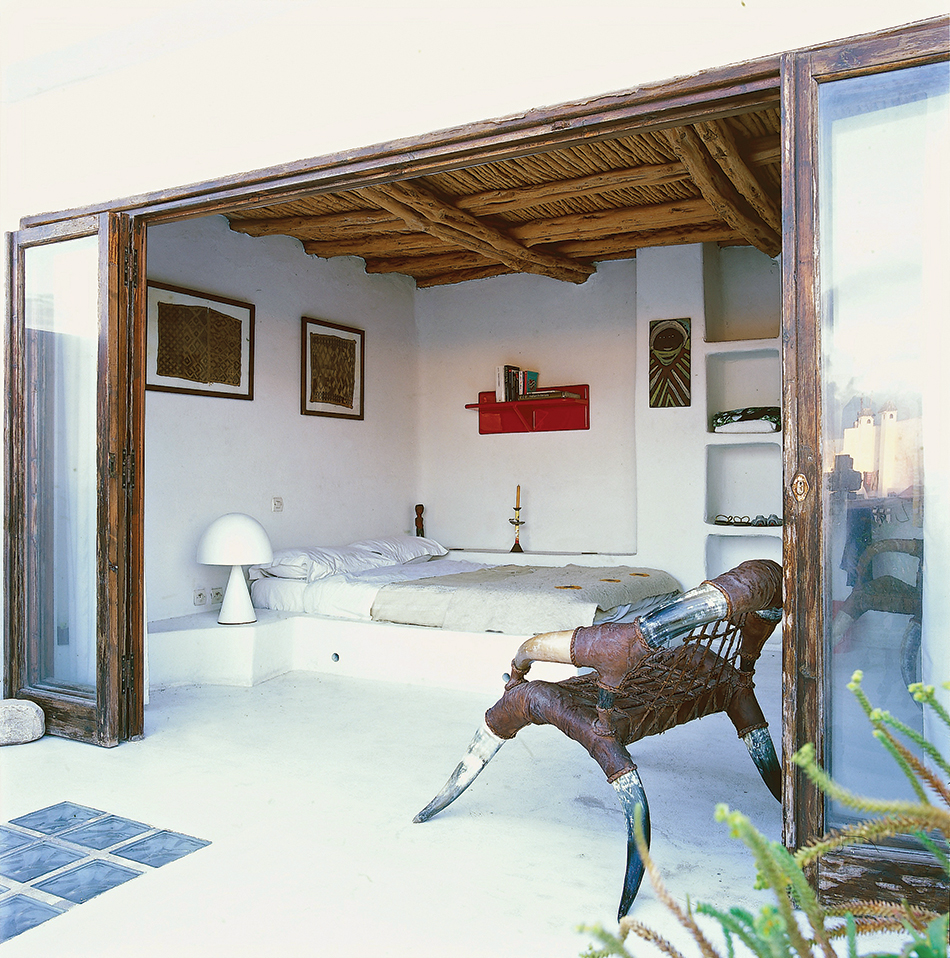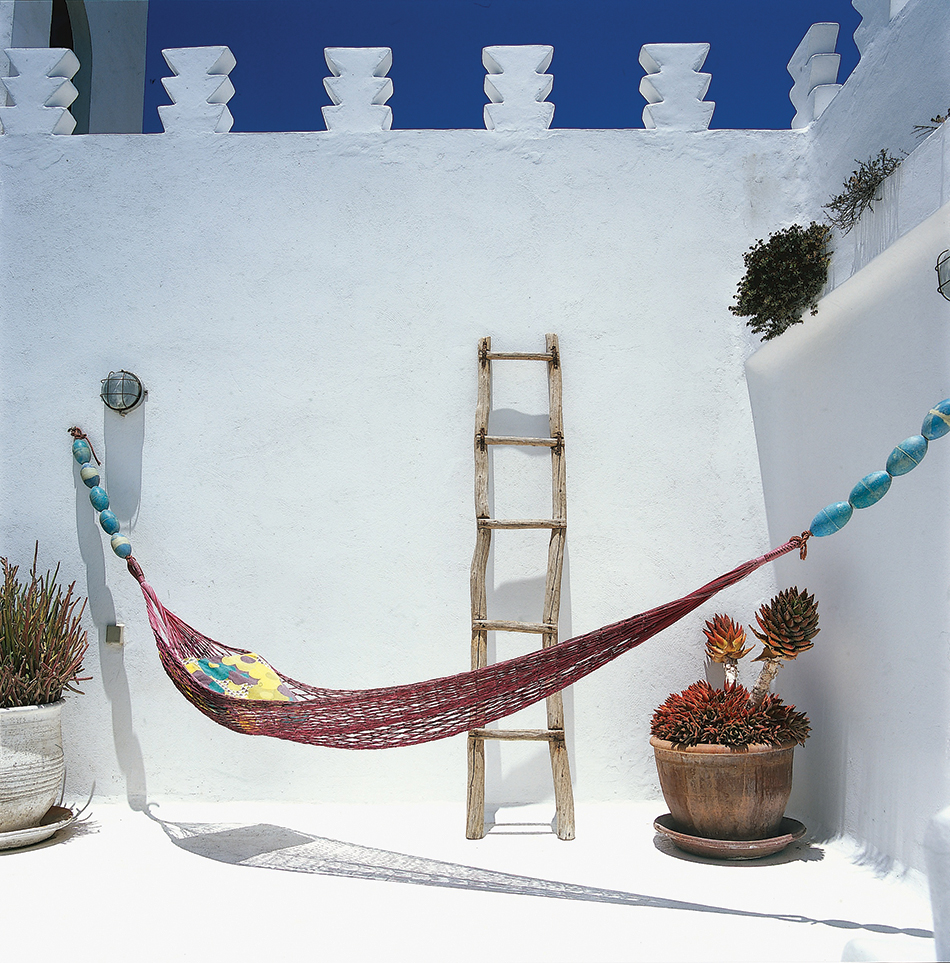 There is a telephone in the house for visitors to use if required, as well as Bose speakers for use with an iPod, and wireless internet access. There is also a large selection of books, CDs and board games, and for around €15 per head, a chef will cook a traditional Moroccan meal and bring it to the door.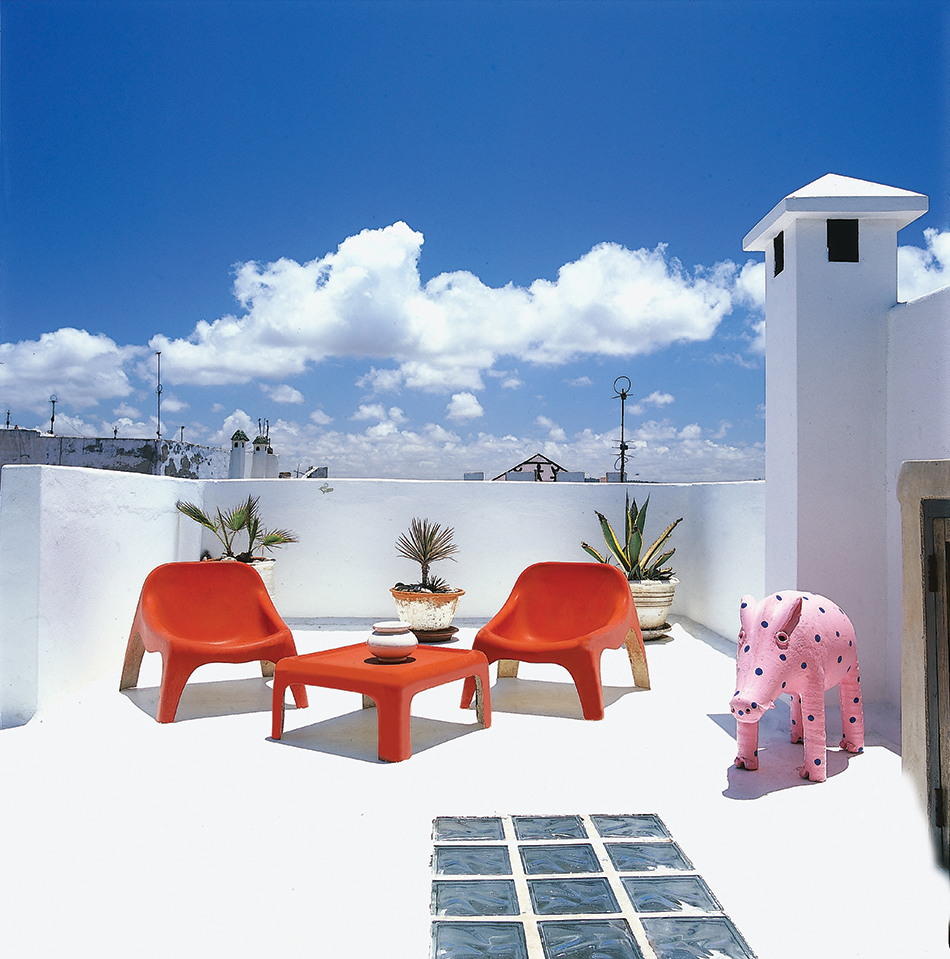 Transport links: Two-and-a-half hours by road from Marrakech or Agadir. Transfers to and from Marrakech can be arranged with the owners. For more information visit www.castlesinthesand.com and for booking enquiries contact Emma on any of the following: UK mobile: (0044) 07768 352190, Moroccan mobile: (00212) 667 965 386 or email: emma@castlesinthesand.com