Angus beef carpaccio
with curried celeriac puree
Photography: Kris Micallef Shoot location: Corinthia Palace Hotel Gardens Christmas Decor: LOFT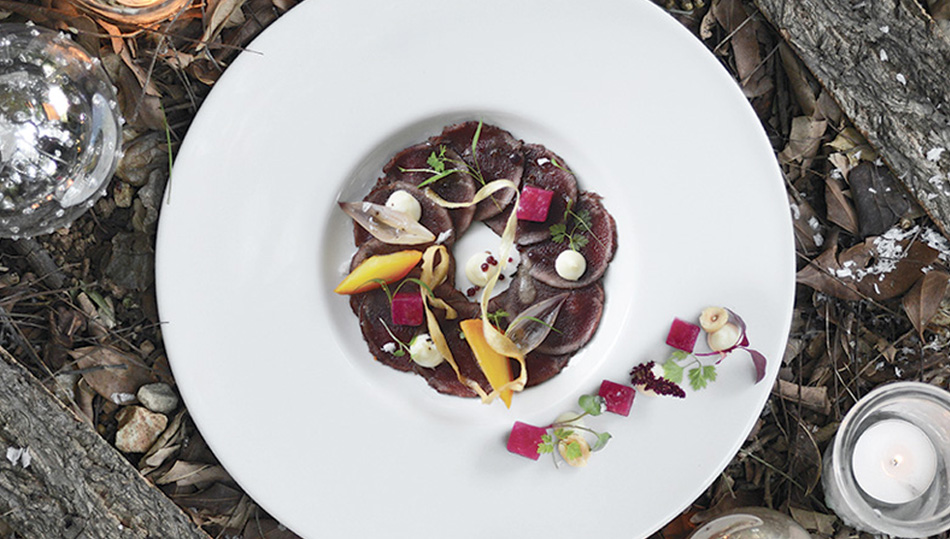 Beef Carpaccio
420g cleaned beef tenderloin
1 sprig of thyme
1 sprig rosemary
½ garlic clove
Olive oil
Method
Marinate the beef fillet overnight with the thyme, rosemary and garlic and some olive oil. The following day remove the herbs and garlic and heat a pan with a drizzle of olive oil, giving the fillet a quick sear all over (get a nice deep caramelisation on the outside), and season. Allow to cool slightly and when you can, handle wrap in cling film to get a round shape. Freeze overnight.
Curried Celeriac Puree
½ celeriac root, peeled and
cut into cubes
3g curry powder
2g cumin
2g ground coriander
25ml milk
25ml cream
Salt and pepper
15g butter
Method
In a pan, place the oil and spices, and warm through until aromatic. Add the celeriac and cook for 10 minutes until they start to soften. Add the milk and cream and bring to a simmer, cooking until the celeriac is cooked. Place in a blender and blend until a smooth puree is formed, check seasoning and correct if necessary. Keep warm.
Slice the beef carpaccio thinly and arrange in a neat circle. Dress the plate and decorate with sherry vinegar and olive oil, marinated yellow and red beets, fried parsnips crisps, toasted hazelnuts and micro cress.