Easter egg nest
fried cinnamon pastry, ylang ylang bavarois, textures of chocolate, fruit coulis
Photos: Alan Carville Chefs: Stefan Hogan, Jonathan Mifsud, Dessert: Mark McBride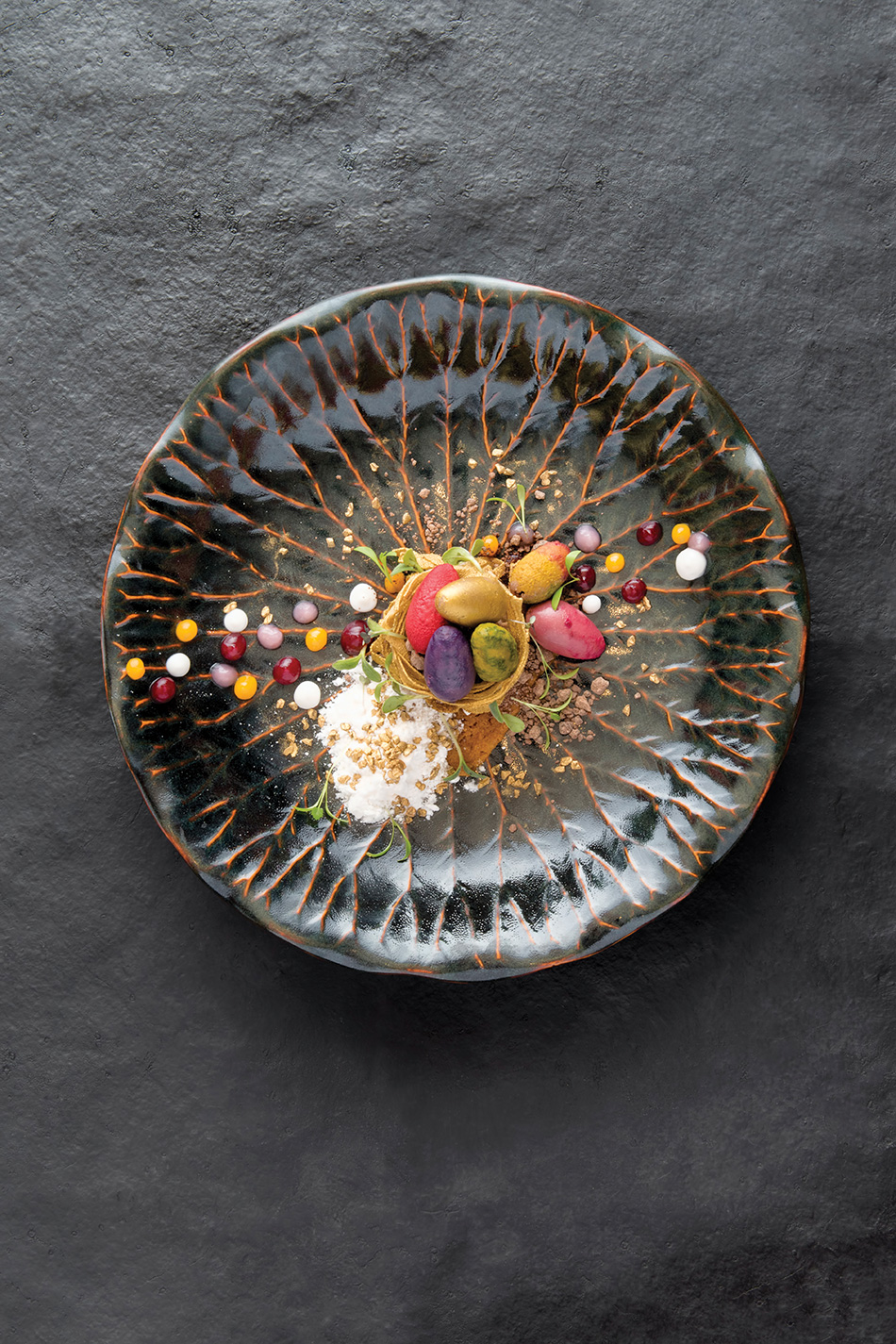 Pastry:
4 celery stalks, peeled
250g plain flour 1 tsp cocoa powder
30g butter, softened
25g sugar
60ml white wine
1 egg, beaten
Oil, for deep-frying
Icing sugar, to decorate

To make the pastry, place the flour, cocoa powder, butter and sugar in a large bowl and mix well. Gradually add the wine and mix until the mixture forms pastry dough. Form the pastry into a ball and wrap in cling film. Leave to rest for an hour.
Lightly flour a clean work surface and roll out the pastry to a thickness of about 3mm. Fold pastry and slice using a knife. At this stage you should end with ribbons of pastry similar to tagliatelle. Loosen and then place into rings of a diameter of about 5cm. Heat the olive oil in a large pan to 180°C. Fry the cannoli until golden-brown. Drain on kitchen paper and gently remove the moulds. Leave to cool.
Egg-Shaped Mousse:
30ml olive oil
250g cream
200g white chocolate
100ml water
2 gelatine leaves
Few drops Ylang Ylang flavouring

Whip cream, melt chocolate and add to warm water and gelatine. Leave to cool for five minutes and then fold into cream, add flavouring. Pipe into egg-shaped moulds. Freeze until needed.
To finish plating, start piping random dots of fruit coulis, place pastry nest. Arrange eggs previously coated with coloured cocoa. Grate chocolate. Place micro leaves and white chocolate powder.