Rabbit Ravioli
The Chefs at The Corinthia Palace whip up some of our favourite fresh local ingredients for a grounding menu as we shift through the seasons. 

Chefs: Stefan Hogan, Jonathan Zammit, Claire Giordmaina
Photography: John Hennequin
Accessories all from LOFT, Naxxar
Rabbit Ravioli with Parmesan Cream & Pumpkin
Serves 4
Prep time: 4 hours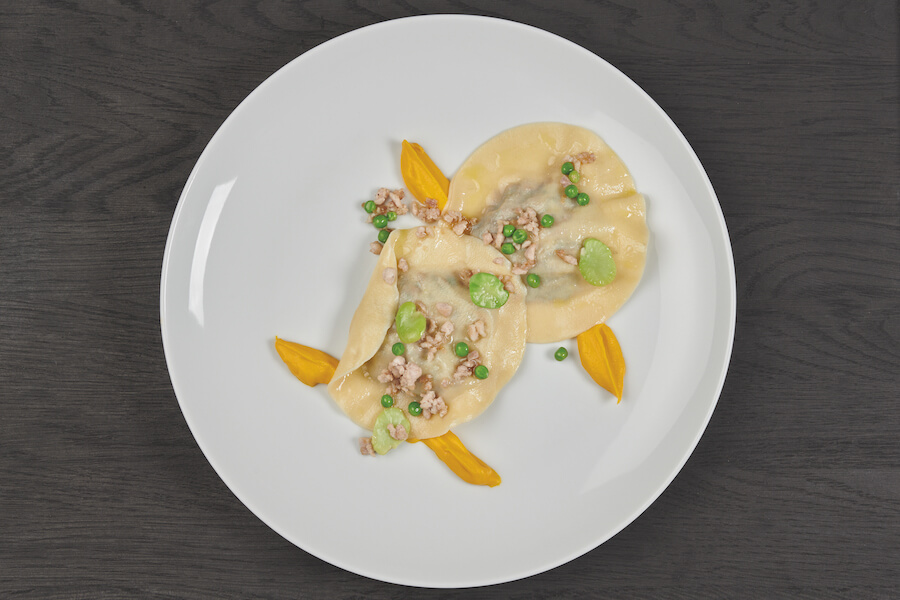 Ingredients:
1 whole rabbit, boned (bones used for stock)
Rabbit Stock
300g mirepoix (carrot, onion, leek & celery)
50ml white wine
2 litres water
50g tomato paste
50g chopped tomatoes
Sprig of thyme
Star anise
Salt
Black peppercorns
30ml vegetable oil
Pasta Dough
500g 00 flour
2 eggs
7 egg yolks
Pinch salt
Warm water (might be needed)
Ravioli Filling
350g rabbit meat, finely diced
2 shallots, finely diced
1 garlic clove, grated
½ carrot, finely diced
50ml Marsala
50g broad beans
15ml olive oil
Thyme, chopped
Salt
Pepper
Sumac
Parmesan Cream
100ml milk
100ml cream
40g butter
100g grated Parmesan
½ bay leaf
Sprig thyme
Salt
Method:
For the rabbit stock:
Place the bones, mirepoix, tomato paste and tomatoes in an oven proof dish, drizzle over the oil and mix thoroughly, season with the salt and roast in a hot oven till the bones and vegetables are golden brown. Once removed from the oven transfer the bones and vegetables to a pot, deglaze the tray with the white wine and add to the pot. Top with the water and add the thyme, star anise and the peppercorns. Bring to the boil and then reduce heat. Allow simmering for approximately 1 ½ hours skimming any impurities from the surface. Pass through a fine sieve.
For the Ravioli dough:
Place the flour, salt, eggs and egg yolks in a food processor and pulse until ingredients are amalgamated. Turn out onto a flour surface and knead to a firm dough (if the mixture is slightly crumbly add a few drops of warm water) – shape into a tight ball and wrap in cling film. Refrigerate for 40 minutes to rest.
For the Ravioli filling:
Heat the olive oil and lightly fry the rabbit meat, shallot, garlic, carrot and thyme; season with salt and pepper, deglaze with the Marsala and reduce. Pour over around 400ml of the rabbit stock and cook over a low flame until all the liquid has completely evaporated. Allow to cool and add the broad beans; season with the sumac. Adjust seasoning to taste. Chill completely before you start the ravioli process.
Roll out the pasta dough to its thinnest setting and cut out circles and brush off excess flour – fill the circles with the rabbit filling and top with another that has had the edges lightly brushed with water. Close and press edges. Place onto a floured tray and refrigerate (cover with a damp clean cloth).
For the Parmesan cream:
Bring the milk, fresh cream, thyme and bay leaf to the boil, reduce heat and simmer for 10 minutes. Strain and transfer to a blender, add the butter and cheese puree on high speed until emulsified; adjust seasoning to taste. Strain into a sauce pot. Keep warm
Reduce 200ml of rabbit stock to glaze the ravioli; season with salt and cold butter.
———————————-
Cook the ravioli in a large pot with boiling salted water. Cook the ravioli for 5 minutes, drain and toss in some of the reduced rabbit stock (add a knob of cold butter to thicken the sauce) adjust seasoning to taste.
To garnish: add some peas and broad beans sautéed beurre noisette. Carrot puree flavoured with olive oil.
Warm the carrot puree and dress as picture.