Behind The Menu
Head Chef Jonathan Bonello knows a thing or two about cooking; after all, he was born into a family-run restaurant and grew up surrounded by top culinary expertise. After decades in the industry at the helm of top restaurants both locally and overseas, Chef Jonathan has turned his attention to transforming the Michelin recommended Medina Restaurant, into the place to be and the place to be seen.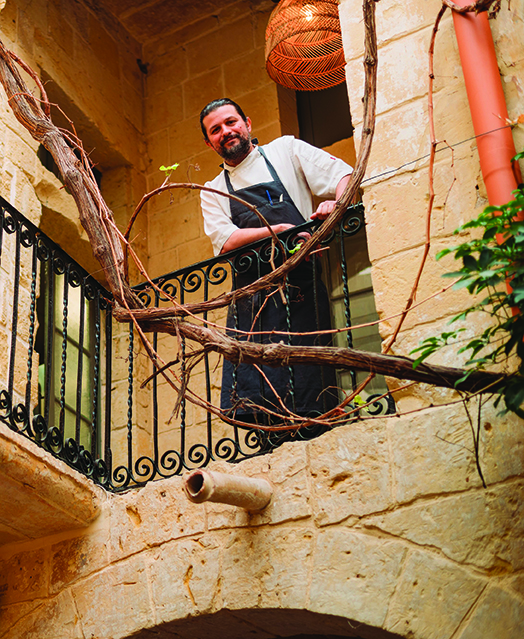 Having just opened last month after a colossal refurbishment, Medina Restaurant, forming part of the Xara Collection, is situated in a 400-year-old building in the medieval fortified city of Mdina, Malta, presents a unique but homely offering rooted deeply in the origins of traditional Maltese cuisine, with influences from across the eastern Mediterranean region. The setting itself is an original 11th-century Norman residence brimming with Romanesque features. The honey-coloured stone walls with a picture-perfect internal courtyard and classic garden attributes will instantly transport you to a time gone by.
As for the menu, Chef Jonathan Bonello states there's nothing progressive about this concept. "We are not trying to break the mould". We have taken Maltese cooking back to its roots and allowed the ingredients to speak for themselves. Having studied local gastronomic history, Chef Bonello can add his knowledge and flair to every meal. For example, did you know 'Kemmuna', the island of Comino, is named so after the Cumin seed? These snippets of Malta enable the Chef to whip up his magic with gusto and deeply embed the essence of the islands into his dishes.
Distinctly humble, Chef Jonathan prefers to take a backseat to his masterpieces and let the food do the talking. You won't find him with a perfectly polished Instagram or building up his online persona to the mass- es. It's no secret chef life, is notoriously challenging, let alone at one of the island's most sought-after dinner reservations. So how does the master balance his culinary prowess with, if any- "me time"?
"After work, I do my best to focus on being present with those around me, particularly my family are my number one. I try to take a mental break from the kitchen, so I can recharge and head back into the kitchen. Of course, chef life isn't without its challenges and a hectic schedule. However, there's truly nothing else in this life I could see myself doing," adds Chef Jonathan.
With a dedicated herb garden on the horizon at the restaurant, and the busy summer season starting to edge nearer, Jonathan remains distinctly calm, most likely to his 360 experience of having worked in all sections of catering over the decades, from waiting on tables to garnishing plates, he's been there and done it.
His biggest culinary influences? "Hands down, a close friend Chef Joseph Zammit. A true mentor I owe my career to, he's taught me some of my biggest lessons, ultimately that communication and teamwork make the chef and the kitchen."
MEDINA RESTAURANT HEAD CHEF JONATHAN BONELLO, GRACES US WITH HIS SIGNATURE DISH; A STUNNING TRADITIONAL OCTOPUS STEW.

Autòcton Negre 2016 – Catalunya, Spain
The indigenous grape variety of Sumoll, from very old vines is aged in large French oak barrels of 300 and 400 litres, resulting a uniquely spiced, earthy and red fruit forward, medium bodied wine with medium tannins and bright acidity. A perfect pairing for Mediterranean food and seafood stews. farsonsdirect.com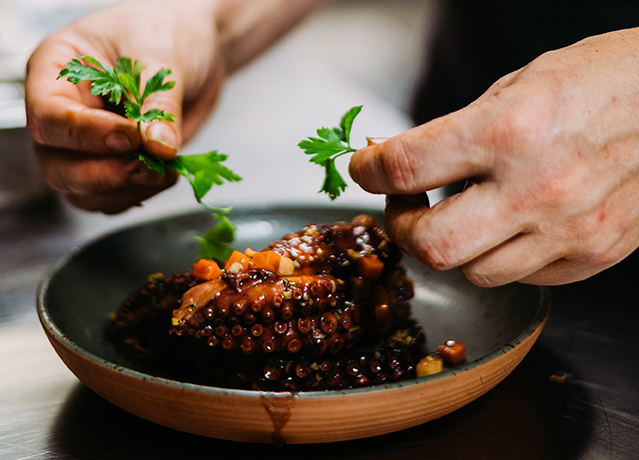 Ingredients: Serves 2
1 500-800g Octopus, preferably local, or from the Mediterranean, defrosted and the water kept for later
200g onion 2.5cm cut 100g carrot 2.5cm cut
1 celery stick left whole
2 sprigs of thyme
2 whole black pepper corns
200ml red wine
15ml sherry vinegar or good red wine vinegar 1 star Anise + Peel of 1 orange
Method:
Bring 2 litres of water, the red wine and the sherry vinegar to a Boil and being very careful not to burn your fingers, blanch the octopus 3 times, this is a very import- ant step to keep the skin of the octopus intact, which in turn helps presentation.
After blanching 3 times, plunge the octopus in the water and bring to a boil, after which add all the other ingredients, including the water from the defrosted octopus.
Bring back to the boil then simmer at around 80 degrees for around 30 to 35 minutes.
The octopus should be tender at this point, but still holding its shape, it is very important now to allow the octopus
to cool in its cooking liquid for at least 1-2 hours, at the restaurant we leave it overnight.
Strain the Liquid, discard the vegetables.
Reduce the stock until desired flavour, at the restaurant usually it is around half, this will result in a very flavourful liquid, a little bit salty, which we balance out with sugar and vinegar, and thicken with cornflour, as it leaves a great shine and is gluten free as well.
To Garnish: Gremolata
2 garlic cloves minced
100g parsley chopped
For more information about Medina Restaurant, visit: medinarestaurant.xaracollection.com