Mushroom & Miso Glazed Quail Risotto
The Chefs at The Corinthia Palace whip up some of our favourite fresh local ingredients for a grounding menu as we shift through the seasons.
Chefs: Stefan Hogan, Jonathan Zammit, Claire Giordmaina
Photography: John Hennequin
Accessories all from LOFT, Naxxar
Wild Mushroom & Miso Glazed Quail Risotto
Serves 4 ppl
Prep time: 45 minutes + (marinated quail a day before)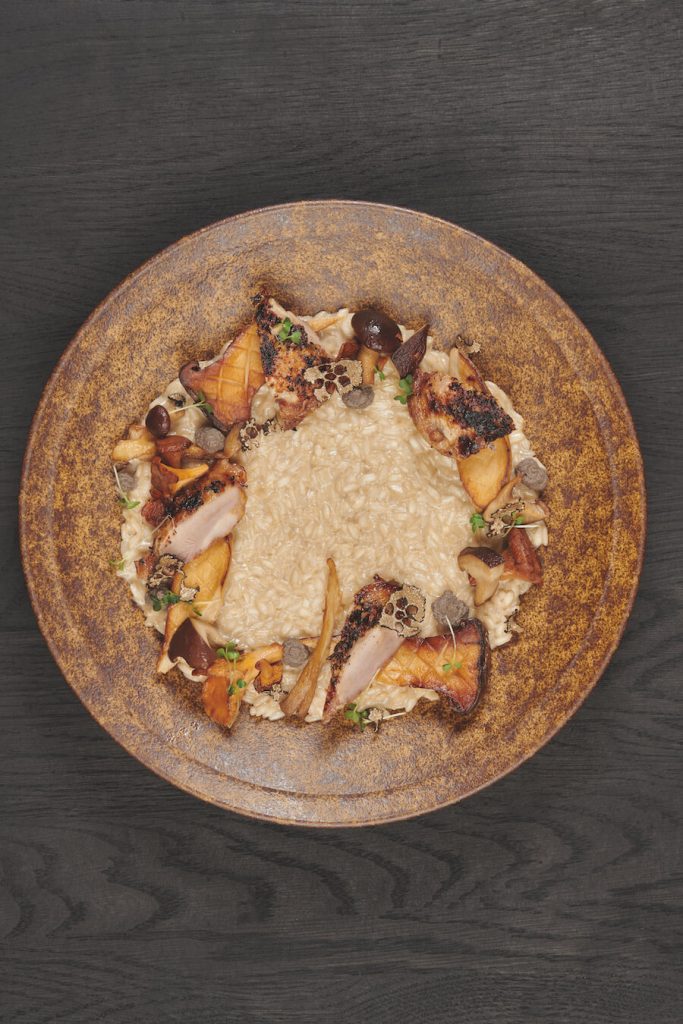 Ingredients:
For the Risotto
1.75l good chicken stock
60ml olive oil
30g porcini powder
80g white mushroom puree
40ml white wine
2 garlic cloves
3 shallots, chopped
320g risotto rice
60ml whipped cream
80g grated Parmesan
80g butter (plus a tablespoon for the mushrooms)
30ml vegetable oil
Assorted wild mushrooms
Thyme
For the Miso Glazed Quail
20ml vegetable oil
75ml sake
75ml mirin
300g white miso paste
100g sugar
4 boneless quail
Method
Marinated Quail
In a pan bring sake and mirin to the boil and reduce by half, add the white miso paste and reduce heat; keep mixing and add the sugar. Once the sugar has dissolved remove from the heat and allow to cool. Pat the quails dry and rub with the paste; allow to marinate ideally overnight to get maximum flavour.
Risotto
To start the risotto process, the chicken stock needs to be kept warm on a low flame.
In a pot heat olive oil and add shallots and garlic cloves; sauté until soft over a low flame, this should take about 10 minutes. Add a few tablespoons of butter and the rice; cook for a few minutes to get the rice toasted, keep stirring continuously. Gradually add the stock and keep stirring make sure the stock is absorbed and incorporated before adding more, this process should take 15-20 minutes. Keep checking the rice to make sure it does not overcook (it needs to have a crisp bite in the centre of the grain). Switch the heat off and with the residual heat finish the risotto off by adding the mushroom puree, whipped cream and butter; stir them all in and adjust seasoning to taste. The finished risotto should be moist and have some movement in the pot.
In a clean no-stick frying pan heat the vegetable oil and when smoking add the wild mushrooms, season and add a knob of butter. Toss and transfer onto absorbent paper to drain off excess liquid.
In a hot oven place the quail and cook for 10- 12 minutes until golden brown.
Place a generous portion of risotto onto the plate and garnish with the wild mushrooms and quail.