Avocado and stilton roulade
orange braised chicory, pickled shallots and candied walnuts
Owen Bonello and Claire Giordmaina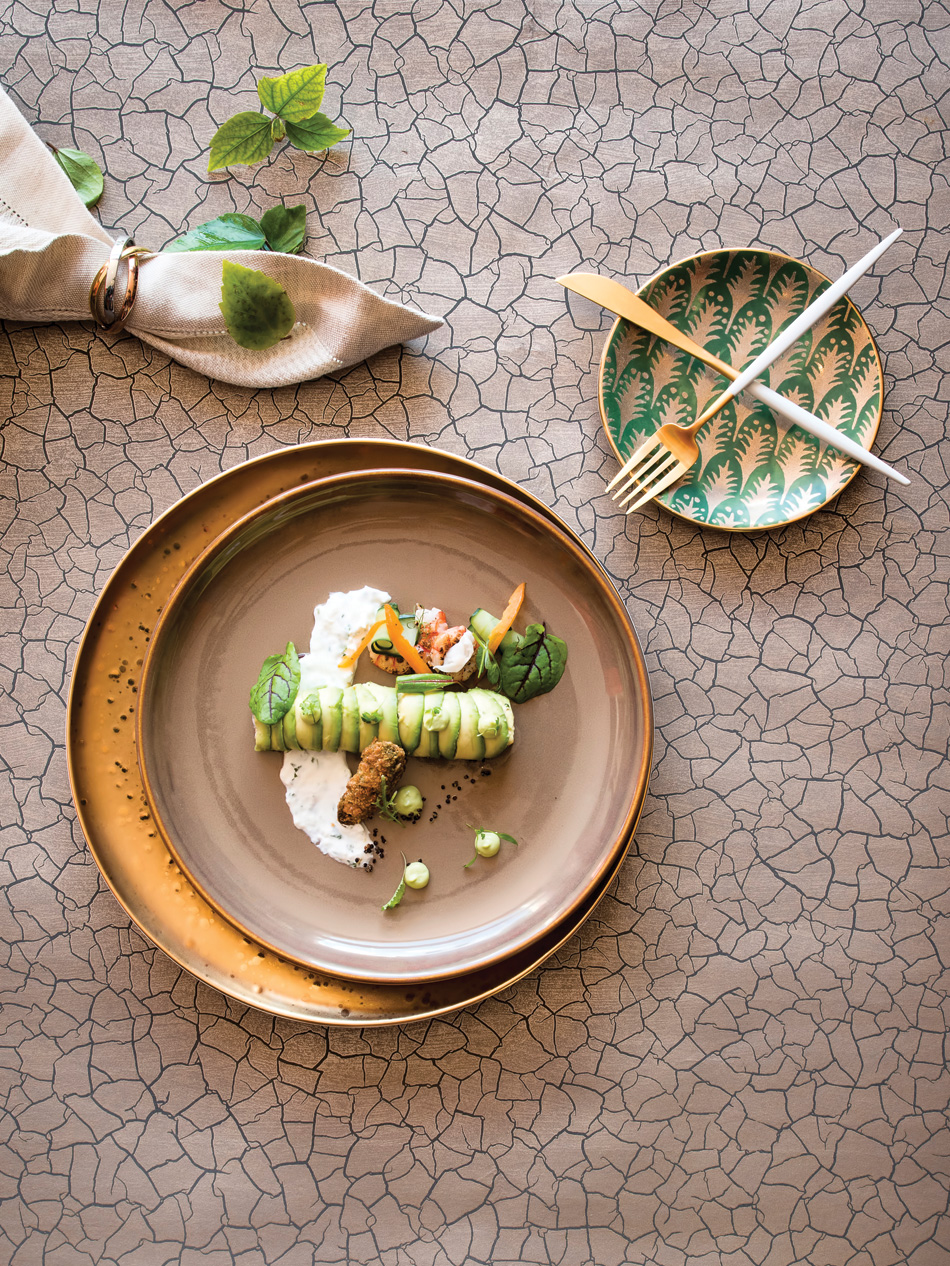 Ingredients:
1 ½ avocado
30g Stilton
75g cream cheese
1 lemon, zest
½ chicory
1 orange
125ml vegetable stock
4 springs thyme
30g sugar
30g water
8 walnuts
½ shallot, cut in rings
67g red wine vinegar
125g water
67g sugar
1 lemon, juice seasoning
4 king prawns, shelled
15ml olive oil
assorted cresses (garnish)
Method:
For the roulade, take half an avocado and cut in fine, thin slices, layer neatly on clingfilm. Mix the Stilton with soft cream cheese, 4 walnuts (chopped), lemon zest and season to taste. Fill the avocado with the cheese mixture and roll neatly, making sure it's nice and tight and store in the fridge to set.
For the purée, blend half an avocado with the lemon juice, adjust seasoning and set aside.
For the chicory, warm the vegetable stock with thyme, orange juice and the remaining orange and braise the chicory for about 20 minutes or until just wilted. Remove from the liquid and set aside.
For the candied walnuts, mix the sugar and water and bring to the boil. Add the walnuts and leave for 2 minutes then pour the walnuts onto a tray lined with baking paper and allow to cool.
For the shallots, bring to boil the vinegar, water and sugar, remove from the heat and add the shallots, allow to cool down in the pickling liquor.
To plate, spoon some avocado purée at the edge of the plate and spread with a small spatula. Remove the roll from the clingfilm and position in the centre of the plate. Decorate with some dots of the avocado purée and garnish with the candied walnuts and assorted cresses.
Sautée the prawns in the olive oil and plate. Torch the dried chicory, cut in half and plate near the roll. Make some dots with the avocado purée to fill the gaps. Finish with the shallot rings.