Blood Orange Sorbet
Chefs from the Corinthia Palace inspire our festive appetite with some flavoursome dishes. Nothing brings people together like good food - and wine!
CREDITS:  
Stefan Hogan Executive Head Chef 
Claire Giordmaina Chef de Partie 
Mark McBride Pastry Chef 
Blood Orange Sorbet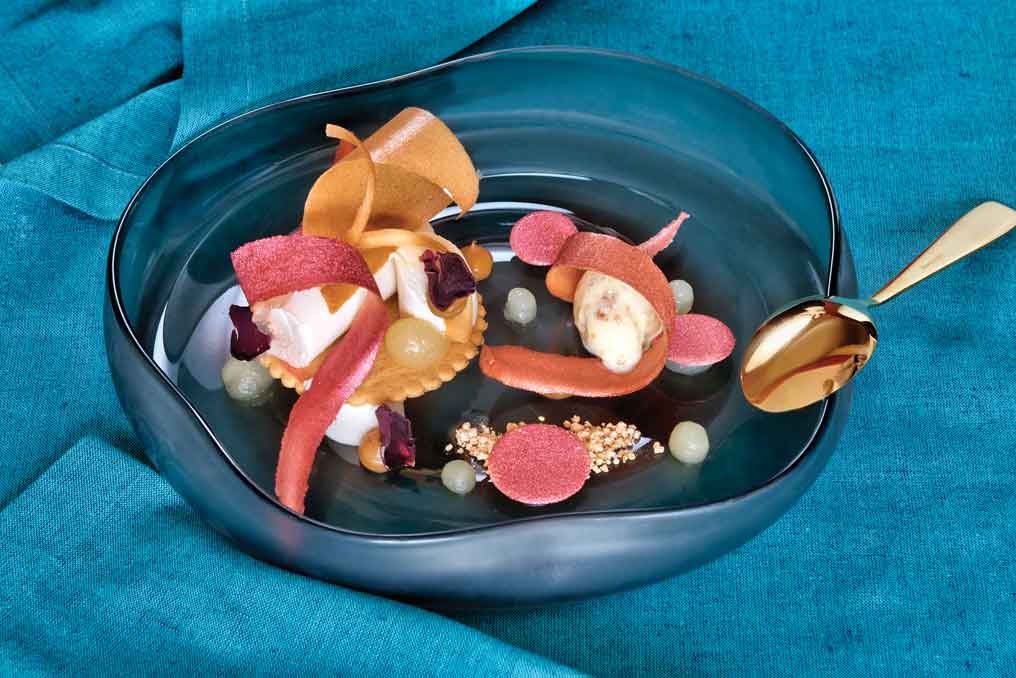 Ingredients
6 blood oranges
juiced 275ml of water
175g of caster sugar
1 lemon juiced
Method  
Place the sugar and water in a pan and bring to a boil.
Keep cooking until all of the sugar has dissolved, then leave to simmer for a further 5 minutes.
Set aside to cool, and then mix in the blood orange and lemon juices.
Set aside in the fridge until chilled, and then churn in an ice cream maker. Freeze until ready to serve
Lemon Posset Recipe
Ingredients
4 lemons, juiced and zested
280g of caster sugar
850ml of double cream
1 gelatine leaf, soaked in cold water
Method
To make the lemon possets, bring the cream, sugar and lemon to a boil. Stir in the gelatine, and then pour into silicone moulds.
Freeze the lemon possets overnight, de-mould and spray with yellow cocoa spray.
Place in refrigerator until needed
Meringue Kisses
Ingredients
300g superfine sugar (1 1/2 cups)
150g egg whites (from about 5 eggs)
Method
Pour egg whites into the bowl of your stand mixer (make sure it's clean) fitted with the whisk attachment.
Whisk on low allowing bubbles to form.
Increase to high and continue whisking until stiff peaks form and you can turn the bowl upside down without the egg whites falling out.
Add sugar, one big spoonful at a time, ensuring that the whites come back to stiff peaks after each addition.
Once all the sugar is added, continue to whisk for 5 – 7 minutes.
You should be able to rub the mixture between your fingers and not feel any grit from the sugar.
You know it's ready to use when it forms a smooth shiny peak on the tip of your finger.
Set oven temperature 75 Celsius. Line baking sheet with parchment paper. Place a dab of meringue on the four corners of the pan and press the paper on top to hold it down flat.
Spoon in meringue mixture so it is packed in tightly. Snip off the tip of the piping bag, about an inch in diameter, and pipe kisses on the baking sheet.
Bake at 75 degrees for 30-40 minutes until the kisses can easily be lifted off the parchment paper with bases intact. Let it cool completely.
Lemon Curd
Ingredients
5 lemons, zest and juice
3 egg yolks
100g of sugar
25g of cornflour
40ml of water
75g of butter, cubed
Method
Place the lemon zest and juice in a pan over medium heat and bring to a boil.
Meanwhile, mix the cornflour into the water to form a smooth paste. In a separate bowl, whisk together the sugar and egg yolks, then stir in the cornflour mixture.
Pour this into the boiling lemon juice, whisking continuously until the mixture is smooth and has thickened. Remove the pan from the heat and beat in the butter a little at a time until smooth and glossy.
Leave to cool and fill into a piping bag.
Candied Orange Peel
Ingredients
1 Orange
100ml sugar
100ml water
Method
With a peeler, peel off strips from the orange, place into the water with sugar and cook until translucent. Leave to cool until needed.
Pink Grapefruit Gelee
Ingredients
45ml lemon juice
15ml cold water
125ml pink grapefruit juice
2 agar
3 tablespoons sugar.
Method
In a bowl, sprinkle agar over lemon juice and water, stirring vigorously.
Add to pink grapefruit and sugar in a saucepan and over medium-low heat until completely combined, bring to a boil. Remove from heat, pour into container and leave to cool.
Once cold, blitz in food processor until a smooth gelee is reached.
Fill into a piping bag and put aside until needed.
Plate as per photo