Bulger Wheat Porridge
with Oysters & Frogs Legs
Chefs: Jonathan Zammit and Stefan Hogan Pastry Chef: Victor Vella Photography: Alan Carville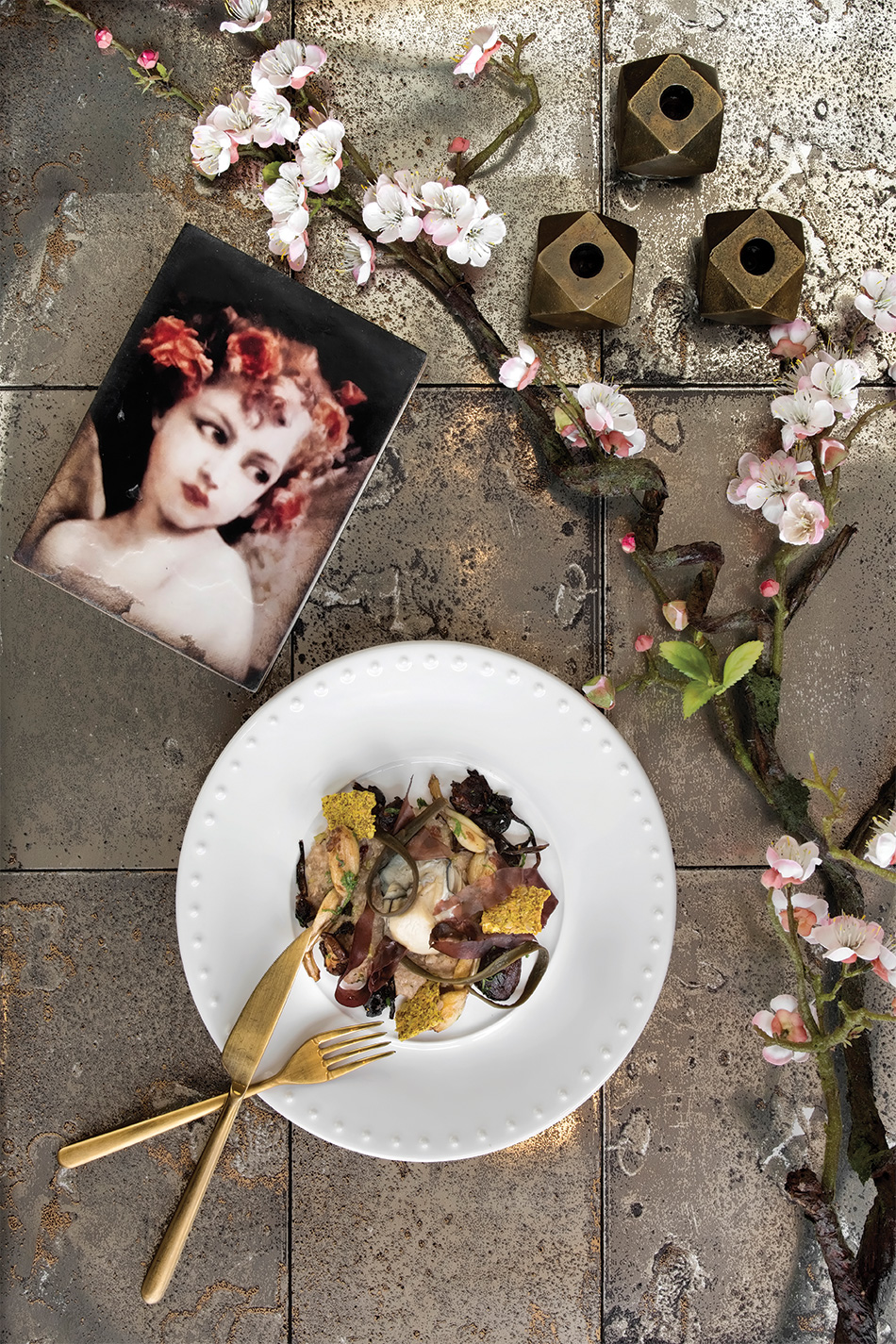 140g cracked wheat
65g shallots, chopped
50g carrots, finely diced
50g celery, finely diced
450ml ale
50g dried barberry berries
½ tsp (or generous pinch) cinnamon, nutmeg & ginger
3-4 tbsp single cream
250ml chicken stock to top up during cooking
pinch saffron
100g assorted mushrooms
Dulse (dried red seaweed, rehydrated in water)
4 oysters (shucked, juice retained)
12 frog's legs
100g butter
60ml oil
Method
In a pot heat one teaspoon of oil and fry the carrot, shallot and celery without colouring. Season with salt and pepper.
Add the saffron and allow to infuse and release the pale gold colour.
Throw in the cracked wheat and lightly coat with the oil. Continue to cook until it starts to turn golden, add the ale and reduce heat until all the ale has been absorbed.
Add the berries and some chicken stock to keep the consistency soft – check seasoning and adjust.
Heat a pan and add a teaspoon of oil.
When hot add the frog's legs, season, and once coloured, remove from the heat.
Allow the pan to cool slightly and add a teaspoon of butter. As the butter foams, baste the legs to moisten.
In a separate pan heat a tablespoon of oil and when hot, sauté the mushrooms. Season and remove from heat.
To plate, add the oyster juice to the porridge. Check the seasoning and place a generous head in the centre of the plate. Continue to dress the plates with the frog's legs, fresh oysters, mushrooms and the seaweed.