Charred Octopus, Miso & Grapes
The talented chefs from Corinthia Palace Hotel has stunned us again with this incredible recipe.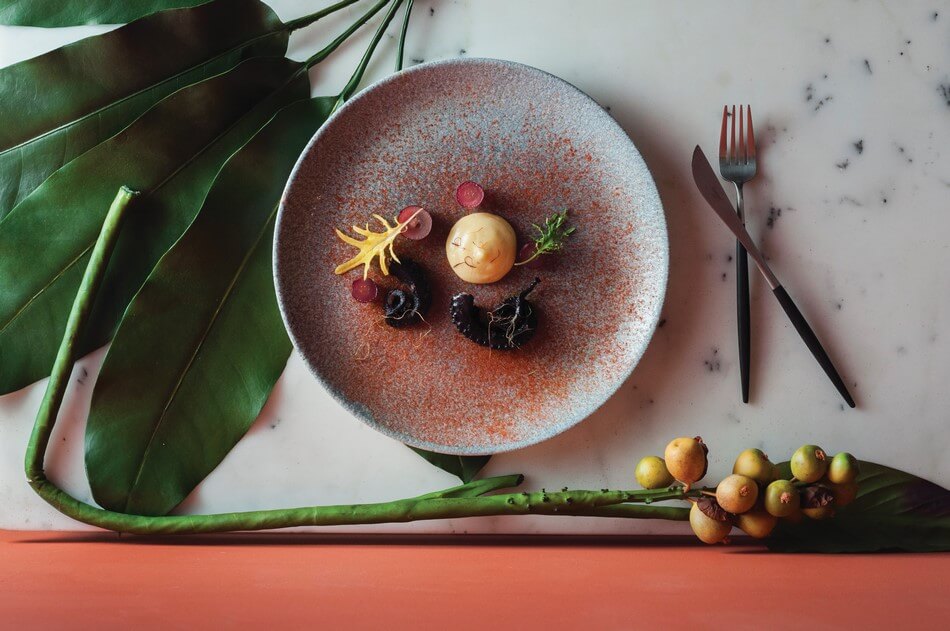 Ingredients
Octopus
1 octopus, weighing 2–2½ kg
1 lemon, zested
1 lime, juice only
3 garlic cloves
3 litres water
200ml white wine
½ fennel bulb
1 carrot, sliced
1 onion, sliced
Miso Mayonnaise
10g garlic cloves
10g ginger
30ml white wine vinegar
45g white miso
4 egg yolks
30ml cold water
10g maple syrup
3g salt
½ lime, juice only
150ml vegetable oil
Method
To cook the octopus, place the lemon zest, lime juice, garlic, fennel, carrot and onion in a large pot and add the water and the wine. Bring to the boil over a high heat and add 5g salt. Use kitchen tongs to dip the octopus a couple of times in the liquid, then submerge and release into the water. The dipping will help the tentacles to curl up for presentation.
Reduce the heat to low, cover the pan and simmer the octopus for about 1 hour, or until tender. Remove, rinse and allow to cool.
For the miso mayonnaise, combine the garlic, ginger, vinegar, miso, egg yolks, water and maple syrup. Blend until smooth. Gradually add the oil to form a thick mayonnaise, place in a bowl, add the salt and lime juice, adjust to taste.
Cut one tentacle per portion, pat it dry and lightly brush with olive oil, then pass a blow torch over the skin to lightly char the outside.
Serve with pickled grapes, white miso, selected baby herbs and a dusting of sweet paprika.