Crisp Roasted Pork Belly
with Octopus and Black Garlic
Corinthia Palace Chefs: Jonathan Zammit and Mark Mc Bride Shoot location: Corinthia Palace Hotel Photography: Tonio Lombardi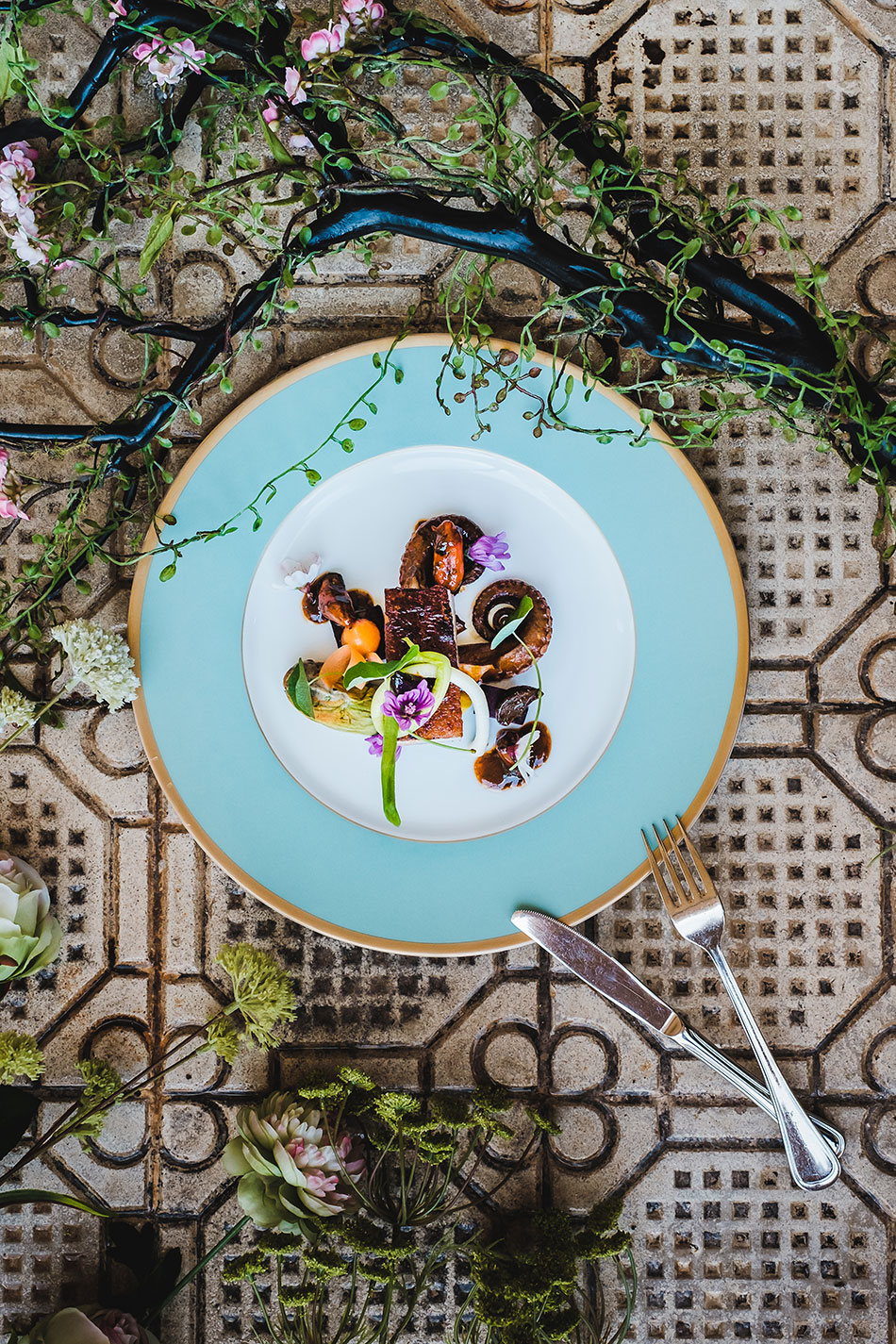 To brine the pork belly
600g pork belly
50g salt
25g sugar
2 black peppercorns
1 bay leaf
½l water
½l litre apple juice
1 sprig thyme
1 sprig rosemary
½ carrot, cubed
½ leek, sliced
½ onion, chopped
To cook the pork belly
1 sprig thyme
1 sprig rosemary
1 orange, cut in half
3 peppercorns
250ml chicken stock
To brine the pork belly
Mix the salt, sugar and peppercorns in a clean container, heat the water and add the salt and sugar mixture, and then stir to dissolve. Add the apple juice and vegetables and chill the brining liquid. Place the pork belly into the brine and refrigerate overnight to absorb the flavours. Drain before cooking, removing all ingredients.
To cook the pork belly
Place the pork in an oven-proof dish with the above ingredients, cover with grease proof paper and foil, and secure. Cook in an oven set at 145 degrees for approximately 4 to 4½ hours. Allow to cool, remove from the liquid and place in a dish skin side down. Top it with a second tray and weigh it down to compress and flatten. Refrigerate overnight.
Remove the excess fat from the pork and cut into squares. Cook in a frying pan on a hot flame skin side down until crisp.
Cook the octopus and cut the tentacles, season and reheat in olive oil.
Serve with a zucchini flower stuffed with a crab mousse and steamed, black garlic and mussel reduction scented with dill, baby leek, foraged greens and wild flowers.