Discover a new flavour
Brazilian-inspired meals for you to try at home...
By Chrys Mangion from Mummies Yummies Photos: Johnn Tailerr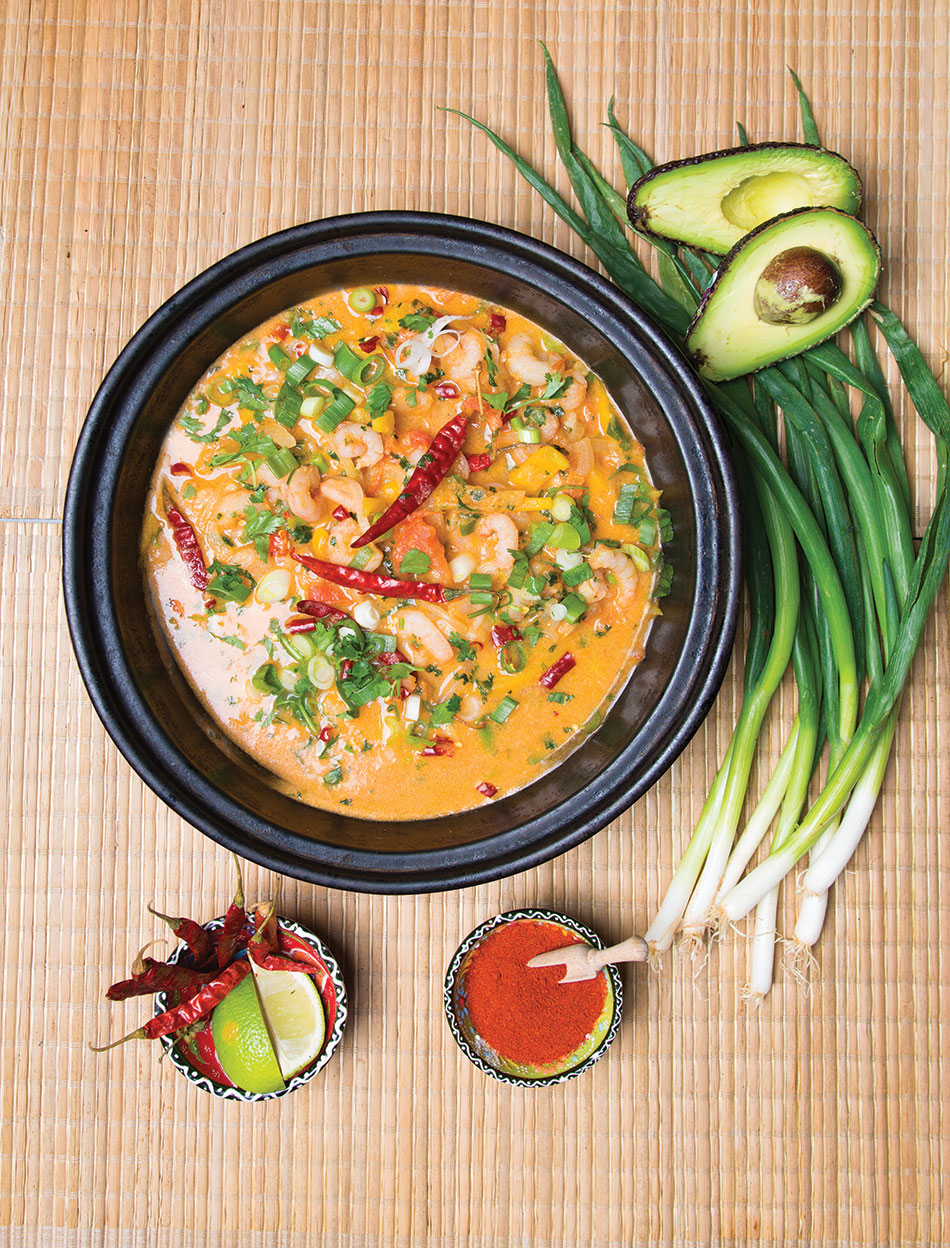 MOQUECA PRAWN STEW
A hot seafood casserole with coconut sauce.
Ingredients:
[ Serves 4 ]
450g large prawns, peeled
75ml lime juice
3 cloves garlic, finely chopped
3 tbsp coconut oil
4 spring onions, chopped
1 onion, sliced into half moons
1 red pepper, thinly sliced
1 tsp chilli flakes
2 tsp paprika
3 plum tomatoes, de-seeded and chopped
400ml coconut milk
2 tbsp coriander, chopped
1 tsp salt
Steamed rice, to serve
Method:
Place prawns in a bowl with 2 tbsp of the lime juice, 1 tsp of salt and 1 tbsp of the chopped garlic, and chill in the fridge for an hour.
When the prawns are almost ready from the fridge, you can get started with the sauce and cook the rice. For the sauce, heat the coconut oil in a large saucepan, add the spring onion and onion and fry for 5 minutes, then add the red pepper, chilli flakes, paprika and remaining garlic.
Pour in the tomatoes, coconut milk and a little salt. Bring to a simmer and allow to reduce for 10 minutes. Add the prawns, all the marinade and remaining lime juice. 
Gently simmer for about 3 minutes until the prawns turn white. Serve with rice and garnish with coriander.
CHICKEN WITH LIME
A juicy chicken dish.
Ingredients:
[ Serves 4 ]
4 chicken legs or 8 thighs, with skin, boned
3 cloves garlic, finely crushed
1/2 tsp oregano
4 tbsp lime juice, freshly squeezed
2 tbsp olive oil
1 tsp sea salt
1/2 tsp black pepper, freshly ground
4 lime wedges, to serve (optional)
Directions:
If using whole legs, cut into 2 pieces separating the drumstick from the thighs and place on a plastic cutting board, then score the skin and flesh (or get your butcher to do it).
Place in a shallow dish and add garlic, oregano, lime juice, olive oil, salt and pepper. Use your hands to toss and coat the chicken, working the marinade into the flesh. Cover with plastic wrap and chill for at least 4 hours.
Remove chicken from refrigerator half-an-hour before you start cooking to allow it to reach room temperature. Heat up the griddle pan or, if you can barbecue, get it alight and allow the flames to die down. Cook the chicken until cooked through – it should feel firm when lightly pressed.
Allow to rest for 5 minutes before serving with a sprinkling of chopped parsley and lime wedges on the side. It is perfect served with freshly chopped avocado and tomatoes.