Lobster duo with new potato
salad and melon, wilted salad
Photography: Alan Carville Recipes: Chefs Stefan Hogan, Jonathan Zammit, and Mark McBride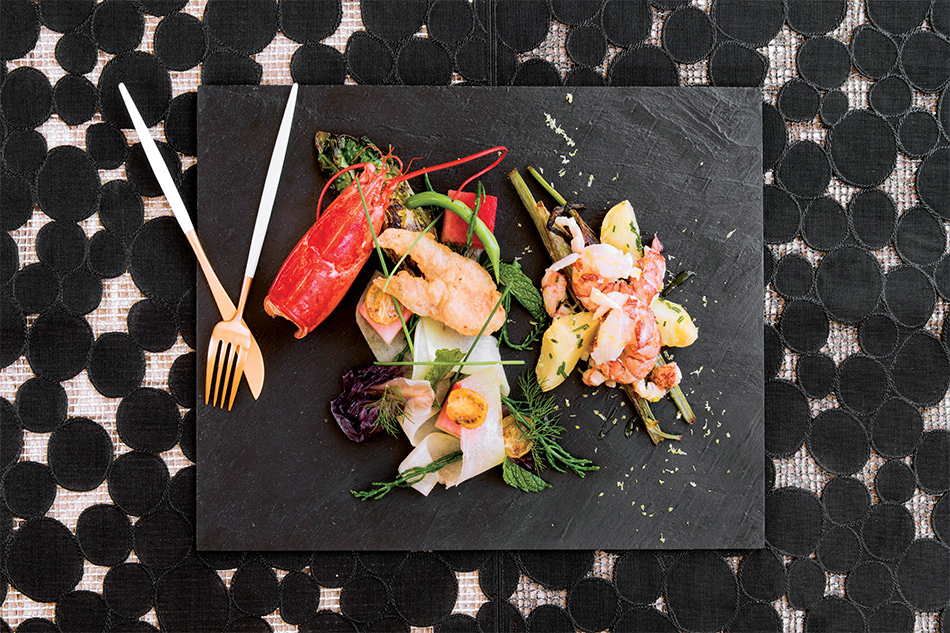 For the lobster:
4 lobsters, live, weighing approximately 600g each
4l water
20g of salt
1 carrot sliced
1 onion, chopped
2 celery sticks, chopped
Few peppercorns
Dill, mint and parsley
Lemon, halved
For the dressing:
20ml of yuzu juice
20ml of rice vinegar
20ml of mirin
100ml of olive oil
23g of salt
1 pinch of black pepper
Tempura Batter:
50g of cornflour
50g of rice flour
1/2 tsp baking powder
1 pinch of salt
50ml soda water
50ml of water
Salad:
Few leaves of radicchio, blanched
Baby gem lettuce, char grilled
Blanched and peeled new potatoes
Chives, snipped
Melon, sliced and marinated in melon juice
Watermelon, cubed and marinated in watermelon juice
Method for the tempura batter:
Put the ingredients in a blender and blend for 10 seconds to make a light batter. If it's a little too thin then add some more cornflour. Keep refrigerated.
Method for the yuzu dressing:
Simply whisk together all of the ingredients until combined.
Method for the lobster:
bring the water to a boil in a large pan with the vegetables and the salt. Cook the lobster in the boiling water for 4 minutes, then remove and refresh in a bowl of iced water. Remove from the water and cut the tail in half, remove from the shell and refrigerate. Crack open the claws and the joint and collect all the meat. Use the joint meat to mix with the new potatoes and the chives. The claws will be used for deep frying in the tempura batter, Decorate the plate with the melon, water melon and the wilted leaves, dress with the yuzu dressing.