Festive Gustation
 Chefs from the Corinthia Palace inspire our festive appetite with some flavoursome dishes. Nothing brings people together like good food - and wine!
CREDITS:
Stefan Hogan Executive Head Chef
Claire Giordmaina Chef de Partie
Mark McBride Pastry Chef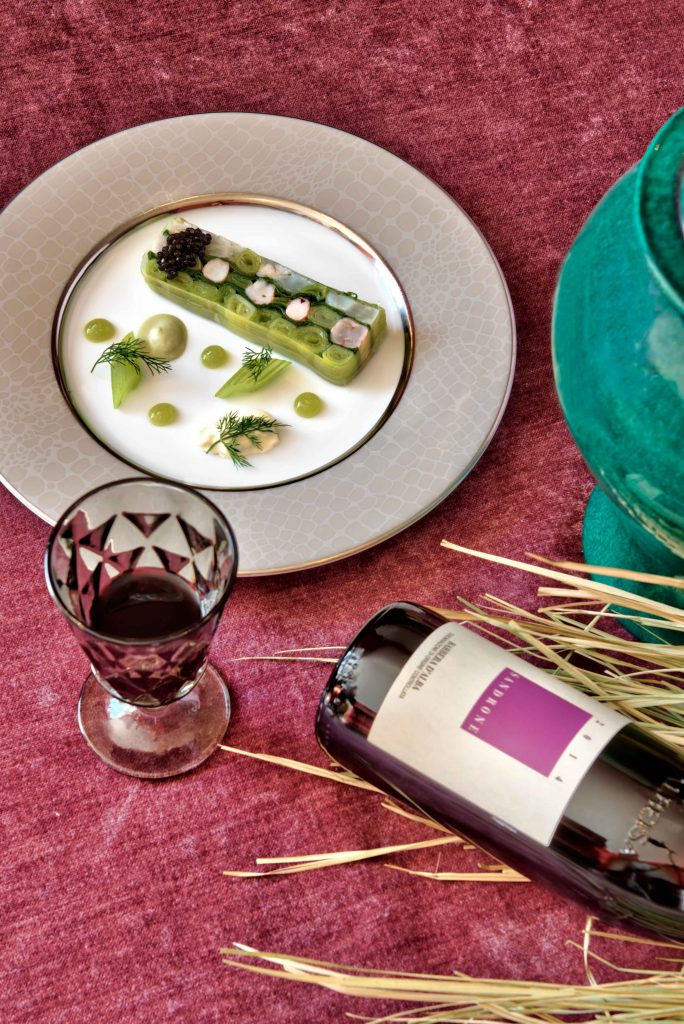 Langoustine, Prawn & Baby Leek Terrine, Celery, Horseradish Cream
Ingredients
Baby Leeks
15 large langoustines (poached & peeled)
12 large Mediterranean prawns (poached & peeled)
Outer leaves of one large leek (blanched)
500ml Shellfish stock
50ml White wine
Gelatine leaves
(The above recipe is enough for 12/14 portions and is adapted to fit a terrine mould that measures 25cm L x 12.5cm W x 4cm H)
Notes – leeks need to be blanched, refreshed in iced water and placed in trays, slightly weighed down one day before assembling- this is to ensure they leeks are dry.
The outer leaves to the large leek will be used to line the terrine and they will need to be pressed with a rolling pin between muslin cloth to get a thin outer lining and extract all the excess moisture.
Bloom the gelatine leaves in iced water. When they are soft, drain and squeeze out excess water, dilute with the white wine and melt over a bain marie.
Strain the liquid through a sieve into the warm shellfish stock. Check the seasoning and place a few tablespoons of the liquid on a cool plate in the refrigerator to check the set point (you are looking for a soft jelly set).
Line the terrine with cling film and dip the large outer leaves.
Line the terrine with enough overlap to fold over and cover the top once all ingredients have been placed.
Place all the separate ingredients in bowls, season with salt and ladle over some shellfish stock.
Start by placing a layer of baby leeks, then top with a layer of Mediterranean prawns and leeks; this is then followed by a second layer of leeks and finally a layer of langoustines and leeks.
Spoon in some additional stock and close with the large leeks. Trim off any excess and cover with a lid that can be weighed down.
Transfer to the refrigerator and chill for 24 hours (in a large tray as all the excess liquid will gradually overflow).
Horseradish Cream
Ingredients
15gr fresh horseradish grated
200ml whipping cream fresh
50gr crème fraiche
Pinch of Salt to taste
Juice of half a lemon
Warm 50ml of the cream and add the grated horseradish.
Remove from the heat and allow to infuse. Whisk the remaining cream until you have soft peaks. Season with salt and infused horseradish cream, fold in the crème fraiche and adjust taste with lemon juice.
Decorate the plate with compressed celery, caviar, celery gel and dill tops.