Goose liver parfait
with spiced red wine jelly and pistachio
Photography: Alan Carville Recipes: Chefs Stefan Hogan, Jonathan Zammit, and Mark McBride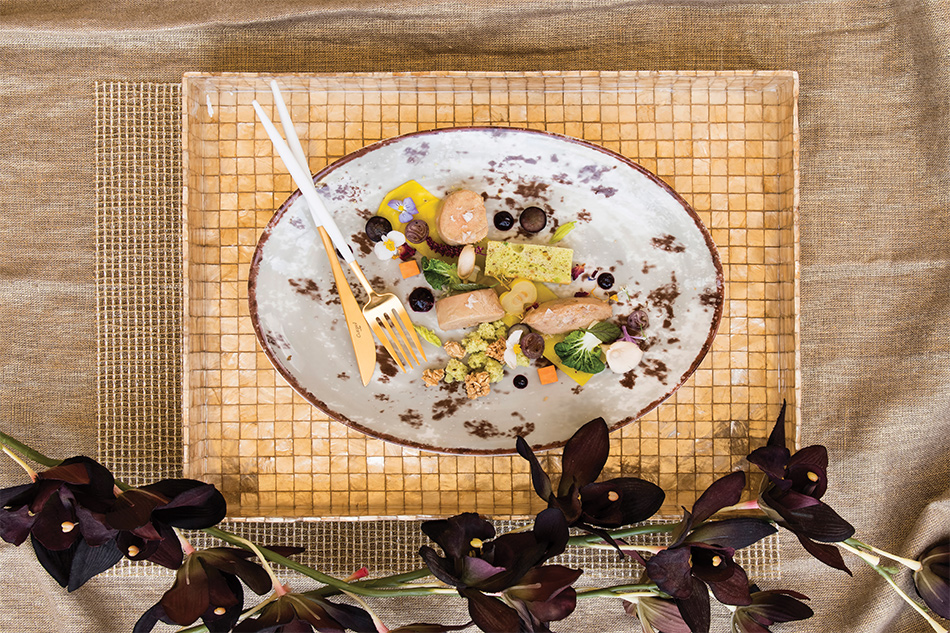 Ingredients for the goose liver parfait
1 lobe of foie gras, roughly 500g
4g of fine salt
1g of ground white pepper
1g of sugar
75ml of Sauternes wine
500ml of duck fat
Ingredients for the Spiced Red Wine Jelly
300ml red wine
½ cinnamon stick
1 star anise
1 juniper berry, crushed
1 black peppercorn, crushed
Few slices of fresh ginger
3 sheets of gelatine
Method:
Mix together the salt, pepper, sugar and Sauternes in a shallow bowl, then marinade the goose liver with this mixture for 14 hours. After the 14 hours, heat the duck fat in a pan to 80°C and carefully poach the marinated foie gras in the fat for 12 minutes. Remove the goose liver from the fat and put onto an absorbent cloth. Place the lobe on a chopping board and make a deep incision with a sharp knife down the centre to expose the veins. Carefully remove the veins by pulling gently, be careful to not break the lobe. Press the goose liver into a cylindrical shape and wrap this tightly with cling film. Chill overnight to set.
To make the red wine jelly, bring the wine to the boil with the spices and reduce by half, and leave to cool slightly. In the meantime, soften the gelatine sheets in a bowl of cold water, strain the wine from the spices into a clean pan and add the softened gelatine. Allow to cool.
Cut the goose liver into small rounds and dress with some good fleur de sel, dot some red wine jelly and decorate the plate with almond granola, pistachio financier, fresh almonds and a yellow beetroot carpaccio. Finish with little edible flowers, blue berries and red wine vinegar pickled shallots.