Peach, Strawberry and Lemon
The Chefs at The Corinthia Palace share some appetising, Middle Eastern inspired recipes for you to try this summer that will have your guests coming back for more. The ingredients lists alone are cause for some serious mouth-watering action! Cool down the spice with some sweet and refreshing desserts.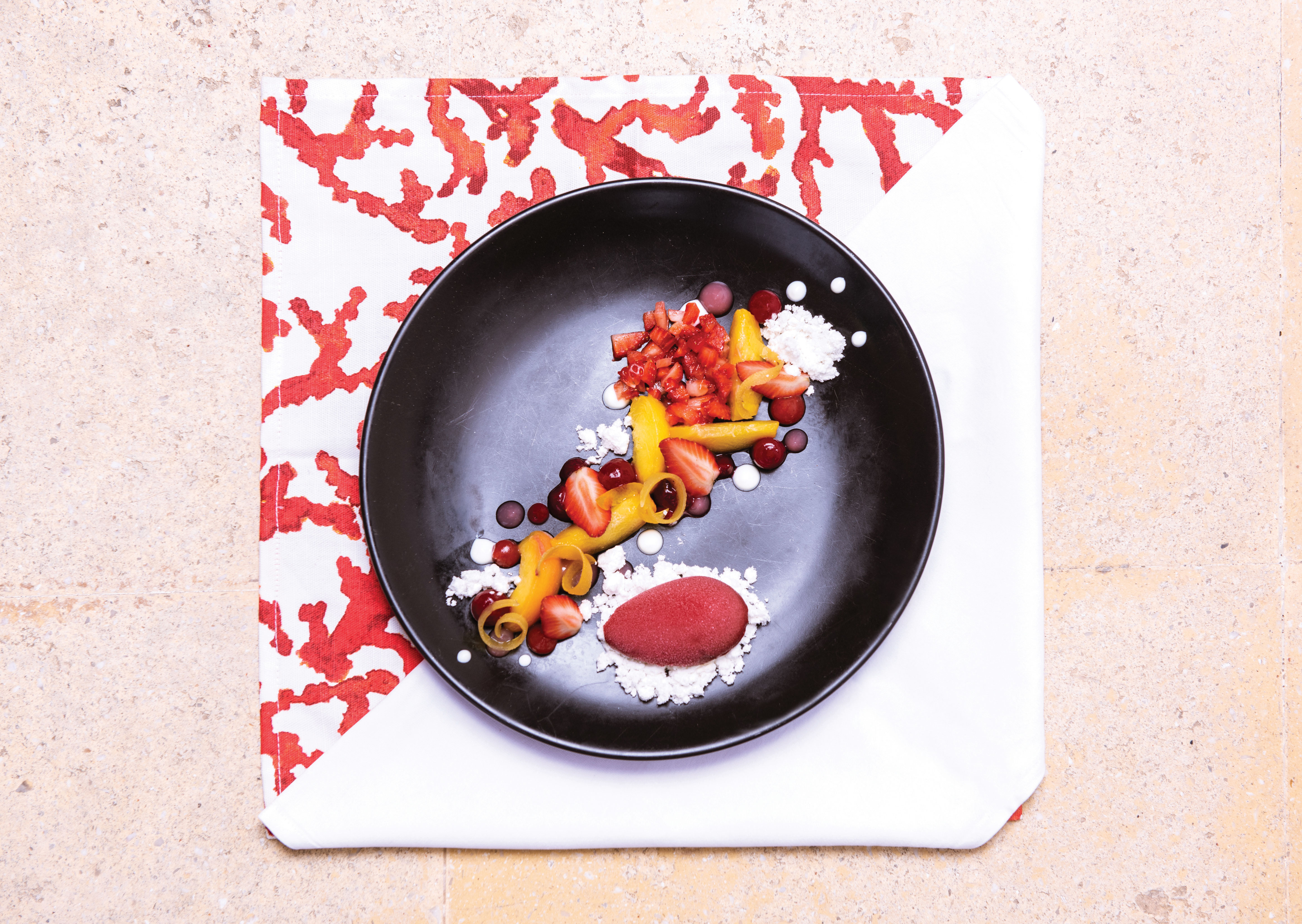 Peach, Strawberry and Lemon
Vanilla Wine Poached Peaches
Ingredients
4-5 ripe yellow peaches
1/2 cup packed brown sugar
2 cups dry white wine
1 vanilla bean
Method
To remove skin from peaches, submerge into boiling water for 30 seconds, then transfer to ice bath for another 30 seconds. Skin should easily peel off. Peel and slice peaches, set aside. In large saucepan, heat brown sugar in white wine until melted. Reduce heat so that your mixture is just under boiling. Split vanilla bean and scrape out those wonderful black seeds. Add all the seeds and the split bean to the wine and sugar mixture. Wipe any remaining seeds stuck to your fingers on the peach slices. You don't want to waste a spec!
Add the peaches to the wine, sugar and vanilla mixture, cover, and poach for 15 minutes. Remove peach slices with slotted spoon. Increase heat to bring liquid to a gentle boil and cook uncovered for 10-15 minutes or until liquid is reduced by half.
Serve peaches with syrup warm, room temperature, or cool. Top with mascarpone and garnish with fresh mint, if desired. Use to top crepes, ice cream, or enjoy on their own.
Grand Marnier Macerated Strawberries
Ingredients
400 fresh strawberries
2 tablespoons sugar
Macerated Strawberries with Grand Marnier
Reduce sugar to 1 tablespoon
2 tablespoons Grand Marnier
Method
Wash, hull, and slice strawberries and place into a large glass bowl. Stir in sugar and allow to stand for 30 minutes for strawberries to release their natural juices, but not so long that they begin to become mush. If using Grand Marnier, citrus juice or balsamic vinegar, add at the same time as sugar.
Candid Lemon Peel
Ingredients
3 to 4 organic lemons, washed
500g sugar
Method
Using a vegetable peeler, remove the peel from the lemon in vertical strips, trying to leave as much of the bitter white pith behind. In a small saucepan, combine the peels with 2 cups of cold water and bring to a boil. Immediately drain, refill the pan with water, bring to a boil and drain again. Repeat this process three times to remove the bitterness from the peel. After the third dunking remove the peels from the pan and set aside.
Measure 2 cups of the sugar into a saucepan, and add one cup of water. Set over medium-high heat, bring to a boil and whisk until the sugar dissolves. Drop in the peels, reduce the heat to medium-low and simmer uncovered until the peels are tender and translucent. Drain and cool the peels. Keep the syrup for other uses.
Lemon Powder
Zest of two lemons
100 Maltodextrin
Strawberry Sorbet
Ingredients
2 lemons roughly chopped
800-900g caster sugar
8kg strawberries
Method
Put the lemon pieces into a food processor or blender with the sugar and pulse-chop until the lemon and sugar have combined to a purée. Tip the mixture into a bowl.
Purée the strawberries and add to the lemon mixture. Add about half the lemon juice, taste and add more if necessary – the flavour of the lemon should be intense but not overpower the strawberries.
Pour into an ice-cream machine and churn until frozen or freeze in a suitable container. You may need to churn the mixture in batches according to the size of your ice-cream machine
Serving: Once all elements are ready proceed to plate as photo.
Photography by Justin Ciappara
Props from Loft, Naxxar
Styling by VAMP Team
The Corinthia Palace
Food by Matthew Agius, Sous Chef.
Dessert by Mark McBride, Head Pâtissier.