Oriental Flavours
Take your taste buds Far East with oriental flavours cooked up by Rickshaw at Corinthia Palace Hotel.
Food by Karen Cutajar / Corinthia Palace Hotel
ORIENTAL FLAVOURS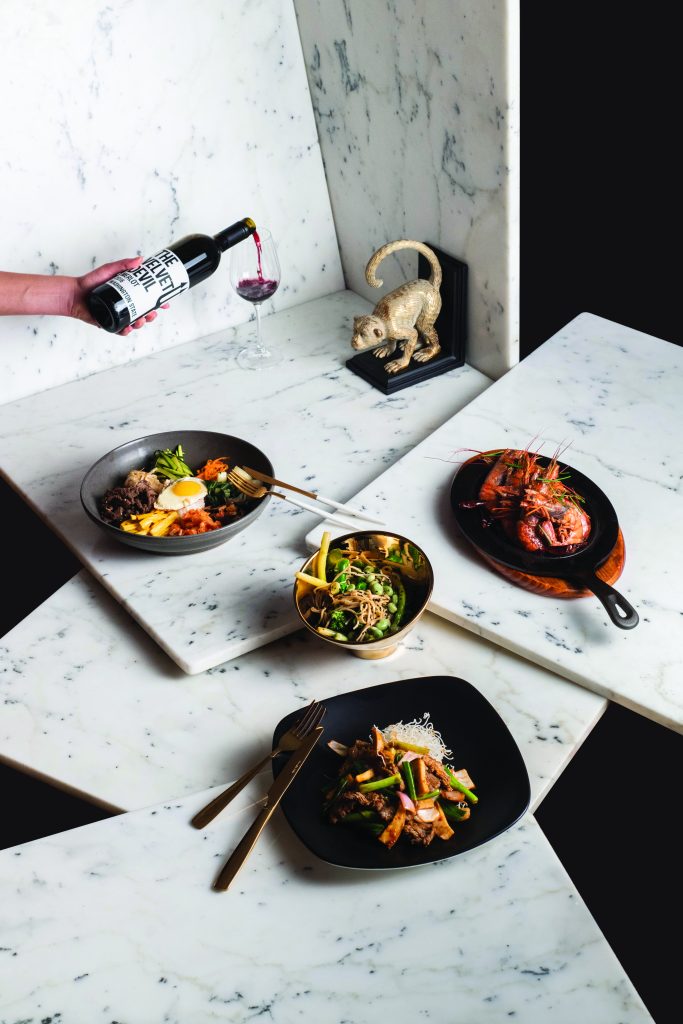 Chicken Yakitori
Skewers
500gr boneless skinless chicken thighs
12 spring onions
Vegetable oil
Yakitori Sauce
140 ml light soy sauce
130ml cup mirin
60ml cup sake
30ml cup water
10gr brown sugar
Soak the bamboo skewers in warm water for half an hour.
In a small saucepan, add the mirin, soy sauce, sake, water, brown sugar, and the green part of 2 spring onions. Bring it to a boil over high heat, once boiling, reduce the heat to low and simmer, uncovered, until the liquid is reduced by half. It will take approximately 30 minutes. The sauce will be thick and glossy. Allow it cool to room temperature before using. Reserve some of the sauce for the final coating.
On a clean work surface, fold each slice of chicken in half, insert into chicken at 45 degrees angle, and press down on the skewer to pierce through the centre alternate with the batons of spring onions to fill the skewer. About three pieces of each should be enough.
Brush the skewers and allow to marinate at room temperature for 20 minutes. Grill over a hot flame and continue to brush until cooked and the glaze has caramelised. Serve sprinkled with toasted sesame seeds.
STEAMED CHICKEN DUMPLINGS
250gr minced chicken breast
85gr shredded green cabbage
40gr spring onion, chopped
8ml fish sauce
Pinch white pepper
2 cloves of garlic finely chopped
15ml soy sauce
4ml sesame oil
8gr fresh ginger grated
16-20 dumpling or wonton wrappers
Vegetable oil for frying
Soy sauce for dipping
Place the minced chicken, fish sauce, pepper, garlic, soy sauce, sesame oil and ginger into a food processor, pulse until you have a smooth paste.
Transfer the mixture to a bowl and add the cabbage and spring onion, mix well
Divide the mixture among the wrappers, you should have enough to make around 20 dumplings.
Brush the edges of the wrapper with water. (This helps it stick together.)
Fold up as if making a ravioli.
Steam for five minutes and transfer to a non-stick pan that is already hot add a drop of oil and cook until the bottom has crisped up serve immediately with soy sauce for dipping.
Ukoy with Prawns
Chilli Vinegar
2 red chillies chopped
1 garlic clove finely chopped
25gr onion finely chopped
65ml white vinegar
Pinch of rock salt
Mix and refrigerate overnight.
Ukoy
1 large sweet potato peeled and grated
4 carrots peeled and grated
Kosher salt
2 ltrs vegetable oil
150 ml sparkling water
8ml fish sauce
300gr cornflour
110gr baby prawns, chopped
Chopped coriander bunch
Place the grated sweet potato in a bowl and season with salt to soften allow to sit half an hour, then rinse in cold water and drain, pat dry to remove all excess moisture.
Pour the vegetable oil into a large heavy pot allow enough room as when you initially place the fritter they will bubble as they cook.
Meanwhile, combine the sparkling and fish sauce in a mixing bowl add the cornflour and whisk until smooth. Place the sweet potato and carrot mixture, prawns and coriander in a bowl and add the batter to coat all the vegetables.
Using a perforated spoon, carefully lower a heaped spoon of batter into the hot oil. Once the bubbling subsides, the batter will disperse across the surface of oil. Using a spider push the batter to one side until they form a large mound that clings together and can be flipped. Continue to fry, turning occasionally and increasing heat as needed to keep oil temperature hot keep cooking until the fritter is golden brown and crisp around edges, it will probably take around 5 minutes.
Transfer onto a wire rack set over a tray to collect excess oil as it drips off. Repeat process until all the batter has been cooked. Season fritters lightly with salt.
Serve with chile vinegar alongside for dipping.
Bibimbap
1 cucumber cut into strips
250gr bok choy, cut into thick strips
Bamboo shots
1 carrot cut into strips
200gr kimchi, cut into strips
50gr hot chili sauce
Handful of bean sprouts
150gr shitake mushrooms, sautéed with soy sauce
15ml soy sauce
60ml vegetable oil
Garlic clove grated
2gr red chili flakes
300gr sliced beef strips
4 eggs
500gr cooked rice
10gr toasted sesame seeds
15ml sesame oil
Mix the cucumber sliced with a pinch of salt and 10gr of the hot chili sauce, set aside.
Bring about 200ml of water to a boil in a large non-stick pan and stir in bok choy and cook until lightly wilted, 1 to 2 minutes. Drain and squeeze out as much moisture as possible; set aside in a bowl and season with a dash of stir soy sauce.
Heat 1 teaspoon oil in large non-stick pan and cook carrot strips until soft, about 3 minutes; stir in the garlic and cook just until fragrant, about 1 more minute. Transfer to a colander to drain off any excess moisture.
Wok fry the beef strips over a high flame season with some chili flakes and a dash of soy sauce and set aside.
Drain the bamboo shoots and season with a teaspoon of chili sauce and a pinch of chili flakes.
In a separate non-stick frying pan, heat 5ml oil and over medium heat fry the eggs just on one side until yolks are runny but whites are firm.
To assemble the dish, divide cooked rice into 4 large serving bowls; dress around the side of the rice the carrots, cucumber, beef, bok choy, bamboo strips, kimchi and the sautéed mushroom and beef strips. Place 1 egg on top of each serving. Drizzle each bowl with sesame oil, and toasted sesame seeds.
Szechuan Chili Prawns
35 pieces king prawns
4 spring onions sliced
1 fresh red chilli thinly sliced
6 dried red chillies
3 garlic cloves finely chopped
For Sauce
25ml fish stock
30ml Soy Sauce
45gr Chilli paste
15gr sugar
Devein & wash the prawns and pat dry put to the side.
Heat oil in a wok or large non-stick frying pan, when hot, add spring onion, red chilli and stir fry for 2 – 3 minutes, add the chopped garlic to it and cook for 30 seconds. Transfer to a bowl keep to the side. Wipe the wok/frying pan and add some more oil throw in the prawns and stir fry for 1-2 minutes or until they turn red.
Add the dried chillies, chilli paste, sugar and the cooked spring onion mix, stir into the prawns and keep moving them around the pan. Continue to cook for a few minutes until the sauce has thickened and coats the prawns. Spoon onto the serving plate and scatter some chives on top to garnish.
Beef and Ginger
350gr beef tenderloin thinly sliced
1 large piece fresh ginger peeled and sliced
3 garlic cloves finely chopped
I onion diced
Small bunch spring onion trimmed to batons
30ml rice wine
15ml oyster sauce
30m light soy sauce
Pinch salt
25gr brown sugar
60ml vegetable oil
Heat the oil in a wok or large non-stick frying pan add the ginger and fry till soft and fragrant, remove with a slotted spoon and drain. Remove some oil and when smoking hot wok fry the beef (ideally in batches) and remove onto draining paper. Once all the beef has been cooked. Return the pan to the heat and add some oil if necessary, throw in the onion, cook for two minutes until they just start to soften. Now add the garlic, deglaze with the rice wine and allow to reduce. Add the cooked beef, oyster sauce, soy sauce, sugar and salt (to taste) as well as the cooked ginger, reduce the sauce to a syrup consistency that just coats the beef slices. Just before serving add the spring onions and move around the pan to just wilt and become fragrant, serve piping hot with noodles