Paella perfect
Often described as the national dish of Spain, paella originated in an area of Valencia on the eastern coast...
PHOTOS: GILBERT BRAY - WOTZMEDIA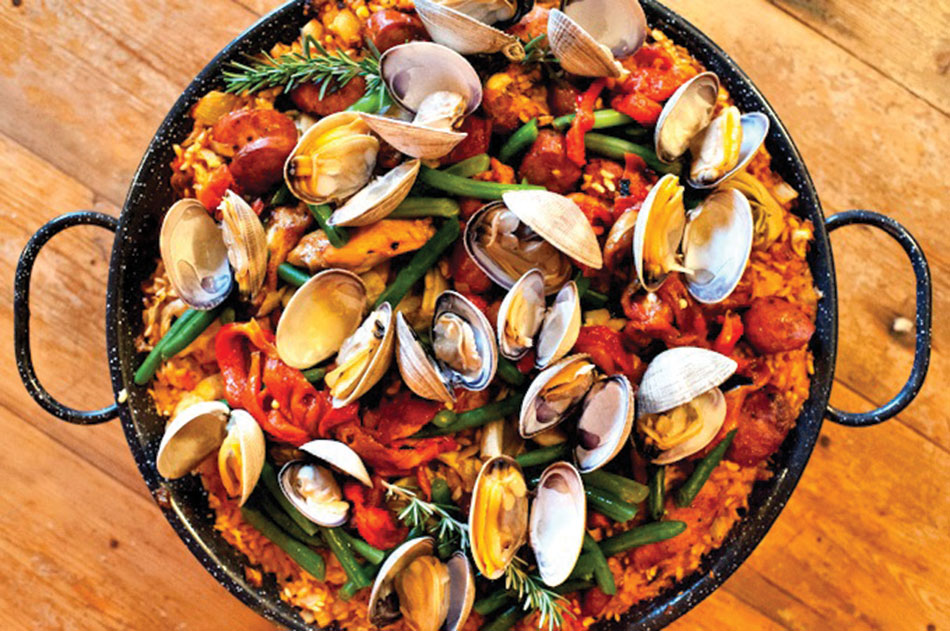 There are as many versions of paella as there are cooks in Spain… here are two classics you will love!
"There is no better way to enjoy a meal than to share a big dish between friends. Chef javier rocomonde reveals the secrets for making the perfect paella."
SEAFOOD PAELLA
Serves 4
Ingredients:
100ml virgin olive oil
1/2 onion, grated
1 tomato, chopped
250g cuttlefish
250g squid
8 mussels
4 shrimps or crawfish
8 strands saffron
½ tsp sweet paprika
1 litre fish stock
400g Valencian rice
Preparation:
Place a pan over a medium heat, pour in 100g of virgin olive oil and, when hot, add squid and cuttlefish. Stir continuously to prevent sticking and once fried, add tomato and grated onion. Cook for 2 minutes then add prawns and mussels, fry for a further 2 minutes, add the sweet paprika, saffron and fish stock and salt to taste and when it starts to boil, add the rice.
The paella is ready after the rice has been cooked for 15 to 20 minutes.*
PAELLA VALENCIANA
Serves 4
Ingredients:
600g chicken thighs or breast – cut into small cubes
400g rabbit – cut into small cubes (optional)
250g fresh flat green beans
200g fresh lima beans (if using dried beans, soak for 2 hours before use)
1 tomato, finely chopped
150ml virgin olive oil
8 strands saffron
1 tsp sweet paprika
1 litre mineral water
1 clove of garlic, crushed
salt
400g Valencian rice
Preparation:
Place a pan over a medium heat, pour in 150g of virgin olive oil and once hot, add chicken and rabbit and fry. When well cooked, add tomato, flat green beans, lima beans and garlic and fry for a further two minutes. Add the sweet paprika and saffron, and then add water until the pan is almost full and allow to reduce by half. Add salt to taste. Add the rice and cook until the liquid has been absorbed.
* It is very important that the rice is not cooked for more than 20 minutes. If it appears to be cooking too slowly, increase the heat.
SPANISH OMELETTE (Tortilla Española)
Serves 4-6
The tortilla can be eaten hot or cold and is frequently served as a snack (tapa) or picnic dish throughout Spain. As a tapa, it may be cut into bite-size pieces and served on cocktail sticks, or sliced into portions (pincho de tortilla). Other ingredients, such as green or red peppers or other vegetables, chorizo, tuna or shrimps, can be added. It can also be made without onions.
Ingredients:
800g potatoes, thinly sliced or diced
6 eggs
olive oil
salt
1 onion, diced
Preparation:
Fry potatoes and onion in olive oil until soft but not browned. Remove from pan, drain and mix with the eggs and a pinch of salt. Return the mix to the pan and slowly fry on one side, then flip to cook the other side. Serve on a plate or vuelve tortillas – a ceramic or wooden lid-like utensil made for this specific purpose.
These recipes were tried and thoroughly enjoyed by
the Vamp team – at Cañas y Tapas, St George's Bay,
St Julian's. For more information or to book,
call 2137 7753 or 2138 0040. www.canasytapas.com.mt