Party chow
The most wonderful time of the year is approaching. I love christmas and all the hustle it brings with. You know how it is: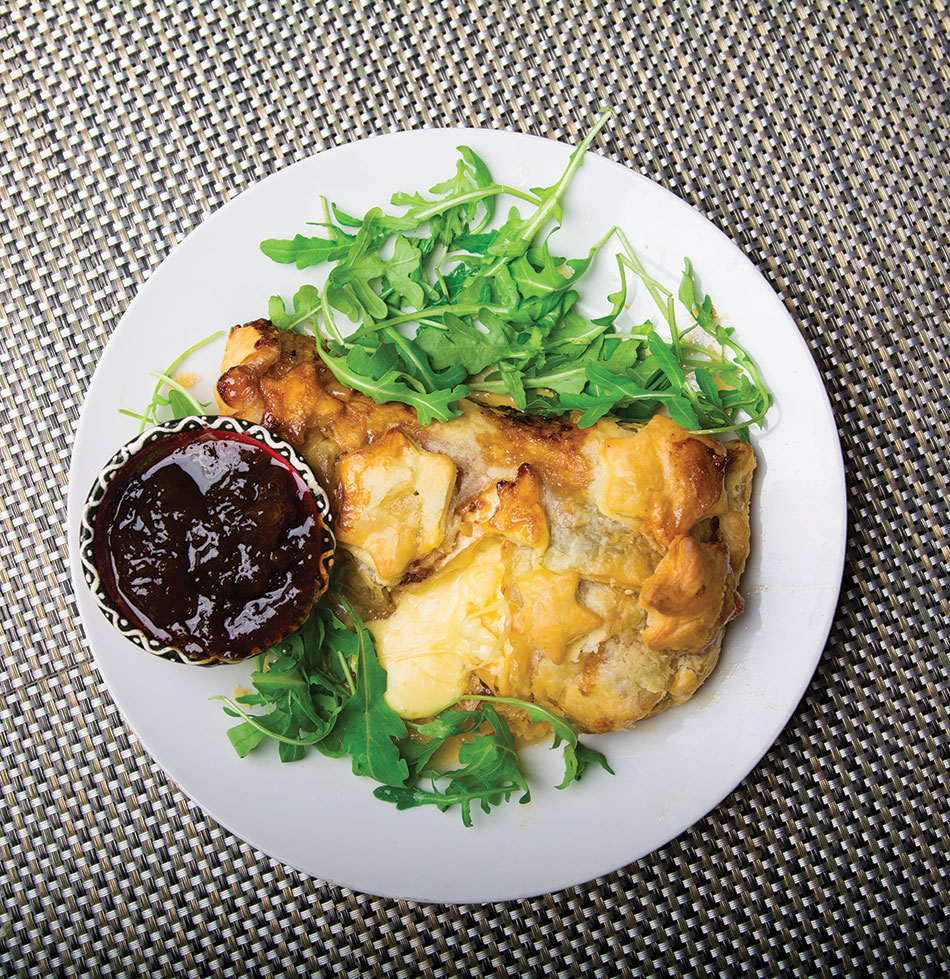 friends and family popping around for a drink or two. You're invited over and would like to take a little something with you. Let's make things easier for you, so you won't need to slave away for hours but can still enjoy the fact that you made it all yourself. You'll still have plenty of time to focus on the important stuff – the catching up! I've prepared some great yet simple and quick recipes you can whip up in no time! – Chrys mangion from mummies yummies
BRIE & MARMALADE WRAPPED IN PUFF PASTRY
1 portion/ triangle of Brie
2 tablespoons of marmalade – mine was homemade,
with ginger which adds extra spice to the flavour.
Option: choose any flavour jam you prefer.
1 sheet ready-rolled puff pastry
Open the ready-rolled pastry, leaving it on its own greaseproof paper. Place Brie in the centre, cover with marmalade or jam of your choice and fold over the pastry. Trim excess. Bake in preheated oven (170ºC) for around 20 minutes till golden brown. Serve immediately.
PEAR WRAPPED IN PARMA HAM
2 medium-sized pears
12 slices Parma ham
3 tablespoons cream cheese or herb-flavoured cheese
handful of rocket
Cut pears into six sections. Core pear and add scoop of cream cheese into indentation. Place a few rocket leaves on top and wrap in Parma ham.
TOASTED PITA BREAD WITH RICOTTA, POMEGRANATE & ORANGE ZEST
Toast the pita bread to make it super crunchy like a biscuit. You can also bake it in the oven but make sure to cut it into the desired shape beforehand, as it will break if you try when it is crunchy! Mix around half a tub of fresh ricotta with half the zest of an orange and some seasoning. Smear onto you pita bread and decorate with pomegranate and more orange zest.
MIXED CHEESE AND GRAPE TREE BOARD
Nothing says festive like a Christmas tree! Cut up blocks of various cheeses into squares and mix with grapes or cherry tomatoes and sprigs of herbs for the ultimate cheese board with a festive twist.
SOFT CHEESE WITH CRUSHED ALMONDS
2 tubs cream cheese
2 spring onions, finely chopped
6 slices speck or smoked ham, very finely chopped
A handful of crushed almonds, almond flakes or any
nut you prefer
Method: Mix cream cheese with finely chopped spring onion and speck. Season with salt and pepper and roll into a ball. Place crushed almonds on a plate and roll the cheese ball till completely covered. Keep chilled until serving time.
MUSHROOMS STUFFED WITH MALTESE SAUSAGE
½ tub cream cheese
1 handful grated Parmesan cheese
1 Maltese sausage, skin removed and crumbled
One small onion and one garlic clove, both finely chopped
1 egg yolk
20 small to medium-sized button mushrooms
Method: To make stuffing, fry onion until softened, add sausage meat and garlic. Allow to cool, then add cream cheese, Parmesan and egg yolk. Stuff mushrooms with filling and bake in oven for 20 minutes. Allow to cool to room temperature before serving.
RED PEPPER PESTO PALMIERS
Ready-rolled puff pastry, cut into rectangular shape
2 tbsp red pepper pesto/or any other pesto
2 handfuls grated cheese: I used Emmental
Method: Open ready-rolled pastry and smear pesto all over. Sprinkle with cheese. Pull in both sides of the pastry to the centre, fold again and again until you have what looks like two cylinders attached at the middle. Cut palmiers into 3cm thick slices and place on baking sheet lined with greaseproof paper. These will double in size so make sure to give them enough space. Bake in pre-heated oven for around 10-12 minutes until golden brown. Store in an airtight container if not being used immediately.