Rainbow cuisine
When 23-year-old carlos buttigieg, head chef at il-horza restaurant, was challenged to create a south african-inspired meal...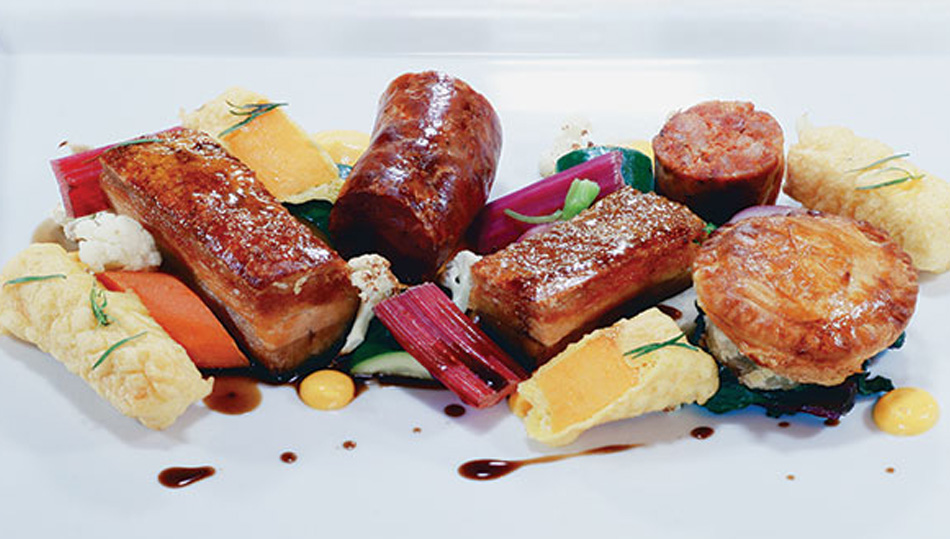 he agreed without a moment's hesitation. Here's what he came up with – and it tasted as good as it looked! The recipes can be tried at home or, even easier, we suggest that you dine at il-horza for a tasty and creative meal and a good time guaranteed!
All recipes serve 4
CRISPY PORK BELLY GLAZED WITH CURRIED AGAVE SYRUP
500g pork belly
10g mild curry powder
50ml agave syrup
100g salt
bunch thyme
5 cloves garlic, crushed
Method:
Rub the pork belly with salt all over then rub the pork with the thyme and garlic, wrap in layers of cling film and leave for 2 hours. Then remove the cling film and wrap with baking paper and a single layer of aluminium foil, and cook for five hours at 50ºC. For the curried agave syrup, heat the agave syrup to 50ºC, until approaching the boil, remove from heat and stir in the
curry powder.
BOEREWARS (A popular South African sausage)
100g shoulder of pork
100g pork belly trimmings
2tsp paprika
10mg smoking essence (found at supermarkets)
50mg BBQ sauce
Method:
Mince the pork and add the spices and other ingredients then fill sausage skin with the pork mince and form the sausages. Blanch for five minutes in white wine and then cook under a medium grill until browned.
INDIVIDUAL OXTAIL & CORIANDER PIES
200g oxtail
2ltr red wine
1 onion
2 cloves garlic
2 carrots
1 stick of celery
1 tbs coriander, chopped
1 egg – separated (use only the white)
1 sheet ready-rolled frozen puff pastry
Method:
Braise the oxtail in red wine and mirepoix* for 4-5 hours. When tender, remove the meat from the bone and strain the liquid. Cut the vegetables into a small cubes and pan fry in a knob of butter, add the oxtail and liquid and simmer over low heat until the liquid is reduced by half. Add coriander and allow to cool. Take the sheet of puff pastry and brush with lightly beaten egg white. Using a 5cm round cutter, cut bases and tops for the individual pies. Place a spoonful of pie filling in the centre of the base, cover with a top and press down sides to seal. Place on baking sheet and make a 2cm-long slash in the top of the pie with a sharp knife to allow air to escape during cooking,  place in an oven pre-heated to 200ºC and bake for 10 minutes.
* this is a combination of finely chopped carrots, celery and onions used to add flavour and aroma to the stock.
SWEET POTATO PUREE
250g sweet potato
100g butter
100ml chicken stock
pinch of salt
pinch of pepper
50ml cream
Method:
Boil the sweet potato in the chicken stock until soft, drain and place in a blender with cream, butter and seasoning and blitz until a smooth purée.
TEMPURA SWEET POTATO
1 sweet potato
100g plain flour
50g cornflour
2 egg yolks
150ml sparkling water
1tsp baking powder
pinch of salt
pinch of pepper
100ml milk
Method:
Cut the sweet potato into batons approximately 5cm in length and 1cm in height.Put all the ingredients in a bowl and blend until a smooth consistency, and place in a fridge for 30 minutes. Blanch the sweet potato in the milk for 3 to 5 minutes, allow to cool. When ready, dip the sweet potato in the tempura mix and fry in a deep fat fryer.
Assembling the dish: Crisp the pork belly in a pan, when crispy put in a tray and continue in the oven. When ready, glaze with syrup. In another tray cook the pie and sausage, heat any vegetable garnish and sauce, then fry the tempura.
These recipes are inspired by South African cuisine using Maltese produce – Obviously, we are not a South African restaurant, but it was a great challenge for us to create an African-inspired meal. il- Horza lives by one rule: 'Always prepare your food from scratch with fresh ingredients!' And that is what we did. Patron Charles Bone and I thank Vamp magazine for choosing our restaurant!"