Roast Haunch of Venison
with Blackberry and Red Wine Jus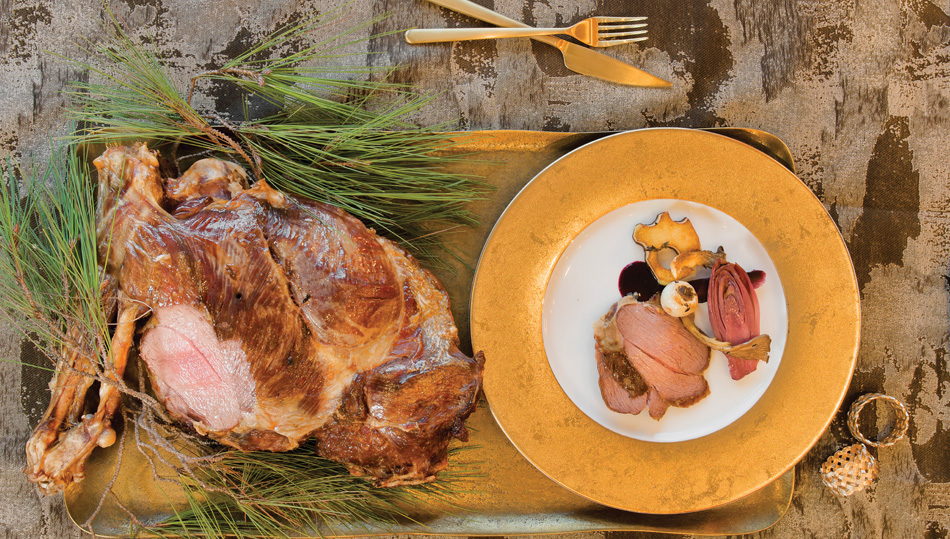 1 haunch venison, around 4 kg
pork fat, sliced (to keep the joint moist during roasting)
For the marinade:
1 litre good red wine
2 bay leaves
2 sprigs rosemary
2 sprigs thyme
8 juniper berries
10 peppercorns, crushed
1 onion, sliced
1 carrot, chopped
1 garlic, head cut in half
For the sauce:
60g red currant jelly
200g blackberries
Method
Mix the marinade ingredients together in a large bowl, add the venison haunch, and allow to marinate in the fridge overnight.
Remove the joint from the marinade and drain the vegetables. Heat a pan, add some oil, and lightly fry the vegetable mixture. Once browned, transfer to a baking dish and place the haunch on top. Season the venison with salt & pepper, and cover with the pork fat. In a pre-heated oven set at 190C, place the leg to roast. It will take approximately 1½-2 hours to roast.
Place the red wine in a pot and reduce by half. Remove the roast from the oven and allow the haunch to rest. Drain the juices and strain through a fine sieve. Add the juices to the red wine and return to the heat. Add the red currant jelly and the blackberries. Once the berries are soft, blend and pass the sauce through a fine sieve. Add the butter and whisk in; adjust seasoning if necessary.
Carve the venison and serve with vegetables and potatoes of your choice.