Roasted heritage carrot
freekkeh and fava bean pilaff, lentil and coriander purée, red kidney and chickpea falafel, carrot cumin jus, smoked almond and sumac crumble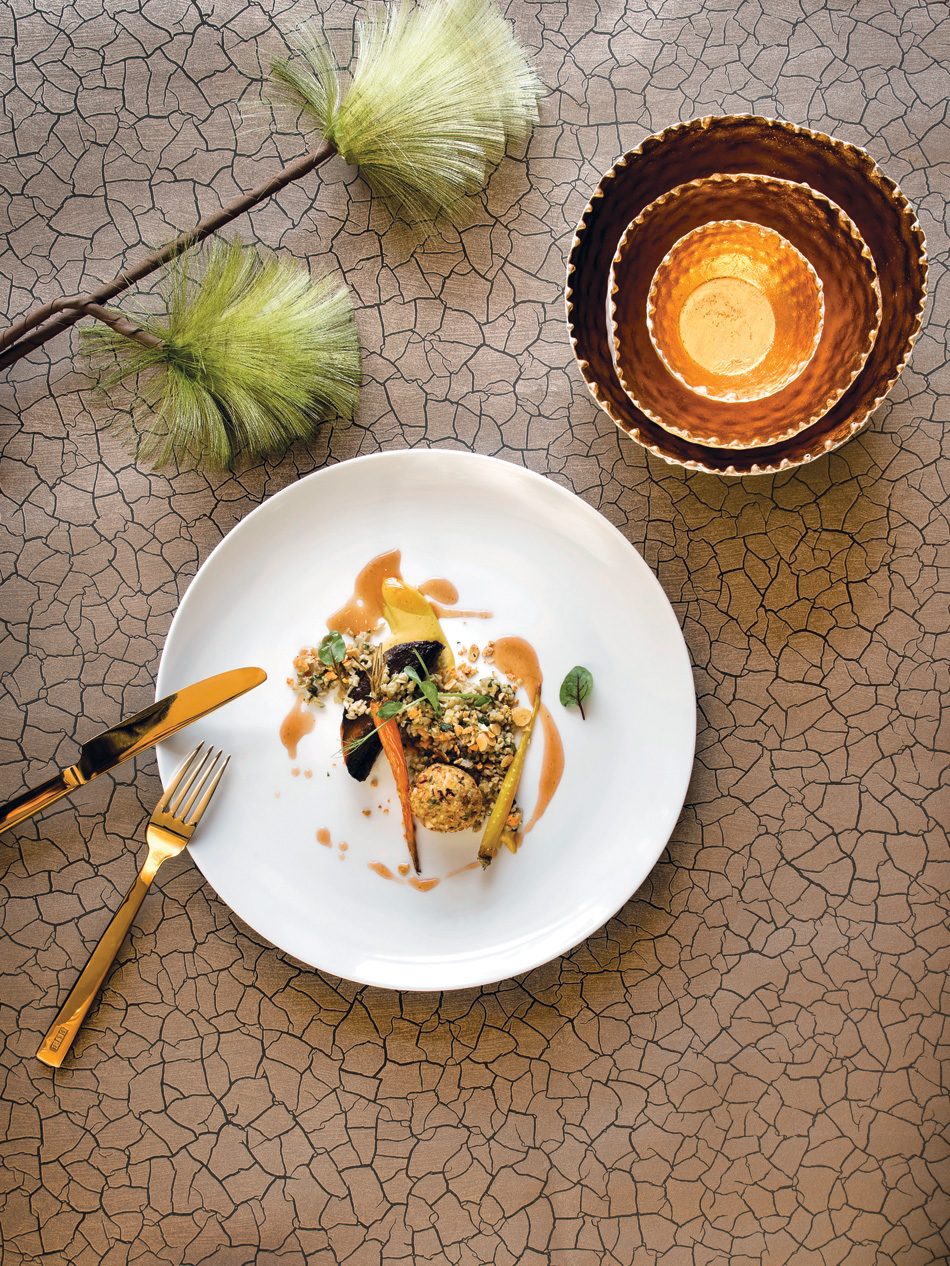 Freekeh and Fava Bean Pilaff Ingredients:
70g freekeh
50g carrots, brunoise
50g onions, brunoise
30g celery, brunoise
1 garlic clove, finely chopped
15g ground cumin
15g fresh coriander, chopped
60g fava beans (soaked overnight)
180ml vegetable stock
Lentil & Coriander Purée Ingredients:
100g red lentils
½ onion
½ celery stick
50g carrot
100ml almond milk
15g ground coriander
15ml olive oil
50g almond butter
Falafel Ingredients:
50g chickpeas, soaked overnight
25g red kidney beans, soaked overnight
20g onion, chopped
1 garlic clove
5g ground coriander
5g ground cumin
5g chili powder
15g coriander fresh, chopped
5g baking powder
Vegetable oil for frying
Carrot & Cumin Jus Ingredients:
100g red lentils
400ml carrot juice
½ lemon juice
3g ground cumin
5ml apple cider vinegar
Method for Freekeh and Fava Bean Pilaff:
Place the onions, carrots, celery and olive oil in a large heavy-based pot and sauté on medium heat, stirring occasionally, for 5-10 minutes. or until the onion is soft. Meanwhile, soak the freekeh in cold water for 5 minutes. Drain in a sieve and rinse well under cold running water. Drain well.
Add the freekeh, ground cumin and fava beans to the onions, followed by the stock, and season with salt and pepper, stirring well. Bring to the boil, then reduce the heat to a bare minimum and leave to simmer for 15 minutes. Ensure that fava beans are cooked. Remove the pan from the heat and leave it covered for 5 minutes. Finally, remove the lid and leave the pilaf to cool down a little, about another 5 minutes. Stir the chopped coriander into the warm pilaf. Taste and adjust the seasoning.
Method for Lentil & Coriander Purée:
Cook red lentils with the onion and celery until lentils are soft. Remove the onion and celery, drain the lentils (keep some of the cooking liquid to this purée to desired consistency).
In a pan heat the olive oil, lightly sauté the carrot and add the red lentils. Toast the ground coriander and add to the pan. Add some liquid and continue to simmer until carrot is cooked and then blend with the almond milk. Adjust seasoning, mix in the almond butter and keep warm. Add some reserved liquid if purée becomes stiff.
Method for Falafel:
Pulse the red kidney beans and remove from the blender. In the same blender pulse the chickpeas with the onions, garlic, spices and the fresh coriander. Add the red kidney beans and pulse. Remove from the blender and refrigerate. Make a small patty and fry to check consistency and seasoning. Adjust as necessary.
Method for Carrot & Cumin Jus:
Toast cumin in a dry pan, add the carrot juice, turn down the heat and reduce until a syrup consistency is achieved. Add lemon juice and cider vinegar, check seasoning and strain through a fine sieve. Keep warm until ready to serve.