Roe Deer Bresola
with fig chutney, goats cheese & pine needle smoke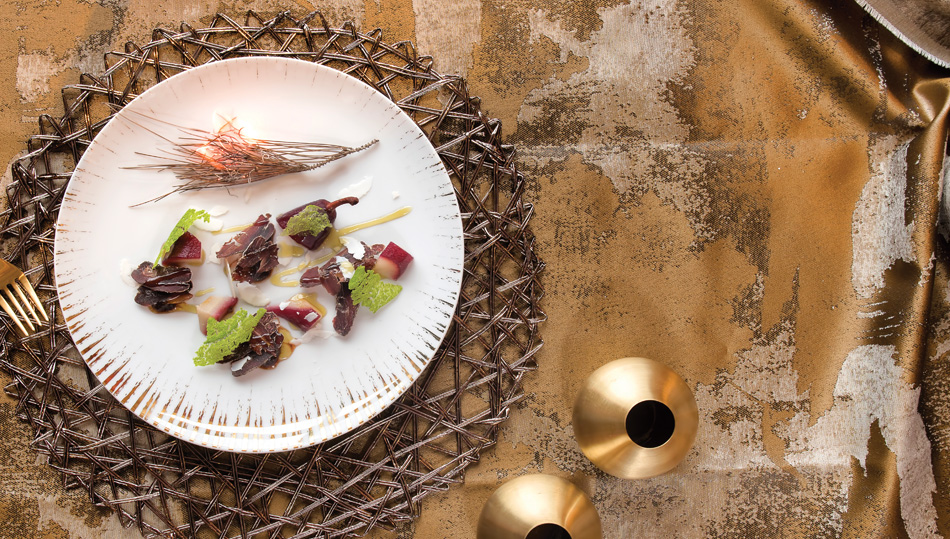 Fig Chutney
10ml vegetable oil
1 large red onion, peeled & finely chopped
2cm piece of fresh ginger, peeled & grated
120g dark brown sugar
125ml apple cider vinegar
1 lime juice and zest of
100g dried cranberries, diced
½ tsp mustard seeds
1 small cinnamon stick
2g ground allspice
3g tsp salt
1 stick lemon grass
450g fresh figs, stemmed & diced
Method
In a sauce pan, heat the oil over a medium flame. Add the onions and cook until translucent, and keep stirring to avoid any browning.
Add all the other ingredients except the figs and simmer for around 20 minutes. Then add the figs and reduce the heat. Keep cooking and stirring until the mixture acquires a jam-like consistency.
Decorate the plate with pears poached in mulled wine, shavings of dried goats cheese, honey olive oil dressing and pistachio crisp.