Something scandi
Executive Chef Stefan Hogan and Sous Chef Jonathan Zammit at Corinthia Palace Hotel & Spa cook up an outstanding Scandinavian inspired menu...
Recipes: Executive Chef Stefan Hogan & Sous Chef Jonathan Zammit Photography: Kris Micallef Tableware: LOFT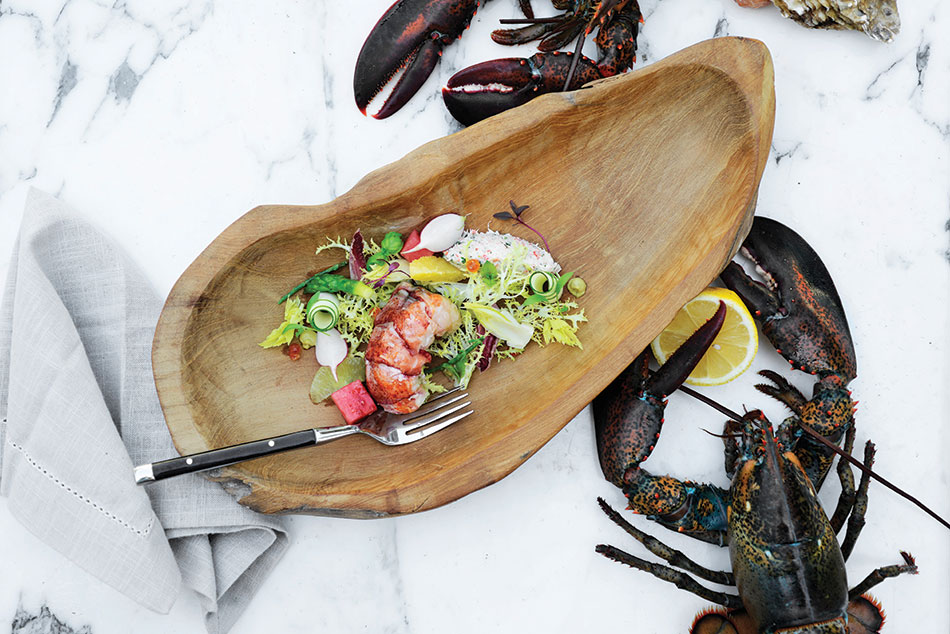 LOBSTER & CRAB SALAD
Ingredients:
2 x 800g lobster tails, cooked, refreshed cleaned and trimmed
200g white crab meat
2cm piece of ginger, peeled and grated
Chives, snipped
Dill, chopped
Juice of ½ lime
30g sour cream
15g mayonnaise
Pinch, cayenne pepper
Ingredients for the Garnish:
A few radishes, cut into wedges
1 peeled & cleaned lemon, cut in segments
1 peeled & cleaned orange, cut in segments
Assortment of leaves (frisee, red chicory, celery, mint, basil, micro cress)
Some cucumber, sliced
Some blanched samphire, (sea asparagus)
Some watermelon, cubed
Ingredients for the Dressing:
Chardonnay vinegar
Olive oil
Mustard
Salt
Pepper
How To:
Mix the crab meat with the ginger, cayenne, sour cream and mayonnaise. Check the seasoning and correct if necessary. Just before serving, season with the lime, dill and chives (no more than 20 minutes before eating, as herbs will start to discolour). Shape into a quenelle using two spoons dipped in warm water.
For the Dressing:
Whisk together all of the ingredients and dress just before serving.
For the Garnish:
Place all the chopped ingredients and assortment of leaves on to the plate.
PAN SEARED VENISON WITH BLACKBERRY & LIQUORICE JUS
Ingredients:
800g venison fillet
Few sprigs of thyme
30ml olive oil
50g butter
60ml red wine
1tsp liquorice syrup
200ml meat jus
20g red currant jelly
80g black berries (halved)
30g butter
How To:
In a pan heat the oil and sear the fillet. Add the thyme sprigs and lower the heat. Then add the cold butter, foam and baste the fillet, turning over. Remove from the pan and leave to rest.
Deglaze the pan with the red wine and reduce until it's a syrup consistency. Add the liquorice syrup and meat jus, simmer and reduce, strain, and then correct the seasoning. Just before serving, warm the sauce through, add the butter and swirl to thicken and glaze. Throw in the black berries, check the seasoning and correct as needed. Serve with braised red cabbage, port braised shallots, roasted beets, maple glazed purple carrots and a spiced butternut squash puree.
SWEDISH SAFFRON RICE PUDDING
Ingredients:
240g pudding rice
½ teaspoon salt
550ml milk
350ml cream
Few saffron strands
5ml vodka
45g sugar
Few drops of elderberry essential oil
How To:
Place the rice, salt and 350ml of the milk in a pan and simmer over a low heat until the milk has been absorbed. Add the cream and continue to cook until creamy. Then remove from the heat and adjust to the desired consistency with the remaining milk. Dissolve the saffron in warm vodka and pour into the pudding to infuse and colour.
Allow to set and use cutters to get the desired shapes. Serve with assorted berries, vanilla cream and micro greens to decorate and impress.