Strawberries & White Chocolate
Sweet treat yourself with this gorgeous recipe from the Corinthia Palace Hotel chefs.
Executive Sous Chef Jonathan Zammit, Chef de Partie Victor Vella & Chef de Partie Reuben Borg from Corinthia Palace Hotel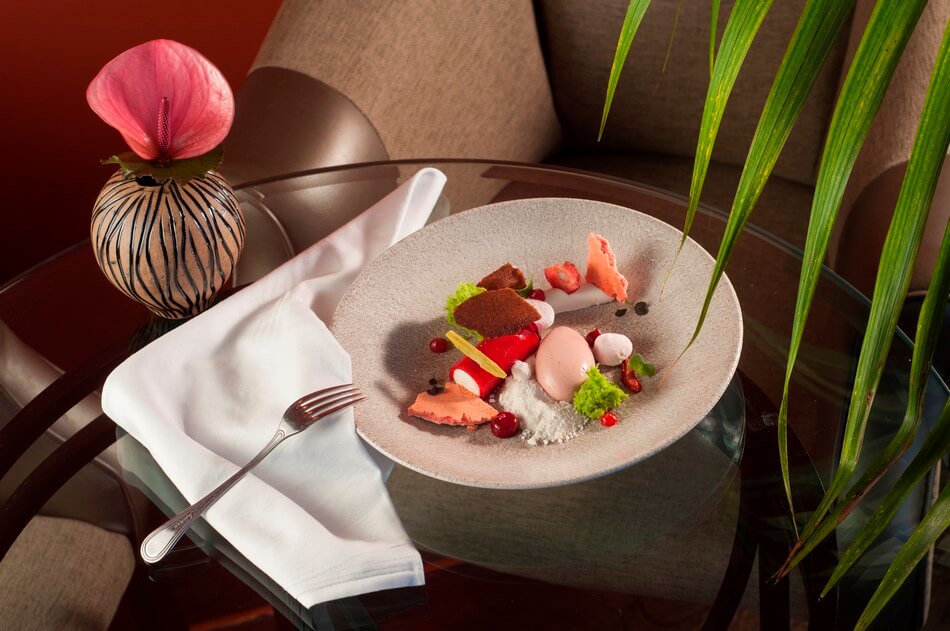 Ingredients
Strawberry sorbet
166g strawberry purée
150g water
25g trimoline
40g sugar
1g gellan gum
White chocolate mousse
60g white chocolate
1/2 gelatine leaf
17g cream
7g icing sugar
85g cream, soft whipped
Method
For the sorbet, bring all the ingredients to a boil (they must reach 176° C), allow to cool and churn in a small ice cream machine. Transfer to a bowl and place in a freezer, covered until ready to serve.
For the white chocolate mousse, melt the white chocolate in a bain-marie, then leave to cool slightly. Dissolve the gelatin by warming the cream slightly and stirring in the gelatine to dissolve. Combine with the icing sugar and add the cooled chocolate to the cream. Strain into a bowl set over ice, and once the mix has semi-set, fold in the semi-whipped cream, pour into desired moulds and chill well.
Serve with home-dried strawberries, pistachio powder, strawberry gelee and pistachio sponge.