Tasty Palates
Fire up your taste buds with these tantalising recipes
HERITAGE TOMATOES, WATERMELON & GOATS CHEESE
Ingredients
Selection of heritage tomatoes (yellow, cherry, black, bull's heart tomato)
1 watermelon
4 spring roll wrappers
1 egg yolk
4 pieces Maltese fresh goats cheese
Pinch of salt
Micro cress, assorted for decorating
Good quality olive oil
Oil for frying
Spring Pea emulsion
100g frozen peas (reserve 30g to add in at the end to add texture)
20g olive oil
30ml cream
Brush the edges of the 4 spring roll wrappers and roll them around a metal rod. Chill them for 20 minutes then deep fry in hot oil until golden brown. Allow to cool, and remove the 4 pieces from the rod.
Blend the fresh goat's cheese with some of the liquid from the goat's cheese and season with olive oil and a pinch of salt. If it's too runny, place in a strainer and refrigerate to remove some liquid, it should have the consistency of whipped ricotta. Transfer to a piping bag and refrigerate.
Peel the watermelon and cut a few thick slices (2-2.5 cm) with different sized cutters, cut out three discs per plate, put the rest of the watermelon in a vegetable juicer, and marinate the discs in the watermelon juice overnight. We place the discs and juice in a vacuum bag so the juice is absorbed into the melon, thus the deep ruby colour.
Cut the tomatoes into interesting shapes, drizzle them with a fragrant olive oil, and season with salt.
To dress the plate, arrange the tomatoes, melon and the pastry filled with goats cheese, decorate with the cress.
Serve with a spring pea emulsion. This is made with pea juice, blended with frozen peas and strained, warmed through with olive oil and a dash of cream. Add some whole peas for texture.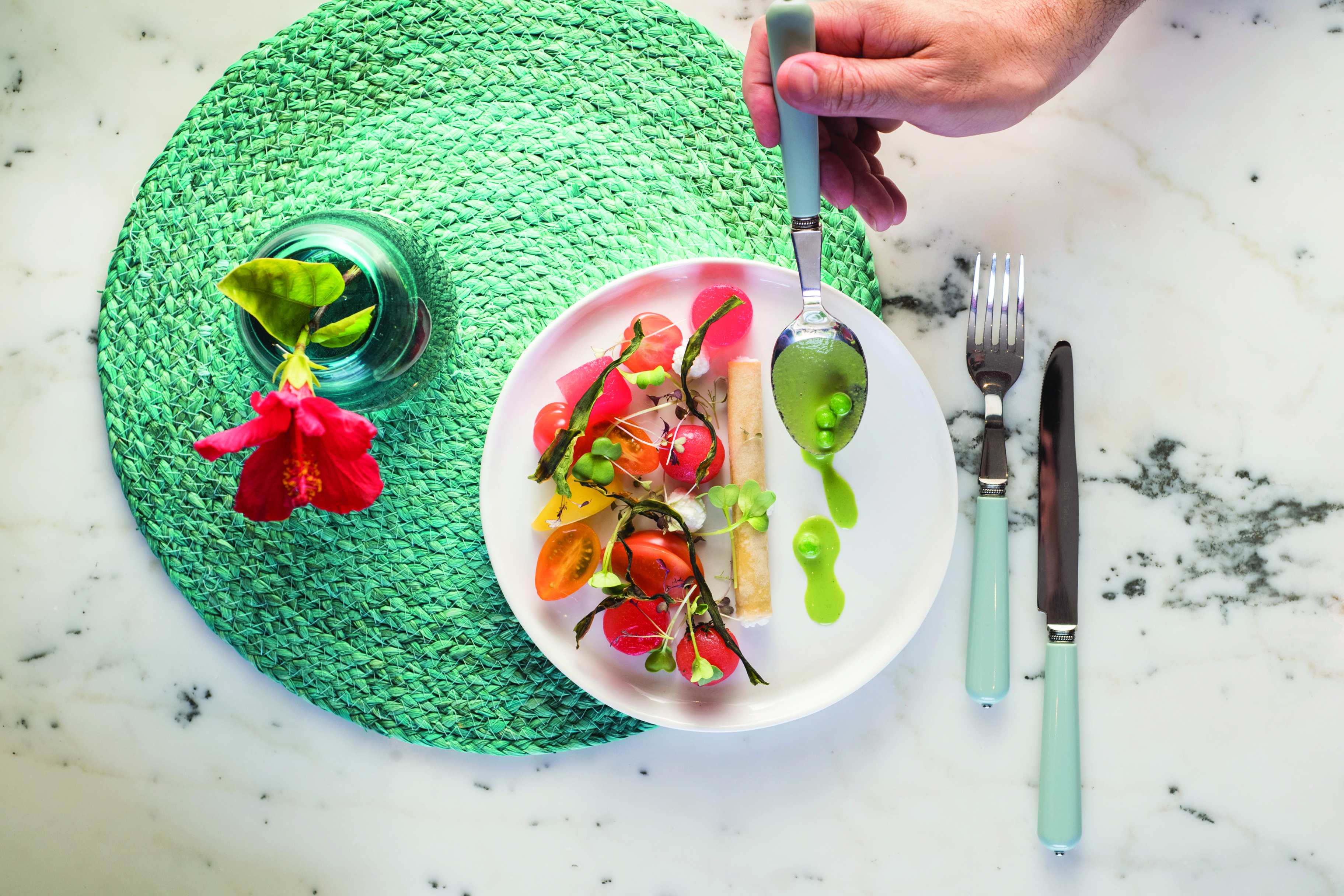 TURBOT WITH KALE, MISO BROTH, CHARRED ASPARAGUS
Turbot
250g turbot, or a suitable firm white flesh fish
75g rock salt
60g butter
200ml water
Season the turbot with the salt and allow to sit for 6-8 minutes to draw out excess water (this will help improve the fish taste). In a pan, heat the water and whisk in the butter to emulsify it. Rinse the fish under running water and pat dry. When ready to serve, poach the fish for 8-10 minutes, allow to cool slightly in the emulsion, drain and break into four portions.
Kale Miso Broth
30g white miso paste
100g kale leaves, blanched and drained
40ml olive oil
25ml water (you might need a little more, if consistency is too thick)
Lemon juice to taste
Salt
Blend all the broth ingredients together, excluding the lemon juice, adjust seasoning, warm through, and just before serving to add the lemon juice (to taste).
Char the asparagus spears with a blowtorch, dress with olive oil and season with salt.
Pour the warm broth into bowls, place the fish and asparagus and decorate with a few drops of buttermilk.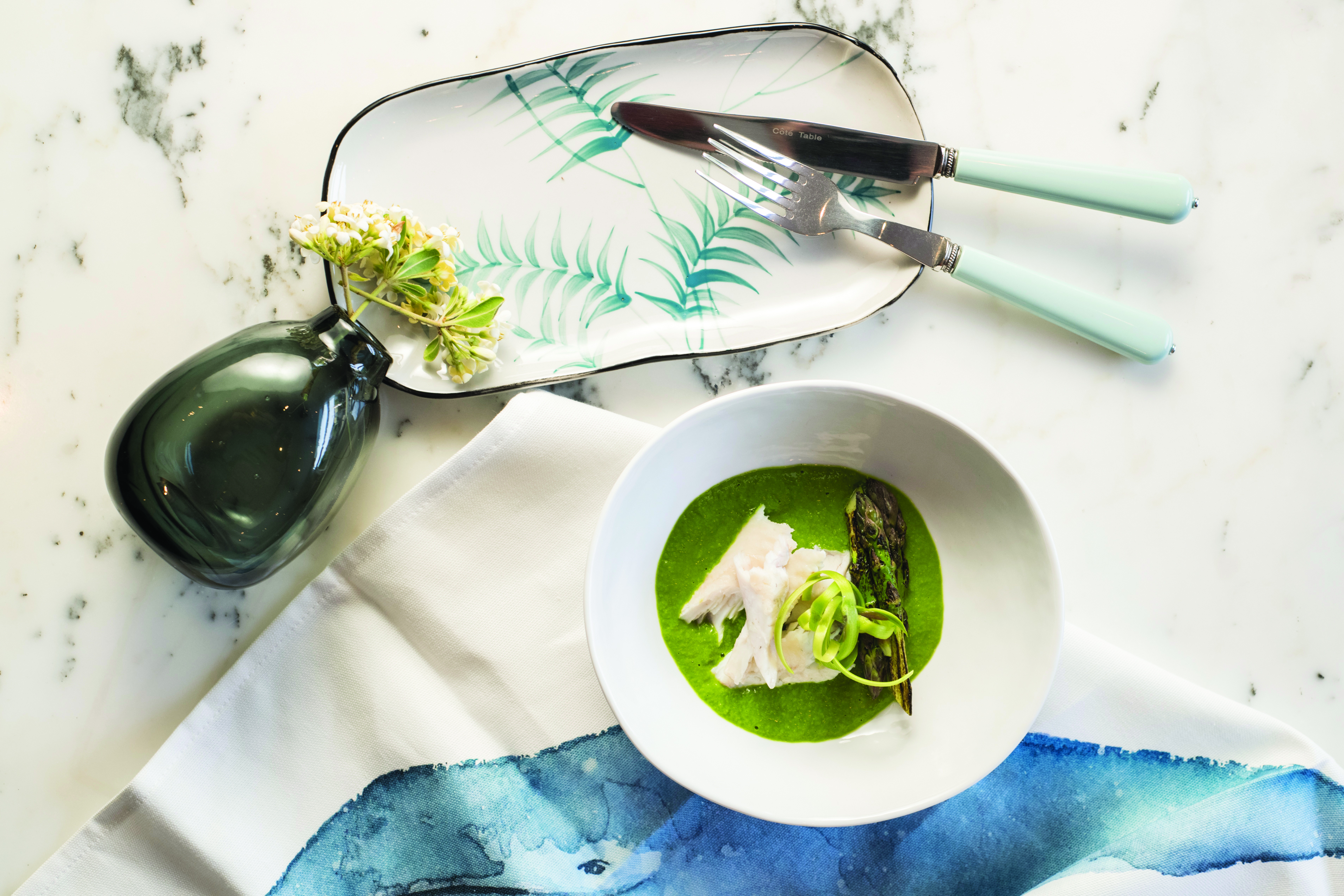 SKATE WITH LEMON, ORANGE AND HARICOT BLANC
Orange Curd
1 orange (cut into 4 wedges)
80g sugar
30ml orange juice
30g butter
Caramelise the sugar in a small saucepan, add the orange juice, bring to the boil and reduce heat. Then add the orange wedges and simmer. Keep checking it as you do not want it to discolour. Allow to cool, then blitz in a blender and add the butter until completely emulsified. Reserve for plating at room temperature.
Lemon Jam
4 lemons
150ml white wine
350g castor sugar
15g ginger, grated
10g horseradish, grated
20g rock salt
1 g pectin for every 100g of mixture
For preparation, slice the lemons and season with rock salt, and allow to extract liquid for 6/8 hours. Wash them well to get rid of salt. Place the sugar, wine, ginger and horseradish in a pot, bring to the boil and add the lemons, then cook for 8-10 minutes. Blend and pass through a fine sieve, add pectin and heat. Any remaining quantity will keep for up to three weeks in a fridge.
Haricot Blanc
150g haricot blanc beans, soaked overnight for at least 24 hours to hydrate
2 slices of bacon
2 garlic cloves
1 sprig of thyme
1 bay leaf
100ml cream
500ml chicken stock
Drain the beans from the water and wash, then place in a pan with the bacon, garlic, thyme and bay leaf, and cover with the chicken stock. Bring to the boil and reduce heat to a simmer, skim as necessary. Check beans regularly, and once cooked remove pan from heat and allow to cool. Reserve some whole beans, blend the rest and then add the cream to get a fine puree. Return to heat and cook until you achieve the desired consistency, season and add the reserved whole beans and butter. Keep warm.
Skate Wing
4 skate wings
1 litre water
30g salt
40g sugar
Whisk the salt and sugar into the water, and brine the skate for 1 hour. Remove from the liquid, rinse and pat dry. Fill a shallow pan that can comfortably fit the skate wings and fill with water, add a splash of white wine, some aromatic herbs, a squeeze of lemon and season. Bring to the boil and reduce heat. Poach the wings for 15-20 minutes. Drain and serve immediately.
In the picture the skate is also served with roasted yellow beets, braised chicory, poached octopus and a honey granola.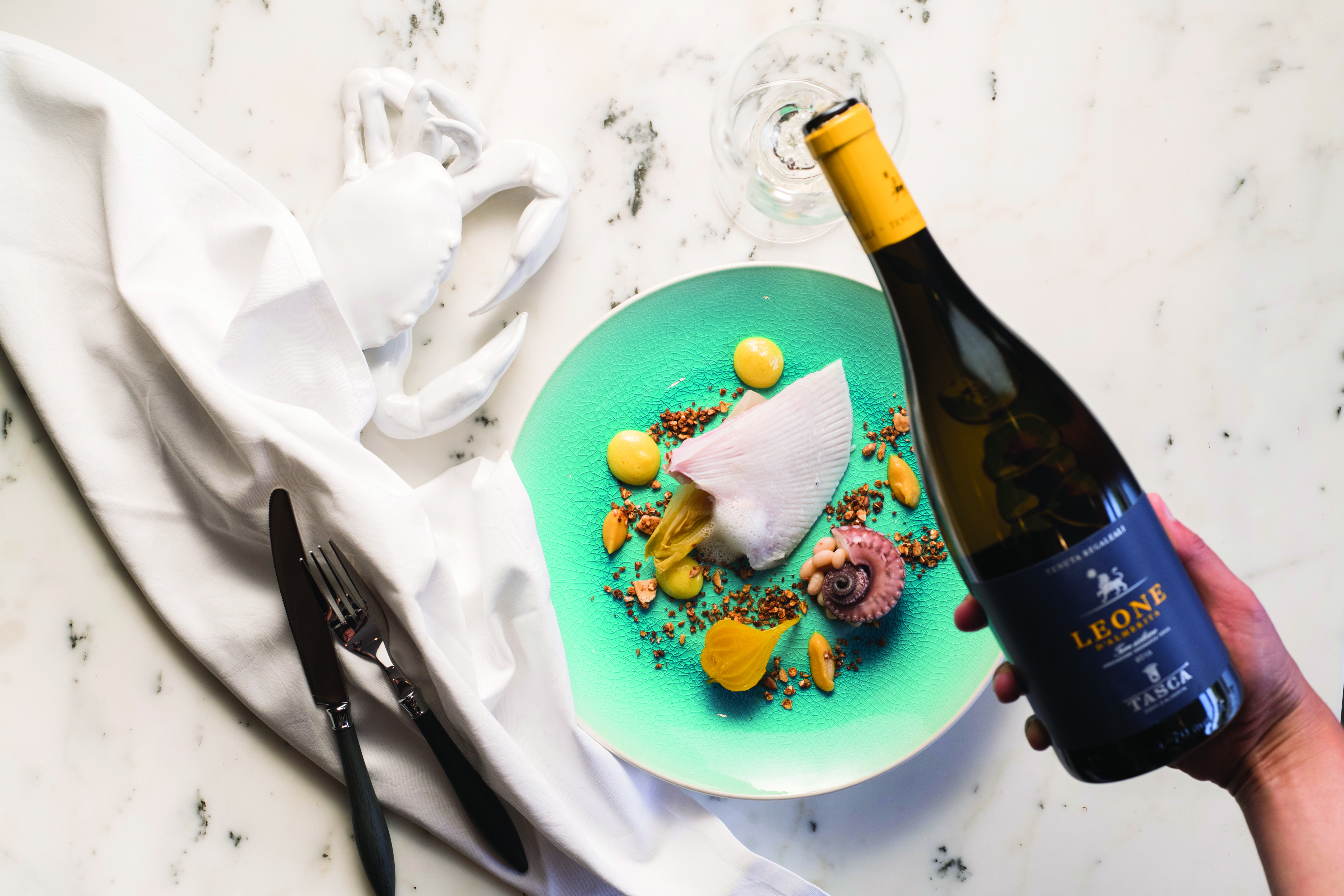 BLUEBERRY, VIOLET AND LEMON SAINT HONORÉ
Puff Pastry Garnish
200g puff pastry
Roll out the puff pastry. Prick with a roller docker for the pastry not to puff up excessively while baking. Using knife, cut 6 strips of pastry 5 cm x 12 cm. Bake at 190°C. Cool and set aside.
Choux pastry
100g flour
125g water
1 pinch of salt
50g unsalted butter
2 eggs
Place the butter, salt and water in a saucepan on the heat. Bring to a boil. Remove from heat and pour in all the flour at once. Combine. Using a spatula, work the ingredients vigorously over high heat. Transfer to a cold recipient and set aside to cool for 5 minutes. One by one, incorporate the eggs and stir until each egg is incorporated. Scoop the choux paste into a piping bag fitted with a plain nozzle (1 or 1.5cm diameter). Pipe small buns to a diameter of about 1.5cm on a Silichef baking sheet. Glaze the choux bun and bake the buns and pastry shells at 180°C (gas 4) for about 20 minutes.
Blueberry Chantilly cream
30cl whipping cream (30% fat)
30g icing sugar
2g violet aroma
Whisk 30cl of whipping cream with 30g of sugar. Add violet aroma.
Plain Chantilly cream
20cl whipping cream (30% fat)
20g icing sugar
Violet caramel
250g castor sugar
85g water
40g glucose syrup
Violet colouring powder
For the caramel: Heat 250g of sugar with 85g of water and 40 grams of glucose syrup. When the caramel starts to get a blonde colour, add some violet colouring powder with the tip of a knife and combine well. Take away from the heat. Dip the rounded top of each choux bun into the hot caramel, and place them in the cavities of a half sphere Flexi pan mould.
Violet Petals
1 red rose
1 egg white
Granulated sugar
Detach the petals and dip them in the beaten egg white. Let the excess drip off and coat with granulated sugar. Shake the sugar excess off and leave to dry for a few hours.
Assembling the dish
Whisk the blueberry jelly vigorously until smooth. Combine the jelly with 200g of Chantilly. Powder with the tip of a knife, then reserve in the fridge and allow to cool. Remove the buns from the mould and make a hole in the bottom of all the buns.
To assemble the cakes, scoop the Blueberry Chantilly into a piping bag fitted with a fluted nozzle. Fill each choux bun from the hole in the bottom. Arrange choux buns on to puff and add a crystallised violet petal on top. Reserve in the fridge until ready to serve.
Pipe Chantilly cream onto plate, place petite St. Honore onto cream.
Pipe dots of lemon curd onto plate, place pieces of candid lemon peel on plate, garnish with blueberries and pieces of violet caramel.