The art of making sushi
JUAN V. WONG III spent two years studying Marine Engineering back home in the Philippines before becoming a sushi chef for successful...
PHOTOGRAPHY: FEDERICO PELTRETTI SUSHI BY: JUAN V. WONG III (AT MEDASIA) MODEL: LINDA GURANOVA MAKE-UP: DIANDRA MATTEI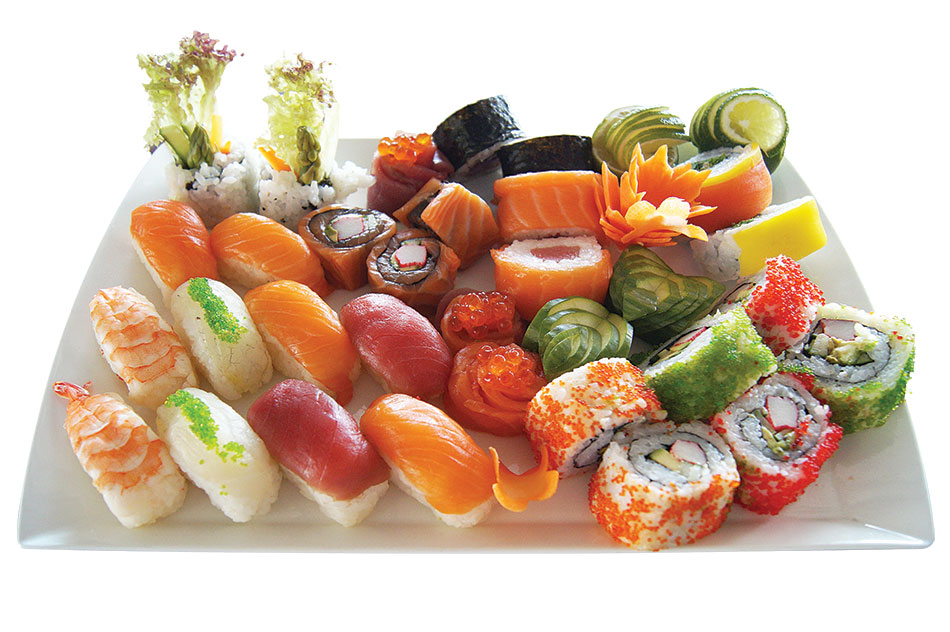 Japanese restaurants in the Philippines and Dubai. And to not blow his own trumpet, Juan has served the likes of Steven Tyler, Donald Trump, Leonardo Di Caprio, Hugh Grant and Sting. His knowledge of sushi and cooking techniques, together with his love for a fast-paced kitchen and good quality national foods, has landed him here in Malta as Head Sushi Chef at Med Asia. Juan shares some classic sushi recipes with us to try at home – if you're game enough!
"…As close to a religious experience in food as one is likely to get."
CALIFORNIA MAKI
48 pieces
Ingredients:
4 cups water
1kg sushi rice
1/3 cup rice vinegar
2 tablespoons mirin
2 tablespoons caster sugar
2 teaspoons salt
8 sheets nori (seaweed sheets)
1 large Lebanese cucumber, (cut into thin strips)
1 avocado, peeled, cut into thin slices
12 seafood sticks or crabsticks
wasabi paste and Japanese soy sauce, to serve
Method:
Wash rice under cold water until liquid runs clear, and place the rice into a large non-stick saucepan. Add water and bring to the boil over high heat. Reduce the heat to medium and simmer for 5 minutes, or until small holes form in the rice. Cover and cook over a very low heat for 15 minutes. Remove from heat and let it stand covered for 10 minutes.
Meanwhile, place vinegar, mirin, sugar and salt into a small saucepan over a low heat, and cook by stirring for 3 minutes, or until sugar has dissolved. Refrigerate until cold. Spread the rice over a large tray, and drizzle the vinegar mixture over the rice. Using a wooden spoon make cutting strokes into rice to distribute vinegar mixture (do not stir).
Place a sheet of nori, shiny side down, onto a bamboo mat or sheet of baking paper and place 3/4 cup of rice mixture onto the nori. With wet hands gently spread the rice evenly over the nori, leaving a 3cm border at the far end. Place a strip of cucumber on the rice, 3cm in from edge, and an avocado slice and a seafood stick next to the cucumber. Using the matt or baking paper as a guide, roll it up. Repeat the process with the remaining nori and fillings. Cut each roll into 6 pieces and serve with wasabi and soy sauce.
JUMBO SHRIMP NIGIRI SUSHI
Preparing the shrimp for sushi:
This is the way to prepare king prawns for sushi. Cooking them the right way and for the right amount of time will prevent them from curling and keep the protein in the shrimp.
Ingredients:
King Prawns – one per person/sushi
Sea Salt
Method:
Wash shrimp under running water and cut off heads. Insert a bamboo skewer or long toothpick along the shrimp from head to tail, running along the legs of the shrimp without touching the flesh.
Drop the shrimp into a pot of salted, boiling water (use enough salt to make it taste like seawater). They will sink to bottom and after 3 to 5 minutes will change colour and rise to top. Do not use a lid, or a strong smell of shrimp will remain! To check that they are cooked, remove one shrimp from water and squeeze gently. If the inside is firm, it is cooked.
Quickly place shrimp in ice water – this gives them a good colour and stops the flesh from shrinking and becoming hard. When shrimps are cold, remove them from the ice water and place in a colander.
To remove the skewer, use a screwing motion to avoid breaking the flesh. Then remove the shell from around body, but not tail. To make a butterfly cut, lay the shrimp down with the tail away from you, then cut from the head to the tail along the belly with the knife only going halfway in. Use the knife or your fingers to open out and flatten the shrimp carefully, without breaking the flesh. Remove the vein and rinse the shrimp with mildly salted water. Lay on paper towels to drain.
Note: For sushi rolls, remove tails and cut shrimp in half, lengthwise, or leave whole.
SALMON TUNA & EBI NIGIRI
8-10 pieces
Tell the person from whom you are buying the fish that you intend to eat it raw and buy the fish on the same day you are preparing the nigiri.
Ingredients:
150g sushi rice
2 tbsp sugar
pinch of salt
50ml rice wine vinegar
200g salmon fillet
1 tbsp wasabi paste
Method:
First you need to make the Sushi Rice (See Salmon Maki and Tuna Maki Method). You cannot just use any rice since the rice needs to stick together and be picked up with chopsticks. Plus, sushi rice is seasoned with vinegar (the "su" in "sushi" actually means vinegar), sugar, and salt.
Next, slice the salmon into pieces of approximately 5cm (2") long, 3cm (1") wide, and 1/2 or 1 cm (less than 1/2") thick. If the fillet isn't thick enough to get the width you're looking for, slice diagonally. A very sharp knife is recommended here.
Dip your fingers into water and scoop up a little amount of rice, about 3/4 the size of your palm, and roll and squeeze it together until it rolls into a firm "log" sized rectangle.
Smear a pea-sized dab of wasabi on one side of the fish slice. The wasabi is optional, but it helps the salmon stick to the rice, and adds a touch of extra flavour. Place the fish on the rice "log", with the wasabi side on the rice, and gently shape the rice and salmon together.
SALMON MAKI & TUNA MAKI
Makes 6 pieces of each
Ingredients:
150g sushi rice
2 tbsp sugar
Pinch of salt
50ml rice wine vinegar
4 sheets nori seaweed
1 tbsp wasabi paste
1/2 cucumber,
1/2 red pepper, deseeded and cut into batons
100g raw salmon, sliced
100g raw tuna, sliced
To serve: Wasabi and soy sauce, to dip Pickled ginger
Method
Wash and drain the rice several times until the water runs clear, then put in a pan with 225ml of cold water. Bring to the boil, reduce the heat to low, cover with a tight fitting lid and simmer for 5 minutes. Then remove from the heat, leave covered and allow to cool at room temperature.
Check that all the water has been absorbed, and if not drain off the excess water. Then transfer the sushi rice to a bowl, season with a pinch of salt, the sugar and vinegar. Using a plastic or wooden spoon, mix everything together gently making sure you don't squash the rice.
Lay the nori sheets out on sushi mats then spread a little wasabi on each. Put a line of rice about 2.5 cm wide on the bottom edge of the nori, leave a little gap at either end.
Press some cucumber and pepper onto the rice then add a layer of sliced fish (only one type for each roll). Top with more rice and roll up tightly. Chill for 30 minutes in the fridge before serving.
While the rolls are chilling, make the dipping sauce by heating the vinegar, sugar and chilli until the sugar dissolves. Remove the pan from the heat and leave to cool.
Cut the sushi rolls into 4cm pieces using the sharpest knife you have and serve with the dipping sauce and the other accompaniments on the side.
Med Asia Fusion Lounge www.medasia.com.mt
info@medasia.com.mt 90, The Strand Sliema
21 333222 / 21333221