Roasted pigeon
with purple potato gnocchi & heritage carrot puree
Photography: Alan Carville Recipes: Chefs Stefan Hogan, Jonathan Zammit, and Mark McBride Plates from camilleriparismode, wooden bowls from LOFT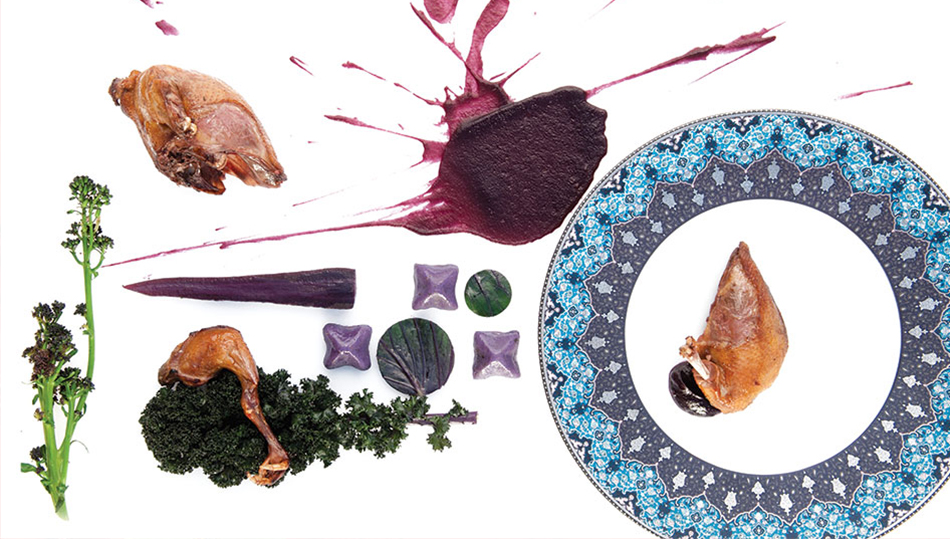 Ingredients
2 squab pigeons
1 sprig thyme
1 garlic clove
25g butter
25ml oil
Ingredients for the purple potato gnocchi
450g purple potatoes
110g flour
25g butter
15ml olive oil
Salt
Pepper
Method: Roast the potatoes in a hot oven until soft, cut in half and scoop out the flesh, then pass through a drum sieve whilst still hot. Add around half the flour until it's incorporated, then season, but do not over work, and roll out into the desired shape. Chill until ready to serve.
In a hot pan, sear the pigeons and season liberally with salt and pepper. Place in a hot oven for 10 minutes. Remove from the oven and place over a low flame. Add the thyme, garlic and butter and continue to cook basting the pigeons with a spoon. Remove from the heat and place to rest breast side down. Once rested remove from the bone and keep warm.
To cook the gnocchi pop into a pot with boiling salted water, add gnocchi for about 2 minutes, or until they float. Remove with a slotted spoon and transfer to a pan over medium-high heat with a splash of olive oil and butter. Sauté the gnocchi for just a few minutes. Season and use to finish dressing the plate. To finish dressing the plate, add blanched buttered purple sprouting broccoli, purple kale, as well as reduced red cabbage juice, purple heritage carrots puree and roasted purple carrots.